Best Online Poker Real Money Sites for 2023
REAL MONEY ONLINE POKER
If you've ever seen poker played on TV where players are trading thousands of dollars back and forth, you may have been tempted to try your hand at playing poker for money online. The problem is, there are so many options for you to choose from, so how do you decide which site to play on? To help you out, we've tested and ranked the best online poker for real money sites – and these are the results.
The first thing you need to learn is the mechanics of how the game's played; how many betting streets there are, what your possible actions are, how much money you need to buy in with, etc.
Once you've got the basics down, you can then start to learn strategies for your game that you can use when you play. However, those are not essential if you just want to play for fun – only if you want to win.
Why Play At Online Poker for Real Money Sites?
When there are free options available, it may seem a little silly to play real money online poker when you're not very experienced. However, while the free-to-play games are good for learning the rules and the mechanics of how a poker game works, they will limit your ability to improve as a player.
This is because, without the risk of losing money, there's no incentive for you, or anyone, to play "correctly". There's no penalty for calling every single hand to the river or jamming all-in every hand. When you play for money, even if it's just for pennies, there's a financial incentive to make the correct plays. Playing at the best online poker sites against better players is what improves our own game, so by playing against people who are actually trying to win you give yourself the best opportunity to improve.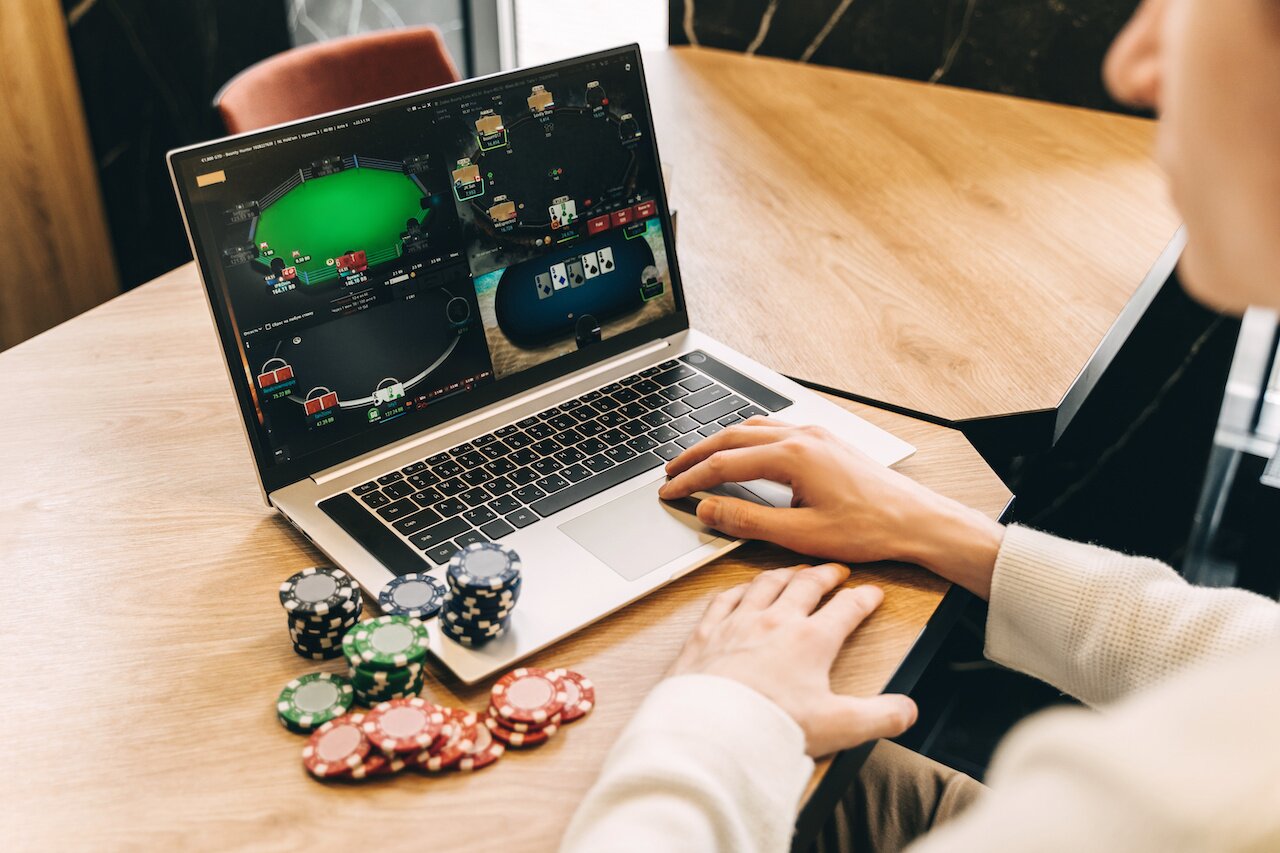 Real Money Poker Sites
Operators are applicable only for United States and Canada users.
How We Review Online Poker Sites
There are a lot of recommendations for real money online poker sites out there, with some being more reliable than others. A lot of review sites will accept payment to promote a site, regardless of the actual quality. Here at TightPoker, we have a list of criteria that we use to rank real money online poker sites to ensure that you are getting the best recommendations possible.
These criteria include:
All of the sites we recommend are fully licensed and regulated poker rooms. After the Black Friday debacle, a lot of off-shore, unregulated sites started popping up, offering their services to US players. While this gives Americans some much-needed access to poker, these sites come with huge risks, and it's not uncommon for the games to be unfair or for players to have their deposits stolen.

While it may seem like a secondary concern to some people, the software is what you're going to spend your time looking at. You'd be surprised the difference quality software makes when it comes to which sites are best to play on. No one wants to look at a confusing, poorly colored interface for hours on end, so we've played on each site to be able to report which are hot and which are not.

Secure and Quick Payouts

EXPAND

There's nothing worse than making a big tournament score and then finding out you've got to wait two weeks to withdraw your winnings. While pretty much all sites offer instant deposits, there's a lot of variability in how quickly poker rooms will let you take money off their site. We'll give you the lowdown on quick and secure each site is when it comes to withdrawing money.

Top-Notch Customer Service

EXPAND

If you have an issue on a site, you'll want to know whether you're going to be supported or left hung out to dry. A lot of real money online poker sites are increasing the quality of their customer support as they realize that if they don't, players will play on a site where they'll be supported in their time of need.

Not everyone has the time to sit at a desk and dedicate a couple of hours a night to playing poker. Some of us need to be able to play on the go, and knowing whether or not a site has a dedicated mobile app could be a dealbreaker when it comes to signing up.

Most importantly, we look at what the site is actually like to play at. How much can you customize the software, what are the table settings like, what games are there, how big are the prize pools – all things you would consider important when signing up to a poker site.
Online Real Money Poker Vs. Free Poker
But why would people choose to play at real money poker sites over a free one? After all, when you play at a free poker site, you don't have any risk of losing money! Well, there are certain benefits that can only be gained from playing at a real money poker site. Let's take a look at what those are.
Improve Your Game
If you've ever played a free poker game before, you'll know exactly how much of a lack of strategy is involved. Players never fold a hand; multiple people go all in preflop every hand with whatever garbage they're dealt, and there's no opportunity to play real poker. However, when people are forced to play with their own money, they're much more likely to play better because who really wants to punt away their hard-earned cash with 72o? One of the best ways to improve at poker is to play against people who are better than you, and you won't find those people in free poker games. Real money poker games give you the challenge you need to improve as a player and get better over time.
Thrill of Playing
When there's nothing on the line, it's hard to be invested in the game. Think back to all the best games you've ever played; you felt something when you won or lost because you had an emotional investment in the game. That can't be achieved with play money chips, but it can if you're gambling with your own money. When it's your own money you're winning or losing, you feel the wins and the losses much more keenly, and you experience a thrill that you just can't get from free poker games. However, it's important not to ride that feeling too far, and we at Tight Poker always recommend gambling responsibly.
Benefit From Loyalty Programs
Another reason to play for real money rather than play money is to take advantage of loyalty programs. At most online poker sites, you don't need to be playing for much money before you start unlocking rewards from their loyalty programs. Bonuses like these can reward you with real money just for playing on their site – whether you're winning or losing! We all like getting something for nothing, and perks like these just aren't available in play-money games.
Win Real Money
The primary reason people choose to play at real money poker sites over free poker sites is that you can win real money. We've all started out playing play money games and watching our fictional bankroll climb higher and higher, daydreaming about what we could do if that money were real. Well, if you play real money poker games, there's a chance that dream could become a reality! While it takes a lot of hard work and dedication to win at poker, it is possible, and by playing real money poker games, you have the chance to win cold hard cash – something that's not possible in free poker, no matter how many zeros you have in your bankroll.
How to Choose The Right Real Money Online Poker Site
So what should you be looking for when you're picking a poker site to play on? With so many choices it can be hard to decide which one is best for you. Each player is going to have different priorities when choosing a real money online poker site, but here are some of the things you should consider:
One of the best things about signing up to a poker site for the first time is all the different bonuses and promotions you get to take advantage of! These sites are in an arms race against each other, offering more and more generous promotions in order to get players to choose them over their competitors.

There is a range of different offers to choose from. Some of the more popular options are:

Welcome Bonus

No-Deposit Bonus

Loyalty Bonus

Freerolls

Percentage Bonus; and many more.

If you're a first-time player, take the time to look over the bonuses these sites have to offer and pick the one that's right for you. If you want to learn more about the specifics of the different bonuses available, travel to our poker bonus page.

Being able to get your money on and off the site is extremely important when picking a poker room. Not only do you have to consider the different banking methods a site allows, but also the speed at which they process your deposits and withdrawals. It's no good having your preferred banking option if it's going to take two weeks to withdraw your winnings.

Most real money online poker sites offer a wide range of banking options these days; whether you want to use a debit card, an online wallet such as Paypal, or even cryptocurrency. Each of these withdrawal methods has different average times to get from the site to your account, so it's worth checking to see which one best suits your needs.

Poker Game Variation

EXPAND

Despite what some people think, poker doesn't begin and end with Texas Hold'em. There are a large number of other games out there for people to play such as PLO, Short Deck, 5 card draw, and many others! More and more sites are offering these mixed games, so if they're something that you enjoy playing check to see if your site offers them.

When it comes to game variation, it goes further than the poker variant you want to play. You want a site that has a good mix of tournaments, cash games, and sit and gos available to players. This not only gives you more choice in the games you want to play but you get the opportunity to learn different formats of poker.

Tournaments Prizepools

EXPAND

The whole point of playing a tournament is you get the chance to win a huge score from a small buy-in. There's not much fun in playing one and only winning 5x your buy-in (unless you're playing in one of those super high roller tournaments).

Playing on a site that offers large guarantees in their tournaments not only gives you the opportunity to win more money, but large prize pools attract weaker players to the games. If you're someone who's looking to make money from tournament poker, consider looking for the sites that offer the largest tournament guarantees.

It's important that any site you choose to play on is fully licensed and regulated. If it isn't you're leaving yourself exposed to any number of things happening; such as playing in an unfair game, playing against bots, or just having your money stolen by the site.

Every site that is licensed will display its license on its site so you can be sure that you're playing on a secure site. There are a number of different regulators out there, all with different requirements that need to be met in order to gain a license so it's worth checking what rules your chosen site must follow.

Complaints and Third Party Reviews

EXPAND

Knowing the opinion of fellow players is vital when choosing a real money online poker site. If the majority of reviews on the site are negative, then not only does it mean you're likely to have a bad experience, but it means that most people won't even bother to play on the site at all.

It's also a huge red flag if a site has had formal complaints made against it by its players. Usually, these complaints are due to blocked withdrawals and if these have been done illegitimately by the poker site, it suggests you'll also have a hard time getting your money from the site.

The Terms and Conditions/Fine Print

EXPAND

No one ever seems to do it, but reading the fine print should be something we do as standard. When we play on a poker site, we agree to play by their rules – which are laid out in their terms and conditions. If you don't know the rules of the site, you could be breaking them without your knowledge and will have no defense if they try and withhold your winnings.

For example, if it's in the terms and conditions that HUDs aren't allowed and you're found to be using one, you could have your account closed and your money confiscated. The worst part is, you'll have no recourse as the rules were clearly laid out in the terms and conditions which you didn't read!

The players are the lifeblood of any poker room. You can make your site as great as you want but if people aren't playing on it, it's going to fail. It's natural that players will flock to the site with the most traffic – as more total players equals more weaker players to play against.

In some restricted markets there isn't a great deal of choice, but if you live in an area where there are a number of poker rooms to choose from have a look at the daily number of players to get an idea of how much traffic these sites get. Where there's traffic, there's money!
Real Money Poker Games
If you want to play real money poker, there are three formats of poker you can choose from; cash games, tournaments, and Sit & Gos. Each offers a different way of playing poker, so it's important to find the one you'll enjoy most.
Cash Games
Cash game poker is a type of poker where the chips you play with are worth real money. All the chips you have in front of you in a cash game have a real money value, so each decision directly affects how much you're winning or losing. One of the great things about cash games is that you can play them in any variant, whether it's Texas Hold'em, Stud Poker, 5-Card Draw, or PLO. Some games aren't suited to the tournament format, whereas all poker variants are great to play in a cash game.
You'll find that most online games have a maximum of six players, which creates a lot more action than the classic "full-ring" format, where there is a maximum of nine players. While some sites get a small amount of nine-handed traffic, most of the action is at the six-handed tables. It's best to stick to one table size and focus on that, as six-handed cash game poker requires a different strategy from nine-handed games. If you want to learn more about cash game strategy, check out our article after you're finished with this one!
In a cash game, you're free to come and go as you please, so if you can only play for an hour or if you get called away, you can leave and come back at any time. You can also rebuy as often as you like – as long as you have the funds! These games are great for players who want to play in short time frames and don't want to be locked into playing for hours.
Tournaments
Poker tournaments are different from cash games, as instead of each chip having a cash value, you buy into a tournament at the beginning for a set amount of money and play with tournament chips. These tournament chips don't have a cash value and are only used for tournament poker. Once a player loses all their chips, they're eliminated from the tournament and can't enter it again (unless it's a reentry/rebuy tournament).
After a certain percentage of the players have been eliminated, prizes are awarded to players when knocked out as a reward for their progress in the tournament. Depending on the poker site you play on, the percentage of players who earn prizes could be anywhere between 10% and 20%. The tournament will continue until only one person is remaining, who is declared the winner and wins the 1st place prize.
Tournaments require a vastly different strategy from cash games, and as such, you won't find a great deal of crossover between tournament and cash game players. If you want to make sure your tournament game is top-notch, be sure to check out our articles on tournament poker strategy. One of the appeals of tournament poker is the returns they offer, as players can win 100x or even 200x their buy-in in just a few hours. However, a downside to tournament poker is that players cannot stop playing until they've either won the tournament or been eliminated – you can't cash out halfway through if you've got somewhere to be.
Sit & Gos
If you want to play tournaments but don't want to be stuck playing for hours on end just to bubble, you'll want to try Sit & Gos. A Sit & Go is essentially a miniature version of a tournament with a limited number of players. The tournament will begin as soon as the required number of players have registered.
Most Sit & Gos online have between 2-9 players, so the games are over much more quickly compared to multi-table tournaments. However, as there are fewer players, Sit & Go poker requires a different strategy to tournament poker, so make sure you read our article on Sit & Go strategy. While the limited number of players reduces the amount of time required to complete a Sit & Go, it limits the amount you can win, with most Sit & Gos offering a maximum win of around 3x your buy-in for 1st place.
Real Money Online Poker Buy-Ins and Costs
The great thing about online poker is that you can tailor your game selection to suit your bankroll. It's not like a brick-and-mortar casino where there'll be one tournament running and two cash games to choose from; real money online poker offers hundreds, even thousands, of games to play. If you want to start off small and play for a couple of bucks, there are tables where you can do that, and if you want to splash around like a high roller, there are higher-limit cash games and tournaments available. Let's take a look at the range of buy-ins you can expect for each type of game.
Cash Games – Online poker cash games allow you to play for pennies all the way up to thousands of dollars. The lowest stakes you'll find at most poker rooms is $0.01/$0.02 with a $1 minimum buy-in, and the highest stakes are often around $50/$100 with a $5000 minimum buy-in. You'll find that on the majority of online poker sites, most of the cash game traffic is at $2/$5 and below, as the higher stakes games don't often run.
Tournaments – If you're looking to make a large return from a small investment, tournaments are the game to play. They offer games from as little as $0.25 up to $1000+ tournaments, so no matter your bankroll, you'll have a game to play. Like cash games, you'll find most of the action at the lower stakes tournaments, but you can expect to see a lot more high-stakes tournament action than high-stakes cash game action.
Sit & Gos – Like tournaments, Sit & Gos have a wide range of buy-ins to choose from. You can buy in to some Sit & Gos for just a few cents, while the highest stakes Sit & Gos cost $1000 to play. Depending on the site you're playing on, action at the high stakes is often very limited, with almost all the action being at lower stakes. However, as Sit & Gos are much faster-paced than regular tournaments, you can play a lot more per hour, so even the lowest stakes games require a big bankroll.
How to Start Playing Online Poker with Real Money
Now that you know real money poker sites are where it's at, you'll need to create your own account. Luckily, creating an account at a real money poker site is easy, and we've created a handy guide to help you through it.
Choose Your Site – In most regions, there are dozens of online poker sites to choose from, so it's worthwhile finding the one that best suits your needs so you have the best real-money poker experience.
Create An Account – Once you've picked your site, you need to create an account. When creating your account, you'll need to provide details such as your name, date of birth, email address, home address, and telephone number. You'll also need to confirm that you're old enough to gamble when signing up. You must be truthful, as anyone found to be playing underage will have their account permanently shut down.
Make A Deposit – Now that your account has been created, you need money to play. Go to the cashier section and look at the banking options your site has available. Choose the one that's best for you and make a deposit.
Claim Your Bonus – The best online poker sites, real money ones in particular, offer new players welcome bonuses when they first sign up. Some of these sites require a bonus code to be entered when you make your first deposit and some will apply automatically, so always check before signing up.
Start Playing – The last thing you need to do is to hit the tables and start enjoying yourself! Pick the game you think will be the most fun and start playing.
Sweepstakes Online Poker
However, not all countries have access to legal real-money online poker, and in those locations, a sweepstakes model is used instead. We've started to see more sites use this method with significant success, so we thought we should take a look at exactly how it works and whether sweepstakes poker is right for you.
At sites like Global Poker, rather than depositing real money onto the website, players can buy a digital currency which is then used to play poker. Players then play the games with this digital currency in place of real money. If you ever want to cash out, you can redeem the digital currency for prizes, including cash.
Using virtual currency to play these games is a way of offering something that resembles real money online poker without explicitly doing so. This type of game allows millions of people all over the world the chance to play legal online poker.
Online Poker for Real Money Apps
A lot of providers have mobile apps for people to play real money poker on the go. Each of these apps offers different things to their players, so we've checked them all out to give you a quick summary of what you'll get from each of them.
Ignition
The Ignition mobile app catches the eye with a simple, clean, but effective design that's specially optimized for running on smartphones. It has great player traffic, sharing the same player pool as the computer version of the site and it's completely regulated and secure.
Ignition Poker Review
Bovada
The Bovada site does things a little differently as it doesn't have a dedicated mobile app you need to download, instead, it uses a mobile-optimized website that players can access from their phones. When you sit at the tables, Bovada makes every player anonymous so you can't tag players or make permanent notes.
Bovada Poker Review
BetOnline
This poker room only offers a dedicated mobile app for android users – available from their site or from the Google Play Store – whereas iOS users can play from the site directly. Both the site and the app offer a wide range of poker games including Hold'em, Omaha, and Omaha Hi/Lo
BetOnline Poker Review
Everygame
This is another site that doesn't have a dedicated mobile app but has a mobile-optimized site that can be accessed from any device. Everygame is one of the better-looking mobile sites out there, with a sleek red and black design with fast and responsive features.
Everygame Poker Review
888Poker
888Poker offers both cash games and tournaments to its mobile users, with a dedicated app for both iOS and Android users. The app also features the "snap" poker variant where players are immediately seated at a new table once they fold their hand.
888 Poker Review
PartyPoker
One of the biggest names on our list, PartyPoker has a well-established poker app that uniquely offers a portrait layout that allows you to play poker one-handed. The app also has access to all the same games as the desktop version as well as a multi-tabling feature if one game is too boring for you.
Party Poker Review
America's Cardroom
ACR is another poker room that has decided to focus on a mobile-optimized website rather than create a downloadable poker app – an advantage for those who have little space left on their smartphones! While it doesn't have the full range of games that are available on PC, there is still a wide range of options for you to play on the go.
Americas Cardroom Poker Review
Bodog
Bodog is the original brand that was changed to Bovada when marketing in the US, so expect to see a lot of the features the same between these two sites. It's another mobile-optimized site with anonymous tables and access to a range of games such as Hold'em and Omaha.
Bodog Poker Review
Black Chip Poker
A part of the Winning Poker Network, Black Chip Poker shares its player pool with ACR so you can be assured there are a lot of players to play against. One of the great advantages of the Black Chip Poker app is that practically nothing is missing between the mobile app and the desktop app – it's a truly authentic poker experience on mobile.
Black Chip Poker Review
Online Poker Legal Status in the US
Since Black Friday killed the US poker market back in 2011, the state of online poker in the US has steadily been improving. There are now six states that offer legal online poker at the time of writing, so let's look a closer look at them.
Nevada & Delaware
Nevada and Delaware were the first two states to legalize real money online poker back in 2013. They're also two of the states that make up the Multi-State Internet Gaming Agreement, which is an agreement between states to share player pools. This makes for a much better gaming experience for the players in those states, as there is more competition, more liquidity, and larger prize pools to play for. The regulated sites that operate in Nevada and Delaware are WSOP.com and 888Poker.
New Jersey
New Jersey was another early adopter of legal online poker, just behind Nevada and Delaware. Governor Chris Christie signed Bill 2578 in early 2013, which legalized online poker. Since then, New Jersey has become a hotbed of US poker. It was the site of Pokerstars' relaunch into the US and also the state also offers players the option of playing on 888Poker and WSOP.com. New Jersey is the other one of the three states that have joined the Multi-State Internet Gaming Agreement, which means larger player pools for its players.
Pennsylvania
Pennsylvania was the fourth state to legalize online poker, passing its bill into law back in 2017. Since its bill became law, the state has managed to become one of the largest poker markets in the US, thanks in large part to its 13 million residents. There are two main choices for Pennsylvania players, with Pokerstars and WSOP.com offering real money games in the state. There are also rumors that 888Poker will soon be joining the mix, but they're yet to go live. Pennsylvania is not part of the Multi-State Internet Gaming Agreement, although there are talks of it entering a similar agreement with New Jersey alone.
Michigan
It took another four years after Pennsylvania for another state to legalize US online poker, and that state was Michigan. They passed their bill early in 2021, and they already have the three major players, WSOP.com, Pokerstars, and 888Poker, offering real money games to its players. The state has also been approved to join the Multi-State Internet Gaming Agreement, which will further improve the quality of the games.
West Virginia
The most recent state to legalize online poker in the US is West Virginia, having given poker sites approval to launch their platforms on July 1st 2021. It's still early days for the West Virginia Poker market, but they currently have Pokerstars, Party Poker, and WSOP.com offering real money games to players in the state. However, there are currently no signs that West Virginia will join the Multi-State Internet Gaming Agreement.
Real Money Online Poker FAQs
Any fees that you may incur when depositing to or withdrawing from a poker site are at the discretion of the site. However, you'll find that the majority of sites do not charge any fees in order to encourage players to play on their site.
It has never been illegal to play online poker in the United States, only to run an online poker site. Some states such as New Jersey and Nevada have made this legal, so you can play on sites that are regulated in the US, but in the majority of states, your only option is to play on sites regulated outside of the US.
Whether or not you have to pay taxes on your online poker winnings will depend on the jurisdiction you're playing in. In a country where gambling winnings aren't taxed, like the UK, you do not, whereas, in the US, players are expected to report and pay taxes on any winnings.
Real money poker sites make their money by taking rake from the games they host. In tournaments, this is done by taking a percentage of the buy-in, and in cash games, it's done by taking a percentage of the pot.
If you'd like to withdraw your winnings from a poker site, you can do so with the same method with which you deposited the money. These methods include debit cards, online wallets such as Neteller, bank transfers, and cryptocurrency.
There is no set amount of money you need to play online poker, each player can play with however much money they'd like. However, most poker sites will have a minimum deposit amount if you'd like to deposit money onto the site.
The safety of a poker site will vary depending on the specific site in question. The safest sites will have licenses from recognized gambling commissions clearly advertised on their page.
Any online poker site that is regulated by a gambling commission is not rigged. These sites have to go through 3rd party auditing to make sure their random number generator is fair and secure.
You can deposit your money onto a poker site via debit cards, online wallets such as Paypal, bank transfers, and cryptocurrency. Once you've created an account on the site, click on the "deposit" button and follow the instructions.