GET A SEAT AT THE POPULAR TABLE: PLAY POKER
Poker is one of the most exciting games in the world. With high stakes, bold bluffs, and dramatic showdowns, poker offers players an adrenaline rush like no other. With roots dating back to the 1500s, poker has exploded in popularity over the past several years. Now, celebrities and influencers alike can often be found at the poker tables, winning (and losing) big.
If you've ever wanted to pick up some cards and throw in your chips, this guide will give you all the information you need to take a seat at the poker table. Read on for an intro to poker, a list of tips and resources, and a sneak peek into the life of a poker pro. Let's get started!
LIFESTYLES OF THE POKER RICH AND FAMOUS
The life of a poker pro isn't all fun and games, but it can be an extraordinary and highly lucrative life. Pros spend hours studying and playing, and the discipline and focus needed to succeed requires years of dedication to the game. Let's take a closer look at the glamorous and grueling poker pro lifestyle.
CLOCKING HOURS
For those lucky enough to enter the pro realm, being a professional poker player can be a full-time job. Pros often spend 8 to 10 hours per day playing, getting as many hands in as possible to develop their skills and refine their strategy. They can put in even more time before major games and during tournaments. With such long hours spent sitting at the poker table, many pros maintain a daily physical exercise routine. Players also spend a lot of time behind the scenes studying hand history and reviewing their opponents' strategies.
ON THE ROAD
In addition to time spent at the table, professional poker players also spend a lot of time on the road or in the air traveling to games and tournaments around the world. Some global poker hot spots are London, Italy, the U.S., Australia, and ultra-glam Monaco. The advantages of so much travel are the interesting and beautiful places pros often visit; the disadvantages are high costs, jet lag, and exhaustion. But if they play their cards right (literally), that jet lag can pay off with major winnings.
LUXURY LODGING
As pros tour the world, they change their address every few weeks or even days. Some professional players stay at luxury casinos, hotels, or resorts near the tournaments, while others prefer the quiet of privately rented apartments or houses farther away from the action. Hotels or resorts playing host to tournaments often offer discounts for tournament players, which can help players make the most of their bankroll.
DO YOU HAVE WHAT IT TAKES TO BE A PRO?
A great game of poker involves a careful balance of strategy, patience, and boldness. Before you hit the tables and ante up, here are several of the best strategies to help you manage each hand and maximize your earnings. Study them carefully, then take our quick quiz to see how much poker prowess you've gained.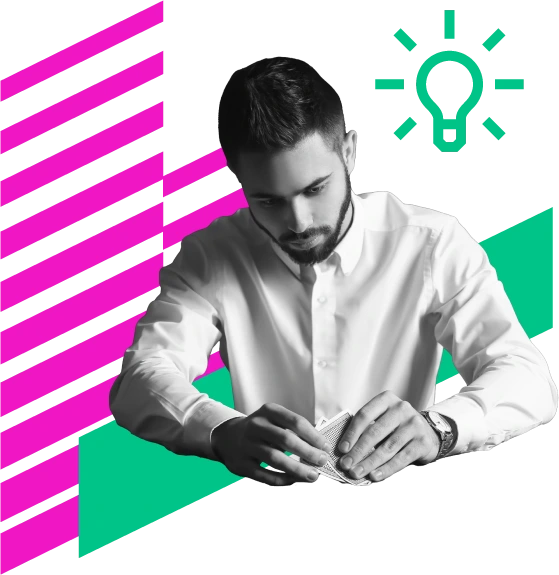 THINK LIKE A POKER PLAYER
Poker may seem like a game of chance, but it's far from it; success in the game requires a lot of skill and a particular mindset. Poker players need to stay calm, focused, and unemotional until the last hand is played—which can be difficult when money is on the line. However, giving in to emotions can lead to reckless play and big losses.
When players get caught up in their feelings and let it affect their game, it's called tilting. Players on tilt are easily manipulated and goaded by their opponents, leading them to make careless calls and brash bets. Phil Hellmuth, famously known as the "Poker Brat," is one of the greatest players of all time but has an epic history of tilting. One of his most iconic emotional explosions happened at a World Series of Poker Main Event: Hellmuth lost a hand, went on a verbal rant, then tilted hard and ended up losing his entire stack. Trust us—you don't want to be like the Poker Brat.
Instead, channel your inner Fedor Holz, former poker pro turned mindfulness coach (no, we're not kidding). Holz was cool as ice at the poker table, amassing an incredible $38,590,113 in winnings by the age of 24. Now, he uses his skills to coach other players and teach people how to improve their mindset.
A good poker mindset requires the ability to play each hand as it comes, forget losses as soon as they happen, and take a break the moment you start feeling the tilt.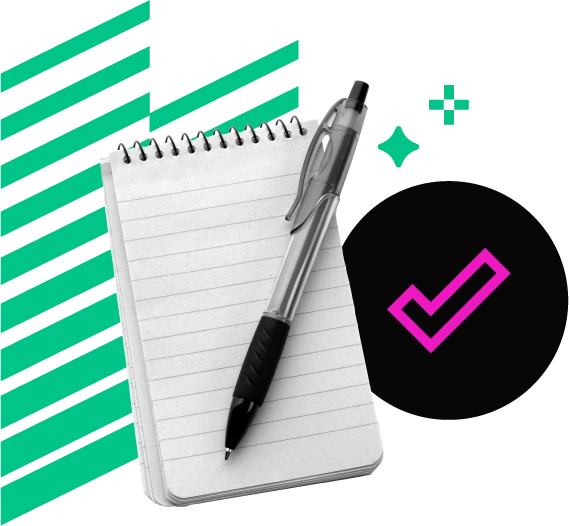 STRATEGIES FOR SUCCESS
Along with a good poker mindset, you need a solid strategy to win at poker. There are a lot of great strategies in the poker world, but two of the most popular are the tight-aggressive approach and the loose-aggressive approach.
Tight-aggressive approach (TAG). This approach requires a lot of patience and confidence. You only play a limited number of hands, but you play those hands very aggressively. If you play this approach correctly, it offers great bluffing opportunities during later hands.
Loose-aggressive approach (LAG). If you're playing against a tight-aggressive player, you may want to try a loose-aggressive approach. In this approach, you play a lot of hands aggressively: betting and raising frequently to push other players and call their bluff. However, loose-aggressive play requires more skill than tight-aggressive, so you'll want to use this approach after gaining some poker experience.
Most new poker players begin with the TAG approach. It's easier to implement when you're first learning and works especially well in low-stakes games. As you learn more about the game and gain a solid foundation of experience, you may want to learn how to play LAG. The looser play of LAG works better in high-stakes games and often leads to bigger overall earnings. But LAG requires significantly more skill than TAG, so make sure you truly understand the game before trying this approach.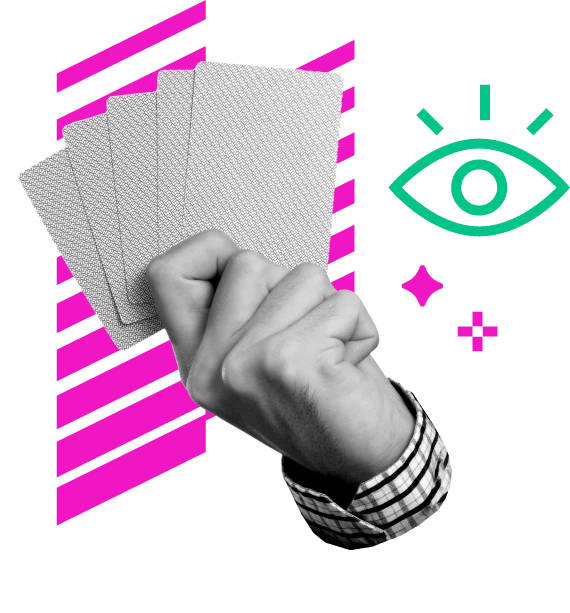 READING THE SIGNS
No matter which approach you use, you'll need to learn how to keep one eye on your cards and the other on your opponents. A lot of poker strategy has a psychological aspect; you need to be able to read your opponents' body language and track their betting patterns. You then have to adjust your strategy for each opponent and outplay them—it takes a lot of focus and skill to win.
Here's what to watch to understand your opponents better and spot their poker tells:
Buy-in and betting timing. Players with weak hands will often place bets quickly in an attempt to convey hand strength. Players with strong hands generally take longer to bet, as they spend time calculating odds and deciding exactly how strong their bets should be.
How they handle their chips and cards. When a player reaches for their chip stacks immediately after looking at their cards (whether selecting chips or shuffling them around), they likely have a strong hand. Players less sure of their hand strength often look at their cards multiple times or scan other players before messing with their chips.
When and how they talk. When a normally quiet player gets chatty during a round, it shows they feel relaxed or excited, indicating a strong hand. Players who sigh or preface calls or bets with statements like, "I might as well play" or "This is probably a mistake" are likely trying to appear weak to cover up a strong hand. However, when opponents are more specific about the weakness or strength of their hand or mention specific cards they hope to appear on the turn or river, they're usually telling the truth.
Body language. Observe an opponent's posture, hands, feet, and facial movements closely. Changes in eye contact level, hand shakiness, or sudden stillness or movement can relay confidence, eagerness, or stress. For players you frequently face, write notes about body language, bets, and wins or losses during each game. Identifying patterns in their body language and hand strength can help you learn their tells—and exploit them.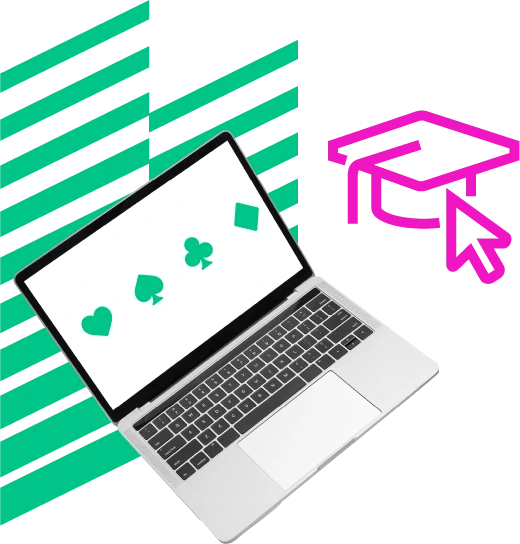 POKER SCHOOL
To become truly successful at poker, you have to do more than gain experience at the table. Post-game study is essential to improve your skills and refine your strategy. Analyzing your hand history, experimenting with solvers, and studying hand ranges are important practices for serious poker players.
Analyzing your hand history is exactly what it sounds like: reviewing the hands you folded and played throughout the game to identify mistakes and missed opportunities. This means taking notes during live or online gameplay and paying special attention to hands played against frequent opponents.
As you analyze your hand history, you can use solvers to explore possible outcomes and identify the plays most likely to win you the hand. Experimenting with solvers is an excellent way to learn advanced and unorthodox plays to step up your game.
Another critical study topic for poker players is hand ranges: the possible hands you or your opponents could hold, given the cards currently on the table. For example, if the table shows a jack of diamonds, a ten of clubs, and a king of diamonds, there are only so many winning hands a player could be holding. If the turn shows a queen of diamonds, the number of possible winning hands (and their strength) changes. By understanding hand ranges, you can predict the odds of an opponent having a better or worse hand than yours and improve your win rate.
To help you study poker and improve your play, we put together a list of resources on different strategies and aspects of the game.
A WELL-ROUNDED POKER EDUCATION
Here are a few more places to help level up your poker skills: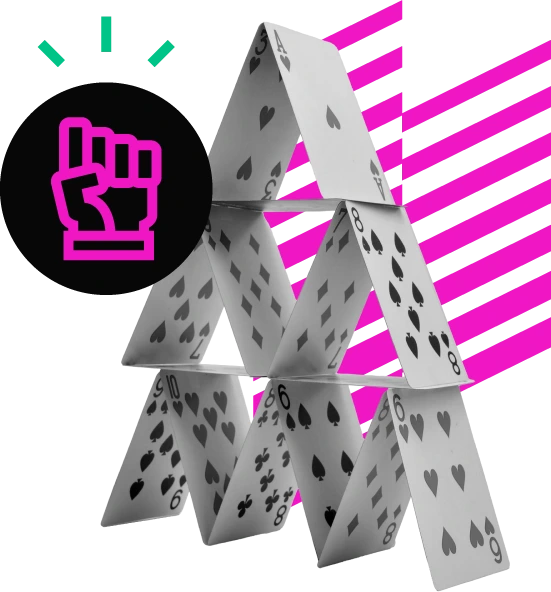 PLAYING OVER BARRIERS
The life of a poker pro is both exhilarating and exhausting, but it's not always an easy life to enter. Professional play requires a significant amount of skill and a considerably sized bankroll—both of which can take time to accumulate. Even when you have the skills and the funds, the variance in poker can be extremely difficult to cope with. Plus, no one likes losing, and suffering both emotional and economic wounds makes losing in poker even harder.
But if you really want to be a poker pro, you can overcome these barriers with a little time, a lot of patience, and even more support. The poker lifestyle can be a whirlwind so players need strong personal and professional relationships to thrive. To build such relationships, start networking online to find more opportunities to play. As you play, reach out to players you connect with or feel you could learn from; you may also want to seek out a poker study group or a private coach. Don't forget to also build relationships outside the poker world—those connections will keep you grounded and help you balance your poker career and personal well-being.
IMPROVING YOUR ODDS
The best poker players are always working to improve, so don't let yourself get comfortable with a basic knowledge of the game. The real fun begins once you start developing your strategy and persona. Let's look at two ways to stretch your skills and take your poker game from newbie to next level.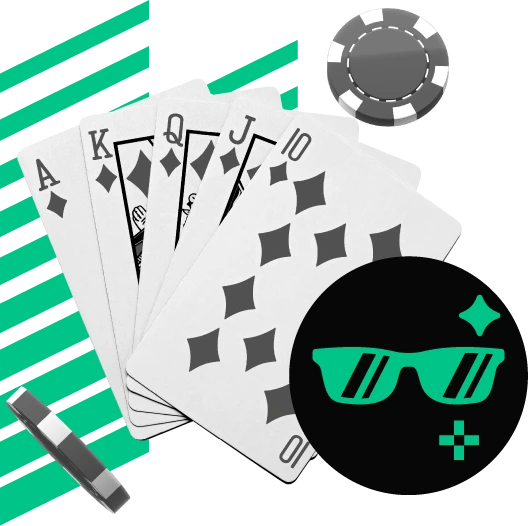 PLAYING WITH THE BIG BOYS AND GIRLS
Forcing you to challenge your skills and up your game, tournament poker offers a chance to play against a wide variety of players. Tournaments take place in person or online, and buy-ins to participate vary widely, from a few dollars to a few hundred thousand. Buy-in money goes toward the prize pool, allowing tournament winners to rake in enormous cash prizes.
But tournaments aren't easy to win. Instead of one poker game, tournaments involve a series of games at different competition levels. Participants are divided into multiple poker tables and start each competition round with a set number of chips; they play until they've either lost all their chips or won everyone else's. Players who lose their chips are out of the competition (unless the tournament offers rebuys or reentry to ousted players).
With each tournament round, the number of players and tables decreases while the cost of the blinds (mandatory bets) increases. Until finally, the last remaining players reach the final table. The championship game is played until one player holds all the chips and is crowned the winner. Top finishers receive the largest payouts, with the winner earning the biggest prize of all.
With more players and rounds of play (as long as you win), poker tournaments offer the perfect opportunity to learn new strategies and improve. And while some poker tournaments involve thousands of people from around the world, there are plenty of smaller tournaments more easily accessible to beginning players. But don't count the big tournaments out.
Some poker tournaments have gained global recognition for their high stakes and huge prizes. Some of the most notable are:
World Series of Poker
World Poker Tour Championships
European Poker Tour
World Championship of Online Poker
Triton Poker Super High Roller Series
Super High Roller Bowl
PokerStars Caribbean Adventure and Players Championship
Arguably the biggest poker tournament in the world, the World Series of Poker (WSOP) is held each year in Las Vegas. The WSOP features 101 poker tournaments culminating in the Main Event: a $10,000 buy-in no-limit Texas Hold'em tournament where the winner takes home $10 million. The WSOP is also famous for its coveted bracelets, given to the winners of each "bracelet event" in the tournament. The 2023 tournament is hosting the most bracelet events in WSOP history , offering players better odds than ever of taking home this prominent piece of jewelry.
But the best thing about the WSOP is that anyone can enter. Whether you're a seasoned pro or a fresh-faced rookie, as long as you can afford the buy-in, you can get a seat at a table. Newbies and pros play together, each with the same chance at victory. It's like getting to suit up and play with a team at the Super Bowl. If you don't believe us, just look up Joe Cada. He entered the 2009 WSOP as a 21-year-old new kid on the block, faced the best poker players in the world in multiple rounds—and then won it all. No other sport gives you that kind of opportunity. And if you practice and study enough, that could be you.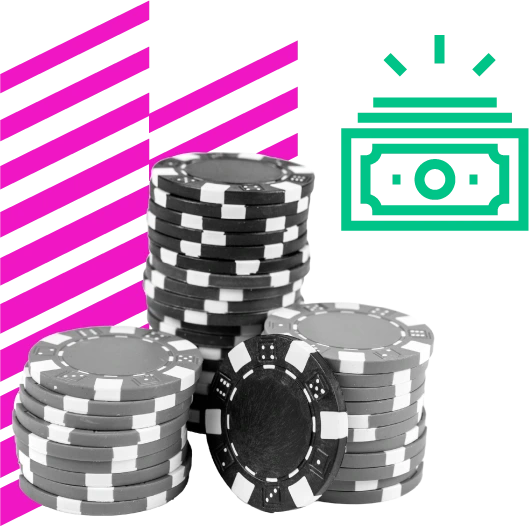 KEEPING AN EYE ON YOUR EARNINGS
Of course, opportunities to play in tournaments are only good when you can afford them. Playing poker, either professionally or as a hobby, requires careful handling of finances. You won't win every poker game you play, so your earnings from poker will rise and dip often; this is called variance. To mitigate variance and have the money you need to keep improving at poker, you need to learn bankroll management.
Bankroll management refers to—you guessed it—the management of your bankroll, or cash, so you never risk more than you can afford to lose. Proper bankroll management includes setting aside money specifically for poker and being disciplined enough not to dip into reserves beyond those designated funds. It also means avoiding games over your skill level and carefully tracking your stacks to make smart betting choices. With careful bankroll management, you can control your cash flow, ensuring you always have a little something in your poker reserves so you can keep playing and improving.
For poker pros, bankroll management operates on a whole different level. Professional poker players often have investors (or backers) who fund their game. Investors will pay a portion of game or tournament buy-ins in exchange for a percentage of any winnings, making poker a sport of gambling on top of gambling. Most high-stakes players are backed by multi-millionaires who either hear of the player's reputation for winning or experience it first-hand.
Though investing in a poker player can be risky, it can be extremely profitable. Here are a couple of examples of investors who got paid:
In 2004, Greg Raymer won $5 million at the WSOP Main Event and paid out over $2 million of it to investors.
In 2014, Daniel Negreanu sold 13% of his winning shares before entering the Big One for One Drop, with investors putting up $5,000 each. Upon placing second and raking in an $8.29 million payday, investors got back a very attractive $41,440 each. Not bad for someone who didn't have to play over 70 hours of poker.
You may not be able to land multi-million dollar investors when you start your pro poker career, but you can contact family and friends about investing. If you're lucky, you'll get one big investor and be able to leave it at that, but it's more likely you'll get lots of small investments from a large group of people. Make sure you keep careful track of each investment and its correlating percentage of earnings so you can promptly pay the right amount to each investor. Using a bankroll management app like Poker Analytics or Poker Stack can help you be a bankroll pro.
PLAY LIKE A PRO
As you practice your poker skills and learn more about the game, you should keep a few pro tips in mind. These tips may seem basic, but mastering these basic skills will provide you with a solid foundation for your poker career.
DEVELOP A SOLID PRE-FLOP STRATEGY
Knowing when to fold will keep you from wasting away your chip stack. When you have a hand that meets your criteria, play it aggressively. Your opponent won't know if you have pocket aces or a 7-6, and you might be able to scare them off before the flop.
STRATEGIZE WITH YOUR STACK IN MIND
Since your bankroll is your most important asset, take care to plan how you'll use your funds. Playing too big or fast is an easy way to get out of the game early. Don't be afraid to take risks, but make sure they're calculated risks with a good chance of success. As you consider your own stack, keep a watchful eye on the size of your opponents' stacks. If you find yourself short-stacked, play conservatively, protect what you have, and work to build your stack back up little by little. When your stack towers over your opponents', weaponize it by forcing them into folds or big bets. Just be careful not to over-bluff and lose your advantage.
Most professionals recommend bluffing earlier in the game rather than later. Bluffing strategies can vary based on the game situation and the cards on the table, so the best way to learn how to bluff effectively is to practice, practice, practice.
GET COMFORTABLE WITH LOSING
Poker is a game of odds, and they won't always be in your favor. If you want to be a poker pro, accept that losing is part of the game. You'll lose small hands, big pots, major games, and everything in between. Learn to be okay with that, because if you break down every time you lose, your life will be miserable. So accept the losses and move on—because you'll also win. Your bankroll will see many swells and dips, but as long as you win enough, it will grow in an overall positive direction.
Truly, this is the number one rule in poker. It's easy to feel the heat when the stakes are high, but it's important to keep your composure and maintain focus. Staying relaxed will help you approach the game with a clear head and prevent other players from identifying your weaknesses to take advantage of you. If you feel yourself heating up, step away from the table and take a few sips of cold water. Stay calm, stay loose, relax, and—whatever you do—don't tilt.
AVOIDING ADDICTION AND BAD HABITS
Poker is a thrilling game that can challenge your mind and help you develop focus and patience. Unfortunately, it can also lead to addiction and destructive behaviors. Here are a few tips to avoid poker addiction:
Set up a separate account specifically for poker funds, and do not dip into secondary sources to resupply it.
Give yourself a specific amount of time at the tables and stick to it. Once your time is up, walk away no matter what your winnings or losses may be.
BET BASED ON YOUR BANKROLL
Before each game, review your bankroll and set a limit on how much you are willing to bet so you don't spend more than you can afford to lose. Once you have your limit, don't go over it.
Develop friendships with players who have a healthy relationship with poker. Support each other in your efforts to avoid addiction.
WHEN YOU NEED HELP, GET IT EARLY
It can be easy to slip into an addictive relationship with any type of gambling, so you don't have to feel ashamed when it happens to you. As soon as you recognize signs of addiction (or they're pointed out for you), reach out to any of the numerous local, state, and national resources for gambling addiction. If you don't know where to look, contact the National Council on Problem Gambling:
Phone hotline: 1-800-GAMBLER
Text hotline: 800GAM
Remember, there is no shame in addiction—it can happen to anyone. The sooner you reach out and receive help, the easier it will be to overcome your addiction and resume playing for the love of the game.
QUIZ
LET'S SEE WHAT YOU'VE GOT
It's time to test your memory and see what you learned from the skills and strategies above. Take our short quiz to test your poker table readiness.
A LOOK INTO THE PROFESSIONAL POKER SCENE
Key Takeaways:
Searches for "poker hands" totaled nearly 6.7 million in the past year.
Searches for "poker online" increased by 16% in the past year.
Nevada is the U.S. state most interested in the "World Series of Poker," with 2,001 searches per 100,000 residents in the past year; Las Vegas had 8,011 searches per 100,000 residents.
Antonio Esfandiari is the highest-earning poker player in World Series of Poker history with $21.9 million, while Phil Hellmuth Jr. has the most WSOP bracelets with 16.
The majority of WSOP millionaires (64%) hail from the United States.
Just 4% of World Series of Poker players throughout history are women, and only 8 female players have over $1 million in WSOP earnings.
It takes more than luck to become a top-notch poker player. Studying the game and its most successful players is crucial to learning new strategies and developing the subtle skills needed to play a winning hand. To aid your poker study, we examined search volume trends from the past year and dug into the World Series of Poker database to identify the top players in the game. Let's take a look at what we found.
Poker Popularity
Poker seems to hold people's curiosity, and Google has the stats to prove it. Let's take a closer look at what people are searching for and where.
Total poker terms searches in the past year
When researching poker, "poker hands" was the most popular search keyword by an overwhelming majority, with nearly 6.7 million total searches. It registered almost four times as many searches as the second-most popular keyword, "poker." Typically, "poker hands" is a popular search term for new players who want to know which hands rank best.
While only the fifth most popular term overall, searches for "poker online" increased 16% from the previous year, with 566,060 searches. The search for "poker online" was especially popular in northeastern states. Let's look at some other trends.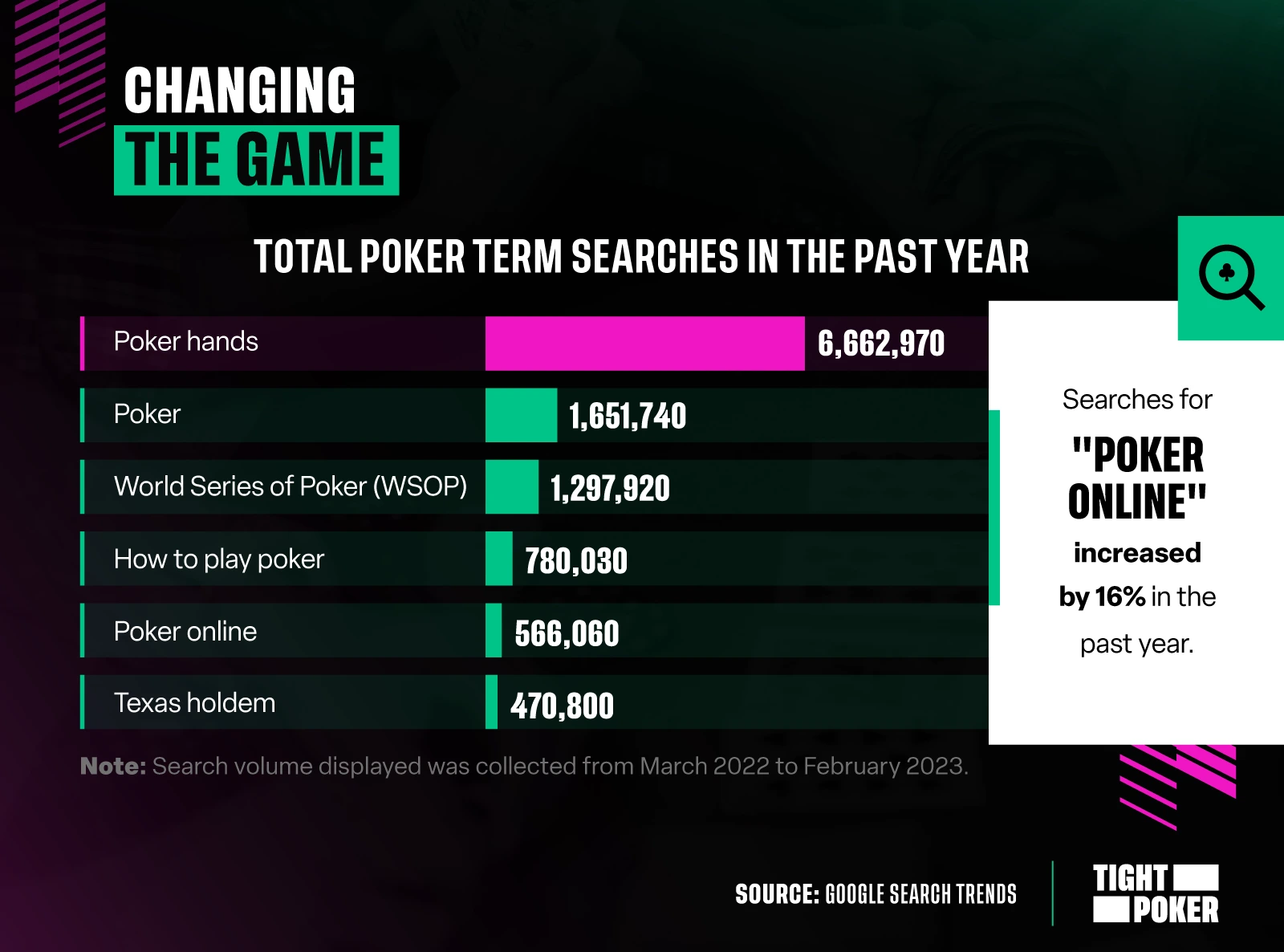 Most associated search terms by state
When it came to state search volume, Nevada and Massachusetts were each among the top 5 states for four out of six search terms. Among cities, Orlando, Florida, made a surprise appearance in the top 5 for all six search terms; Las Vegas, the so-called gambling capital of America, only made the list for four categories.
Top 5 states and cities searching for each poker term
Las Vegas may not have made every top 5 list, but it was by far the most popular area for searches of "World Series of Poker" (WSOP), perhaps due to its being the host of the 2022 WSOP Main Event. Las Vegas had an astounding 8,011 searches per 100,000 residents, over four times more than any other city. Additionally, the entire state of Nevada experienced a high rate of searches for the event, with 2,001 searches per 100,000 residents. The next closest state, Vermont, only had 857 searches.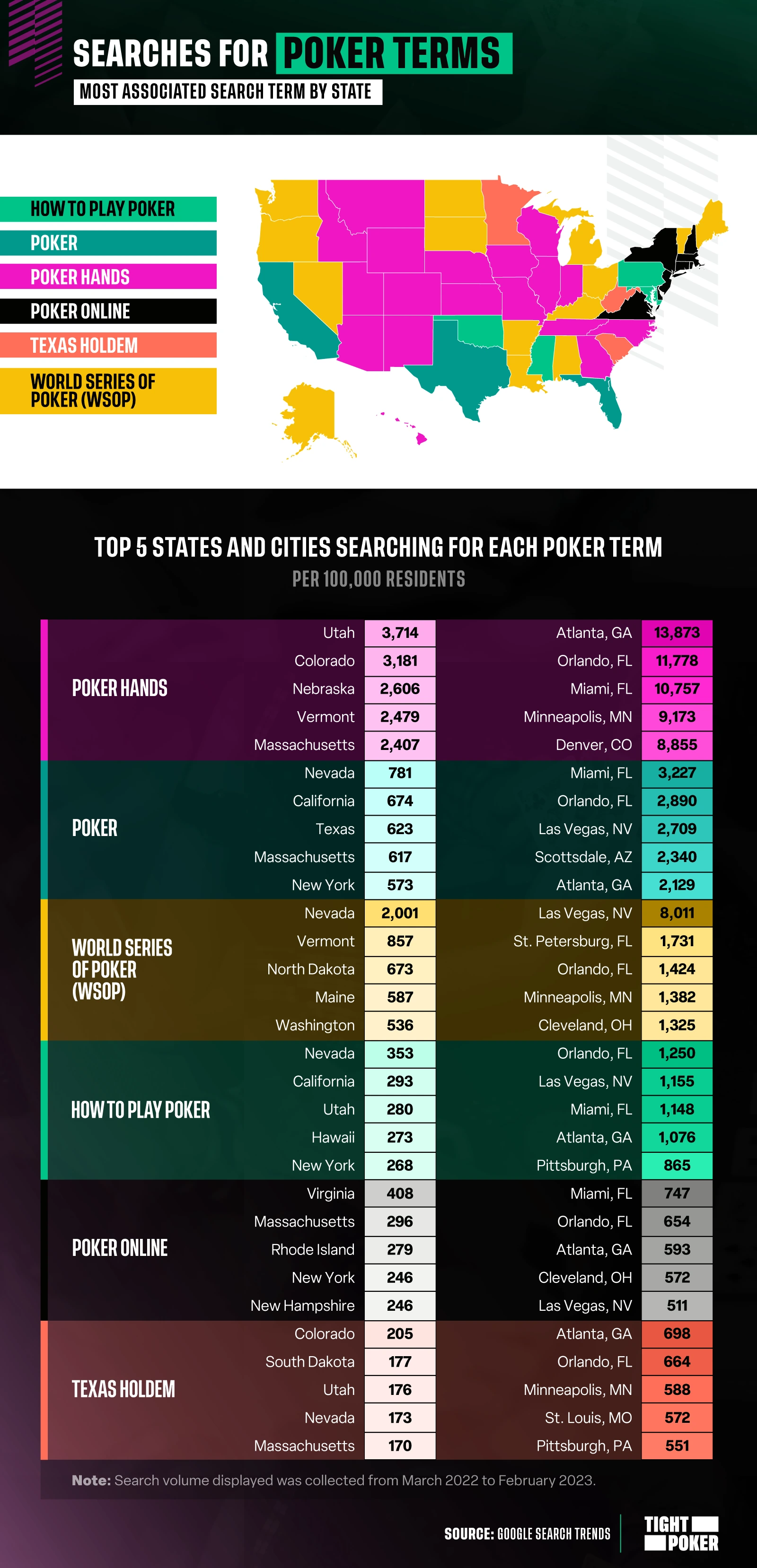 WSOP Payouts
The World Series of Poker is a series of poker tournaments spanning from May 29th to July 18th each year, all hosted in Las Vegas. It consists of 101 tournaments, culminating in the Main Event. If you want to watch the best poker players at the top of their game, the Main Event is where you'll find them. Let's meet the highest-earning WSOP players and see how much they bring home.
WSOP top 50 highest earning players
The current highest earner in World Series of Poker history, Antonio Esfandiari of the U.S. made history when he won over $18.3 million in a single tournament at the 2012 WSOP Big One for One Drop. He's earned around $1.5 million more than Canada's Daniel Negreanu and $5 million more than fellow American Phil Hellmuth Jr. Although Hellmuth doesn't have the same level of financial success as Esfandiari or Negreanu, his impressive 16 WSOP bracelets make him one of the most accomplished players in WSOP history.
Women in the WSOP
While all are welcome at the poker table now, women weren't always allowed a seat historically. Even now, female players make up just 4% of past World Series of Poker participants. The top female WSOP earner is Vanessa Selbst of the U.S., with three bracelets and over $2.2 million in career winnings. Americans Nani Dollison and Barbara Enright also have three bracelets each, but their winnings are well below the $1 million mark. Only eight women have won over $1 million in WSOP earnings over their careers.
World series of poker earnings by country
In looking at the data for the top 50 highest-earning players and top 40 highest-earning female players, it seems most World Series of Poker winners represent the United States. Let's see which countries are the most successful when it comes to WSOP earnings.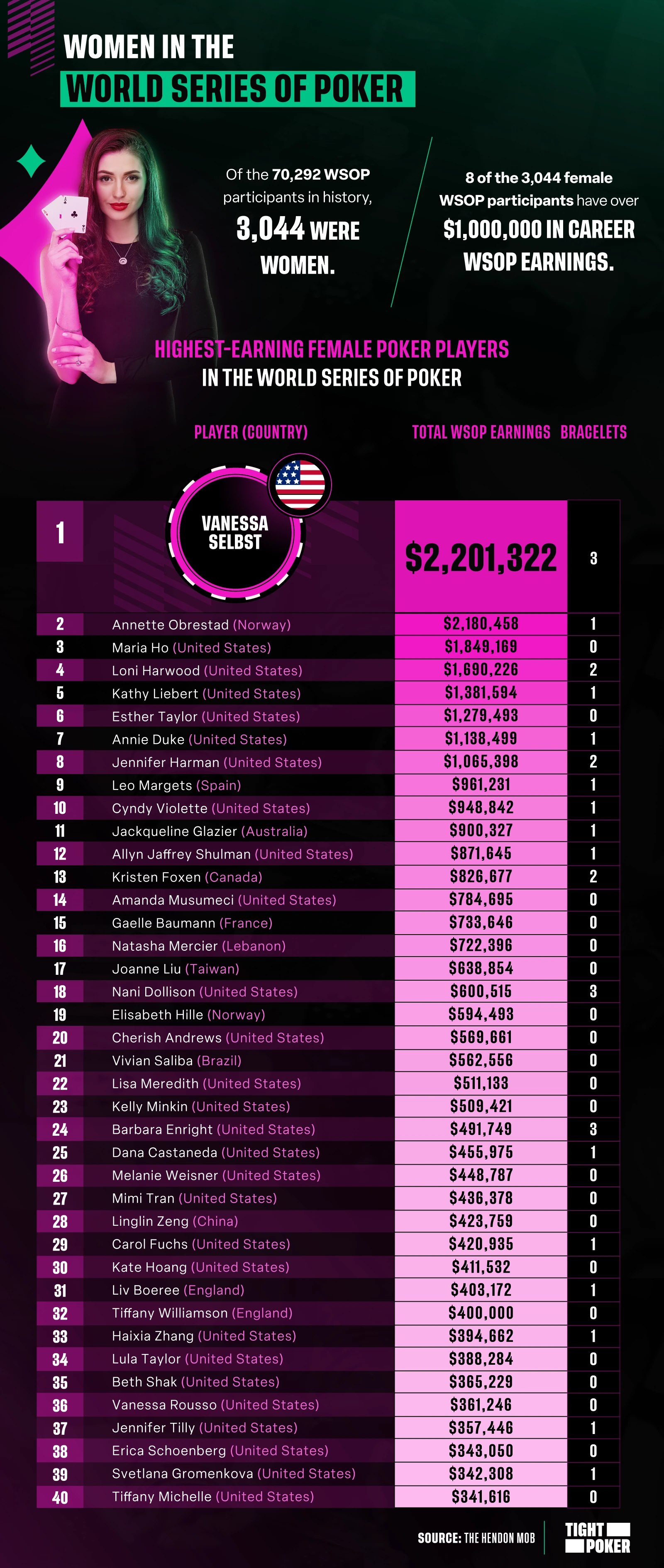 Las Vegas may not have made every top 5 list, but it was by far the most popular area for searches of "World Series of Poker" (WSOP), perhaps due to its being the host of the 2022 WSOP Main Event. Las Vegas had an astounding 8,011 searches per 100,000 residents, over four times more than any other city. Additionally, the entire state of Nevada experienced a high rate of searches for the event, with 2,001 searches per 100,000 residents. The next closest state, Vermont, only had 857 searches.
The 2023 WSOP Main Event is scheduled for the end of May at the Horseshoe Las Vegas and Paris Las Vegas Hotel and Casino. This year's event will have more tables and the largest number of bracelet events in the tournament's history.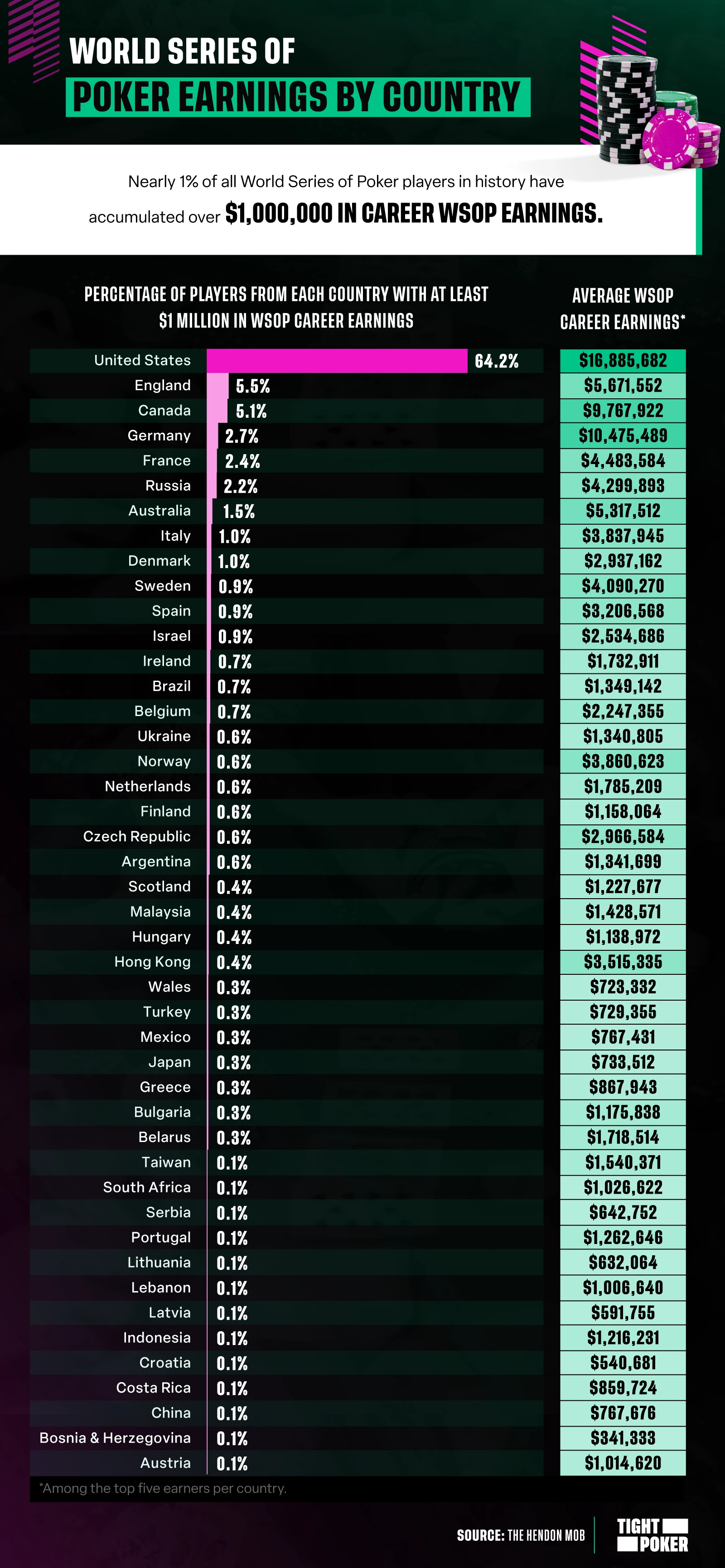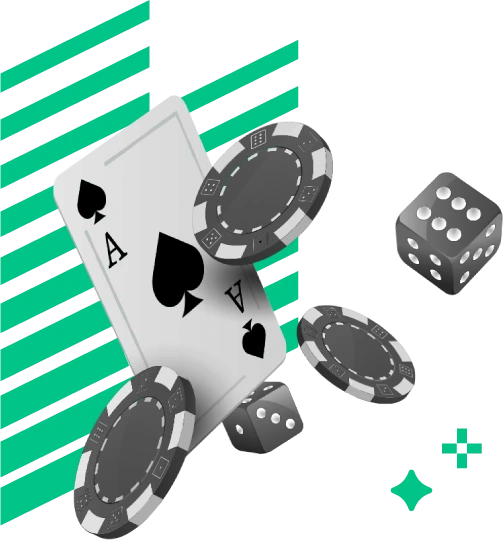 TIME TO SHUFFLE UP AND DEAL
Poker is an exciting game with incredible possibilities for those who can master it. With careful study and patient practice of skills, you can develop a unique strategy that highlights your strengths. As you watch and learn from the game's best players, you can hone your skills and start dominating the tables. With persistence (and maybe a little luck), you'll be cashing in on bigger pots in no time.
Playing poker can be a lot of fun, but it may also become addictive for some players. Remember to practice safe and responsible play, especially when there's real money on the line.
ABOUT TIGHT POKER
Backed by a team of poker and gambling experts, Tight Poker provides reviews, resources, strategies, and more to help you take your game to the next level.
FAIR USE STATEMENT
Looking to help fellow poker fans level up their game? Readers are welcome to share these findings, but only for non-commercial purposes. If you choose to share this content in any format, you must include a link back to this page to credit the authors and give readers access to our full findings and methodology.