The Bovada Poker room launched in 2004, just as the poker boom was starting. The site was a big success but had to rebrand to Bovada after the events of Black Friday in 2011 to ensure that the main brand had no association with American gambling.
After struggling in the aftermath of Black Friday, Bovada was sold to Ignition in 2016 and relaunched a year later. It uses its own proprietary software, which is well known for its sleek black and red design. It's also well known for its rec-friendly policies and soft games. So if you're looking for a site with plenty of fish (not the dating app), this site is aces, baby.
Overview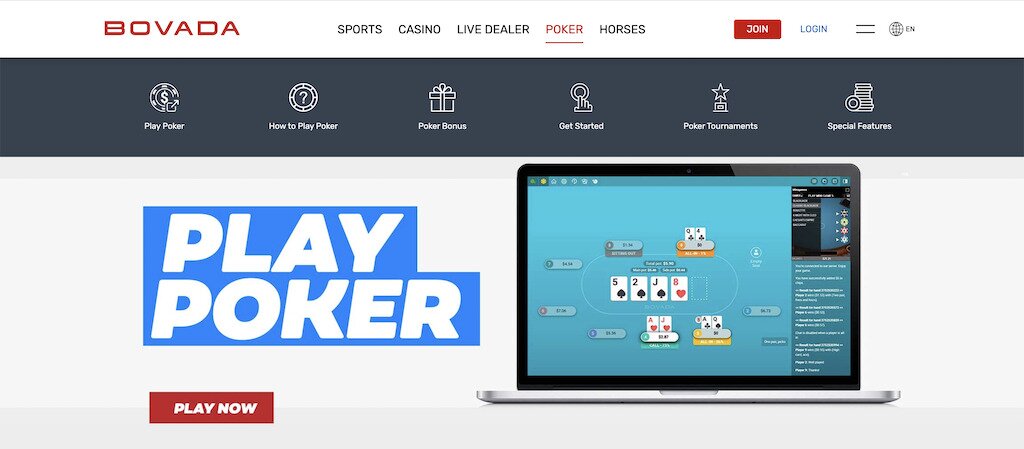 Bovada. It's a name that anyone who's been a part of the online poker scene in America will have heard of, for it is, put frankly, one of the biggest names in the US poker market. And one of the best, thanks to its willingness to innovate and deliver a top-tier player experience.
It's no shock that I've already played on Bovada in the past, but this time I truly wanted to do a deep dive and give it the full, top-to-bottom review. I tried everything: the anonymous cash game tables, the jackpot Sit N Gos, and the vast tournament offerings.
As well as game testing, I looked at other important areas of the site, like bonuses, promotions, customer support teams, and available banking options. Everything that I thought you would want to know is here.
I've been in the poker industry for over a decade, and through it all, Bovada has remained a name on my "list," and for a good reason.
Pros and Cons
When choosing a poker site, it's important to weigh up the pros and cons to see if the site is right for you. We've outlined what we feel are the most important points to consider when looking at Bovada Poker: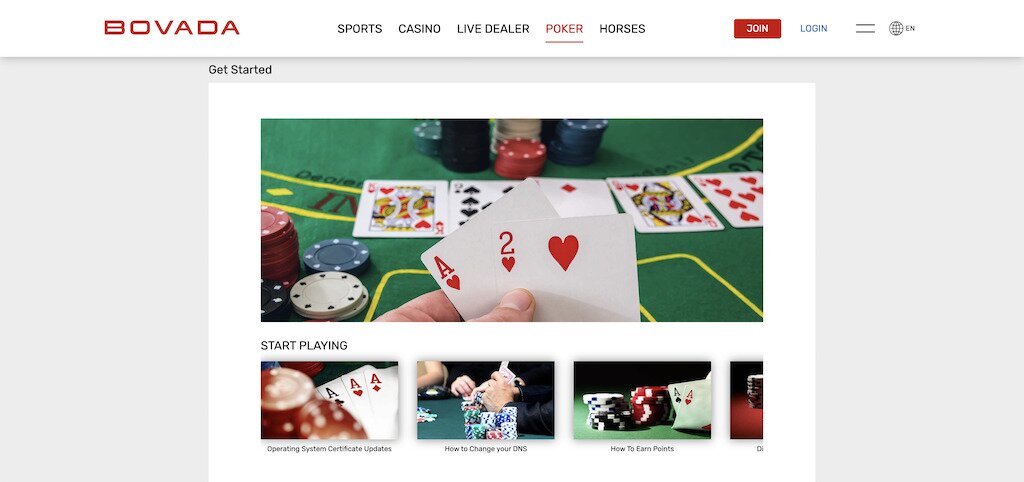 Pros
US Players Accepted
Mac/Mobile Compatible
Large Guarantee MTTs
High Traffic
Soft Games
Cons
Maximum of 4 Tables Played at Once
Limited Options for Mixed Games
Little High Stakes Action
Poker Game Selection
Bovada Poker offers three poker variants for its cash games and tournaments – Texas Hold 'em, Omaha, and Omaha Hi-Lo. While this may seem limited compared to some other sites, Bovada more than makes up for it in other areas.
The quality of the games is top-tier, both in terms of traffic and how easy it is to make bank. Thanks in part to Black Friday, American operators have been shut off from the rest of the world. As a result, their games play much softer than their more international counterparts.
Moreover, the site was one of the first–and still one of the only–poker rooms to offer fully anonymous tables. As such, there's no danger of being exploited by players who have built up a significant hand sample on you (among other benefits).
Cash Games
Bovada offers for cash games are Hold 'em, Omaha, and Omaha Hi-Lo. Those games are available in No-Limit Hold 'em, Limit Hold 'em, Pot Limit Omaha, Pot Limit Omaha Hi-Lo and Limit Omaha Hi-Lo. The games have three different table sizes: heads-up, 6max, and 9-handed games available. The games run from $0.02/$0.05 up to $10/20 for NLHE and PLO; the fixed-limit games go as high as $40/$80. Larger games can be opened on request, but action rarely runs higher than these limits.
Unlike other poker operators, Bovada doesn't feature a traditional poker lobby. Instead, players simply choose the game, stakes, and table size and are seated at a table via the "quick seat" feature. They will then automatically be seated at a table that meets those requirements. This is an effort to eliminate the practice of "bum hunting," where professional players only play at tables with weaker players or whales. This is a great addition and improves gameplay immensely. You do not have to wade through a long list of tables to find an open seat, but you avoid constantly running into sharks.
Bovada also has its own version of fast-fold poker called Zone. Instead of playing at a single table, you play with a pool of players that are constantly moving tables. When you join a game of Zone, you are randomly seated with 5-8 other players and immediately dealt a hand. Once you have folded or the hand reaches showdown (whichever comes first), you are moved from that table to another random table with different players. I love this format as it allows you to play upwards of 200 hands an hour, compared to around 50-80 you would play at a regular table. Action junkies rejoice!
Sit and Gos
There are various sit-and-go formats at Bovada, including Turbo, Heads-Up, Regular, 6-player, 18-player, Double-Ups, and Triple-Ups. While these are mostly comprised of No-Limit Hold 'em games, there are Omaha options, although they run less often. The buy-in level for sit and gos varies from as low as $1 up to $200.

The site also offers a special type of sit-and-go called a Jackpot sit-and-go. Made up of three players, these feature a prize pool determined by a multiplier, which can range from 2 to 1200x your buy-in. The buy-in levels for the Jackpot sit and gos are $2, $7, $15, $30, and $60, meaning that you can potentially win $72k if you hit the biggest multiplier! I put in a ton of volume in these games; the massive potential payouts for beating just two players are way too good to pass up.
The site also offers a special type of sit-and-go called a Jackpot sit-and-go. Made up of three players, these feature a prize pool determined by a multiplier, which can range from 2 to 1200x your buy-in. The buy-in levels for the Jackpot sit and gos are $2, $7, $15, $30, and $60, meaning that you can potentially win $72k if you hit the biggest multiplier! I put in a ton of volume in these games; the massive potential payouts for beating just two players are way too good to pass up.
Poker Tournaments
One of Bovada's strongest assets is its extensive tournament schedule, with over $2m offered in guaranteed prizes every week. Most tournaments exceed this guarantee, meaning it's likely closer to $2.2m in weekly prizes. The crown jewel is the weekly Sunday tournament, with a guaranteed prize pool of $150k for a $162 buy-in. This is easily one of the most popular tournaments on the site and has a guaranteed first-place payout of at least $20k.

With entry fees ranging from $1 to over $400, Bovada has tournaments for everyone and all bankrolls. In addition, all tournaments have guaranteed prize pools that are repeated multiple times throughout the day, so regardless of when you play, you'll be able to hop into a tourney. These tournaments include the Lucky Sevens tournament, a $22 buy-in with a $7,777 guarantee; the Crazy Eights tournament, a $16.50 buy-in with an $8,888 guarantee and a $22 6-handed tournament.
Other tournament staples include the $55 Turbo tournament (up to $30k guaranteed), the $82 Knockout tournament (up to $10k guaranteed), and the $325 High Roller tournament (up to $75k guaranteed). You can easily find these tournaments in the lobby, highlighted in different colors. Additionally, players can try and earn a seat in these prestigious tournaments by participating in the many satellites Bovada Poker offers. Buy-ins for these satellites can range from $1 to $82 for the high-roller tournaments.

Bovada also runs a tournament series every year from the middle of October to the middle of November called The Golden Spade Poker Open. The series offers 150 events and $10 million in guaranteed. Buy-ins range from $5.05 to $1055, with satellites also available for bigger events. In addition, the series offers two chances at the main event depending on your buy-in level: a $109 "mini" main event with a $150k guarantee and a $450 main event with a $400k guarantee.
Bonus and Promotions
Everyone loves getting something for nothing, and poker sites have realized that they can attract players by offering increasingly generous bonuses and promotions. Bovada is no exception, as it offers its players a welcome bonus and in-game promotions to keep them at the tables.
Welcome Bonus
Bovada currently offers a 100% matched deposit bonus of up to $500. This bonus is released based on the rewards points you earn within the first 30 days of your deposit. If you're looking to take advantage of this offer, make sure you do it when you have time to play, or you'll miss out.
Bad Beat Bonus
One of the worst parts of poker is making a big hand but getting it cracked by an even better hand. Luckily, Bovada is here to make you feel better about it; if you lose with aces full of kings or better in a cash game, you can win 100x the big blind (up to a value of $1000).
However, this bonus is not automatically deposited into your account; you have to contact support for them to process it. It was hard to get used to contacting support whenever I lost a hand like that, but it was well worth doing so!
Refer-A-Friend
Bovada is willing to give you a bonus of 200% of your friend's initial deposit (up to the value of $100), with an additional $75 bonus if they deposit using cryptocurrency. The great thing about this promotion is that there is no limit to the number of people you can refer. Sometimes it pays to be popular!
Royal Flush Bonus
If you're lucky enough to make a royal flush while at the cash tables, Bovada will give you a bonus of 50x the big blind (up to a value of $200). You need to use both hole cards to qualify for this promotion, and you need to contact support to claim it.
Casino Bonuses
One recent addition Bovada has made is casino bonuses for points earned at the poker table. So once you've accrued enough points, you can buy casino bonuses to play risk-free at your favorite table games.
Deposit and Withdrawal Options
Bovada has brought deposit and withdrawal options into the 21st century by including various cryptocurrencies. Players can make transactions using Bitcoin, Ethereum, Bitcoin Cash, Bitcoin SV, and Litecoin. Of course, the site also has the standard options of credit/debit cards, bank transfers, and player transfers.
Deposits to the site are processed almost immediately, so there's hardly any wait between depositing and playing. However, it's a different story when it comes to withdrawing. Depending on your withdrawal method, it could be as fast as two hours or as slow as two weeks!
I found that the more modern deposit methods, like cryptocurrency and e-wallets, offered faster withdrawal times. I've created a couple of helpful tables to show you your deposit and withdrawal options, as well as any minimum/maximum limits that are enforced:
Deposits
| | | |
| --- | --- | --- |
| Deposit Method | Min Deposit | Max Deposit |
| Visa, Mastercard | $20 | $1500 |
| BTC, BCH, BSV, LTC | $10 | $5000 |
| ETH | $50 | $5000 |
| Player Transfer | $10 | $15,000 |
| Direct Bank Transfer | $50 | $450 |
| MatchPay | $20 | $1000 |
When depositing, you should be mindful of fees. The first deposit with one of Bovada's accepted credit cards is free. Still, subsequent deposits will incur a hefty fee of 15.9%. In addition, your bank may charge an International Service fee of up to 3% on any transaction made with an international merchant. There are no fees charged by Bovada for cryptocurrency deposits.
Withdrawals
| | | | | |
| --- | --- | --- | --- | --- |
| Method | Min Withdrawal | Max WIthdrawal | Frequency | Time |
| BTC, BCH, LTC | $10 | No Limit* | 1 every 3 days | 1-24 hours |
| ETH | $50 | No Limit* | 1 every 3 days | 1-24 hours |
| Check | $100 | $3000 | 1 every 7 days | 10-15 days |
| Voucher | $10 | $3000 | No Limit | 24-48 hours |
| MatchPay | $20 | $1000 | Twice a day | 24-48 hours |
*Issued in increments of $9500 until you are fully paid out.
Depending on the method you use to withdraw, you may incur withdrawal fees. Bovada will cover the fee for your first non-Bitcoin withdrawal every 90 days. Every additional withdrawal in those 90 days will incur a $100 (!!) processing fee. There are no fees charged for cryptocurrency or voucher withdrawals.
Mobile Gaming
Instead of a downloadable app, Bovada has created a mobile-optimized website. It's really simple to use; just go to the website from your device, select the "Poker" tab, sign in with your login details, and you're set. I loved playing on Bovada from my phone. The mobile site is super sleek and sexy with its black and red design.
Once you've signed in, the site is easy to navigate. When you're sitting at the table, all the essential buttons are clearly labeled, and I had no issues. The site works on both iOS and Android devices.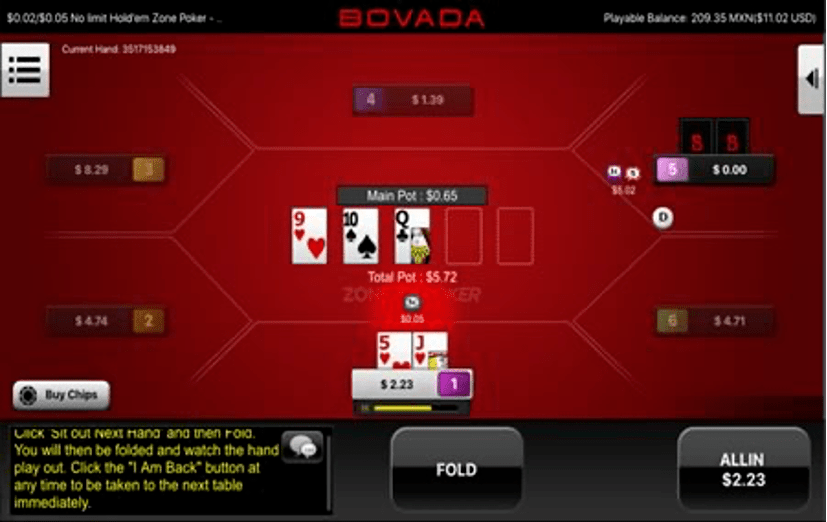 Much to my disappointment, only cash games are available on the mobile site. I sincerely hope Bovada smartens up and offers tournaments and SNGs in the future! On the plus side, their mobile site provides the full range of offers and promotions.
Customer Service Options
Bovada's reputation for stellar customer service precedes it; in my experience, they live up to it. Their CS reps were super helpful in handling my queries/questions. They have three methods for you to contact them: email, live chat, and phone. The fastest way to get a hold of agents is by phone or live chat–I usually get a response within 10-15 minutes. However, times can vary depending on the volume of calls. If your query isn't urgent, I recommend sending an email.
Phone: Speak directly with a customer service representative by dialing 1-888-263-0000.
Live Chat: Chat with a customer service representative using the "Chat Now" dialogue box on the right-hand side of the page.
Email: Complete the online form found here or email them directly at service@bovada.lv
What Makes this Poker Site Unique
There are a lot of great poker sites out there; why should you choose Bovada over any of those? One of the unique selling points of Bovada Poker compared to its competitors is its anonymous tables. Bovada was one of the first sites to implement it across all their games, and it has done wonders for the quality of their games.
Not being able to track a player minimizes the advantage professionals have over rec players. If you've ever felt like you're always stuck playing the same regular sharks or you're simply just tired of the same nits hogging all the tables, this is the perfect site for you.
Another great feature that Bovada has is its Quick Seat feature. Rather than your typical poker lobby, where you have to go through the tables before you take a seat, Bovada allows you to jump right into the action at the click of a button. It's effortless, and it's effective.
Conclusion
This site has so many fantastic features, from its sleek, easy-to-use software to its anonymous tables and rec-friendly atmosphere. I really enjoyed the anonymous tables, as they allowed me to make outlandish plays without worrying that the regs could target me in the future. The tournament series was always full of huge guarantees, so I always found them worth playing. On top of all that, I think it has a beautifully designed, mobile-optimized website.
With a range of deposit and withdrawal options and outstanding 24/7 customer support, it's easy to see why Bovada is a favorite amongst veteran and beginner poker players. There are always plenty of games to play on Bovada. Toss in a generous welcome offer and new promotions, and it's a no-brainer Bovada Poker is high on my list of recommendations.
Bovada Poker FAQs
There is a mac client for Bovada as well as a Windows one.
Bovada has a mobile-optimized website that allows players to play from their mobile devices. However, there is only the option to play cash games as tournament functionality has not yet been added.
A HUD will be able to track your opponents in your current session but it will not be able to differentiate between different players as they leave/join the table. For example, if a nit is playing in seat 1 for 200 hands and then a maniac takes their seat after they leave, the stats will not automatically reset so you could be working with faulty information.
Bovada does accept players from the US, however, there are some states that are banned from playing on Bovada due to certain state laws.
Bovada does not currently offer rakeback to its players.
There are three different ways you can contact Bovada customer support. By calling 1-888-263-0000, filling out a form on their website, or starting a live chat with a customer support representative.
Bovada does currently offer a welcome bonus to new players. The offer is a matched deposit bonus up to the value of $500.
You can withdraw from Bovada using several methods. Cryptocurrency options such as Bitcoin and Ethereum are the most popular options as they're processed quickly and have no withdrawal fees. There is also the option to withdraw using a cheque but that incurs a $100 processing fee after the first time.
The states that are currently banned from Bovada are Nevada, Delaware, New Jersey, New York, and Maryland.
Bovada tables are anonymous because the owners were becoming unhappy with the direction of online poker. They thought that anonymous tables would help preserve the ecosystem of poker players on their site by keeping professional players from hunting the recreational players, thus they implemented anonymous tables.