PartyPoker is arguably one of the biggest names in online poker and has been for many years. When it launched back in 2001, it quickly became a trusted brand and, to this day, remains one of the most well-known poker sites.
Overview

PartyPoker isn't just one of the biggest poker sites in the US; it's one of the biggest poker brands in the world! Its history is deep-rooted in the fabric of online and live poker, and as such, it's one of the first sites people sign up to when they start playing online poker.
But does PartyPoker deserve its lofty place as online poker royalty? I decided to find out for myself. In my review, I tried every game I could find running to give you a full breakdown of what it's like to play online poker there. No stone was left unturned.
As well as looking at the quality of the games, I also looked at other important factors that should influence your decision to sign up. Things like customer service, mobile gaming options, bonuses and promotions all significantly impact how viable a site is to join. So I've laid out exactly what I think of them.
As someone who has been in the industry for a decade, I know what the average player wants when it comes to a poker site, and I've used that experience to create this review. So, read on for everything you need to know about PartyPoker.
Pros and Cons
PartyPoker is a site that has been around for a long time, and its experience shows; they do a lot of things right. However, no poker site is perfect, and I wouldn't be doing my job properly if I didn't give you the full breakdown of both the good and the bad before you decide to sign up and play online poker for real money.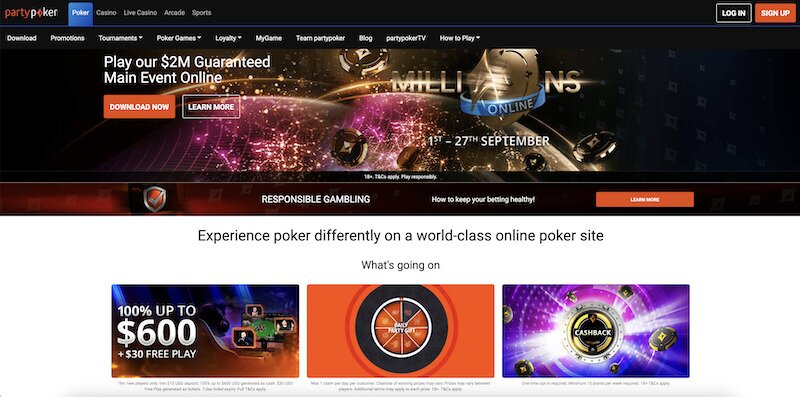 Pros
Fantastic Rakeback Program
Big Name Brand
Great Looking Software
High Traffic
Satellites to Live Events
Cons
No Cryptocurrency Options
HUDs Are Banned
Poker Game Selection
When a site is consistently near the top of the poker traffic rankings as PartyPoker is, you know you'll have no trouble finding a game to play. And that's precisely what I found when I signed up; no matter what I wanted to play, there was always a game running. Current games on offer include No-Limit Hold 'em, Pot Limit Omaha, Pot Limit Omaha Hi-Lo, No Limit Short Deck, and Fixed Limit Hold 'em. Short Deck is a relatively new game in the poker world and has been taking the high-stakes world by storm. It's similar to Texas Hold 'em, except all the 2s, 3s, 4s, and 5s have been removed from the deck, increasing the potential for big hands (check out our complete list of short deck poker rules). Only a few poker sites offer Short Deck, and it's a great addition.  
Cash Games
PartyPoker has a terrific cash game scene, thanks in part to its generous loyalty program that encourages players to put in a lot of hours at the tables. It is also one of the few sites that offer heads-up tables to its players–a game type that has unfortunately been dying out over the past few years. As a fan of heads-up games, I appreciate having the option to play this format. Aside from the heads-up tables, the vast majority of games are 6max, with the only exception No-Limit Hold 'em, which also features 8max tables, but these do not see the traffic that the 6max tables do.
One of the features that PartyPoker offers on some of its PLO and No-Limit Hold 'em cash games is a Real Name Table option. Players on these tables don't use their screen names but their actual ones. Not only does this creates a more grounded, "in real life" feeling for the players, but players are far less likely to berate and abuse each other in chat when they cannot hide behind a screen name. This addition is a tremendous breath of fresh air, as I've found poker chat rooms to be quite incredibly toxic at times. There are also options for ante tables in PLO and No-Limit Hold 'em if players want to experience a less-solved, more-action-packed game.
The cash games for PLO and No-Limit Hold 'em run from as low as $0.01/$0.02 up to $50/$100. There is always great action at the lower-stakes games, but even the higher-stakes see decent traffic. Fixed Limit Hold 'em runs from $0.25/$0.50 up to $30/60, but this game is one of the lowest-traffic games on the site (is there even anyone under 60 who plays Limit Hold'em anymore?) Short Deck has a different blind scheme than the other games and has a narrower range of buy-in levels. Still, there are 5 different buy-in levels where players can buy in from $2 up to $500. 
PartyPoker also has its own version of fast-fold poker, which it calls Fast-forward. In this game, players are grouped into pools based on the stake level they wish to play at and are randomly assigned a table. Then, once a player folds, that player is taken from that table and sat at a different, random table with five other players. Fast-forward is impatient players like me who want to play a lot of poker in a short time since I can immediately get onto the next hand whenever I want. Fast-forward is offered for No-Limit Hold 'em and Pot-Limit Omaha, though most traffic is in the Hold 'em games. The stakes run from $0.01/$0.02 to $2.50/$5 for both game types. Again, you'll find that most of the action is at the lower-stakes games, although the higher stakes still see a decent amount of traffic during peak times.
Sit and Gos
PartyPoker's sit-and-go lobby focuses on the 1 table No-Limit Hold 'em set up. They don't offer any of the 18-man or 27-man SNGs that some sites offer, nor do they provide SNGs in any game variant other than No-Limit Hold 'em. This is surprising and disappointing, as SNGs are a cornerstone of any good poker site. It's a bit embarrassing for a site of PartyPoker's calibre. Still, if you're a fan of No-Limit Hold 'em SNGs, there's a wide range to choose from. They have table sizes from heads-up to 9-handed, so no matter how many players you prefer to play with, there's an option for you. They have Double Up SNGs, Triple Up SNGs, Turbo SNGs, Hyper-Turbo SNGs, Progressive KO SNGs, and Super KO SNGs–you name it–some of which are pretty hard to find on other poker sites these days. Unfortunately, all SNGs play with turbo or hyper-turbo blind lengths; I'd have loved to at least have the option for slower, more traditional blind levels. Buy-ins range from $1 all the way up to $1000, but 6-max SNGs stop running at the $200 buy-in level, and it's only heads-up crushers from there on up. 
PartyPoker also has its own version of the Jackpot SNG with its "Spins" games. For the uninitiated, a Jackpot SNG sits three players at a table, and the prize is randomly chosen before they start playing. It could be as low as 2x your buy-in, but it could go as high as 10,000x! This is easily my favorite format both because of the additional gamble plus the potential to win life-changing money for only a tiny investment. Buy-ins range from $0.25 up to $500, with the $5, $100, $250, and $500 buy-ins giving the player a chance to play for a cool million! PartyPoker even runs an "Ultra"' version of the SNG, with a faster blind structure and shorter starting stack, for players who want to get through as many as possible.
Poker Tournaments
One of the things this site is best known for is its fantastic tournament schedule. Plenty of great-value tournaments run daily, and there's always some kind of series offering up huge guaranteed prize pools. With millions of dollars in guarantees every week, it's easy to see why PartyPoker remains one of the top sites for tournament play. 
One of the tournament highlights has to be The Grand. This one is for the high rollers among you, as it's a $1050 buy-in and a $150k guarantee. Don't worry if your bankroll can't reasonably afford that, though–you can qualify through Phase tournaments for as little as $2.20. You can even satellite into the $2.20 for as low as $0.22! I love having the option of winning your way into bigger tournaments like this, and it's something that more sites should implement.
For the PLO fans, you'll be sure to want to play the Chieftain–a $55 buy-in with a $4K guarantee on Sundays. While a $4K guarantee for a tournament might not sound like much these days, I think it offers great value, especially when you remember that on most sites, PLO tournaments don't get guarantees at all due to how few people play them. Tournaments like this and others in the Daily Legends series offer great value no matter what buy-in level you play.
PartyPoker has also recently introduced on-demand tournaments to its line-up, where a tournament will start playing as soon as eight people have registered for it. They have a lot of confidence that these will be a popular offering as they've included a guarantee on these tournaments, even though they could start at any time. So if you're a fan of hunting for value in tournaments like I am, these are ones to keep an eye on. As well as the regular tournaments, PartyPoker has an impressive range of satellite tournaments to win seats to prestigious live events such as the Irish Open and the Millions Series. For only a couple of bucks, you could win a seat and, maybe, just maybe, take down a life tourney for mad bank. 
Bonus and Promotions
Even online poker rooms as big as PartyPoker need to offer bonuses and promotions to ensure they stay at the top of the online poker food chain. Many sites are judged not only on their welcome bonus but on the promotions/offers they give to their continuing players. Why should people play on a site if it doesn't treat their regulars well? Here's what I found when I investigated the current promotions that PartyPoker has to offer:
Keeping in line with most online poker rooms, PartyPoker has a deposit bonus for new players. This bonus will match 100% of a player's deposit up to $400. When I join, I always take the sign-up bonus, and a 100% matched deposit for that amount of money represents good value for the average player. On top of that, PartyPoker gives away up to six days' worth of free Spins and MTT tickets (a $40 value). Players must accumulate 4x the value of their deposit in loyalty points to receive the total amount. The bonus is released in 10% increments, so if you deposited $400, you would need to accumulate 1600 loyalty points for it to be fully released. You will get your first $40 of the bonus after you've earned 160 loyalty points. You have 90 days to accumulate the bonus points required, which I found very doable to release your bonus if you're playing at decent stakes.

Sit And Go Leaderboards

EXPAND

PartyPoker is offering three different prize leaderboards for its sit-and-go players; one for its Spins SNGs, one for its Spins Ultra SNGs, and one for its regular sit-and-go players. The prizes that players can win in these leaderboards are P$ or Party dollars which can be used to buy into any format of poker you wish. Both the Spins and Spins Ultra have P$8.5K up for grabs over a week split between five different leaderboards as follows:

Micro: $0.25 & $1 – $300

Small: $3 & $5 – $750

Low: $10 & $20 – $2150

Mid: $50 & $100 – $3100

High: $250 & $500 – $2200

The sit-and-go leaderboard does things a little differently. Instead of a weekly leaderboard, it has daily leaderboards of P$1.75K that run from Monday to Friday, then a combined weekend leaderboard of P$3.5K.

When you play real money cash games on Part Poker, you're rewarded with loyalty points that measure the amount of rakeback you're given that week. FYI, rakeback is the return of some of the rake a player pays (either a percentage from cash game hands or tournament entries) as a reward for continuing to play on that site.

Rakeback is given out in a milestone format, so once you've hit the first milestone of 25 points, you'll earn $5 for that week. To earn more rakeback, you need to hit the next milestone of 50 points to win $10. So if you only reach 49 points by the end of the week, you're considered to have not reached the next milestone, and you'll only be given the reward for your first milestone – $5. That's important to remember–I got caught out by that one week and missed out on a huge milestone. Not cool.

The percentage of your rake you get back starts at 20% but increases as you rake more, with the cap being 40% once you reach 1200 loyalty points. Points are generated at 1 point per $1 raked, so it's easy to track how much you've been raked and how much money you're getting back. If you qualify for a milestone, the money is deposited directly into your account at the end of each week. No need to opt-in or jump through hoops to claim the cash.

On top of the generous rakeback offer, PartyPoker also has special Boosted Hours for their fast-forward and sit-and-go players. Players get their points boosted to 2x for four hours a day–twice a day–from midnight and 4 am BST and 1 pm to 5 pm BST. In addition, the sit-and-go players are getting their points boosted 1.5x 24 hours a day on any sit-and-gos they play with a buy-in of $20 or over. If you want to take advantage of this sweet sit-and-go offer, you need to opt-in once, and then you're good to go.
Deposit and Withdrawal Options
If you're looking to deposit and withdraw money from Party Poker, there are a range of options you can choose from. However, suppose you're a crypto bro/babe. In that case, you will be disappointed as cryptocurrency is not currently supported by PartyPoker. However, they support a range of eWallets, including Paypal, Skrill, and MuchBetter, plus the usual bank transfer and bank wires.
Unfortunately, while researching this section, I couldn't find a ton of information on max deposit and withdrawal limits for each payment method, as they vary from person to person and country to country. However, for the sake of complete openness, here are my own personal deposit limits for each payment method on my account. Bear in mind that I'm from the UK and have been playing on PartyPoker for a few years–YMMV! 
| | | |
| --- | --- | --- |
| Deposit Method | Min Deposit | Max Deposit |
| Visa, Skrill, Neteller, Skrill 1 tap, | £10 | £29,676.29 per day |
| Maestro | £10 | £1845.77 |
| Paysafe Card | £10 | £5935.26 |
| Paypal | £10 | £25,956.75 |
| Trustly Bank Transfer | £10 | £1483.81 |
| MuchBetter | £10 | £2596.68 |
| Apple Pay & Luxor Pay | £10 | N/A |
As you can see, the deposit limits are random AF and, as far as I can tell, won't be the same for you! Saying that, however, no one I know has had any trouble getting money onto or off Party Poker, so the maximum limits are likely pretty high. Another great thing about Party Poker is that there are no fees for depositing onto the site–every penny from your account goes into your Party Poker account.
| | | |
| --- | --- | --- |
| Withdrawal Method | Min Withdrawal | Max Withdrawal |
| Skrill, Neteller, Skrill 1 tap, PayPal, and MuchBetter | £10 | £10,000 |
| Visa & Mastercard | £10 | £25,000 |
| Paysafe Card | £10 | £2000 |
| Bank Transfer | £10 | £50,000 |
| Apple Pay & Luxor Pay | £10 | N/A |
Unfortunately, the withdrawal information is even harder to find than the deposit information. Seriously, PP, dafuq? As such, I've had to piece together the information from second-hand accounts like I'm a PI, so the information may not be 100% accurate. However, comparing the maximum amounts to those we've got on other sites, I feel they're not far off. One positive that I found is that PartyPoker doesn't charge fees for any of its withdrawal methods, though the payment provider may have their own charges.
Mobile Gaming
Unlike many online poker sites, PartyPoker has a fully functioning mobile application that needs to be downloaded to play from your phone. You'll be prompted to download the application if you go to the PartyPoker website from a phone or tablet device. There is an app for Android and iOS devices, so you can play whichever one you have. Once you download and open the app, you can choose to create an account, or you can log in with an existing PartyPoker account.
I found the lobby's design reminiscent of the old PartyPoker software design and, as such, could have been better to look at. Newsflash, my dudes–it isn't 2008 anymore. In a world where dark mode is the preferred color theme for most apps, PartyPoker's white-and-silver design is exceedingly bright. I had to turn down my comp's brightness every time I played. However, the app's functionality almost matches the desktop software's, with the full range of cash games and tournaments available. The app even makes it easy to multi-table with a dedicated space on the left-hand side of the table layout that shows all your active tables. Point blank: If you're someone who loves to play poker on the go like I am, the Party Poker app is functionally one of the best on the market.
Customer Service Options
One of the best things about playing on a big brand name like Party Poker is that you know they will have stellar customer support. Real talk: A brand only gets this good reputation if it looks after its customers. You can contact them by email by filling out a form on their customer support page if your query isn't urgent. Most of the time, you can expect to hear back from a team member within 24 hours.
If you need to speak to someone immediately, PartyPoker has a live chat feature where a customer service representative is available 24/7. This is my preferred method, as I found my questions were always answered within a few minutes. PP also has a toll-free support number if you'd prefer to verbally speak with a representative. In my exp, the CS team was super-helpful when dealing with any issues I've had, and there isn't usually much of a wait to get through to one of them.
If you need to speak to someone right away, they have a live chat feature on their site where a customer service representative will be available 24/7 for you to talk to. They also have a toll-free support number if you'd prefer to speak with a representative that way. The customer support team has always been extremely helpful when dealing with any issues, and there isn't usually much of a wait to get through to one of them. If you have a problem, they'll be able to resolve it for you.
Phone: Call this toll-free number to speak to a representative at 00-800-7278-9100
Email: Fill in the form on the customer support website or email them directly at info@partypoker.com
Live Chat: Click the "Live Chat" button on the customer support page and a customer support window will pop up where you can speak with a representative.
What Makes this Poker Site Unique 
If I'm honest, PartyPoker is one site with only a few features unique to its site. But don't get my words twisted–they do a bunch of things right by focusing on their core features and polishing them to perfection. 
If you had to choose one thing that makes it stand out above its competitors, it would have to be its rakeback offer. With enough volume, you can get 40% of the money you paid in rake that week deposited back into your account. This is HUGE for a high-volume grinder like me. Also, in certain game types, you have the chance to boost the number of points you get, giving you an even better chance of reaching an even higher percentage of your rake back.
Conclusion
Reviewing a site like PartyPoker is never easy; it has a long, storied history, and I essentially grew up with it. Also, it's hard new ground–this isn't the first PP review to exist. Still, I want to call it correct; PartyPoker is a high-traffic site with a super-solid amount of cash games, sit-and-gos, and great leaderboard promotions. Their rakeback offer is super juicy, and while blindingly bright, their UI is sharp and easy to use. Toss in a reliable mobile app, and you can see why they remain a giant in the online poker world.
Party Poker FAQs
There currently are no cryptocurrency deposit options on Party Poker.
Party Poker has a dedicated mobile application that you can download for both Android and iOS. Using the app, you have the full functionality of the desktop app and you can play exactly the same games.
The use of Heads Up Displays is banned on Party Poker for all forms of poker.
Party Poker currently only accepts US players if they are playing from the state of New Jersey.
There are three ways that you can contact the Party Poker customer support team. You can call them on their toll-free number: 00-800-7278-9100, you can email them by filling in a form on their website, or you can use their live chat feature to talk to a representative.
There is currently a 100% matched deposit bonus at Party Poker, up to the value of £400. As well as this, players are given Spins and MTT tickets each day for 6 days, totaling a value of £40.
Party Poker offers one of the best rakeback programs in all of online poker. Players can earn up to 40% rakeback over the course of the week which then gets deposited directly into their accounts.
Party Poker holds a gambling license with both the UK and the Gibraltar gambling commissions.