The new kid on the block, GG Poker first entered the market in 2017, but they wasted little time becoming a juggernaut. Since its launch, GG Poker has gone from strength to strength, becoming the biggest poker site in the world, eclipsing industry veterans like Pokerstars and Party Poker.
Overview

Many players end up playing on the software to see what all the fuss is about, and we don't blame them. The site was built from the ground up by a team of experienced poker players who wanted to make an impact on the direction the online poker world was taking. So rather than appealing to the GTO robots slowly killing the game, they want to make poker fun again!
It has gained a large following thanks to its fantastic software, innovative game formats, features, huge tournament giveaways, and big-name sponsors (looking at you, Negreanu).
Pros and Cons
GG Poker is arguably the best poker site available for players. They do many great things and are undeniably innovators in the poker space; we'd love a few tweaks, but you'd be hard-pressed to go wrong with GG.

Pros
Large Welcome Bonus
High Traffic
Massive Tournament Guarantees
Built-in HUD
Soft Games
Cons
Limited Mixed Games
Complicated Rewards
Lack Of Conventional SNGs
Poker Game Selection
As the site with the most traffic, you're guaranteed to find a game on GG Poker. Whether you like to play cash games, tournaments, or sit and gos, there is no shortage of options for you, with GG Poker bringing some innovative game types to the table in all three disciplines. There are four poker variants on offer at GG: Texas Hold 'em, Short Deck, PLO, and PLO5 (5 card PLO). GG Poker is a site for the big bet players; there are no limit games run on GG. While this may be a little disappointing for mixed game fans, the quality of the games they have on their site more than makes up for it. With so many players logging on to play daily, there's a slew of recreational players sitting at the tables, waiting to donate their money.
Focusing on a small number of game types has allowed GG Poker to focus on innovation. It has created several tournaments and cash game variants that are unique to the site and are a ton of fun to play. Their software is also one of, if not the best, in the industry right now. Its sleek black design is easy on the eye, and the UI is straightforward to navigate.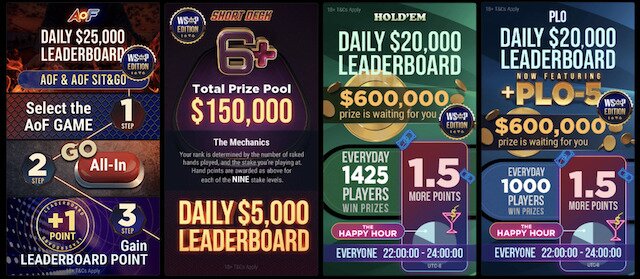 Cash Games
When we say GG Poker offers games for every bankroll, we really mean it – it offers some of the largest cash games available online. For the average player, the games run from $0.01/$0.02 to $5/$10 for NLHE, $0.01/$0.02 to $10/$20 for PLO/PLO5, and $0.02 ante to $10 ante for Short Deck. However, if you look at the VIP Games tab, this is where things start to get wild. Fans of Full Tilt's legendary Nosebleed days will be excited to see that GG Poker's No Limit Holdem games run from $25/$50 up to $500/$1000/$2000 – with a minimum $100,000 buy-in! The PLO games also reach similar levels, with the biggest game being $500/$1000. PLO5 seems a lot smaller in comparison, only running at $200/$400 – but that's almost guaranteed to be the biggest PLO5 game you'll find anywhere online. Finally, if you'd prefer to play high stakes Short Deck, you can play up to $1000 ante games on GG. All of these games are available for viewing, so if you want to take a break from your game, you can relax and watch some of the sickest players online battle it out for thousands of dollars.
But what about those patented GG Poker innovations? Well, one of their most popular creations is their all-in or fold game. The game's mechanics are just as they sound – you have two options, all in or fold. The games are limited to a maximum of 10bb buy-ins for each blind level, but the stakes also hit huge numbers if you feel like degen gambling. The games run from as low as $0.05/$0.10 ($1 buy-in), up to $50/$100 ($1000 buy-in) for Hold 'em, and $0.10/$0.20 ($1 buy-in), up to $100/$200 ($1000 buy-in) for PLO. The games are four-handed with a traditional SB/BB structure (no antes), and you're free to come and go as you please. There is an option to "skim" from your stack to keep yourself at the maximum buy-in amount – so you don't end up flipping for 50bb with the other big stack. Hold 'em games are all in or fold preflop, whereas the Omaha games see a flop before players have the option to move all in or fold.
GG also has its own version of zoom poker called "Rush and Cash." For those unaware of what zoom poker is, it's a format of poker where you're not sat at a specific table but placed into a pool of players, randomly assigned to a table. When your involvement in the hand is complete, you are randomly moved to another table to play a new hand. It's a way of maximizing the number of hands you can play at once, as you don't have to wait for the action to be over before you're dealt a new hand. You can play 3/4x the number of hands at a Rush and Cash table than at a conventional table, so if you're looking to put in volume, these are the games to play. There is a choice of NLHE or PLO, and the stakes are from $0.01/$0.02 up to $1/$2. You can play a maximum of four Rush and Cash tables at any time.
Sit and Gos
One thing noticeably absent on GG Poker is conventional sit and gos. The closest you'll get is their Battle Royale, a 30-player progressive KO sit-and-go. However, there are only four buy-in options ($0.25, $1, $3, and $10), and there is no variation in tournament size – 30 players is your only choice. Furthermore, even the format is very different from a conventional sit-and-go. The tournament's first half plays a "Rush and Cash style," where you're put on a new table every time your involvement in the hand is over. When you reach 15 players, you move to a 3-max shootout table, where the winner goes to the final table. The five finalists are then in the money and fight for the win. Don't get us wrong, this format is a lot of fun, but traditional sit-and-go players will be left wanting.
Another example of the GG Poker innovation is their most famous invention – the Flip and Go. When you play a Flip and Go, you're sat at a nine-handed table and dealt three cards. You have to discard one of these cards, everyone's cards turn over, and there is a full table run-out of the hand in play. This action repeats until only one player remains, and that player gets to move on to the actual "tournament" phase of the game. Every player who makes it to this stage is in the money, and the rest of the game plays out like a conventional poker tournament, using the stack you won from the flip.
With a brilliant mix of gambling and poker strategy, the game has attracted recreational and professional players alike. It has even made appearances at the WSOP in the last two years! However, due to the nature of 9 person flips, there is a ton of variance in these tournaments. Scott Seiver best demonstrated this at the 2022 WSOP, who entered the $1000 Flip and Go bracelet event 43 times without making the money!
The final sit-and-go-esque option on GG Poker is the Spin and Gold. For those who have heard of the Spin and Go concept from Pokerstars, it's much the same idea. When you buy in and the tournament has filled up, the prize pool is determined by a random draw. The most common prize is 2x the buy-in, but there is the potential to 100,000x or even 200,000x your buy-in if you're lucky. The biggest prize pool available is $2,000,000, which can be won in either the $100 Spin and Gold or the $10 6max Sit and Gold. These tournaments are available in a 6-handed format rather than the traditional 3-handed format. The buy-ins range from as low as $0.25 up to $200.
Poker Tournaments
Arguably, the jewel in GG Poker's crown is its tournament schedule. Its regular daily guarantees tournament schedule offers $8 million in guarantees per week – and that's without getting into the various tournament series' that run throughout the year. Like most online poker sites, Sunday is by far its biggest day for online poker tournaments, with five of its biggest guaranteed daily tournaments being on Sunday. These include the $250 Sunday Main Event with a $150,000 guarantee, the $55 Sunday Fifty Stack with a $100,000 guarantee, and the $88 Sunday Crazy Eights with a $100,000 guarantee.
If you're looking for a big tournament series to play in, GG Poker offers you two different ones to choose from each week! The first one we'll look at, the GG Masters, has several $25 tournaments that run from Monday to Saturday with guarantees between $20,000 and $50,000 depending on the time it starts, including a $105, $100,000 guarantee tournament each day. On Sunday, things kick up a notch, with three majors available to play. There are two tournaments with a guarantee of $500,000 – the GG Masters $150 and the GG Masters Bounty $320, as well as the $1050 GG Masters High Roller with a $750,000 guarantee.
If you get knocked out of those tournaments early, why not try your hand at the Million$ events instead? This series runs flights to its Sunday majors throughout the week, giving you plenty of time to try and earn entrance. The guarantees on these tournaments are massive, so they're well worth playing! There's a $50 Global Million$ event with a $1,000,000 guarantee, a $52.50 Omaholic Bounty tournament with a $250,000 guarantee, and 2-day, $10,300 Super High Roller with a $1,000,000 guarantee.
As well as these weekly tournament series, GG offers seasonal events throughout the year that somehow exceed the guarantees of these events! It's always worth checking out what they're running, as these tournament series offer great value, particularly for players with a smaller bankroll. GG is also in the privileged position of being able to offer satellites to the WSOP, thanks to its partnership with the World Series. So if you've ever wanted to play in the WSOP Main Event, you can play one of the GG Poker satellites to try and realize your dream.
Bonus and Promotions
As a site for the players, GG poker recognizes the need for a good rewards and promotions program for its existing and new players. Regarding bonuses, GG Poker is arguably the market leader, as they offer a whole host of promotions to its players. If you go to the GG Poker site and hover over the promotions tab, the list is too big to fit on the page! We've chosen to talk about the ones that we think are most appealing to players, but if you want a full accounting of the promotions on offer, you should check out the GG Poker site.

Welcome Bonus
To get you through the door and onto their tables, GG Poker offers you a choice of two welcome bonuses. The first option you can pick is a 100% matched deposit bonus of up to $600. This is in line with the conventional bonuses offered at poker sites and online casinos. However, the maximum deposit bonus of $600 is considerably more generous than most other sites. The other option you can pick is $100 worth of tournament tickets if you deposit $20. This option is perfect for players who are starting with a small bankroll. For a $20 deposit, you can get 5x the value in tournament tickets. The tickets are released over six days, so be sure to log in each day after triggering your bonus to get the full value of the promotion.
Honeymoon For Newcomers
Whichever welcome bonus you choose, you can take advantage of another promotion for new players called the "Honeymoon for Newcomers." This is a set of 30 missions you must accomplish on the site over your first 30 days of play. Your next task will be assigned to you each day you log in. Once you've completed a certain number of missions, you'll receive rewards such as cash prizes, tournament dollars, and tournament tickets. There's even a $150 cash prize if you complete all 30, but doing that is extremely difficult. If you skip a day, there's no way to go back and do the previous day's mission, so be sure to log in every day if you want to have a chance at claiming every single bonus on offer.
Bad Beat Jackpot
If you've ever been on the end of an ice-cold cooler, you'll know how soul-crushing it can be. You're sitting there with what you think is the nuts, only for your opponent to turn over the one hand that can beat you. GG Poker is here to make those moments a little less painful, with a bad beat jackpot that will surely put the smile back on your face. Have aces full of tens beaten in Hold 'em or quad deuces beaten in PLO to get your share of the bad beat jackpot. 10% of the fund is given to the loser of the hand, the winner of the hand gets 3%, and every other player at the table receives 0.8%. The eagle-eyed readers amongst you will notice that this does not equal 100%. This is because the jackpot size is constantly changing but is always a massive amount of money. With so many games running, they need to ensure they have enough cash to pay everyone out. If you're a regular cash game player, this promotion may make you stay a little longer at the tables, just in case it hits.
Daily Leaderboards
If you like to put in a lot of volume, GG Poker runs daily leaderboards for almost all its game types, with guaranteed thousands of dollars in prizes. In total, there is $125,000 guaranteed across all game types, so whether you're a Hold 'em cash player, a Flip and Go grinder, or an All in or Fold degenerate, you have the chance to win some extra money each day.
Many other promotions are running on GG Poker, with new ones constantly added! Be sure to check out the site to see the latest bonuses and promotions GG Poker offers.
Deposit and Withdrawal Options
GG Poker has a range of deposit options available to its players, with all of the major payment providers on offer. These include the two most popular debit cards, Visa and Mastercard, and a range of e-wallets such as Skrill, Neteller, and MuchBetter. There are even crypto options for its North American players, with Bitcoin available as a deposit and withdrawal method.
When you deposit to GG Poker, your funds are immediately deposited to your account, meaning you can go from depositing to playing within seconds. However, the same cannot be said for withdrawing, as the amount of time it takes to get your money will depend on the method you use to withdraw from the site. The quickest method will take less than 24 hours, whereas the longest wait can be up to 3 business days. So, let's look closely at the deposit and withdrawal options.
Deposits
| | | |
| --- | --- | --- |
| Deposit Method | Min Deposit | Max Deposit |
| Visa, Mastercard | $10 | $50,000 |
| BTC | $10 | $50,000 |
| Trustly | $10 | $50,000 |
| AstroPay | $10 | $50,000 |
| Skrill | $10 | $50,000 |
| Neteller | $10 | $50,000 |
| EcoPayz | $10 | $50,000 |
| LuxonPay | $10 | $50,000 |
| MuchBetter | $10 | $50,000 |
GG Poker does not apply any fees to its deposits, meaning you only need to consider any fees your payment provider may charge. Most of these e-wallets do not pass on their fees to their customers. However, cryptocurrency is the exception, as every payment requires a transaction fee. You may also run into fees depending on your bank's location and the currency you deposit, so always check these fees before depositing.
Withdrawals
| | | | |
| --- | --- | --- | --- |
| Withdrawal Method | Min Withdrawal | Max Withdrawal | Withdrawal Time |
| Visa, Mastercard | $20 | $50,000 | 24-72 Hours |
| BTC | $1000 | $100,000 | 1-24 Hours |
| Trustly | $20 | $50,000 | 10-15 Days |
| AstroPay | $20 | $50,000 | 1-24 Hours |
| Skrill | $20 | $50,000 | 1-24 Hours |
| Neteller | $20 | $50,000 | 1-24 Hours |
| EcoPayz | $20 | $50,000 | 1-24 Hours |
| LuxonPay | $20 | $50,000 | 1-24 Hours |
| MuchBetter | $20 | $50,000 | 1-24 Hours |
While there are no deposit fees at GG Poker, a $1 withdrawal fee is applied to every single withdrawal, no matter the deposit method. This is on top of any fees your chosen payment provider may charge.
Mobile Gaming
GG Poker has a dedicated mobile app available to its users. It can be downloaded on both Apple and Android devices. The app has managed to keep the sleek design of the desktop app while somewhat gamifying the animations to make it fun and exciting. Android devices require Android OS 6.0.xx or higher, and iOS devices must be an iPhone 7 Plus or later.
The mobile app is straightforward to navigate. The app has full functionality, so everything available to you on the desktop app is available to you on the mobile app. In addition, the size of the cards and the action buttons on the tables have been enlarged, making it very easy to play – even on small devices.
Customer Service Options
With a site as large as GG Poker, it needs an outstanding customer support team if it aims to stay this big – and it absolutely does. The support team is always accommodating when it comes to dealing with any gaming or account queries and responds to emails very quickly. If you need assistance, you have two options for contacting the support team. First, you can contact them via email at help@ggpoker.com through their email portal on the GG Poker site. Alternatively, you can immediately talk to one of the customer support teams using the live support page. The great thing about this option is that you don't have to wait long to speak with someone, and they're always very helpful with any question you might have. There is also an extensive FAQ section that should be able to answer the majority of your queries.
Email: Email them directly at help@ggpoker.com or complete the online form found on GG poker's support page.
Live Chat: Chat 24/7 with a customer service rep by using the Live Chat option directly from the GG Poker client.
What Makes this Poker Site Unique
In an industry that is constantly trying to innovate to draw new players to its site, GG Poker stands head and shoulders above the rest of its competition. There are so many unique elements to this site that we haven't even mentioned yet! For example, with the integrated tournament staking feature, you can buy pieces of other players or sell pieces of yourself in tournaments! Or the "Ask Fedor" feature, where you can get a previous hand analyzed by an AI system, which rates your play out of 5 (this feature requires a subscription package).
Their game types also set them apart from the rest of the competition, with unique interpretations of the traditional sit-and-go via their Flip and Go and Battle Royale tournaments. They also cater to a more recreational crowd by having gambling games like the All in or Fold tables and giving you the option to straddle in cash games. They even have a built-in "card peel" system in their software that allows you to reveal the card in big pots slowly.
All of this encapsulates GG's attitude towards its players and the game. It wants to make a fun environment where recreational players can have a good time. However, serious players can still take the game to higher levels and improve. It's a sad indictment of the attitude of most poker operators that this MO sets GG apart from other sites in the industry. Hopefully, GG's success will motivate other sites to adopt a similar attitude.
Our Final Thoughts
We're at the end of our GG Poker review, and we've covered a lot! There are so many great features of this site that we couldn't fit them all in without making it 10,000 words long. With its innovative game features and game types, you're guaranteed to always have something interesting to play. In addition, you're always guaranteed a game at GG, as its site traffic is by far the best in the world.
Not only that, it has a range of cash games and tournaments with massive guarantees to play, with a variety of deposit and withdrawal options that make it easy to get your money on and off the site. There are always plenty of promotions running each day on GG, as well as welcome offers for its new players. If you ever need any help with the site, their customer service team is always on hand to provide expert assistance. With everything GG has to offer, it's no surprise that it's ranked as the #1 poker site, and we believe it has certainly earned its place. If you're looking for a place to play poker, look no further than GG.
GG Poker FAQs
There is a mac client for GG Poker and one for Windows.
GG Poker Poker has a dedicated mobile application that can be installed on Android and iOS devices. Players have access to every feature available on the application's desktop version.
GG Poker has banned the use of personal HUDs in its games. However, it does have a smart HUD built into its software that anyone can use. This gives players access to HUD stats but makes them available to every player.
GG Poker does not accept any players currently residing in the US.
GG Poker currently offers two welcome bonuses to its players. First, you can choose from a 100% matched deposit bonus of up to $600 or $100 worth of tournament tickets with a deposit of $20 or more.
Yes, you can contact GG Poker support by filling in an email form on their website, emailing help@ggpoker.com, or starting a live chat with a customer service representative.
GG Poker has a range of different deposit methods for its players. These include e-wallets such as Skrill, Neteller, and MuchBetter, credit/debit cards, and bank transfers.
The payment methods you can use to withdraw from GG are the same as those used to deposit to the site. These include e-wallets, bank transfers, and credit/debit cards.