The Top 10 WSOP Main Event Winners of the last Decade
Intro
We all know that it takes a lot of skill to win the Main Event, but it also takes a lot of luck; no matter how good you are, you need to win your all-ins when you're playing a nine-day tournament.
The element of luck can sometimes lead to some… less than stellar players winning the Main Event, leaving the entire poker world thinking, "That should have been me!" But isn't that what big poker tournaments are all about? The major selling point to the general public is that, yes, anyone can win a tournament if they play well enough or catch a hot run of cards. After all, if it was all about skill, then we'd be congratulating Phil Hellmuth on his 32nd consecutive Main Event win… right?
Either way, it doesn't stop people from comparing the skill levels of past Main Event champs to see who they think is "worthy" of winning the Main. We're not above a bit of playground comparison either, so we've ranked the last decade of WSOP Main Event winners from worst to best. Remember, this is just our opinion. To any Main Event winners upset that they're too low on the list, we have this bit of advice: stop crying, wipe your eyes with the millions of dollars you won and hit the lab so people stop thinking you suck!
#10 Qui Nguyen 2016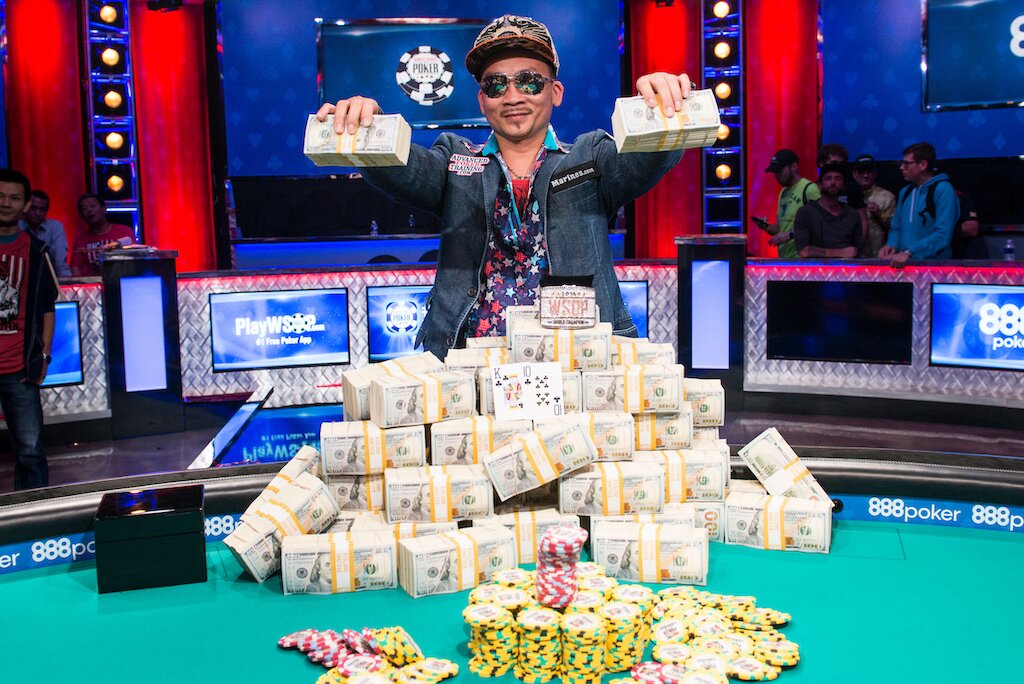 If this was a list ranking the most entertaining Main Event winners, there's no doubt Qui would be at or near the top. A self-proclaimed "professional baccarat" player, Qui only has $150,000 in cashes that aren't from his Main Event victory – and only $80,000 that aren't from the Main Event at all! His hyper-aggressive style worked well for him over that fateful week in Vegas, but it doesn't seem to have brought him much success since.
It's safe to say that Qui hasn't set the poker world alight after his win, where he overcame poker pro, Gordon Vayo. However, he still enjoys playing poker as a hobby rather than a profession. Qui is the only person who could be considered an amateur on our list, which just shows that even though poker is getting tougher, anyone can win the Main Event if the stars align.
Player Rating: 2/10
As nice a guy as Qui Nguyen is, the Main Event is his only notable score, and he and #9 on our list are leagues below the others.
#9 Scott Blumstein 2017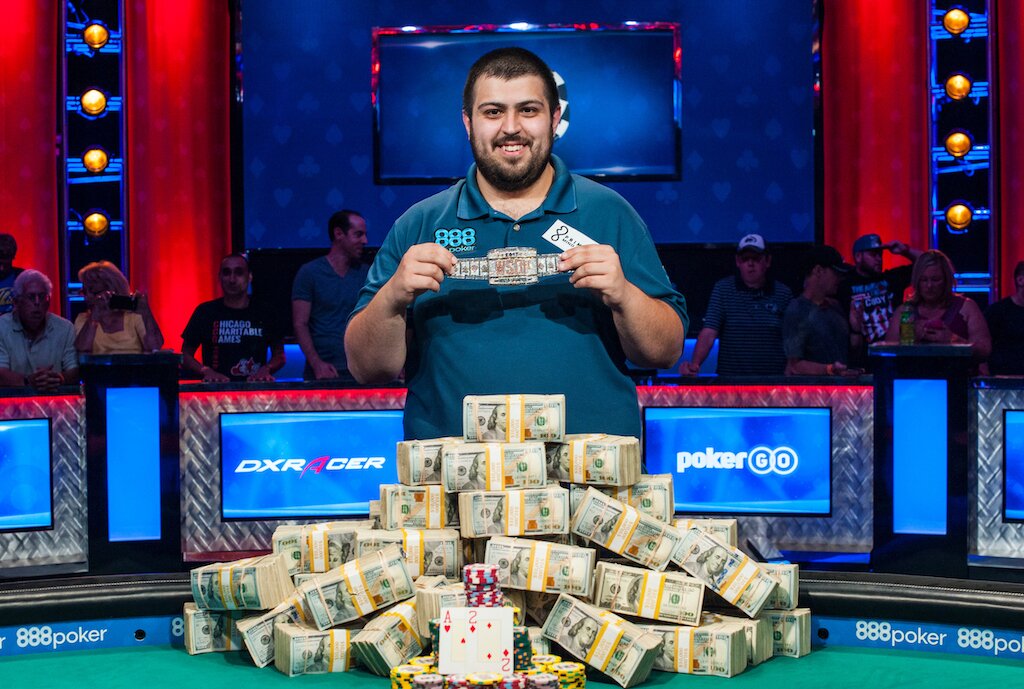 The year after Qui won his Main Event, Scott Blumstein took down the title, beating Dan Ott heads up. Scott was dominant throughout the final table, holding the chip lead for the majority of the time – only losing it briefly at the start of Day 1. The final table had some notable names, including high-stakes player Ben Lamb, who also made the final table back in 2011, Antoine Saout, who final tabled in 2009, and Damian Salas, who we'll talk about later on our list.
Scott did well to beat a table with that many well-known players, but his results since the Main Event have been lackluster at best. While no one would begrudge him for taking some time away from poker after making such a big score, he hasn't gone on to do great things like some of the other names on our list. With very few notable scores after his Main Event victory, it was tough to choose between him and Qui for 10th and 9th. Still, Scott has the edge due to how much he's won outside his Main Event win compared to Qui.
Player Rating: 2.5/10
Scott did well to win his Final Table, but hasn't done much since to be considered a "Main Event great."
#8 John Cynn 2018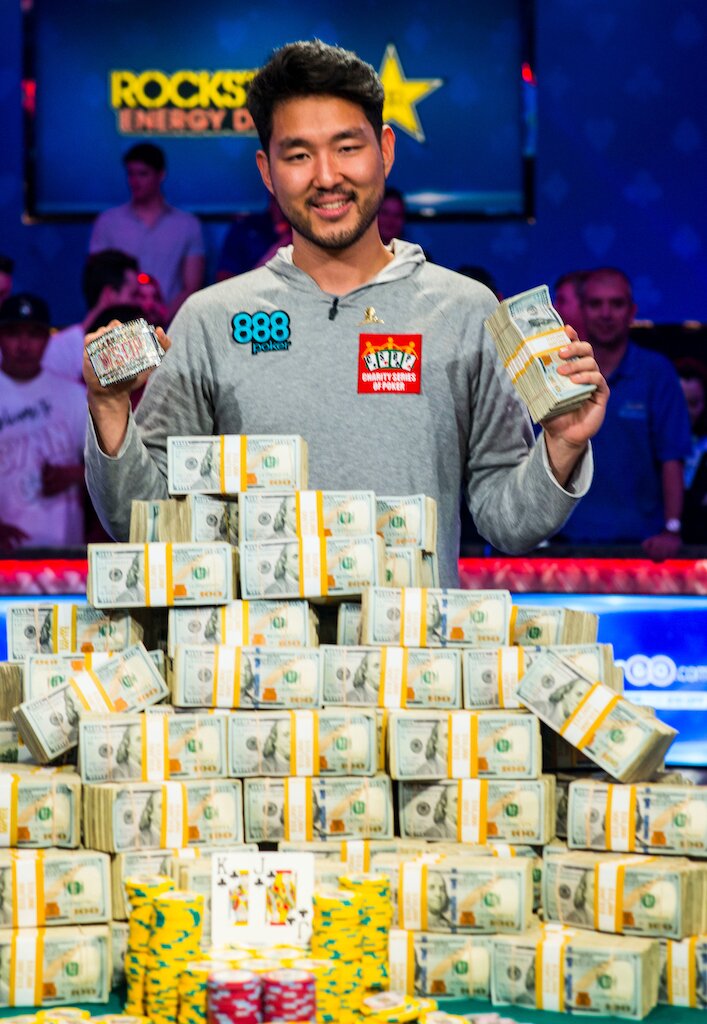 John had to get through 7873 other players to take down the 2018 title, the second-largest field ever at the time (although this year's Main Event now holds that distinction). While it wasn't the most star-studded final table, he notably had to face 2009 Main Event champ Joe Cada (5th place) before beating John Cynn heads up.
Since he won the title, he's managed to amass another $1.3 million in live tournament earnings and had some success on various high-stakes cash game shows. Lately, he has been pivoting to short-deck, picking up some decent results, including second place in the $25,500 short-deck tournament at the Party Poker Millions. While he's yet to do anything truly special since his Main Event win, perhaps this move into short-deck can add some additional weight to his poker CV.
Player Rating: 3.5
Despite mostly playing cash games, Cynn's additional $1.3 million in tournament winnings are respectable, if unremarkable.
#7 Damian Salas 2020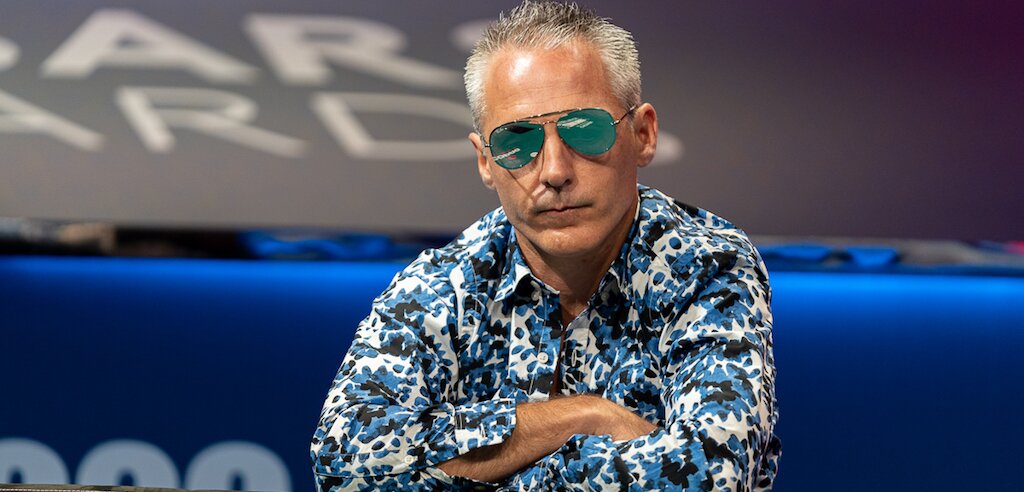 Damian Salas was the winner of arguably the weirdest Main Event we've had since the days of voting for the winner, besting Joseph Herbert in their heads-up match. To even make it to the heads-up playoff, Damian had to make it to the Final Table of an online event before eventually heading to a live final table! In total, Damian won just over $2.5 million – $1.5 million came from winning the live final table, and the other $1 million came from winning the heads-up playoff.
Damian is no stranger to making the final table of Main Events, having done so in 2017 when Scott Blumstein took down the title. He wasn't going to be denied a second time, and while his final table wasn't exactly filled with notable names, the fact that it was a mix of online play, live final table play, and live heads-up play shows a true skill in all disciplines of poker. Salas is somewhat of an online specialist; with over $9 million in online tournament cashes, it's no wonder he excelled in this format. This year at the 2022 Main, Damian Salas made it all the way to Day 7, before being eliminated in 27th Place ($262300)
Player Rating: 5.5
Three deep runs in five years at the Main Event, including two final tables and one title, is impressive for anyone.
#6 Ryan Reiss 2013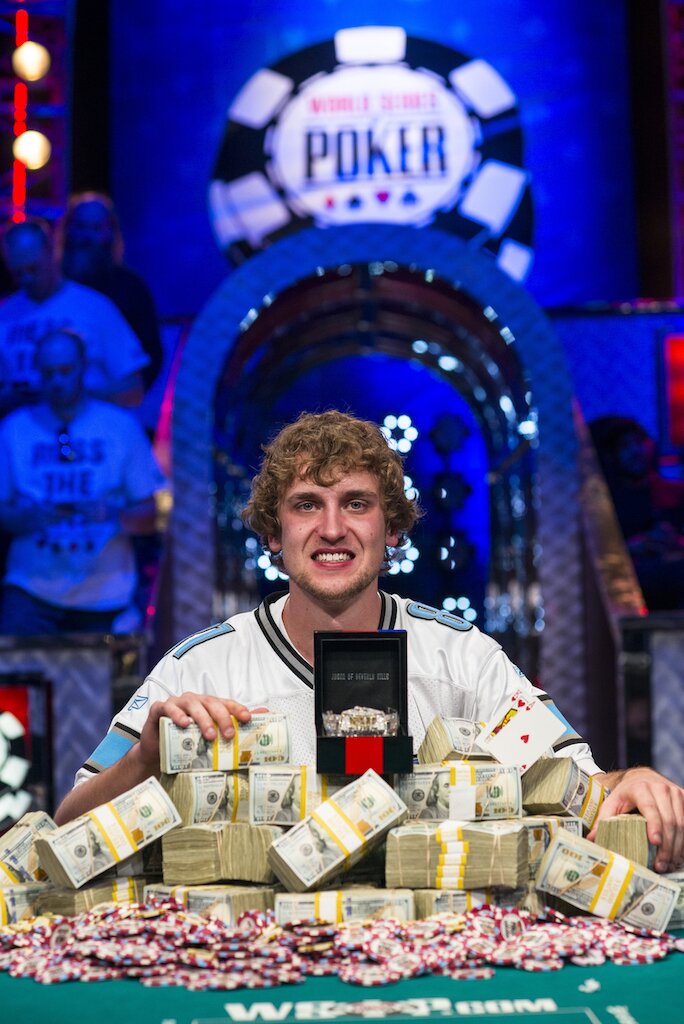 "Reiss the Beast" took down the 2013 Main Event and took a page out of Hellmuth's book by proclaiming himself the best player in the world. He beat out a stacked final table to claim his Main Event crown, including Mark Newhouse, David Benefield, and J. C. Tran, in one of the tougher final tables you could find at the Main Event.
Since his win in 2013, Riess has won a WPT title, taking down the $10,000 Seminole Hard Rock event in 2017. He's also won nearly $7 million in tournament winnings on top of his Main Event score, bringing his total live earnings to just over $15 million. He's also made 5 other appearances at WSOP final tables, so he's certainly no slouch when it comes to tournament poker!
Player Rating: 5.5
Turns out he wasn't the best player in the world, but he's still had a good career since his Main Event win, adding a WPT title to his resume.
#5 Greg Merson 2012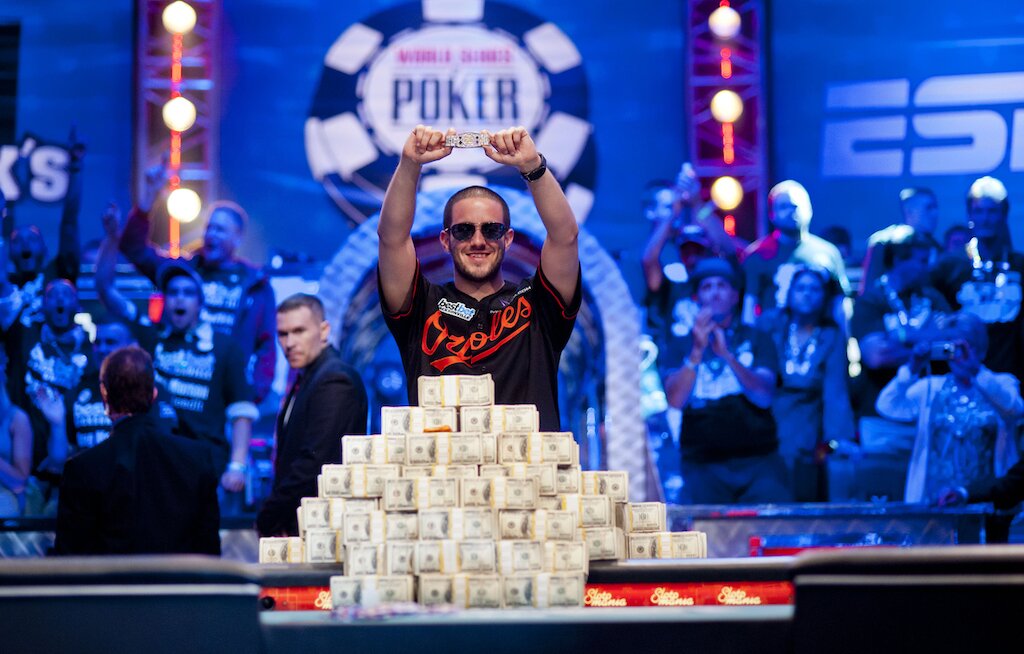 There aren't a lot of redemption stories in poker, but this is one of them. After struggling with cocaine and cannabis abuse since a teen, Merson finally got clean in December 2011. Less than a year later, he would take down the Main Event. Always a talented player, he grew up playing cash games and wasn't particularly known for his tournament prowess. However, he had an absolutely storming 2012 WSOP, placing fifth in the 4-handed event before winning the $10K 6-max and eventually winning the 2012 Main Event in November.
These results helped him win the 2012 WSOP Player of the Year, an extremely prestigious title that all serious tournament players aim for at the start of the series. Greg has accumulated another $3 million in live tournament winnings, including a WPT and two further WSOP final tables.
Player Rating: 6
Winning the Main Event and the $10K 6-max in back-to-back tournaments is extremely impressive – even more so when you remember he's a cash game player!
#4 Martin Jacobson 2014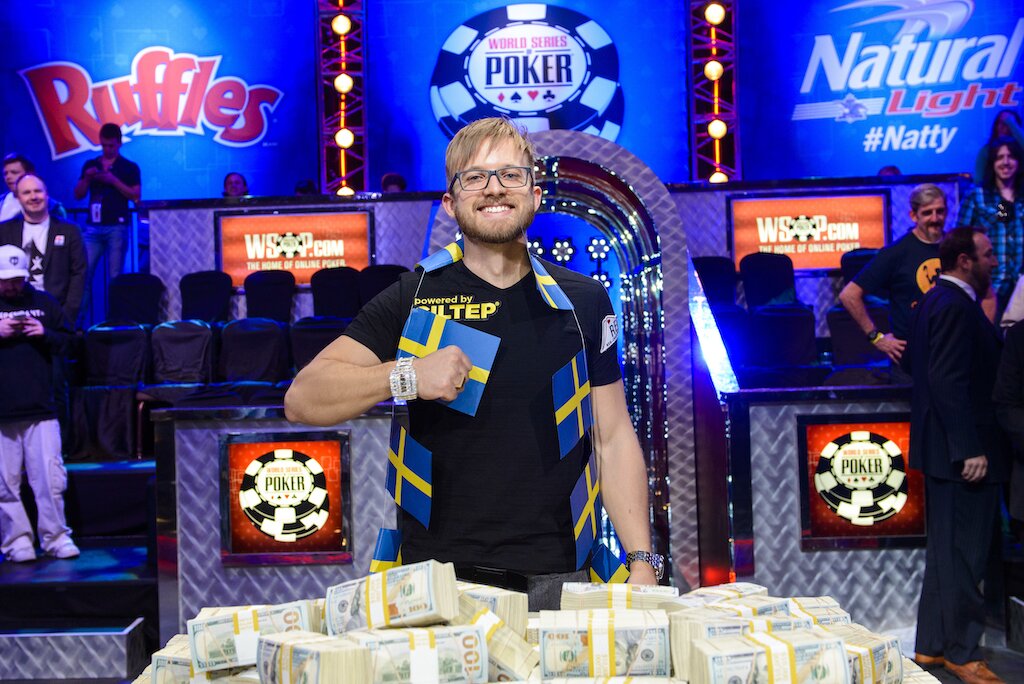 Going into the 2014 Main Event final table, Martin Jacobson was everyone's pick to win the whole thing – if he could find some chips. A certified tournament crusher, he has been winning EPT side events and making final tables of the EPT and WPT in the years before his Main Event win. The 2014 final table wasn't what you'd called "stacked" either; Mark Newhouse–in the second of his consecutive Main Event final table appearances–was the only notable name. While he started 8th place in chips, Jacobson used his years of final table experience to efficiently wear down and pick away at the other players on the table.
As soon as he got a big stack, he became unstoppable, beating fellow Scandavaian Felix Stephensen heads-up to take down the title. He's accrued a further $7 million in live tournament winnings on top of his $10 million Main Event win, including final tables at the High Roller for One Drop and the Tag Team Event, both in 2017. In total, Martin has made four WSOP final tables, two WPT final tables, and four EPT final tables. If you had to pick one to win, it would definitely be the Main Event. Still, if he could close out more final tables, we would be talking about Martin in an even more positive light.
Player Rating: 7
Even before his Main Event win, Martin was considered a very strong player in the high-roller circuit. If he could convert more FTs into wins, he'd be higher up this list.
#3 Hossein Ensan 2019
One of the oldest Main Event champions in recent memory, Hossein Ensan took down the 2019 Main Event at 54. Everyone says how poker is a young man's game, but Hossein proved everyone wrong. His final table wasn't the easiest, with notable pros Dario Sammartino, Alex Livingston, and Garry Gates all eyeing the title. But, in fact, he beat heads-up specialist Dario Sammartino to win the title!
Hossein has gone on to win another $3 million in live tournament winnings. Four years before his Main Event win, Hossein took down the 2015 EPT Prague Main Event for €754k. If he can win a WPT title before he retires, he could be the first person to complete the Triple Crown after turning 50. In an age where poker is becoming more and more like chess in the way people study and implement strategies and GTO, the fact that Hossein can still perform at such a high level while approaching 60 is a true testament to his skill as a player. He rightly deserves a place high up on our list.
Player Rating: 8
Few people can win a WSOP bracelet and an EPT Main Event, let alone do both after 50!
#2 Joe McKeehan 2015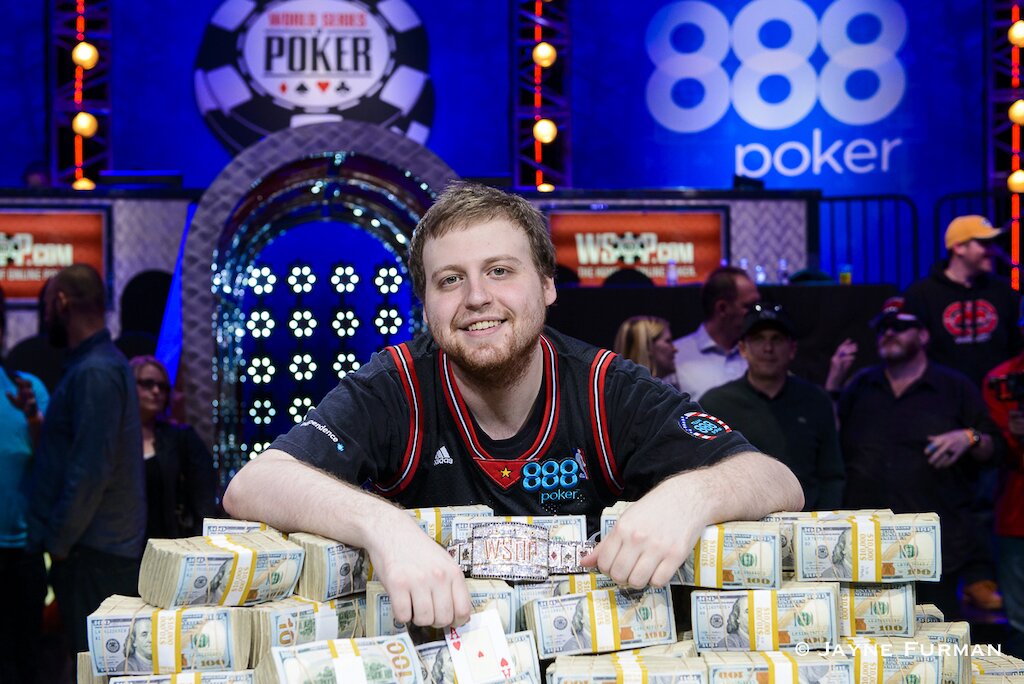 In 2015 Joe put on one of the more clinical performances at a Main Event final table that you're likely to see. His win seemed inevitable because he had a massive chip lead going into the final table and seemingly running better than Usain Bolt with the legs of a cheetah. Going wire-to-wire from the start of the Final Table, he put on a dominating performance, not giving his opponents one inch as he bore down upon the Main Event crown. While his final table wasn't chocked full of killers, Max Steinberg, Joshua Beckley, and Pierre Neuville provided stiff opposition at times. In the end, he defeated Josh Beckley heads-up and claimed his first WSOP bracelet.
Since winning that event, Joe has gone on to win two more bracelets: the $10K Limit Hold 'em Championship in 2017 and the $3200 No-Limit Hold 'em High Roller Online event in 2020. He has also more than doubled his $7.5 million Main Event win, totaling $18.5 million in live tournament earnings. Along the way, he's also made five WPT final tables and performed very well in various high roller events. Joe has used his Main Event win as a launching pad for his career, and he is now a highly respected tournament player.
Player Rating: 8.5
He put on a formidable performance during his Main Event run and has followed it up with two more bracelets and millions in live tournament winnings.
#1 Koray Aldemir 2021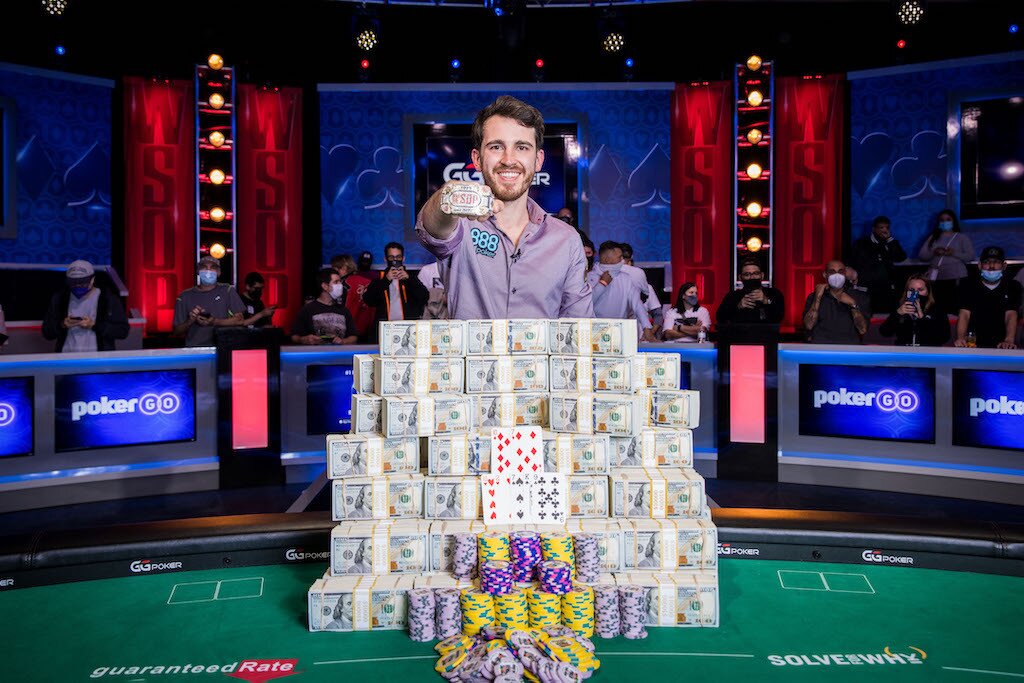 Finally, we reach the winner of last year's Main Event, Koray Aldemir. A proper tournament crusher, all the talk prior to his final table was similar to that of Martin Jacobson's in 2014. However, the difference here was that Koray went into the final table with the chip lead and didn't look like he would lose it at any point. He busted three players before he played heads-up against George Holmes, including a monster pot against Alejandro Lococo (who was in second place at the time) which cemented Koray's position as the chip leader and overwhelming favorite.
Koray has over $20 million in live tournament earnings and is 33rd on the all-time money list. In addition, he has made three other WSOP final tables and one EPT final table. Those final table stats may not sound like those of a player who is #1 on our list, but that's because he spends most of his time playing the Super High Roller tournaments instead. In 2019, he went on a seven-tournament run, finishing in the top three of every high-roller event – an astonishing achievement. You can now include his improbably deep run in the 2022 Main as he valiantly attempted to defend his title, before eventually finishing in 75th place. If you ask any tournament player who the best tournament regulars are right now, Koray Aldemir is sure to be on the list. In a sit-and-go of the past 10 WSOP Main Event champs, Koray is where our money would go every single time, and for that reason, he has to be #1 on our list.
Player Rating: 9.5
While it may be his first bracelet, Koray is no stranger to success, with multiple wins and impressive results across various high-roller events. A true end-boss of tournament poker.
So there you have it: our ranking of the past 10 Main Event champs. But what do you think, have we been unfair to some players or too generous to others? What would your list be? Let us know your opinions below!