PokerStars Joins Michigan and New Jersey Online Poker
On the first day of 2023, PokerStars USA joined the player pools of its sites in Michigan and New Jersey. Since PokerStars entered the state-regulated American market after Black Friday, it has led the burgeoning industry. Originally, the company fought hard to obtain approval from the New Jersey Division of…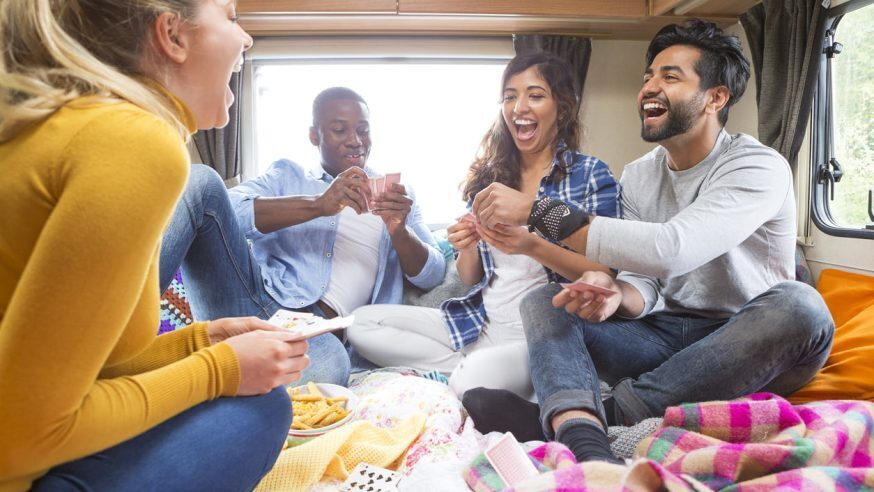 On the first day of 2023, PokerStars USA joined the player pools of its sites in Michigan and New Jersey.
Since PokerStars entered the state-regulated American market after Black Friday, it has led the burgeoning industry.
Originally, the company fought hard to obtain approval from the New Jersey Division of Gaming Enforcement after Black Friday. PokerStars did receive that online gaming license in October 2015. PokerStars NJ launched less than one year later. PS was not the first poker site in the New Jersey market by any means, having launched years after the WSOP/888 site and sites on the partypoker network.
However, PokerStars took the lead from there.
First to apply for an online poker license in Pennsylvania
First to launch state-regulated online poker in Pennsylvania in November 2019 (no other site launched for more than one year)
First to sign an online poker deal with a land-based casino operator in Michigan, partnering with the Traverse Bay Bands of Odawa Indians in January 2020
First to launch online poker and casino games in Michigan in January 2021
First to obtain permission to join Michigan and New Jersey poker sites
First to launch interstate poker between Michigan and New Jersey on January 1, 2023
Understanding MSIGA
Before getting into the historic PokerStars interstate launch, let's take a quick look at MSIGA, the Multi-State Internet Gaming Agreement.
When major poker sites departed the US market – the last ones by force on Black Friday in April 2011 – the United States chose to become a ring-fenced market. More specifically, without a federal law legalizing online poker or any internet gaming, each state had the opportunity to do it alone.
The problem was that each state maintaining its own limited online poker site would never be feasible for operators or appealing to most poker players. That became even more obvious after a few sites launched in Nevada and in New Jersey (after legalizing online poker in 2013), with Delaware opening three skins on only one network.
The three states discussed and developed the Multi-State Internet Gaming Agreement (MSIGA) in 2015. Delaware and Nevada governors were the first to sign it, with New Jersey joining in 2017. At that point, the only poker site in all three states (still the only one in Nevada and Delaware) that could take advantage of MSIGA was WSOP-dot-com on the 888poker platform. It did so.
Pennsylvania entered the online poker industry in the United States in 2019 with PokerStars, as mentioned as the first site to launch. Since then, numerous sites joined, including WSOP/888 and those on the BetMGM/partypoker network of sites. However, Pennsylvania never mentioned signing MSIGA.
Michigan, on the other hand, had MSIGA in mind for online poker from the start. While the original igaming legalization law signed in December 2019 did not allow interstate gaming, a subsequent law signed one year later did permit liquidity.
Michigan Signs MSIGA
Arranging for the governors of multiple states to sign an agreement pertaining to the little online poker market could not have been easy. However, someone made it happen in 2022. In April, the Delaware Lottery, New Jersey Division of Gaming Enforcement, and Nevada Gaming Control Board announced that they all agreed to Michigan joining MSIGA.
Michigan joins the MSIGA pic.twitter.com/GFBB9jCRFT

— Kevin Mathers (@Kevmath) April 6, 2022
A month and a half later, the Michigan Gaming Control Board announced that it was a done deal. Executive Director Henry Williams announced that Michigan officially joined MSIGA. "By joining, Michigan will almost double the potential pool of participants in multistate poker games," he said, adding that the increased tax revenue would support education in the state.
From there, the timeline is unknown but many months long. Online poker operators had to meet all MSIGA conditions, introduce new software with modifications for interstate poker to be approved by all regulators of the states involved, and launch a new data canter for approval as well.
What we know now is that the only operator to have completed those steps and obtained approval from regulators was PokerStars.
On December 28, the Michigan Gaming Control Board announced that it – along with the New Jersey regulator – approved PokerStars for interstate poker on December 20.
"I congratulate the Little Traverse Bay Bands of Odawa Indians and TSG PokerStars for being the first operator and provider granted permission to launch multistate internet poker in Michigan."
The MGCB granted approval Dec. 20, and New Jersey granted TSG Poker Stars permission on Dec. 23, to launch on January 1, 2023. Michigan players can now play with New Jersey players. #poker #gambling #igaming

Read the full release here: https://t.co/l73RvpucIB pic.twitter.com/2zIYuSdFoV

— Michigan Gaming Control Board (@MichiganGCB) December 28, 2022
New Poker Year's Day
Just before Christmas 2022, PokerStars notified everyone that it would officially join its Michigan and New Jersey poker sites into one on January 1, 2023.
"Our community will experience more breadth and depth of games, more tournaments with bigger prizes to win, amped-up promotions, and more choice."
To kick it off, the combined sites set a big tournament on January 1, with a $100 buy-in and $100K guarantee, followed by a $10 buy-in event with a $50K guarantee. And for those wanting higher stakes, there was a $500 buy-in tournament with $40K guaranteed.
🥳 Let the New Year's Bash begin 🎉

6pm Special
2-Day 💵 $100 buyin 💰 $100k GTD

6:30pm Mini Special
💵 $10 buyin 💰 $50k GTD

$10 satellites for the Special 🎟️
Freeroll into the Mini 🎟️

Tell us how many entries will be in the Mini Special 👇 pic.twitter.com/UtZvTbccxs

— PokerStarsUSA (@PokerStarsUSA) January 1, 2023
All three far exceeded their promised prize pools:
$100 New Years Special = 2,189 entries (1,230 players, 959 reentries) / $200,950.20 prize pool ($100K GTD) / 319 players paid
$10 New Years Mini Special = 6,378 entries (3,424 players, 2,954 reentries) / $58,039.80 prize pool ($50K GTD) / 1,039 paid
$500 New Years High Roller Special = 206 entries (141 players, 65 reentries) / $92,700 prize pool ($40K GTD) / 27 paid
What's Next?
It's a secret.
Neither the WSOP nor BetMGM have mentioned joining their sites in Michigan. WSOP will have a tougher time because it will also connect its Nevada and Delaware player pools to the mix. But the Michigan Gaming Control Board has yet to approve those interstate sites, so it will likely be several more months.
There are several motivating factors for them to expedite the processes, though.
PokerStars will take the lion's share of traffic with bigger player pools and guarantees.
WSOP will want to offer bigger tournaments online during the summer World Series of Poker.
BetMGM won't want to be left out if PokerStars and WSOP do it.
There is also no information yet as to if or when Pennsylvania will sign MSIGA to participate in the interstate liquidity. And Connecticut and West Virginia legalized online poker long ago, but not one single poker operator has launched in those states. If their governors sign on to MSIGA, though, operators will have plenty of incentive to launch in those two other states.