WSOP Introduces Main Event Maynia Among Satellite Options
The second day of February delivered quite a lot of information, specifically about the 2023 World Series of Poker. Players anticipate the full schedule from the day the previous WSOP summer ends. And when they get that schedule, they can immediately start planning their weekends or weeks at summer…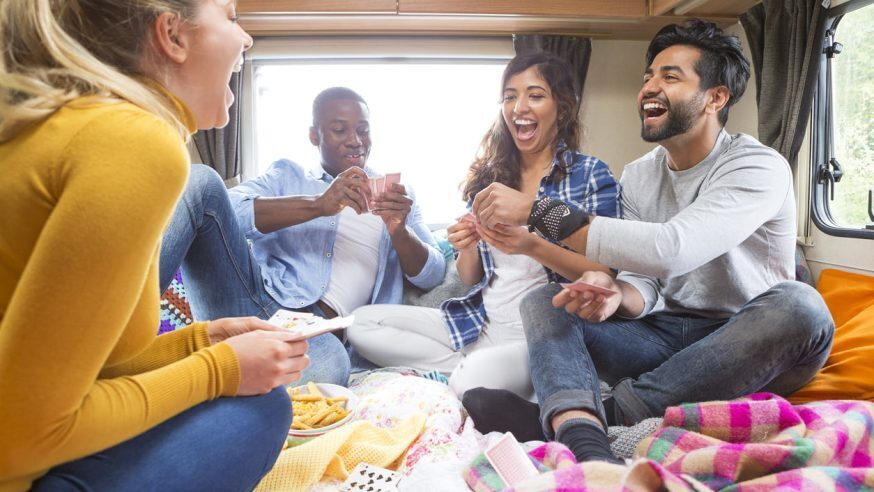 The second day of February delivered quite a lot of information, specifically about the 2023 World Series of Poker. Players anticipate the full schedule from the day the previous WSOP summer ends. And when they get that schedule, they can immediately start planning their weekends or weeks at summer poker camp.
While the primary bracelet event schedule is of serious importance, another key component of the information release is the satellite schedule. Some of the weekend tournaments offer mega satellites on location at Paris Las Vegas and Horseshoe Las Vegas, the two connected casinos in the Strip that will host the WSOP for a second year.
There are mega satellites for every event with a $10K or higher buy-in, including the most important one of all – the WSOP Main Event.
Goodbye, Lammers
One big revelation for the 2023 WSOP is that satellites will no longer award lammers.
In the past, players who specialize in satellite play could play a plethora of them and collect lammers, which can be used for tournament entries. They would keep the ones they would use and then sell the extras to poker players who wanted to buy in to bracelet events.
However, the WSOP appeared to be cracking down on that practice at the 2022 WSOP. While the World Series of Poker never exactly sanctioned the practice of selling lammers, they never cracked down on it, either. That was until 2021, when the WSOP (and parent company Caesars) realized that some people were stealing lammers to sell them.
At the 2022 WSOP, players tried to obtain clarification ahead of time, but instead, they received a strongly-worded suggestion. Ahead of the 2023 series, the rule is clearer. Satellite winners will not receive lammers but tournament credits.
RIP to the lammer, you strange little word that meant so much to poker players.
Attention satellite players: The days of winning lammers are over.

I'll miss seeing you guys in the WSOP line trying to sell them to me. https://t.co/uBSTjuqkKj

— Todd Witteles (@ToddWitteles) February 2, 2023
Feeling the Maynia
Main Event Maynia is the new promotion from the WSOP in 2023. It is set to take place over one weekend in May. Specifically, the "Global Qualification Weekend" will be May 20-21.
Live poker rooms on four continents – North America, South America, Europe, and Africa – will offer step satellites to give players the chance to win WSOP Main Event prize packages. Players who win the mega satellites at any of the locations will not only win a $10K seat to the Main Event, they will also receive a travel stipend to enable the players to get to Las Vegas to play the Main.
The step satellites will start with a $140 buy-in and work their way up to $1,175 buy-in megas that will award the prize packages.
At this time, there are only a handful of locations on the schedule to participate, but they expect many more to jump on the wagon as well. So far, host properties include:
Harrah's Cherokee (North Carolina, USA)
Horseshoe Las Vegas (Nevada, USA)
Horseshoe Tunica (Mississippi (USA)
Harrah's Pompano (Florida, USA)
Horseshoe St. Louis (Missouri, USA)
Turning Stone Casino (New York, USA)
Horseshoe Council Bluffs (Iowa, USA)
Hard Rock Tulsa (Oklahoma, USA)
Grand Victoria Casino (Illinois, USA)
King's Casino (Czech Republic)
Club Pierre Charron Paris (France)
Deerfoot Inn & Casino Calgary (Canada)
Enjoy Punta del Este Casino (Uruguay)
Casino Es Saadi Marrakech (Morocco)
It will be a magnifique summer with the 54th Annual @WSOP from May 30 – July 18.✨We are thrilled to debut the daily schedule with a vast new series of promotions under the theme of "Main Event Mania" as we ramp up for a record-breaking tournament. Details:https://t.co/S9zpcP3ECQ pic.twitter.com/rQq7MMdWGQ

— Paris Las Vegas (@ParisVegas) February 2, 2023
US Online Main Event Seats
Of course, there will be opportunities to win Main Event seats online.
GGPoker announced that it will be offering satellites to send "at least 500 players" to the WSOP to play the Main Event. In addition, the subscription-based ClubGG component will award at least 100 more seats. The "Road to Vegas 2023" will release information soon.
Meanwhile, players in states with WSOP-dot-com will be able to win more than 100 seats. The site operates in Nevada, New Jersey, Michigan, and Pennsylvania. The NV/NJ site operates on a single player platform, while MI and PA remain separate for the time being.
There will be quite a few opportunities to win seats online from the last week of June through the first week of July. The WSOP will award 112 Main Event seats in this way, as follows:
June 25-July 8: $80-$126 buy-in All-In satellites daily (no fees)
June 25-July 8: daily satellites awarding at least 10 Main Event seats per day
July 2: $215 buy-in 25-Seat Scramble (unlimited reentries, $250K GTD)
July 8: last-chance drawing for final Main Event seat
It is important to note that people do not need to be a resident of any of the states offering WSOP-dot-com play, they must only be located within the state's borders while playing.
Main Event for Life
Since the WSOP is trying to set a new Main Event record, they're running an additional promotion to get there.
Most poker fans will remember that the largest Main Event to date remains the 2006 one with its 8,773 players. The 2022 Main Event came close with 8,663 players, and the 2019 Main had 8,569 players. Those are the only three to make it above the 8K mark.
This year, if the Main Event registers at least 8,774 players, the WSOP will host a drawing. Since players must register with the Caesars Rewards card, every card/name in the tournament will be entered into a drawing. And on July 8, the WSOP will draw one name, and that player will win Main Event buy-ins (non-transferrable) for the next 30 years.
That prize will be worth $300K in buy-ins only, not taking into consideration what the players may earn in cashes (or wins) during those 30 years.
On-Site Satellites
The list of satellites that will run at Horseshoe and Paris in Las Vegas is long. There are megas that start as early as May 30 and run through July 16 for a plethora of bracelet tournaments.
Here is a summary of those mega satellites in date order:
May 30-July 14: $135 & $240 & $580 & $1,100 sats for tournament buy-in credits
May 30: $2,700 sat for NHLE 6-Handed High Roller (Event 2)
May 31: $580 sat for Mixed NLHE/PLO (Event 6)
May 31-June 2: $135 & $240 sats for Mystery Millions (Event 3)
June 1: $2,700 sat for NLHE Heads-Up Championship (Event 8)
June 2: $1,100 sat for Dealers Choice Championship (Event 10)
June 3: $580 sat for NLHE 8-Handed (Event 12)
June 4: $1,100 sat for 7-Card Stud Championship (Event 14)
June 5: $2,700 sat for NLHE High Roller (Event 16)
June 6-9: $50 sats for Gladiators of Poker (Event 18)
June 7: $1,100 sat for Limit Hold'em Championship (Event 22)
June 8: $625 & $5,300 sats for NLHE 8-Handed High Roller (Event 23)
June 9: $1,100 sat for Omaha-8 Hi/Lo Championship (Event 25)
June 11: $120 & $850 & $7,500 sats for NLHE High Roller (Event 29)
June 12: $1,100 sat for Razz Championship (Event 33)
June 13: $1,100 sat for NLHE Secret Bounty (Event 35)
June 14: $1,100 sat for 2-7 Triple Draw Lowball Championship (Event 38)
June 15: $2,750 & $25,350 sats for NLHE Super High Roller (Event 40)
June 16-17: $625 & $5,300 sats for Poker Players Championship (Event 43)
June 20: $1,100 sat for PLO Championship (Event 50)
June 22: $1,100 sat for HORSE Championship (Event 54)
June 24: $320 & $2,700 sats for PLO 8-Handed High Roller (Event 57)
June 26: $1,100 sat for 7-Card Stud-8 Hi/Lo Championship (Event 63)
June 27: $580 sat for NLHE 6-Handed (Event 65)
June 28: $1,100 sat for NL 2-7 Lowball Draw Championship (Event 69)
June 29: $625 & $5,300 sats for PLO High Roller (Event 71)
June 30: $1,100 sat for NLHE Super Turbo (Event 72)
July 1: $1,100 sat for PLO-8 Hi/Lo Championship (Event 75)
July 2-7: $145 & $250 turbo sats for tournament buy-in credits
July 2-7: $580 & $1,100 & $2,175 sats for tournament buy-in credits
July 3-8: $1,100 turbo sats for tournament buy-in credits
July 9: $2,700 sat for HORSE High Roller (Event 80)
July 11: $625 & $5,300 sats for NLHE High Roller (Event 84)
July 13: $1,100 sat for NLHE 6-Handed Championship (Event 90)
July 15: $1,100 sat for NLHE Short Deck (Event 93)
July 16: $580 sat for NLHE 8-Handed (Event 94)
The full 2023 @WSOP live bracelet event schedule is at https://t.co/ZE2H9mWNZe

Thanks to some really fast typing, I've added the Daily Deepstack and Satellite schedules on @TheHendonMob at https://t.co/r8Oc8XTe8d and https://t.co/r5m1xXFUGE respectively

— Kevin Mathers (@Kevmath) February 2, 2023