Top 5 Most Prestigious WSOP Bracelets
WSOP Bracelets
It's World Series time again, and while everyone who makes the yearly trip to Vegas dreams about returning home with a shiny new bracelet to put atop their mantlepiece, some bracelets are just that extra bit special. You know the ones that carry that extra bit of prestige, the ones that tell the world that you played against the best and beat them all, the ones where people will remember that you won it for years to come.
While we would be happy to take home any bracelet after a trip to the WSOP, there's no doubt that not all bracelets are created equal. So here's our list of the top 5 most prestigious bracelets you could win at the 2022 WSOP.
#5 $50,000 PLO High Roller
Previously the $25,000 PLO High Roller, this event had its buy-in doubled in 2021 – making it an even more exclusive event! The best of the best Pot Limit Omaha players come from all over the world to duke it out in this high-roller event. Anyone who can take it down etches their name into the P.L.O. history books. 
With distinguished winners such as Stephen Chidwick, Shaun Deeb, and Jens Kyllönen, it shows how tough this event is to win. With the buy-in doubling to $50,000 in 2021, it filters out more recreational players that would take a punt in the $25,000 and leaves a tougher field of P.L.O. crushers to contend against.
Before you consider entering this event, you must be highly confident in your P.L.O. tournament game. There are a lot of nuances to P.L.O. tournaments that even good Omaha cash game players don't understand. In addition, playing around I.C.M. becomes extremely difficult when equities run so close between hands. If you were to take down this event, you'd send a message to the world saying that you're one of the top P.L.O. tournament players around right now.
The 2022 Winner: Robert Cowen 
#4 $25,000 Heads Up No Limit Hold'em Championship
Another tournament that has increased its buy-in in 2021, the Heads Up Championship, lets the world's best players fight it out, mano y mano, to see who comes out on top. Often considered the purest form of poker, heads-up is a full-on war between two players. You can't take a break and relax for a couple of hands; you're expected to be on it from start to finish.
The best heads-up players in the world come to play this event. Given that heads-up cash games are identical to heads-up tournaments, the players who have exclusively focused on that format aren't at the same disadvantage as they would be in other tournaments. This gives players the confidence to make the trip down to Vegas to try and take down the coveted bracelet.
Past event winners include Adrian Mateos, Justin Bonomo, and Dan Smtih, who finally broke his bracelet duck with victory in 2022 against Christoph Vogelsang. A lot of experience playing heads-up is needed if you hope to be able to compete in this tournament. Almost every player that enters has some kind of heads-up background and has had significant tournament success in their careers. This isn't the tournament where you can luckbox your way into a win; you need to be something special to take it down.
The 2022 Winner: Dan Smith
#3 $250,000 No Limit Hold'em High Roller
The high roller events bring the best tournament players to Vegas for the WSOP, and there's no bigger event this year than the $250,000 High Roller. Anything with a buy-in over $100,000 will bring the best No-Limit Hold 'em tournament players to town, and a $250,000 buy-in tournament is going to take the truly elite players away from the Triton Series and over to Vegas for the summer.
The biggest buy-in event is rarely the same over consecutive World Series. Events vary from a $1,000,00 tournament to a $100,000 tournament – but at least one six-figure event makes it onto the WSOP schedule every year. It's the one that the best No-Limit Hold 'em players all want to win.
Winning a high roller event such as this shows that you are one of the world's premier No-Limit Hold 'em players. You need to have deep pockets and a tremendous amount of self-belief to even enter an event like this, and with how stacked the fields are, you can't hope to get lucky and expect to win it that way. You need to show a deep understanding of No-Limit Hold 'em tournament play if you have any hope of taking down one of these super high roller events. Still, if you do, it'll be something that stays with you forever.
The 2022 Winner: Alex Foxen
#2 $50,000 Poker Players Championship
We agonized over where to rank the top two events, as solid arguments could be made for either one to be placed at the top of the list. However, in the end, we settled with putting the $50,000 Poker Player's Championship in second place. This tournament is one that all the true poker players want to win. Comprised of 8 different games, the Poker Players Championship is arguably the most challenging event on the calendar to win, as you need to excel at all 8 of the games.
On top of that, the event is packed to the brim with stone-cold killers. This isn't an event that draws a lot of recreational attention. Instead, this is the one for mixed game specialists who have been honing their craft for years to compete and see who is truly the best poker player in the world. With past winners such as Dan Cates, Michael Mizrachi, and Brian Rast, you get an indication of just how high caliber this tournament is.
There is an extra motivation for players to win this event. In 2008, after the death of Chip Reese, the WSOP created the Chip Reese Memorial trophy, which was to be held by each champion for one year. The winner of the first iteration of this event (then known as the $50,000 H.O.R.S.E. event), Chip was a hugely influential figure in the poker world. Modern poker wouldn't be the same as it is today without the likes of him and Doyle Brunson. There's a lot of studying ahead for those wanting to add their name to the iconic trophy. You need to master not one but eight different game types if you hope to take it down.
The 2022 Winner: Daniel Cates
#1 The $10,000 WSOP Main Event
It couldn't be anything else at #1, could it? If you asked any poker player what bracelet they want to win the most, at least 95% of them would say the WSOP Main Event – and the additional 5% are likely lying! You don't just get a multi-million dollar payday when you win the Main Event. You get your name etched in the poker history books for all eternity. Everyone remembers the winner of the Main Event, more so than any other bracelet throughout the year. So we had to put it at number one on our list.
While some may say that the high percentage of amateur players somewhat lessens the accomplishment, we disagree. It's true, a lot of amateurs turn up to play the Main Event, but so do all of the best players in the world! Anyone who is anyone in poker wants to play the Main Event because their R.O.I. is so much greater than it is in other tournaments. So while you play against many amateurs, you have to outlast many of the world's greatest players if you want to win it.
Not only that, but it's also a massive test of your endurance and your focus. It takes nine solid days of poker to win the Main Event from start to finish. That's a long time to stay focused and concentrated – as any slip in your mental acuity can result in your elimination if you're not careful! Deep stacks and two-hour levels give the best players the time they need to accumulate chips and exert their edge over amateur players. It truly is a marathon event.
The 2022 Winner: Espen Jorstad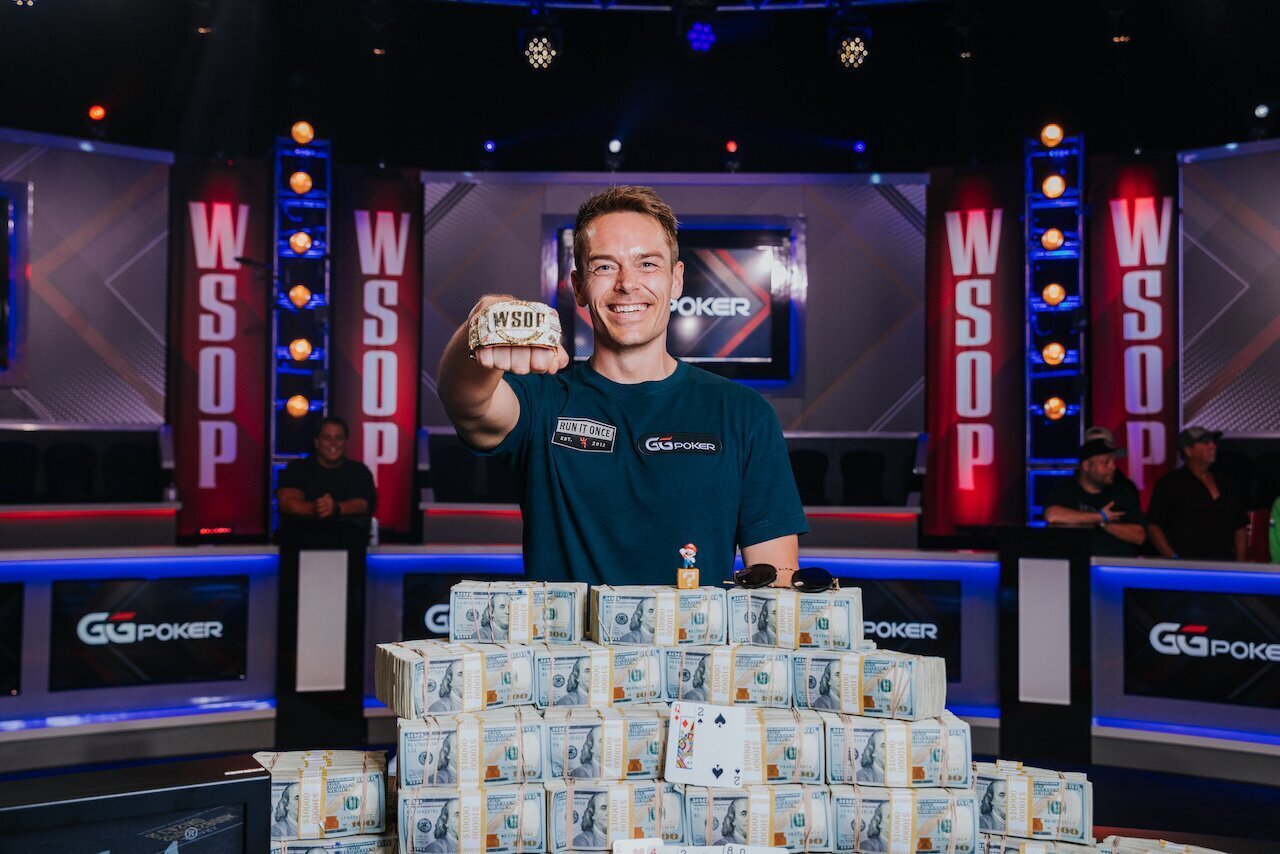 Conclusion
If you hope to win the Main Event, you need to run well. No player can win a nine-day tournament without getting lucky at some point! However, at the same time, you need to remain focused on your goal and don't let your concentration slip. It's as much a test of endurance as anything else, and those who can't hack it are swiftly eliminated. Thousands of players make the trip to Vegas every year with the hopes of becoming the next Main Event champ. For tips on how to give yourself the best chance of winning at the WSOP, why not check out our other articles?
So there we have it, our list of the top 5 most prestigious WSOP bracelets, but what do you think? Are there any that we've missed out on that you would include? Would you change the order of the events on our list? Let us know in the comments below what your top 5 would be!