Mike Postle Curiously Reemerges in Poker
The Mike Postle story is a sordid one, full of cheating allegations, evidence of cheating, and lawsuits. A Walk Down Memory Lane For those unfamiliar with said story, it started at Stones Gambling Hall in Northern California. The poker room was a popular place for cash games, especially the livestreamed…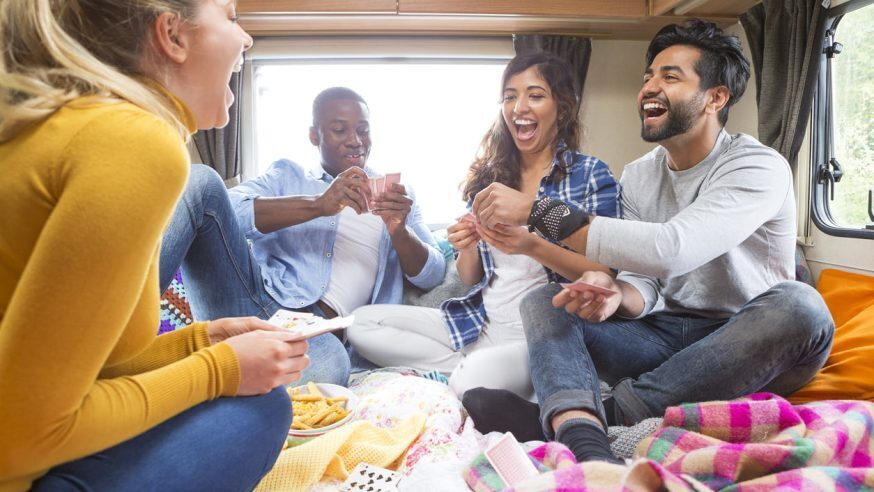 The Mike Postle story is a sordid one, full of cheating allegations, evidence of cheating, and lawsuits.
A Walk Down Memory Lane
For those unfamiliar with said story, it started at Stones Gambling Hall in Northern California. The poker room was a popular place for cash games, especially the livestreamed ones. Veronica Brill was one of the regulars who also became a commentator for the stream. In late September 2019, Brill went public with her well-researched suspicions that regular player Mike Postle was cheating in the livestreamed games. After Stones refused to hire a third party to conduct an objective investigation, simply asserting that Postle was better than every other player, Brill took her concerns to the poker public.
— Veronica Brill 🦩 (@Angry_Polak) September 28, 2019
Joey Ingram began to investigate Brill's claims and found quite a bit of suspicious play through more than 50 hours of livestreamed play involving Postle. Poker pros of all backgrounds saw the same odd plays.
There was a wide suspicious that Postle knew his opponents' cards in many situations, which would have only been possible with help from a casino or livestream employee and a technological device. Connecting the dots led to the assumption that Stones Tournament Director Justin Kuraitis was the assistant.
The story went viral, well beyond the poker community.
Big thanks to @notthefakeSVP for doing such a great job explaining the Postle situation on Sportscenter in a way that anyone can understand. I appreciate the shout out for the investigation. Hopefully we get to the bottom of this soon.@Angry_Polak @haralabob @BarstoolNate pic.twitter.com/3pf6QJnXSI

— LEGION | Joey Ingram 🐉 (@Joeingram1) October 5, 2019
Postle on Defense
When Postle tried to defend himself, he simply asserted that his 16 years as a poker player made him "so successful" that no one could believe it. The only way the average viewer could justify such amazing play was to accuse him of cheating. He attributed his success to studying poker and human behavior, saying he was also "blessed with very good instincts."
Kuraitis quickly defended himself and locked his Twitter account.
Stones stopped the livestreams and announced a new investigation…with a friendly attorney leading that investigative team.
Meanwhile, poker player and attorney Mac VerStandig spoke with victims of the cheating and chose to represent them in a lawsuit against Postle.
Legal Messes
VerStandig represented Brill and 24 other plaintiffs in a lawsuit against Postle in the US District Court. They alleged fraud, racketeering, negligence, and several other allegations. Postle successfully evaded being served for months but finally faced the case against him without an attorney.
The progress of that case was filled with Postle's antics of submitting unacceptable documents to the court and using an attorney who – allegedly – assisted Postle by ghostwriting some of his filings. At the same time, more plaintiffs joined the case against Postle, pushing the total number of them to 88.
The judge dismissed all claims against Postle, Kuraitis, and Stones in the summer of 2020, but the plaintiffs planned to file an amended complaint. Finally, most of the plaintiffs agreed to a private settlement.
Legal Shenanigans
Meanwhile, Postle found an attorney and filed a $360M lawsuit against 11 defendants, including Brill and poker media outlets like PokerNews, as well as mainstream outlets like ESPN.
In the months that followed, Postle's own attorney filed a motion to withdraw as he had been unable to find his client. Two defendants, however, filed anti-SLAPP motions to dismiss the charges against them. Since Postle was trying to sue them for things like defamation (and emotional distress, among other claims), Brill and fellow defendant and poker pro Todd Witteles filed the anti-SLAPP motions, as was allowed under California law.
Breaking Mike Postle news:

– Attorney Steven Lowe was GRANTED dismissal as Postle's counsel, as requested, on 1/14/21.

– Veronica Brill filed an anti-SLAPP, to be heard 2/11: https://t.co/cZcb1kD1ru

– I also have an anti-SLAPP, to be heard on 2/10: https://t.co/XRYFwfbIWg

— Todd Witteles (@ToddWitteles) January 15, 2021
Postle, without an attorney, represented himself but asked for one continuance after another as he supposedly tried to find counsel. He eventually tried to dismiss all charges against the defendants to get out of the mess he created, but the anti-SLAPP motions remained in place. Brill and Witteles eventually won legal fees from Postle.
It got messier from there, as Postle claimed he couldn't pay said fees. Attorneys for Brill and Witteles tried to force him into bankruptcy, all while Postle appeared to find assistance in his legal filings from a woman and the organization she represented, which specialized in victims of online bullying. Postle's ex-wife spoke out about her allegations of abuse.
A mess.
Postle essentially disappeared from poker after the court cases ended.
Starting 2023 in Biloxi
The Beau Rivage poker room in Biloxi, Mississippi was the place to be in January of the new year. The Million Dollar Heater Poker Series offered a series of 11 tournaments. It started on January 5 and ran through the middle of the month, culminating in the Main Event with its $500K guarantee.
The series had been doing well, and the Main Event showed how well:
$1,200 buy-in Million Dollar Heater Main Event: 1,074 entries = $1,127,700 prize pool
That prize pool more than doubled what had been promised and was enough to pay the top 108 finishers at least $2,255.
On Sunday, January 15, the field had burst through the money bubble and played down to just a few tables. Late into the night, they concluded play with an unofficial final table of ten.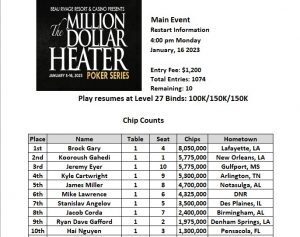 Nothing out of the ordinary there. Kyle Cartwright at another final table…Mike Lawrence didn't report his hometown…not unusual.
There He Is
According to players and floor staff at the Beau Rivage poker room, Mike Lawrence was the name written on the form to avoid creating a buzz. The name on that player's bag of chips was Mike Postle. It turns out that Michael Lawrence Postle was, indeed, at the unofficial final table of a major tournament.
Good Morning Twitter! Welcome to 2023!

I woke up with a message from @Mawkswell

"Unreal just played with Mike Postle he was using an alias floor confirmed it was him"

Postle is in Biloxi. Final table resumes today…he is playing for 200k!@Angry_Polak @Joeingram1 pic.twitter.com/AE4yliakU0

— Angela Jordison (@Angelajordison) January 16, 2023
.@BeauBiloxi why are you allowing a known poker cheater to play in your poker room? The floor confirmed that Mike Lawrence Postle made a final table pic.twitter.com/natcFSCdE7

— Veronica Brill 🦩 (@Angry_Polak) January 16, 2023
It appears, according to internet sleuths and people who have time to compare pictures of Postle, that he wore a fake nose and kept his hoodie tight throughout most of the tournament to remain unrecognized. When he made the final table, he ditched the fake nose but wore a medical mask. (He wore it wrong, but is anyone surprised?)
ICYMI: Accused poker cheat Mike Postle has reemerged in the poker world. #poker #postle #pokernews pic.twitter.com/QcxV4L6BrE

— Poker.org (@pokerorg) January 17, 2023
There was at least $16K for each of the ten remaining players on January 16. As they played it out, Postle busted in seventh place for $32,703.
— David Lee (@dlee_3) January 17, 2023
In the end, the final three players – Kooroush Gahedi, Gary Brock, and Jeremy Eyer – chopped the $433,151 left for those three payouts. Each player took home more than $144K, with Kooroush also taking the trophy and the official win.
Congrats to the top three players Brock Gary, Jeremy Eyer, and Kooroush Ghaedi (pictured) who chopped for over $140k each in the Million Dollar Heater Main Event at the Beau Rivage. pic.twitter.com/zaSwQmnMOp

— Wild Bill Phillips (@GCPNet) January 17, 2023
So, the Postle story is not over. He bets he can keep it going.
We call.