Live Poker Set to Thrive Globally in 2023
Poker is back! To be fair, poker never left. But it feels like a resurgence is happening, a renewed excitement for the game and what the live poker tournament scene has to offer. It seems to have started after the pandemic lockdowns eased, as poker players realized how much they…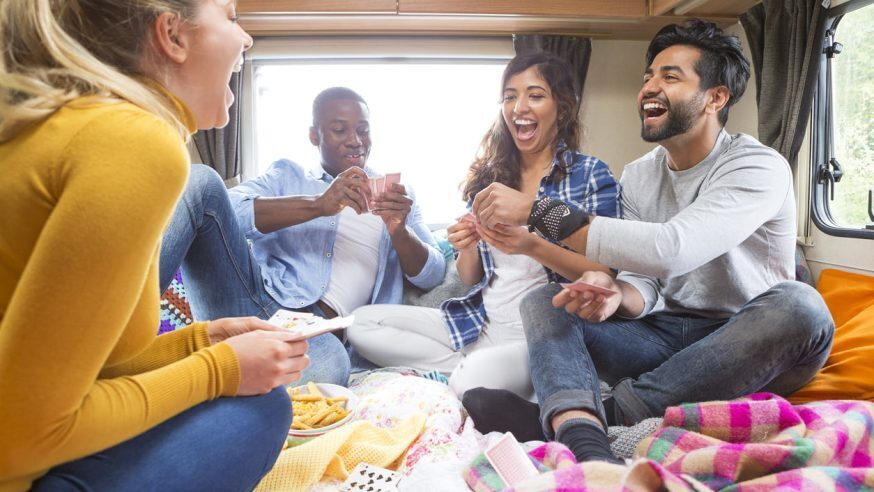 Poker is back!
To be fair, poker never left. But it feels like a resurgence is happening, a renewed excitement for the game and what the live poker tournament scene has to offer.
It seems to have started after the pandemic lockdowns eased, as poker players realized how much they missed the live poker scene. They donned their masks, used the hand sanitizer, put up with partitions and short-handed tables, and most even got vaccinated. They just wanted to play the game.
Since then, attendance is up at many poker tournament stops. Tours are seeing record numbers of entries, setting historic prize pools, and expanding their reach. And the competition is prompting many tournament and tour operators to up their game, to continually raise the bar and see who steps up to meet or exceed it.
As 2023 began, there was a full poker schedule on tap, with everything from mid-major buy-in events to high rollers ready for players in a variety of destinations.
PokerStars: From PCA to Paris
First up for PokerStars in 2023 is the PokerStars Caribbean Adventure (PCA).
This had been on the calendar for some time, as PokerStars has been running satellites for the PokerStars Players No Limit Hold'em Championship (PSPC), which will take place alongside the PCA. And for the first time, the PCA was moving to a new location – the Baha Mar Resort – still in the Bahamas but down the beach a bit in Nassau.
The entire festival will kick off on January 22 and run through February 3. The PCA will provide the first tournaments, and that series will feature these main attractions:
$100K buy-in PCA NLHE Super High Roller (Jan 22-24)
$10K buy-in PCA NLHE Main Event (Jan 23-29)
$3K buy-in PCA NLHE Mystery Bounty (Jan 26-28)
$25K buy-in PCA PLO High Roller (Jan 27-28)
$25K buy-in PCA NLHE High Roller (Feb 1-3)
Then, of course, there is the PSPC, featuring an event on the front and back ends of the second-ever PSPC:
$10K buy-in PSPC NLHE Warm-Up (Jan 28-29)
$25K buy-in PSPC NLHE Main Event (Jan 30-Feb 3)
$550 buy-in NLHE Mystery Bounty (Feb 1-3)
A Platinum Pass to the #PSPC 2023 is the ultimate prize for PokerStars Players.

But just how many have been won?

And what does that mean for the PSPC prize pool?

Find out here 👉 https://t.co/Rcijxqne75 pic.twitter.com/DcYQkTANLK

— PokerStars Blog (@PokerStarsBlog) January 5, 2023
Don't care for Caribbean beaches and island festivities? There's more on the PokerStars agenda.
At the beginning of December 2022, PokerStars announced the European Poker Tour schedule for 2023. They were anxious to get the word out about adding new stops like Paris and Cyprus and keeping some player favorites.
The full season consist of:
EPT and FPS (French Poker Series) Paris at Hyatt Regency Paris Etoile: Feb 15-26
EPT and FPS Monte Carlo at Sporting Monte-Carlo: Apr 26-May 6
EPT and ESPT (Estrellas Poker Tour) at Casino Barcelona: Aug 21-Sep 3
EPT and EUREKA Cyprus at Merit Royal Premium Casino: Oct 11-22
EPT and EUREKA Prague at King's Casino: Dec 6-17
The EPT 2023 schedule is here, featuring familiar favourites and new locations. ♠️

All the details 👉 https://t.co/szD51vC42E pic.twitter.com/YzDPtV6UCs

— PokerStars LIVE (@PokerStarsLIVE) December 1, 2022
As for that first stop in Paris next month, there will be several lower buy-in events catering to FPS players and larger buy-ins that fit the EPT brand. It's the reason that the marriage of EPT with smaller brands works so well to bring in a wide variety of players. The Paris highlights will be:
€1K buy-in FPS NLHE Main Event (Feb 16-20)
€550 buy-in FPS Cup (Feb 18-19)
€2K buy-in FPS NLHE High Roller (Feb 19-20)
€50K buy-in EPT NLHE Super High Roller (Feb 19-21)
€5K buy-in EPT NLHE Main Event (Feb 20-26)
€3K buy-in EPT NLHE Mystery Bounty (Feb 22-24)
€10K buy-in EPT NLHE High Roller (Feb 24-26)
World Poker Tour: WPT Prime
After a historic and record-breaking 20th season, the WPT heads into Season XXI with a little extra swagger. We talked more about the new World Poker Tour season, insofar as it is listed thus far, but WPT Prime is the tour that will travel the world. As the initial first-half schedule notes, these are the travel destinations outside of North America:
WPT Prime Paris at Club Circus Paris (Jan 31-Feb 5)
WPT Prime Gold Coast at Star Gold Coast (Mar 2-6)
WPT Prime Cambodia at Naga World (Mar 16-20)
WPT Prime Amsterdam at Holland Casino (Mar 29-Apr 1)
WPT Prime India at Deltin Royale in Goa (Apr 13-17)
WPT Prime Slovakia at Card Casino Bratislava (May 11-15)
WPT Prime Vietnam at Crown Poker Club in Hanoi (May 25-29)
WPT Prime Sanremo at Casino di Sanremo in Italy (Jun 7-11)
For those heading to Paris, the entire festival actually starts on January 22. It is the Main Event with its €1K buy-in that starts on January 31 and runs through the final day of February 5.
Want to kick off 2023 from Paris, France? 🇫🇷

We head to @ClubCircusParis in less than 3 weeks for #WPTPrimeParis @TexapokerEvents!

Festival Dates: Jan 22 – Feb 5
Main Event Dates: Jan 31 – Feb 5

More Info: https://t.co/EPM3FavMTB pic.twitter.com/IYu4gWWWIB

— World Poker Tour (@WPT) January 4, 2023
World Series of Poker: WSOP Circuit
The World Series of Poker is gearing up for its 2023 WSOP in Las Vegas, but its Circuit series is carrying on throughout the year. While there are quite a few tournaments in the United States, the WSOP International Circuit is underway in Europe. It provides tournaments in various locations through April, wrapping up just in time for everyone to head to Vegas.
The stops on the WSOPC International tour in the first half of 2023 are:
King's Resort in Rozvadov, Czech Republic (Jan 4-24)
Deerfoot Casino in Calgary Canada (Jan 11-23)
Es Saadi Marrakech Resort in Morocco (Jan 14-22)
Casino Plaza in Dakar, Senegal (Feb 3-13)
Casino Royale in St. Maarten (Mar 22-Apr 3)
The King's tour stop is underway in Chechia now, though the Main Event is more than a few days away:
€1,700 buy-in WSOPC King's Main Event: Jan 20-22
Vegas was fun but can't wait to play at @PokerroomKings in January for the @WSOP circuit!

— Maureen B. (@mjbloech) December 19, 2022
The Calgary series is ongoing, despite having completed its Main Event in late December. Another dozen events are playing out through January.
888poker Live
The tournaments hosted by 888poker Live offer solid structures and mid-major-level buy-ins. The tour is not one of the most well-known but attracts a regular group of players and welcomes new ones to the mix with every stop.
The 2023 888poker Live tour is shaping up this way:
888poker Live Madrid Festival at Casino Gran Via Madrid: Jan 13-23
888poker Live London Festival at Grosvenor Victoria Casino: Apr 13-24
888poker Live Barcelona Festival at Casino Barcelona: May 10-22
888poker Live Bucharest Festival at Hotel Sheraton: Aug 8-14
888poker Live London Festival at Grosvenor Victoria Casino: Oct 13-29
The Madrid Festival is just days away, and the series will culminate in one highlighted event:
€888 buy-in NLHE Madrid Main Event (Jan 18-23)
🔎 Tournament Spotlight 🌍 888poker LIVE – 888 LIVE Madrid
📅 13-23 Jan
📍 Gran Via, Madrid 🇪🇸
🔗 Schedule: https://t.co/mCD7peb8d2
ℹ https://t.co/3BJnLlqAzl @888poker pic.twitter.com/cEnT3QqCkJ

— The Hendon Mob (@TheHendonMob) January 2, 2023
Irish Poker Open
Fancy trying the luck of the Irish?
A rich history and a one-of-a-kind series, the Irish Poker Open is set to take place at the Royal Dublin Society this year. It will run for a full week in the first half of April, complete with a $1M guarantee on the Main Event and online satellites running on both PokerStars and Paddy Power Poker.
The 39 events of the 2023 Irish Poker Open will feature:
€1K buy-in Irish Open Main Event: Apr 5-10
The much anticipated details of Irish Open 2023 are here!

We are delighted to announce that Europe's longest running Poker Festival, the Irish Open, will once again take place over the Easter break, running from 3rd – 10th, April 2023.

Read on: https://t.co/gmn7ZBUnOw pic.twitter.com/X59s9rUtWl

— Irish Open (@Irish_PokerOpen) September 13, 2022
Malta Poker Festival featuring THMC
This series has become a can't-miss stop for many poker players. The Malta Poker Festival has two iterations – spring and fall – and the Spring Edition is on the calendar for the end of April. The full schedule is not yet available, but there will be €300K guaranteed. And the Main Event will also be The Hendon Mob Championship.