Gabe Kaplan Retires from High Stakes Poker
Most people remember Gabe Kaplan as Mr. Kotter, the teacher of the Sweathogs in Welcome Back, Kotter. He called on Horshack for answers, read excuse notes from Epstein's mother, let Vinny sing "Ba-ba-ba-ba-barbarino," and rolled his eyes when Freddie said, "Hi there." It was a television classic. Kaplan started his…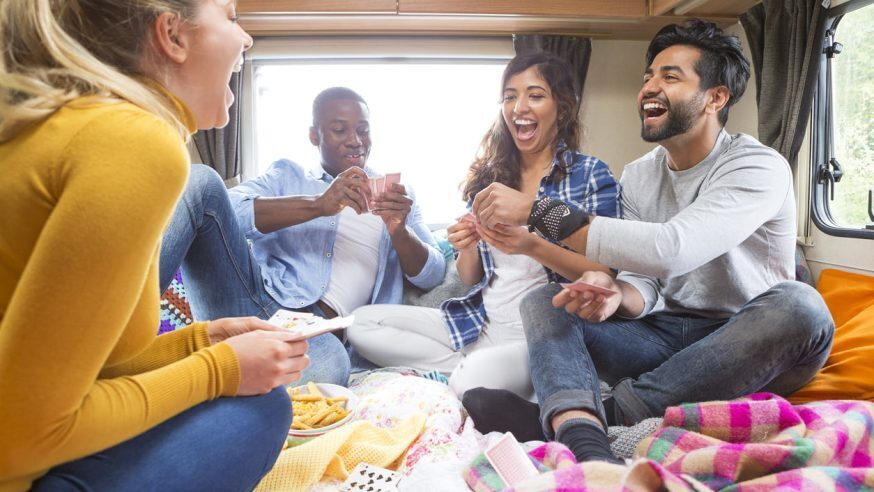 Most people remember Gabe Kaplan as Mr. Kotter, the teacher of the Sweathogs in Welcome Back, Kotter. He called on Horshack for answers, read excuse notes from Epstein's mother, let Vinny sing "Ba-ba-ba-ba-barbarino," and rolled his eyes when Freddie said, "Hi there." It was a television classic.
Kaplan started his career as a stand-up comedian and turned that into the creation of a comedy show for television.
At the same time, he fostered his passion for the game of poker. He not only played around the Los Angeles and Las Vegas poker rooms, he won tournaments.
His first win on the books was the in 1980, when he took down the Amarillo Slim Superbowl of Poker for $190K. He won subsequent events at the L.A. Poker Classic and the Sport of Kings. Kaplan was the most famous person then classified as a celebrity who played poker regularly. He was respected at the tables, and he made the perfect commentator for poker, able to mix his poker knowledge with his wit and his comfort with a microphone. He hopped on the WSOP broadcasts in 1997 and 2002 to do some commentary.
Eventually, that led to Kaplan landing the role of lead poker commentator on a show called High Stakes Poker. It was a product of the poker boom, as poker fans became captivated by high-stakes cash game poker. Kaplan started hosting the first year of the show's production in 2005, and it hit televisions in 2006 via GSN (Game Show Network).
On and Off with High Stakes Poker
Kaplan became the initial host of the show that attracted many new players to the game. High Stakes Poker brought high rollers to the table, often with bricks of cash and no fear. Kaplan was the poker aficionado, and AJ Benza was his cohost. Benza came from a journalism and television hosting background, and the duo worked well together.
They hosted four seasons of HSP, as fans know it, to air on GSN from 2006 through the end of 2007. The next season was in 2009 and on a network called N3D. The next two seasons aired in the same way but with poker player and presenter Kara Scott stepping in for Benza and alongside Kaplan.
It was the seventh season, back at GSN, when Kaplan took a break. Comedian Norm McDonald stepped in for Kaplan and partnered with Scott.
The show then lost its home for nearly a decade. That streak finally ended when Poker Central-turned-PokerGO bought the past episodes and the rights to revive High Stakes Poker. The eighth season then ran from the end of 2020 to March 2021, livestreamed only on PokerGO at a subscription price. The original team of Kaplan and Benza resumed commentator duties for that eighth season and a ninth.
The tenth of HSP just debuted on PokerGO in January 2023. The first two episodes aired this week, and those are the final ones with Kaplan handling commentary next to Benza.
Sixteen Years of Memories
In the press release announcing his exit, Kaplan said:
"I had a blast doing High Stakes Poker, but the time has come for me to hang it up and empty my locker. I want to thank A.J., Mori and all the staff, players, dealers and viewers. We had sixteen years of good times and now memories."
The 77-year-old did not indicate his next moves.
PokerGO, however, will miss Kaplan. President Mori Eskandani called Kaplan's impact on the poker world "nothing short of legendary." He commented on Kaplan's wit and poker knowledge, as well as his "genuine and unmatched enthusiasm for the game" that never wavered over the course of the years and more than 100 episodes that featured him.
We bid farewell to an absolute legend ❤️ https://t.co/XXlTzsTwcp

— 🦬 Hanks (@BuffaloHanks) January 25, 2023
Commentary partner Benza had a few words as well:
"Working with Gabe Kaplan was a highlight of my career. Playing the straight man to his unbelievable comedic timing was previous, not to mention learning poker at his knee. We had a great run, and that's why you never bet against two guys from Brooklyn."
The final episode of HSP featuring Kaplan aired on Tuesday, January 24, but PokerGO will rebroadcast it on the PokerGO YouTube channel on Friday, January 27.
Photo courtesy of PokerGO