Poker Meme Mondays 01
Who says Monday has to be the worst day of the week? Not us. With Meme Mondays, we aim to start off your week by stacking LOLs instead of chips. Here, rather than cry-laughing at your own expense as you reload for a third clip after donking off (again) to OMC at your reg $1/2 game, let's instead crackle, giggle, and snort-laugh your way into the week with more beating of the dead horse that is HCL, a bit pet-friendliness, and, obviously, drop a culturally relevant House of the Dragon reference.
1. Dry Your Tears, Sweet Garrett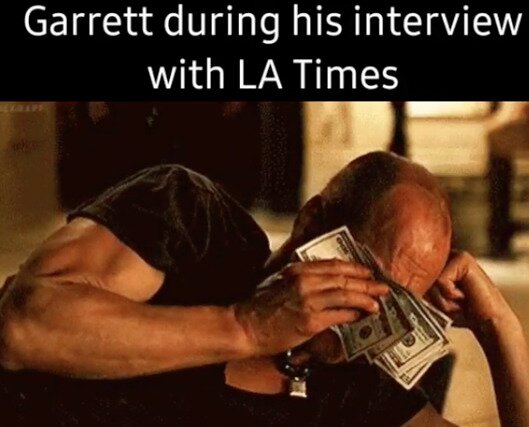 Listen, we've all been here. And by "here," I mean crying (not wiping our face with Benjamins). Garrett Adelstein followed in Robbi's footsteps with his own LA Times interview, continuing to fuel the never-ending fire atop everyone's favorite cheating scandal. This piece reads like a a "boohoo" to anyone who doesn't have bank like Gman. The man up over $1.5 milly on HCL actually said his "life was forever altered." Okay, Garrett…
2. Nick "The Nit" Vertucci To The Rescue
The organizer and producer of Hustler Live Casino, ladies and gents. This man who, in his own Insta bio, unironically claims to have "went to the school of hard knocks" has truly done it all. From reserve police officer and real estate investor (just wait) to… an unpaid extra on Sons of Anarchy (?), what can't "The NIt" do?
3. But wait… there's more. 
Now it just feels like we're being mean, but at this point it's too easy. In case the previous career-focused pic didn't sway you, we've got you a flier, courtesy of Nik and his wife Gina. The pair offers up their years of knowledge so that you, too, can become a real estate millionaire. Or… not really, says the numerous BBB complaints. This looks like something you'd expect to see taped to a post outside of a sketchy after-hours club. The only thing missing from this wannabe baby announcement is the tear-off phone number and the out-of-service QR code. If this photo isn't a crime, it should be.
4. The Waiting Game Begins (And Continues)
After a triumphant season finale, fans of House of the Dragon now begin the long wait, and it might be a while. At least the ending has already been written. *Shakes first and screams in Season 8 and The Winds of Winter…*
5. Poker's Gone To The Dogs
Seriously… is this even allowed? Is he trying to run a tall tail bluff? Maybe he's just getting a ruff run of cards…. ok, I'll see myself out.