Before even getting into the topic of women in poker, we need to make something clear. The use of the term women is used to refer to non-males. The language in this discussion includes only people who identify as male or female. Other genders and classifications, or non-classifications, are excluded. This is not ideal and only for the sake of simplicity. It has taken decades for many in poker to recognize the need to be more inclusive of non-males, to reach out and be purposely inclusive of women. For that reason, and acknowledging baby steps of progress, those who don't identify as male or female are not included in these facts and figures. And we regret that this is the case.
With that said, some poker room managers are hesitant to require players to list a gender in the hopes of being more inclusive. This type of thinking is progressive and necessary in society…but…it doesn't allow any tracking of progress with regard to non-males. It is a long-term goal in poker to be all-inclusive and welcoming to all players. For the sake of this analysis, however, we revert to the simple classifications of men and women.
Twitter on fire with people chiming in on women in poker. All I can say is I'll be there! I think you may be surprised at the increase I the number of women playing this summer @WSOP! Bring it boys! We are ready. 🔥♠️

— naomi pazol (@npazol) May 9, 2022
The World Series of Poker is one of the best ways to gauge the growth of women in poker. It is an annual series – with pandemic exceptions – and offers a wide range of tournament buy-ins and opportunities over seven weeks each summer. It is also an entity that has the capability to track gender via registrations because of its Caesars affiliation via the Caesars Rewards cards.
The Ladies Championship is a regular event that can gauge the popularity of women in poker by its sheer entry numbers. But on a larger scale, the WSOP tracks gender in all of its tournaments.
From 2014 through 2018, the WSOP put out series-ending press releases with its major numbers, including total entries and prize pools. It also, of course, mentioned all new records set. For some reason, the WSOP stopped offering gender statistics in 2019, and that continued through 2021.
This year, for the 2022 WSOP, I kept asking questions and found a connection with someone who keeps said numbers. There was a general number of women's participation in the series at the halfway mark, but the only way to truly compare year on year is with full-series numbers. Got it.
As for the Main Event in particular, the WSOP has provided the gender breakdown from 2017 through 2022. They were able to do it with the 2020 online Main Event as well.
Total Non-Male Entries
As mentioned, entries for the entirety of the Las Vegas series have increased every year since its inception with only two exceptions. One was the 2012 WSOP, which dipped nearly 1K players in the lingering aftermath of Black Friday. Last year's 2021 WSOP dipped but for many different reasons, not the least of which were the vaccine and mask requirements and the move of the series from summer to fall due to the pandemic. With many forces in play, the 2021 series decreased by more than 60K entries. But this year's series put everything back into place and rebounded to the highest number of entries ever.
How amazing would it be if a girl won the Main Event? @wsop. Good Luck to all of them:))) Rooting from the sidelines. @wsop

— Jennifer Harman (@REALJenHarman) July 11, 2022
Of all of those years, as mentioned, we only have a gender breakdown for six of them.
This chart shows the number of women across the totality of the series has varied in the past, with 2018 being a low point of the six and this year becoming the high point. Of the total of 181,490 entries in the live tournaments (not including online events) in Las Vegas, there were 10,529 entries from women. That puts the total at 5.8% non-male.
Never before has this percentage been so close to 6%.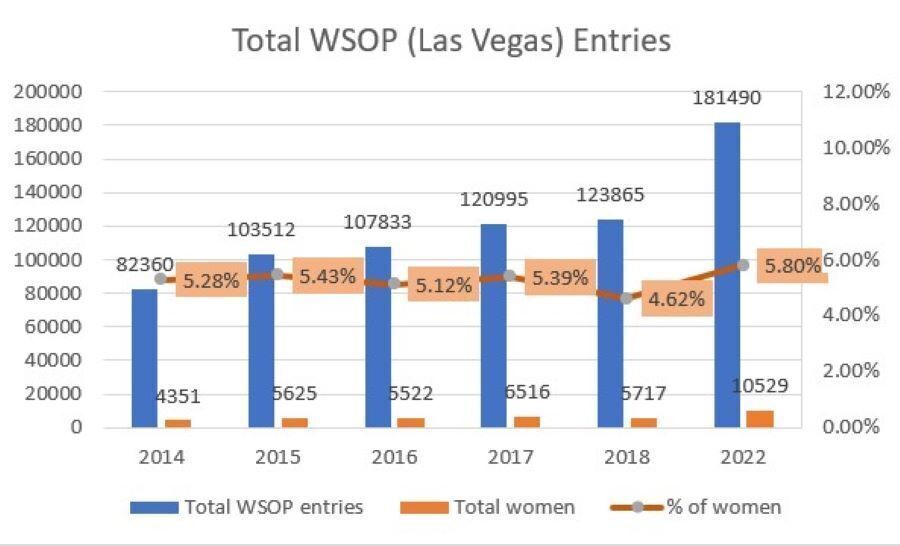 Is it the overall growth we wanted to see? No.
Is it progress? Yes.
Total Main Event Non-Males
Considering the WSOP Main Event is the Main Event, they do keep track of entry details, such as gender and nationality.
We already noted that the Main Event final table this year was the most diverse to date and with a fewer number of Americans than usual. The WSOP reported this week that players from 87 countries competed in the Main Event this year, which is not a record but a solid showing nonetheless.
The number of women in the Main Event was up as well. We only have Main Event numbers by gender dating back to 2017, but the yearly number through this year shows a small increase each year in the number of non-males who play the $10K buy-in tournament. This year saw a rise as well, if only by a quarter of a percent.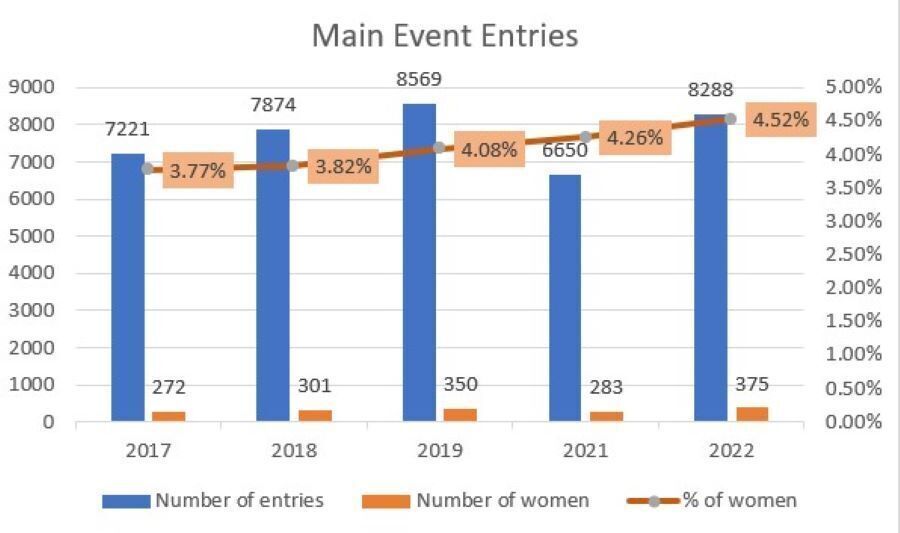 Is it the growth we wanted to see? No.
Is it progress? Yes.
Meet Efthymia Litsou, the last woman standing in the 2022 Main Event. @RemkoRinkema catches up with Litsou on break who tells the story of how she got into the Main Event. pic.twitter.com/e4y4t1pjId

— PokerGO (@PokerGO) July 13, 2022
Women's 2022 WSOP Earnings
The WSOP does provide a breakdown of statistics for women by bracelets won, earnings, and cashes. When sorting those categories for 2022 only, we have some interesting results.
As for the bracelet tally, that is simple. Katie Kopp won Event 1 this year, the one reserved for casino employees. The other bracelet went to Jessica Teusl, who won the Ladies Championship.
For 2022 WSOP earnings, these are the top names for World Series earnings this year only:
Efthymia Litsou (USA) $323,100
Esther Taylor-Brady (USA) $219,605
Angela Jordison (USA) $213,623
Jennifer Gianera (USA) $207,845
Kathy Liebert (USA) $205,800
Jessica Teusl (Austria) $168,989
Nellie Park (USA) $163,439
Maria Ho (USA) $162,685
Christina Gollins (USA) $133,343
Kristen Deardorff (USA) $118,345
Note: The WSOP website shows Jessica Teusl in sixth place on this list and in tenth place with a different dollar amount. As far as I can tell, she should be in sixth. And unless my math is wrong – math is hard – Kristen Deardorff should be in tenth place on this list.
When listing by the number of cashes at the 2022 WSOP, the list is quite different:
10 cashes: Cherish Andrews
9 cashes: JJ Liu, Maria Ho, Huifang Zhang
8 cashes: Kathy Liebert, Camille Brown, Christina Gollins
7 cashes: Lexy Gavin, Loni Harwood, Esther Taylor-Brady
The list only contains these ten names.
It's also interesting to note that the average age of the top ten money earners was 42, and the average ag of the women who cashed the most times was 40.
With the 2022 results, this changes the all-time WSOP earnings list to read:
Wenling Gao (China) $2,759,710
Vanessa Selbst (USA) $2,201,877
Annette Obrestad (Norway) $2,176,725
Maria Ho (USA) $1,959,554
Loni Harwood (USA) $1,926,583
Kathy Liebert (USA) $1,638,202
Jen Harman (USA) $1,503,592
Esther Taylor-Brady (USA) $1,394,122
Kristen Foxen (Canada) $1,300,759
Annie Duke (USA) $1,166,567
And the addition of 2022 cashes puts the all-time women's WSOP cashes list as:
87: Kathy Liebert
76: Maria Ho
69: JJ Liu
51: Jamie Kerstetter
50: Kristen Foxen
45: Allyn Shulman
44: Cyndy Violette
43: Lexy Gavin, Loni Harwood