Mixed Experiences and Feelings on Dealing at 2022 WSOP
So many things about the 2022 World Series of Poker in Las Vegas were new: location, parking options, lighting, ballroom temperatures, potential accommodations, food options, and increased dealer pay. That last one came from a need to staff the WSOP tables for what had the potential to be the largest…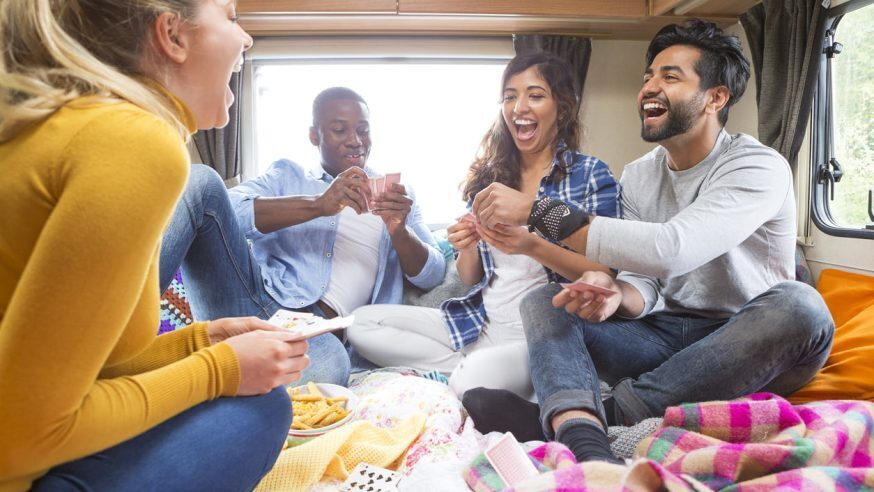 So many things about the 2022 World Series of Poker in Las Vegas were new: location, parking options, lighting, ballroom temperatures, potential accommodations, food options, and increased dealer pay. That last one came from a need to staff the WSOP tables for what had the potential to be the largest WSOP in history.
The WSOP offered special incentives to recruit dealers this year, and it worked.
Some dealers were experienced and exceptional. Others learned a lot on the job because of their own attitudes and those of friendly, helpful players at their tables. Of course, there were also some who made egregious errors and lost their jobs quickly into the series.
Poker players made their thoughts known about the dealers throughout the series, as they have the ability to do so on social media without restriction.
I've been at two tables with bad dealers at the @wsop. The first the table was friendly supportive and helpful and the dealer got better as she went. The second the table was angry and abusive and the dealer got more and more frustrated and made more mistakes #DontBeADick pic.twitter.com/Hytdl1GXhd

— Rob Gardner (@RobGardnerLive) October 5, 2021
Then, as the WSOP wrapped its Las Vegas tournaments, some dealers had something to say, too.
WSOP Enticement
The first order of business for the WSOP before the summer games began was to find enough dealers. WSOP executives eyed one of the largest World Series events in their history, but it couldn't happen without dealers. The WSOP then made an announcement in late March 2022, one that would entice people to apply and go for the dealer training.
The notice garnered a lot of attention. The WSOP said it would start dealer pay at $12.50 per hour (up from less than $10 per hour) and pay a $100 bonus to all dealers who worked through their first shift. For downs, each dealer would be guaranteed $15 each for Hold'em events, both official bracelet events and side events. Those dealing non-Hold'em events could make at least $20 per down. And the WSOP would split any leftover funds at the WSOP between all dealers as bonuses based on the number of downs they worked in total.
The WSOP also offered dealers a $30 room rate at the Rio for the seven/eight weeks of the series, with no resort fees on top of it.
The incentives were necessary. Not only were dealers in a good position to demand more pay, as the WSOP needed them, but there was already a dealer shortage in Las Vegas. In addition, other poker rooms like the Venetian, Wynn, MGM Grand, Golden Nugget, Aria, and Orleans were running series throughout June and July as well. Dealers were going to follow the money.
Enough of that money came from the WSOP to lure them in.
Trial by Error
Some dealers at the WSOP were experienced. Some had worked with the WSOP in prior years, and others worked in card rooms around the country.
The new ones faced down table after table of poker players. Some made errors. And some of those errors were bigger than others.
The first major incident happened during the Housewarming tournament. During the first color-up break, a new dealer scooped up all of the chips from players' stacks to organize them by color.
Wowowow… word on the street is Event #5 was delayed because When they said "color up" a newb dealer collected ALL THE CHIPS on the table and started organizing them by color and destroyed all the stacks. Got snap fired. 😳#wsop #wsop2022

— Kyle Kitagawa 'Cali Kidddd' (@KyleK_poker) June 2, 2022
Can all my friends check-in and and let me know you're OK after "The Great Color Up Catastrophe of 2022?" #WSOP #markedsafefromcolorupdisaster

— Doc ♠️❤️♣️👑 (@DrAlexChauran) June 3, 2022
There were other incidents as well, for example:
Wsop craziness

On color up break dealer pulls ALL the chips in the well
I've had him TWICE

Floor announce "3-6-9 in the well" talking about chip stacks. dealer removes the 3-6-9 cards from deck. They play 30 mins till next dealer discovered it

SMH

— Grandpa_Grinder (@Walan_Kite) June 7, 2022
An interesting situation arose wherein two of the exact same card appeared on a flop in the Mystery Bounty event. When people took photos with their phones, a floor person threated them with punishment. WSOP VP Jack Effel denied that it happened.
It has escalated to tournament wide announcement and barred from all Caesar's properties.

This is not a bit.

— Christopher DeMaci (@DeMaci_Poker) July 3, 2022
Words Matter
There were a handful of dealers at the 2022 WSOP who had a tough time keeping their thoughts to themselves.
Dealer just needled player and player took it well. Dealer kept on, player said just deal don't commentate & is 100% correct. Dealer got mad, made another mistake and is eyeballing player. This dealer needs to be talked to #Wsop @WSOP

— Golf & Dogs (@AB48420889) June 22, 2022
I wish I could say I was exaggerating. He went on and one speculating that my hendon mob was 15k —he even said, or maybe 15 dollars— (the lodden question) and generally using an extremely disrespectful tone.

— Jennifer Shahade (@JenShahade) July 9, 2022
I had a dealer talk about how great it was to deal to Maria and Melanie because he got to "stare at their tits" the whole time 😡 but at least it wasn't to their faces…

— Tom Martell (@tommartell) July 9, 2022
Dealer just needled player and player took it well. Dealer kept on, player said just deal don't commentate & is 100% correct. Dealer got mad, made another mistake and is eyeballing player. This dealer needs to be talked to #Wsop @WSOP

— Golf & Dogs (@AB48420889) June 22, 2022
Positive Experiences
Some poker players made an effort to point on their positive experiences with WSOP dealers. Those were often refreshing to see.
Wow this made my day.

New dealer super excited to be here at the @WSOP ! pic.twitter.com/YxJqwGpb5H

— Allen Kessler (@AllenKessler) June 6, 2022
ping xiaping z my wsop dealer is smazing and a joy to be around. figure as much as we criticize we should point out great service. @wsop @Kevmath

— Jason Wheeler (@JDPC27) June 24, 2022
This is every day, every time. We are so trash. So entitled. Think we are better. It makes me sick. It's the majority of us. I'm ashamed. And sad.

— Felipe Mojave Ramos (@FelipeMojave) June 19, 2022
Have had Willie and Yim King as dealers today in the Super Turbo. Both have been just excellent, @wsop pic.twitter.com/7aiNy5ZM8F

— Jeff Platt (@jeffplatt) June 29, 2022
A Reddit Thread
As the WSOP began to wind down, a WSOP dealer posted on Reddit. The thread began with their account of everything from the hiring process to actually dealing the series.
The person started by talking about the dealer audition, at which they were required to deal one hand each of Hold'em, Pot Limit Omaha, Seven-Card Stud, and Triple Draw. Being hired then required contact with the human resources department at Caesars, which didn't happen until one week before the WSOP began.
This person commented on tips from players, how they are divided, and how they accumulate. They noted that tips added up dealers making approximately $19.50 per hour at the 2021 WSOP.
One gripe was that the WSOP needed dealers so badly that they put nearly every applicant into the games, noting that the incompetent ones will fail and leave quickly enough. Their biggest complaint stemmed from colleagues and coworkers, fellow dealers who go on a break and do not return or do so late, prompting dealers to miss a push and a break.
Additionally, and back to the human resources failures, this dealer asserted that they had to keep their own specific records of downs and other details. This was due to being shorted and sometimes not paid for shifts or days. It was frustrating to need to contact someone regularly to request full payment.
On a positive note, however, this dealer had nothing but praise for WSOP dealer management.
"I want to say that the WSOP has some of the best floors I've ever seen. It's very difficult to get one of their positions, and they do an excellent job of selection and weeding out. I've literally zero complaints top to bottom here."
The bottom line was that this dealer felt that the WSOP should pay dealers on the basis of experience. This would reward those who come to the WSOP with an intimate knowledge of dealing while still having room to welcome new dealers into the fold. When dealers might be making more than $50 per hour at their home poker room, there is little incentive to uproot their life and make the same money as someone who barely passed a dealer audition.
Do you agree or disagree with these sentiments? What was your experience as a dealer or a player with respect to the dealers?
We'd love to hear from you. Tweet or DM me @WriterJen on Twitter to talk on or off the record.