World Poker Tour Veterans Share Ingredients for WPT Success
The 20th anniversary of the World Poker Tour was a big deal. Few companies can stay intact and relevant for two decades in an ever-changing industry like poker. It is an even bigger deal when a company can remain an influential and pivotal part of the industry. In fact, only…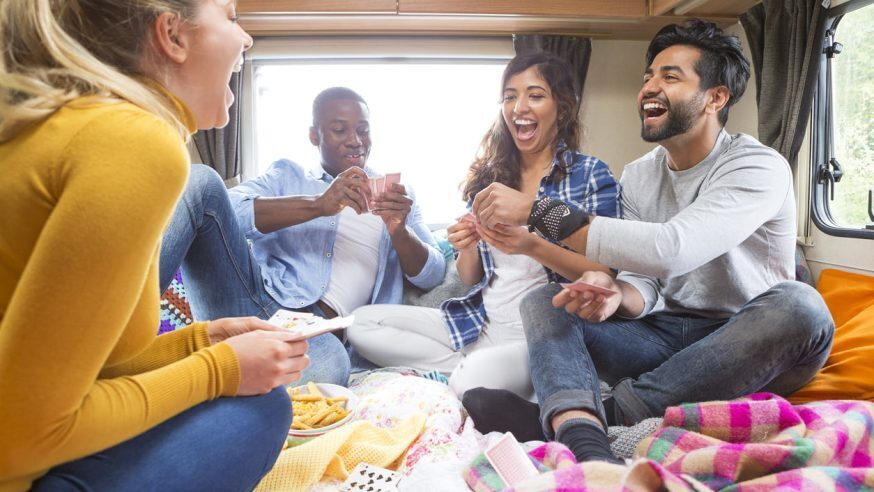 The 20th anniversary of the World Poker Tour was a big deal. Few companies can stay intact and relevant for two decades in an ever-changing industry like poker. It is an even bigger deal when a company can remain an influential and pivotal part of the industry. In fact, only the World Series of Poker has a longer history than the WPT of live tournament offerings on a large scale.
The WSOP and WPT do share a common component of a strong brand that provides value for players and fans alike. Both have name recognition from many years of television productions.
There are major differences, though. And the World Poker Tour showcased many of them at the WPT World Championship at Wynn this month. Those differences will become apparent through the insights of four people who have been with the WPT from the beginning.
A Typical Hollywood Launch
It's important to take a step back and recall the birth of the World Poker Tour.
Founder Steve Lipscomb had a dream. He discovered a real interest in poker through his budding filmmaking career, as his partnership with Norman Lear took him to the World Series of Poker in Las Vegas. He not only filmed the WSOP for a documentary on the topic of tournament poker, but he played and won a satellite to compete in the WSOP Main Event.
Obviously, Lipscomb didn't win the Main Event. But his film research led him to the belief that the WSOP, as it was being broadcast on ESPN, was boring to watch. And that led the entrepreneur to begin to develop an idea for making poker into a sporting event, one with merchandise and licensing, a focus on the players, an entire brand. Most importantly, it was going to offer something unavailable to fans of any major sport – the ability to play with the best of the best in the game.
Lipscomb found investors and a skeleton crew. They rented offices on the Warner Brothers lot in West Hollywood, which was – at that time – a hub of television and film ideas and productions in Los Angeles.
They found partner casinos to host the poker tournaments. They worked with famed inventor Henry Orenstein to license the new hole-card camera to pull viewers into the poker hands. Lipscomb found poker pro and businessman Mike Sexton to be the voice of poker on the television broadcasts alongside actor and poker fan Vince Van Patten for color commentary. And quickly, the renters of a few offices on a Hollywood lot expanded to take over much of the building. And within just a few years, the company went public, moved to executive offices in the Mid-Wilshire District of Los Angeles, and became a force at the time that poker was preparing for its boom.
The World Poker Tour was in the game to stay.
WPT Veterans
There are more than a few people who have been with the World Poker Tour since its first season. For the purpose of this reflective piece, I spoke to four of them with whom I'm most familiar.
As mentioned, Van Patten was with the company from the beginning, one of the two voices of the World Poker Tour when it appeared in its initial years on the Travel Channel.
Tournament Director Matt Savage was tapped to handle the tournament end of the action, working with casinos to develop tournaments with structures that were both appealing to players and prime for television production.
Adam Pliska served as the general counsel for the startup company. He initially worked with Lipscomb for a few weeks to handle the legal logistics of trademarking and branding the World Poker Tour. The weeks turned into a few months of contracts with casinos and new employees. By the time Lipscomb decided to take the company public, Pliska was on board for the long haul. Today, he is WPT President and CEO.
Deb Frazzetta handled accounting for the startup on the Warner Bros. lot when it all began. She climbed the ranks as the company grew. For more than a decade now, Frazzetta has been the CFO of the WPT.
(To be transparent, I worked as Frazzetta's part-time assistant on the lot when the WPT was getting off the ground. I moved to a full-time position around the time that the company went public, only leaving to become a freelance poker writer a couple years later during the poker boom.)
Have WPT Veterans Watched Every WPT Episode?
Surprisingly, no.
Van Patten, Savage, and Frazzetta admitted to not having watched all shows in the 20 seasons of the World Poker Tour.
Pliska said that he missed a few tournaments on television over the years, but his background in production and current role as CEO put the shows in his hands before they go to the network for broadcast. "I get the rough cuts before they make it to air," he said. "So, technically, yes, I think I've seen every episode."
Stand-Out Players and Events
The interviewees had varying responses when asked to point to a specific player or tournament that stood out in their memories.
Pliska:  "I have so many for so many different reasons. It's like picking a favorite child; I can't really do it.
"I do remember a lot of touching moments, many of them involving players who finished second at final tables but remained gracious. I remember Vanessa Selbst being so gracious to Anthony Zinno when she lost to him. Everyone in the room knew that she was so competitive, but she was so kind to him.
"One player who stands out was JJ Liu at the final table of Bay 101 (in 2007). She insisted that she stay at the final table despite the fact that she appeared to be going into labor. There was even a paramedic on hand. Later, I had a discussion with her about it, about the courage to play through labor, and she simply said she'd had a kid before and knew how it worked."
Savage:  "I mostly remember Bay 101 Shooting Star final tables because those events were so special to me. They were in my hometown, but they also had a different atmosphere, with poker fans everywhere, players signing autographs and taking pictures.
"I remember memorable moments like Danny Nguyen winning at Bay 101 (in 2005), when he caught running sevens to win a million dollars. He was a local, and the place erupted.
"My all-time favorite winner would have to be Mike Sexton. Seeing videos of him still makes me emotional. I miss him. I miss him a lot."
Mike Sexton's interview with Vince after winning the WPT Montreal! Congrats Mike! pic.twitter.com/iqkhqabQ9k

— Playground Poker (@PlaygroundPoker) November 18, 2016
Van Patten:  "My favorite is watching Mike Sexton win his championship in Montreal. When people were saying older players couldn't win, Mike proved them all wrong. It was so great!
"One of my favorites was also Will the Thrill (Failla) when he won at WPT Legends of Poker (2011). I could really relate to his New York personality, and he was easy to root for."
Frazzetta:  "I always like to see our Clubbies (ClubWPT qualifiers) do well in any tournament. They are the nicest players. I went on the WPT Cruise in Europe when we hosted some Clubbies. They joined my son and me on excursions, and we still keep in touch with them to this day."
Favorite Job Memories
There were a few standout memories that were unique to the WPT experience.
For Frazzetta, it was the unusual requirements that went along with running the finance and human resources departments. She once had to arrange for an armored car to deliver tournament buy-ins to Commerce Casino in Los Angeles. "LOL. I never know what each day is going to bring at the WPT."
Van Patten has always loved the chance to come up with fresh and funny lines that work on the television show. The best, though, were short video clips he did with Sexton. "They put Mike and I in funny situations, like the Rocky skit. They are such great memories!"
Pliska and Savage both named the players and coworkers as the favorite parts of their jobs.
Pliska:  "It is absolutely the people. To create a good working environment requires a recipe, and it's an art, not a science. Everybody has their strengths and weaknesses, but you put them all together and make the people feel safe and valued. And when you get out of their way, the result is that magical things can happen.
"The rule of the World Poker Tour is to be transparent and own your mistakes. I am the chief mistake-maker of the company, but we're all in the same boat. And we're all just trying to get across the river by supporting each other to get there."
Savage:  "Interacting with people is the best part of my job. I get to know so many different people, and I have a knack for being able to read them well, joke with them at the right times, and try to ease the pains of bad beats or downturns in their careers.
"Even the bad beats, I don't mind them. It's an important part of my job and important for players to be able to tell their stories. I'm not going to remember every beat, but I listen and respect the players."
Least Favorite Roles
As Savage mentioned, he doesn't mind bad beats. What he does mind is when people don't consider what all must happen to create and complete a fluid, smooth tournament. "There's so much work that goes on behind the scenes."
Van Patten mentioned briefly that the part of the pre-show preparations involving makeup and attaching the microphone are not his favorite moments. And Frazzetta had no qualms about saying that the two times the WPT went public were the toughest times because of the seemingly endless audits and meticulous details.
For Pliska, one might think that firing people is the worst part of his job, but he said he's actually really good at that. His philosophical approach makes it an opportunity to explain that the WPT was a chapter or a page in someone's journey, and their book is so much bigger.
In reality, Pliska admitted that the toughest part of his job has been to accept mistakes and move forward. "When you try to do something grandiose, you make mistakes and disappoint people. Over the course of years, there have been times we've disappointed people. … I've learned that I have to listen to people's criticisms and critiques in a very open way and embrace them."
Pliska recalled a situation that perfectly exemplified the importance of accepting a mistake, absorbing the disappointment of the player, and fixing the problem so it doesn't happen again.
Shawn Cunix won the WPT Jacksonville Main Event in 2012. It was one of the most memorable wins for some at the WPT because of the player's recent life experiences and the emotion he displayed upon winning.
Just a few weeks after winning in Florida, Cunix played the WPT World Championship at Bellagio in Las Vegas. That's where Pliska met Cunix.
"I met Shawn when I got a call from George, our producer. He said he was with a very upset player on the tournament floor who wanted to talk to me. I walked through Bellagio to meet him.
"Cunix told me he couldn't believe what he saw. He brought his family to Las Vegas to see his name on the WPT Champions Cup, but it wasn't there yet. And on top of that, the cup was dirty. There were fingerprints on it, and it didn't look like a trophy should. He was very upset.
"I looked at him and said, 'You're exactly right.' Sometimes, the answer is just yes, we're wrong. I was upset by it. But we used that moment to clean the trophy right then and there, and we implemented a new procedure that involves someone always wearing gloves to clean and shine the cup.
"Sometimes, you just have to face your criticisms and be better."
Learning Lessons
Being with a company for 20 years, one inevitably goes through ups and downs. And throughout the years, they learn about themselves and often become better because of those experiences.
Van Patten:  "My biggest accomplishment has been pushing myself year after year to make the show a little bit better and myself a little bit better. The WPT has taught me to enjoy my work and enjoy the process; we are on TV for a living! And most of all, I've learned to appreciate and build up my coworkers. Life is short."
Savage:  "Along this journey, I've had to learn to be adaptable. I'm the Executive Tour Director but also a part of the talent team. I've commentated, done on-the-spot interviews, participate in various aspects of production and tournament directing. And through it all, I've learned to be patient and to be a good listener. I enjoy listening to people's stories. And I've learned the importance of teaching people, being a mentor to newer people in the industry. It goes a long way to making the whole industry better."
Frazzetta:  "The biggest accomplishment is not mine but the whole company's. This WPT World Championship was a huge undertaking. It touched every employee and executive at the WPT. Everyone worked together to make this magic happen. It is a proud moment."
Pliska:  "Once a year, I write an essay to myself. Sometimes, I publish it. It's a series of notes to my 20-year-old self. It's a list of accomplishments and guidance. Throughout it all, I see that I've become less sensitive to criticisms. As a lawyer, I used to feel that I had to respond to everything with a defense. But I've learned to soak it in sometimes, to be less sensitive and learn throughout the process."
What Sets WPT Apart?
There are many companies in the poker world that offer different services, various forms of poker and ways to make the game exciting. It is not so often a competition between those entities as it can be a driving factor to bring more players to the game with bigger and better offerings.
Few will deny, though, that the World Poker Tour and the World Series of Poker compete in some respects. The two are set up uniquely to offer different opportunities for poker players, but there is an underlying yet usually-friendly rivalry for the hearts of the players and fans.
In general, the WPT has a uniqueness about it. And when talking to the four interviewees about their 20 years with the company, it was important to pull their thoughts about what sets the WPT apart from its competitors and from others in general in the poker space.
Van Patten pointed to the production and players. From the very start, from showing the hole cards and making poker exciting to watch, the World Poker Tour has been at the forefront of elevating poker on TV.
"I think we have exceptional production value and great producers and teams. I also think it's fun for the players, as we build them up and tell their stories."
Savage echoed the player focus.
"The WPT is what I always wanted it to be: the player-friendly tour. We focus on things that make poker an experience. In the early days of the World Poker Tour, it was on the Travel Channel, so the destinations were important. But people like Mike Sexton put the players first, insisting that the players were the priority because, without them, there wouldn't be a WPT.
"When you come into a WPT event, you're going to be recognized. The WPT and the casino are going to pay attention to you. That goes for players at all levels. I think – I hope – that every kind of player feels a little more special when they leave a WPT event."
As Frazzetta spends most of her time in the WPT offices in Southern California, she had a different perspective. The WPT is a special place to work.
"The WPT family is truly that – a family. At times, we are a dysfunctional family and can drive each other crazy, but in the end, we all come together and respect each other.
I am in a position where I am and have always been able to interact with every employee of the company – at all levels of the company – for the past 20 years. So many personalities. Many employees have left the company and have returned years later, saying that working at WPT is not like any other company."
Happy 20th Birthday @WPT, my career has been intertwined with the tour for all 20 years and while many great people have come and gone a core group of family remains. Looking forward to creating many more memories with our great partners and players that continue to support. pic.twitter.com/3XqCRXfwdz

— Matt Savage (@SavagePoker) May 27, 2022
Pliska pulled it all together with a recipe metaphor, noting that the WPT hires the best people to technically and professionally do their jobs, but their commitment and creativity give the World Poker Tour the flavor that makes it unique.
"We focus heavily on a life journey, on telling a story. We are the canvas of thousands of stories.
"We're not just looking at the structure of the tournaments, we're looking at the people who play. Impacting people's lives gets me up in the morning. We're serving the community. That's why we treat a first-time player and Phil Ivey the same at the tables. The definition of success is for both of them to believe that the experience fulfilled something in their life, that the WPT served as the canvas for that."
Sincerely, Thank you players for your support over 20 years and making the @WPT #WPTWCWynn a success. The WPT Family appreciates you more than we can ever express 🙏

— Adam Pliska (@pliska007) December 16, 2022