WPT Provides Master Class on Live Poker Ambassadors
Poker sponsorships took shape in the years of the poker boom. When Chris Moneymaker won the WSOP Main Event from a low-buy-in online poker satellite at PokerStars, PokerStars signed him as an ambassador for the online poker brand. It made complete sense to team up to promote poker. The ability…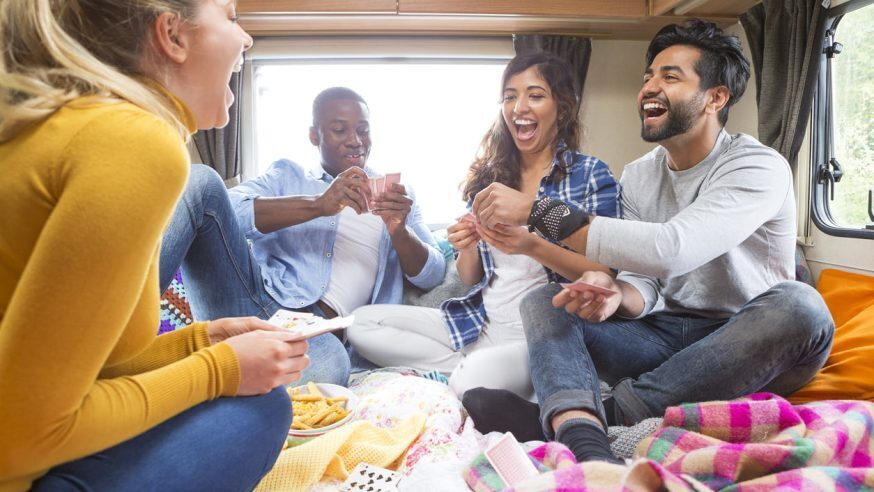 Poker sponsorships took shape in the years of the poker boom. When Chris Moneymaker won the WSOP Main Event from a low-buy-in online poker satellite at PokerStars, PokerStars signed him as an ambassador for the online poker brand. It made complete sense to team up to promote poker. The ability to play on PokerStars and turn a small investment into life-changing money was real.
There were some online poker operators through the years that overdid it. Full Tilt Poker was a prime example of hiring so many pros at different levels of sponsorship that it seemed as if every player was an FTP Red Pro. PokerStars also hired teams of pros for different purposes, with celebrities and sports stars in separate categories from live poker pros and online pros.
The sponsorship world was sometimes out of control but proved somewhat effective.
After Black Friday, poker pro sponsorships became much rarer. Various markets required players who lived in those areas. In addition, players needed to bring something else to the table to obtain a sponsorship deal. They needed to stream poker online or travel the world for live events – or both.
Some live poker rooms did partner with poker pros as ambassadors, but those deals were somewhat rare. Arguably, one of the most well-known of said deals was Maria Ho representing WinStar Casino in Oklahoma.
Now, the two largest live poker operators in the world have reached out to people who can represent their brands. It is relatively new territory. But one tour seems to have figured out how to work effectively with their ambassadors, while the other struggles to connect its ambassador to the poker audience.
WPT Ambassador Launch
The World Poker Tour kicked off its 20th anniversary year in 2022 with a unique ambassador. They signed with world-renowned deejay and music producer Steve Aoki. He was mostly a casual poker player but suddenly signed on to represent the second-longest running poker tour in the world.
The partnership began to take shape with a contest for players to win a seat at a private game at Aoki's house, next to stars of the game like Phil Ivey. They also got to experience some of the fun to be had at his self-described "Playhouse."
The @steveaoki Playhouse is a one of a kind, dreamlike mixture of art, music, and fun.

We brought five lucky qualifiers to have a once in a lifetime experience firsthand.

Starting next week, we'll be giving away more chances to hang out with our newest ambassador. pic.twitter.com/D28y1hGV3T

— World Poker Tour (@WPT) February 17, 2022
more ambassadors
As the year went on, the WPT signed more ambassadors with a clear mission to diversify its audience.
Brad Owen and Andrew Neeme have long been staples in the poker community, both known for their popular poker vlogs. They mainly played cash games, though, and jointly popularized something called MUGs – meetup cash games. Players jumped at the chances to play cash games with their favorite vloggers.
How would they fit in to a predominantly live poker company like the WPT? Neeme and Owen both agreed to play more tournaments and travel to quite a lot of the destination festivals. More than that, though, the two vloggers started hosting MUGs at various tournament locations. It immediately became a very popular part of the tours that Neeme and/or Owen attended.
My first @WPT main event and I get stuck next to this guy. pic.twitter.com/j5wMx9HFs4

— Andrew Neeme (@andrewneeme) July 13, 2022
Another Level of Ambassadorship
Later in 2022, the WPT signed none other than Doyle Brunson. The "Godfather of Poker" hadn't represented a poker company since he owned his own online poker site called Doyle's Room. The WPT ambassadorship was simple to figure out, though. Brunson is one of the legends of the game. If he shows up at a WPT event, whether to play in a MUG or a WPT tournament, it spells big opportunities.
We are proud and honored to welcome The Godfather of Poker, @TexDolly to the WPT family!

He brings his legendary legacy as a member of the Poker Hall of Fame and the WPT Champions Club to the WPT ambassador roster.

🔗Read more: https://t.co/0Lp4n3zetn pic.twitter.com/HrmgpVtKB3

— World Poker Tour (@WPT) June 21, 2022
Finally, just last month, the WPT announced that Phil Ivey was joining the team of ambassadors.
Look forward to playing in the @WPT World Championship in December and being an Ambassador for @WPT pic.twitter.com/dGBzKAYEUl

— Phil Ivey (@philivey) November 9, 2022
While Ivey wasn't known for his outgoing nature and adherence to any rigid tournament schedule, the newly-signed deal brought Ivey to its MUG at the Wynn in Las Vegas. He mingled with poker players and fans from all walks of life. Players showed up simply to meet him and have the chance to play against him.
Those partnerships between the World Poker Tour and its new team of sponsored players seemed to be working. They announced a big MUG to kick off the WPT World Championship festival in December. That event took place on December 1 and even attracted special guests like Phil Hellmuth and Patrik Antonius, in addition to Brunson, Ivey, Aoki, Neeme, and Owen. The WPT's own Vince Van Patten, Tony Dunst, and Lynn Gilmartin showed up as well.
The #WPTWCWynn #PremierMUG pulled out all the stops at @WynnPoker and brought out all the stars. The result, a MUG like no other.

Read the full recap: https://t.co/JG4bXKCs2c pic.twitter.com/ddBWs1lLL8

— World Poker Tour (@WPT) December 2, 2022
WPT Global Ambassadors
In the months leading up to the WPT Wynn festival, the World Poker Tour wanted to promote its new WPT Global online poker site. They wanted to run many satellites and give players the chance to win $12K prize packages to play the Main Event in Vegas.
The problem was that WPT Global couldn't operate in the US and allow players within America's borders to play on the site. They found a unique and successful workaround.
Hire poker influencers as WPT Global ambassadors.
Allow them to play WPT Global from within the US (where they live). If they win a prize package, they can use their influencer channels to give the packages away.
Give ambassadors a fair amount of leeway to award packages to people in creative ways.
Bring new players to the table of a $10K buy-in tournament who would never be able to afford such a buy-in on their own.
This turned out to be a massive success.
WPT Global worked with Matt Berkey, Jaman Burton, Amanda Botfeld, Tom Wheaton, Jamie Kerstetter, Joey Ingram, Ethan "Rampage" Lau, Andrew Neeme, Maria Konnikova, Ashley Sleeth, Qiyu "Nemo" Zhou, and Brad Owen. As they won prize packages, they began awarding them. Some giveaways were random. Others offered contests for military service members or ones submitting the best stories.
In the midst of these giveaways, WPT Global won the interest of new players and spread the word about WPT Global and the WPT World Championships.
I couldn't resist this husband-nominates-wife story.❤️💍

She used to be a single mom. Now she's married and they are raising 2 beautiful daughters — who are going to watch their mama compete in the $10K @WPT poker tournament, the biggest in history!

Watch her reaction⬇️ pic.twitter.com/FbrvrjZlsN

— Amanda Botfeld (@amandabotfeld) October 28, 2022
WSOP Tries with Vaughn
The World Series of Poker started its celebrity partnership in 2021. As the WSOP returned to host a successful post-pandemic Las Vegas series in late 2021, the tour wanted to make a splash. It welcomed actor Vince Vaughn to do the "shuffle up and deal" honors for the Main Event final table. Vaughn, the new WSOP Master of Ceremonies, also commentated a bit and played in a bounty tournament during that series.
Just this October, WSOP parent company Caesars Entertainment announced that Vaughn would be the face of Caesars igaming and Caesars casino platforms. Reportedly, this deal was built on the initial relationship between the WSOP and Vaughn.
Vaughn was supposed to be the MC for the 2022 WSOP in Las Vegas, but he was scarce. He did come to the Main Event dressed as Caesar.
https://twitter.com/HorseshoeVegas/status/1544773295450439680?s=20&t=iGBVDe3_gK0OI4CF-8Ml9A
Trying Harder with Vaughn
While the celebrity aspect of Vaughn was exciting for some poker players, there was little about the partnership that had actually promoted the game.
Last month, the WSOP announced that Vaughn would participate in a promotion to award a $10K WSOP Main Event seat for 2023 to a participant in the promo. It was/is all centered around Vaughn playing former WSOP champions in heads-up poker matches.
Participation required a few steps, starting by depositing to the WSOP online poker site in Pennsylvania, New Jersey, Nevada, or Michigan on specified dates. To bet that Vaughn won, players used "VINCE" as their bonus code with the deposit. Using "CHAMP" was akin to betting on the WSOP champion.
The WSOP would then reveal the winner of special heads-up matches to participants in each state. Each one was set for a different week in November and December. Those who chose the correct winner of the match would win a freeroll seat for the next day. And the winner of said freeroll would win a $10K Main Event seat for next year.
The schedule is listed as:
Pennsylvania players deposited Nov 15-22, saw the match play out on Nov 22, and participated in the freeroll on Nov 23.
Nevada and New Jersey players deposited Nov 29 to Dec 6. The match is set to be released in full on Dec 6 with the freeroll to play on Dec 7. (Vaughn will play 2021 Main Event champ Koray Aldemir in this match.)
Michigan players can deposit Dec 13-20, and they will see the results of the game on Dec 20. That freeroll for depositors entering the correct code to signify the winner will run Dec 31. (Vaughn will play Michigan's own Joe Cada, 2009 Main Event winner, in this game.)
The promo is interesting and original. However, it doesn't seem to be generating any buzz, at least not with players outside of those in qualifying states.
WPT Finds Semi-Sweet Spot
The World Poker Tour didn't find a flawless method of utilizing ambassadors for maximum value. That would be an impossible task in any situation involving human beings, especially those in the general public that respond to said ambassadors.
There have been issues, the most notable of which involved Nemo. She awarded the WPT seat she won to her poker coach and boyfriend, which was a plan they purportedly established before the supposedly-random qualifying giveaway process began. Public backlash on social media, however, forced Nemo's hand. She ultimately agreed to award the seat randomly.
https://twitter.com/akaNemsko/status/1598573461282361344?s=20&t=iGBVDe3_gK0OI4CF-8Ml9A
For the most part, the official WPT ambassadors have each brought their own signature flair to the tables on behalf of the company. And WPT Global ambassadors are all influencers in the poker space. And they have taken satellites and seats to live poker tournaments to an entirely new level.
The WSOP, on the other hand, seems to be experimenting with Vaughn. To be fair, it's the first such deal for the WSOP, and Vaughn is as tied to the Caesars brand as the WSOP brand, perhaps even more so. However, they could take some detailed notes from the WPT on how to work with a poker ambassador for maximum effect.
Caesars has tapped Vince Vaughn as its latest celebrity spokesperson. He'll debut debut on Monday Night Football tonight alongside the Mannings and JB Smoove.

The Director of Talent Acquisition @CaesarsSports is clearly a big Curb fan. pic.twitter.com/L56YaDf2LM

— Sam McQuillan (@sam_mcquill) October 24, 2022