WPT Kicks Off Wynn Series with High Enthusiasm
To say that the folks at the World Poker Tour are busy would be a massive understatement. One might think that the end of the 20th season of WPT tournaments would be a time to soak up the accolades and celebrate what has been accomplished in two decades. That comes…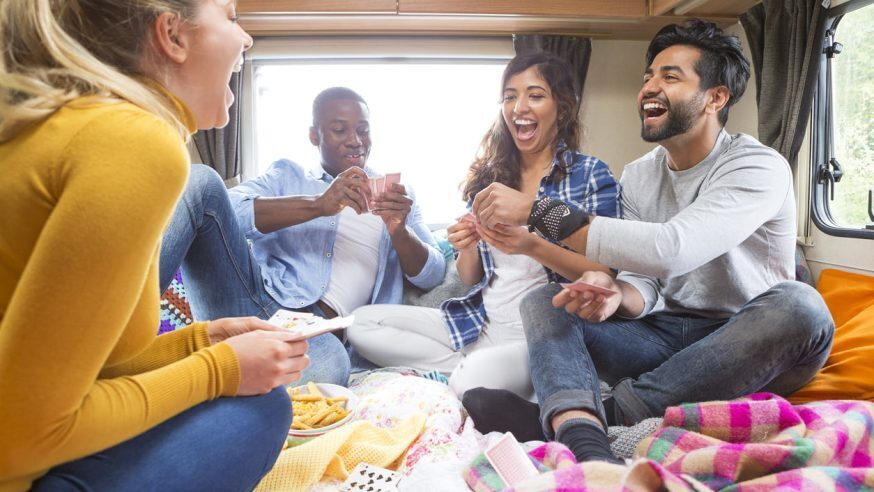 To say that the folks at the World Poker Tour are busy would be a massive understatement.
One might think that the end of the 20th season of WPT tournaments would be a time to soak up the accolades and celebrate what has been accomplished in two decades. That comes after December 20, after the final table plays down to one winner of the WPT World Championship.
For now, it is full steam ahead. There are so many things happening beyond the tournament schedule that we decided to break it down a bit, especially the most recent announcements.
Massive MUG
On the morning of December 1 at Wynn Las Vegas, the World Poker Tour hosted a MUG – meetup game – made famous by WPT ambassadors Brad Owen and Andrew Neeme. They were going to be there, along with fellow ambassadors Doyle Brunson, Phil Ivey, and Steve Aoki. Vince Van Patten brought along coworkers Tony Dunst and Lynn Gilmartin. And players like Patrik Antonius and Phil Hellmuth wanted in on the action as well.
The 10am start time didn't keep anyone away. Some poker players and fans were waiting to play well before that time, and the room quickly filled after 10am. Every table filled with players, and the wait to play became so long that some simply decided to mingle instead of play.
Being first in line led to a 'surreal' moment for this @TexDolly Fan at our #WPTWCWynn #PremierMUG @WynnPoker!

Read about it here: https://t.co/q5AsucFw0a pic.twitter.com/vVtGww2vvD

— World Poker Tour (@WPT) December 2, 2022
Even the WPT representatives described the vibe as electric. Seasoned poker players like Kathy Liebert and Nathan Gamble attended, the latter calling the atmosphere "amazing."
Not only could any poker player or fan play against the best in the game, they had chances to win seats to the $10K buy-in Main Event. Four people won those free seats for beating pros in hands during the MUG.
The #WPTWCWynn #PremierMUG pulled out all the stops at @WynnPoker and brought out all the stars. The result, a MUG like no other.

Read the full recap: https://t.co/JG4bXKCs2c pic.twitter.com/ddBWs1lLL8

— World Poker Tour (@WPT) December 2, 2022
Ivey Home Game
On December 6, Phil Ivey invited some friends to play in a home poker game. Joey Ingram, Matt Savage, Gilmartin and Van Patten, Owen and Neeme accompanied two people who won seats on ClubWPT to play the home game. And one of them had the chance to win a $10K seat into the Main Event.
Phil Ivey is becoming a true man of the people 🐐 @WPT @philivey pic.twitter.com/NQ4nYaiZyV

— LEGION | Joey Ingram 🐉 (@Joeingram1) December 6, 2022
In the end, Tracy McCarty won the $10K seat, and Jack Lin won a $1,100 seat into the WPT Prime Championship this week.
Learn Poker
With so many qualifiers heading to Las Vegas to play the biggest buy-ins of their poker lives, many of them wanted and needed some strategy tips. LearnWPT hosted a workshop for said players, and they then played in a freeroll tournament for a $10K Main Event seat.
We've got a full house for @LearnWPT Live @WynnPoker

Here's a quick look at the action so far as we prepare for tomorrow's exclusive freeroll where 2 students will win a seat to the $2M GTD @WPT Prime Championship! #WPTWCWYNN pic.twitter.com/8ZrRcp9zim

— LearnWPT (@LearnWPT) December 6, 2022
There were also online study sessions with livestreams from the likes of Alexandra Botez and Andrew "LuckyChewy" Lichtenberger.
On the Schedule
The series is jam-packed with a serious poker schedule for the WPT World Championship Festival, but there are many things happening off the felt, too.
The World Poker Tour hosted a Twitter contest and awarded five people the opportunity to play the Phil Ivey Golf Simulator Challenge. It is scheduled for December 10 in one of the Wynn ballrooms. And all of them will be competing for a $10K seat into the Main Event.
Congratulations to @Brookes1000 @iBrayanElias @MB_13 @pokerfuji @davejorgensenh1 for winning the Phil Ivey Golf Simulator Challenge draw on Twitter!
There will be a 1 in 4 opportunity to win a WPT World Championship Main Event Seat!

— ClubWPT (@ClubWPT) December 7, 2022
Another Twitter contest awarded 190 signed copies of Doyle Brunson's book and spots at an exclusive book signing on December 8 at Wynn. The book signing is open to anyone else who purchases a book.
If you're headed to Vegas this weekend for @WPT @WynnPoker events, do not miss your chance at a signed book by @TexDolly! https://t.co/kGteITgkyG

— PokerNews (@PokerNews) December 7, 2022
12 Days of Livestreaming
As the World Poker Tour set up its space in the Wynn ballrooms for the festival of tournaments (and book signing and golf simulator contest, etc.), they set up a place for livestreaming. And those dozen days of streams begin on December 8 and run through December 20.
Fans can watch the action on the WPT's YouTube or Twitch channels.
The full schedule is as follows, with all times listed as PT:
December 8 (12:30pm): Vlogger cash game, including Owen and Neeme, Johnnie Vibes, Ethan Yau, Ashley Sleeth
December 9: Ladies $50/$100 cash game, including all-female commentary
December 10-11: Rail Heaven high-stakes cash game, including Ivey, Ben Lamb, Eric Persson
December 12: WPT $25K High Roller final table
December 12-14 (9:45am): Only Friends podcast (pre-game show) before $10K WPT Main Event Day 1 flights
December 14-15: Content creators $50/$100 cash game, including Alexandra Botez
December 16-18: WPT $10K World Championship Main Event coverage
December 18: WPT $1K Ladies Championship final table
December 19: WPT $1K Prime Championship final table
December 20: WPT $10K World Championship Main Event final table
December 21 (2pm-midnight): Televised $100/$200 cash game
Where times are missing, check the WPT Twitter account for updated information.
Tournament Set-Up
Wynn Las Vegas opened up several ballrooms for the WPT World Championship festivities this month. In preparation for the start of the WPT Prime Championship that starts on December 8, the ballrooms are ready for players.
The @WPT @WynnLasVegas ballroom looks amazing, I am really excited for this festival! #WPTWCWynn @WynnPoker pic.twitter.com/gyVNvwrr2y

— Matt Savage (@SavagePoker) December 7, 2022
The livestreamed cash games and live podcasts will be in this area as well. The public is welcome to check out the action, though they will be required to stay behind any ropes.
Tournaments Crushing
The festival of tournaments started on December 1. Several of them have concluded already with these results:
$600 buy-in NLHE (6 flights, $500K GTD) = 2,999 entries / $1,559,480 prize pool / Sean Banahan (USA) won for $136,220
Congratulations Sean Banahan, winner of the opening event of the 2022 @WPT World Championship. Sean defeated the 2,999 player field, taking home $136,220! pic.twitter.com/3IKQqvvRB7

— Wynn Poker Room (@WynnPoker) December 5, 2022
$600 buy-in NLHE ($50K GTD) = 310 entries / $161,200 prize pool / Constantinos Psallidas (Canada) won for $27,179
Constantinos Psallidas bested the field of 310 players in the single day $600 NLH Event for $27,179. Congratulations Constantinos! pic.twitter.com/jeCBRjsdSc

— Wynn Poker Room (@WynnPoker) December 6, 2022
$600 buy-in HORSE ($50K GTD) = 261 entries / $134,415 prize pool / Rafael Concepcion (USA) won for $23,377
Rafael Concepcion earned the win in the @WPT World Championship $600 HORSE Event on December 5 for $23,377. Congratulations Rafael on topping the 261 player field! pic.twitter.com/IOs4LVAgFK

— Wynn Poker Room (@WynnPoker) December 6, 2022
Those are the only tournaments with well-publicized results, though other tournaments finish daily. And the first three events exemplify the stellar turnout for the preliminaries, as guarantees are already being crushed.
The full schedule for the WPT World Championship series at Wynn is online.