Women Out in Force in Las Vegas: Do the Numbers Show It?
Ladies Championship Growth The numbers make it easy to see the trends in this one tournament. Participation skyrocketed quickly during the poker boom, hitting all-time high of 1,286 in 2007, only to begin its incremental fall after Black Friday. There was a huge uptick in 2019 (from 696 in 2018…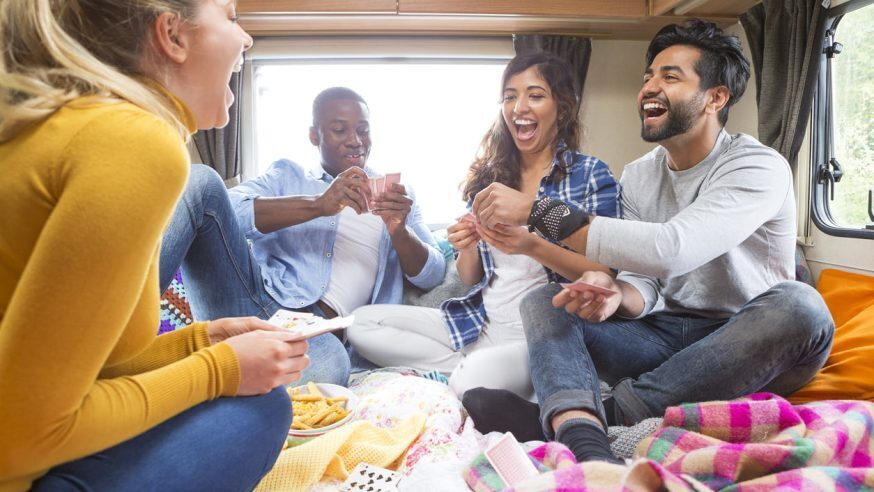 Ladies Championship Growth
The numbers make it easy to see the trends in this one tournament.
Participation skyrocketed quickly during the poker boom, hitting all-time high of 1,286 in 2007, only to begin its incremental fall after Black Friday. There was a huge uptick in 2019 (from 696 in 2018 to 968 in 2019) due to the encouragement from so many women's groups and the introduction of reentries. The dip in 2021 (from 968 in 2019 to 644 in 2021) can be attributed to Covid-19, not only fears of it but WSOP mandates and flight restrictions as well.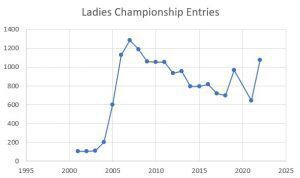 This year, the number rebounded to 1,074. The WSOP lifted its mandates, America reopened its borders to air travelers, and there was marked excitement around the new WSOP location on the Strip, just in time for post-pandemic poker.
This 2022 WSOP Ladies Championship could have been even bigger, rivaling the 2007 record, had it not been so many poker players testing positive for Covid-19 throughout the series (and many players likely not reporting or testing if they had no symptoms). Many women scheduled to attend chose not to do it because of the health dangers. The economy could have also played a role, as many people are struggling financially, and gas prices – whether traveling by air or car – have become prohibitive for some.
Overall, the growth is evident. And when the pandemic becomes a non-factor, look for numbers to rise further.
Gifting Seats & Coaching
Nadya Magnus started a movement of sorts. In December 2020, she was playing in a series at Wynn Las Vegas. She decided to give two seats (that turned into three) to a $5,300 buy-in tournament to women who hadn't had the opportunity or ability to play. Wynn Poker offered those women free rooms at the Encore and a complimentary breakfast to Magnus and her winners on the morning of the first day of the tournament.
Breakfast of champions! pic.twitter.com/9zKAEVIJCQ

— Nadya Magnus (@NadyaKGB) December 18, 2021
Magnus inspired Katie Lindsay, who had become an Americas Cardroom Ambassador, to gift a tournament seat (worth $2,650) to the ACR Venom tournament online in February. She asked people on Twitter to tell her why they wouldn't be able to play without the free seat. That seat came with an hour of free coaching from her husband, Chris Moorman. After that, Lindsay asked ACR if she could have one more Venom seat to give away, and she awarded that one, too.
When the WSOP rolled around, the idea caught fire again.
Jennifer Shahade announced that a generous friend enabled her to gift a seat to the $1K buy-in WSOP Ladies Championship in June.
I'm giving away a seat to the 1K #WSOP ladies event thanks to a generous friend! To qualify, please link your hendon mob and tell me about or link to your favorite ever #poker hand played by a woman or gender minority. (Have to be in Vegas 6/29 to win) #chessqueens #pokerqueens

— Jennifer Shahade (@JenShahade) June 16, 2022
In fact, Shahade awarded two seats due to another person who donated a seat.
An anonymous donor also gifted a seat to Yänjaa Wintersoul.
thanks to a generous donor I played my very first MTT at the World Series of Poker #WSOP … after I forgot everything I learned from play money and trainers last year. Even as a memory champion I forget. How did it go? (1/7) pic.twitter.com/tT4NGHANWz

— Yänjaa 🔊 ⚡️ climate tech engineer 📍New York (@yanjaaw) July 3, 2022
Katie Stone announced that she wanted to offer free coaching to women playing in the Ladies Championship for the first time. She originally recruited Vanessa Kade, Victoria Livschitz, Mandy Baker, and Dr. Kamikaze to offer coaching to women new to the event as well. Ebony Kenney joined with the free coaching offer, which she changed into a group lesson. Matt Berkey and Kevin Rabichow offered coaching, too, as did Philip Shing, Maria Ho, and Kenny Hallaert.
Natalie Hof of the Herzdamen Club (dedicated to women supporting and empowering other women in poker) and her husband, Felipe Ramos, announced an offer as well.
The idea stemmed from the man (Tom Hammers) who played the WSOP Ladies Championship last year. He had stated that he just wanted to have fun and dedicate the $10K buy-in (the price for men to enter) to the prize pool. When Hof told Ramos about the man, Ramos said he knew him and he was a great guy. That led to Ramos and Hammers partnering to do it better this year.
They offered ten free seats to the WSOP Ladies Championship.
Giveaway: 10 seats to the WSOP Ladies Event ($1k Buy-in | Total 10k) Jun 29 @Herzdamen for FREE **Ladies Only**

A little thread about this amazing story and how this is actually happening ❤️🧵

Enjoy girls!

RT, comment, follow and DM @Herzdamen to participate. 1/10

— Natalie Hof Ramos (@HofNatalie) June 27, 2022
(Author's note: If I missed any women's seat giveaways or free coaching, I will happily add to this article.)
More Women's Organizations
Another reason for recent growth is the expansion of organizations dedicated to supporting women in poker.
LIPS is the oldest group, staying effective because of Lupe Soto's continued involvement.
Announcing @LIPS_Tour Ladies Poker Week 2022! For all details, please visit https://t.co/DPqGJK5BNK
Looking forward to seeing everyone soon! Cheers! @SPPokr @VenetianPoker @MGMGrandPoker @WSOP pic.twitter.com/6NlRqrrpQq

— ♠️♥ LIPS Tour ♦️♣️ (@LIPS_Tour) May 6, 2022
Maureen Blochlinger launched the Globetrotting Poker Ladies group in 2016 to inform women about women-only poker tournaments around the world. This group has grown in recent years, most notably on Facebook.
If you know of any ladies only events please let me know as I keep running list in #globetrottingpokerladies and try to help spread the word in the community. #womeninpoker #livepoker pic.twitter.com/Z9SxtzPyGH

— Maureen B. (@mjbloech) May 16, 2021
Also in 2016, Ruth Hall launched what is now known as the Ladies Las Vegas Summer Camp Facebook page. It was a central location for women to find information about ladies-only tournaments in Las Vegas and anything else going on during "ladies' week" each summer. The group now has more than 1,700 members.
Thank you @WSOP for letting me open the Ladies Event. Drop the mic moment! @WPAGlobal #BucketList pic.twitter.com/OqPHbIcGbM

— Ruth Ruthless Hall (@Halltxholdem) July 2, 2022
Daiva Byrne started the Fantastic Ladies in Poker (FLIP) in 2017. It grew its base even more in the past several years due to FLIP partnering with GGPoker for online poker tournaments and promotions. FLIP now boasts of more than 6,200 members on its Facebook page alone.
Hello to all the fantastic ladies in poker. We are very excited to launch this Twitter account in conjunction with FLIP on Facebook. Please follow and enjoy our updates on awesome women across the poker world!! #womeninpoker #FLIPladies pic.twitter.com/8IOkPwhOVk

— Fantastic Ladies In Poker (@flip_ladies) March 11, 2019
Lena Evans founded the Poker League of Nations in 2017 as a way to encourage women to play in any poker tournaments, not just women-only events. PLON now consists of more than 7,500 members.
Thanks for following us here. ***LADIES: join us in our private Fb group….the room where it all happens! Click this link: https://t.co/KuKyVwMPPB pic.twitter.com/AuV3tnAd73

— PokerLeagueOfNations🌎 (@PokrLeagNations) July 4, 2021
In 2019, the aforementioned Herzdamen Club formed with Natalie Hof Ramos and Mila Monroe at the helm. Herzdame means "queen of hearts" in German, so they formed the group to further support women in poker. Its membership is growing but their Twitch following boasts of approximately one thousand followers.
International Women's Day 2021 https://t.co/gCsSfO4a5X featuring @HofNatalie @mila_monroe33 @NICEANDSUNNY @muskaansethi @Ariela_m @mjbloech @MuffinLotti and many other Herzdamen. PM us for details on how to join! #GirlBoss #Herzdamen #poker #empower

— Herzdamen (@Herzdamen) May 3, 2021
Poker Power grew to national prominence in 2020 when it launched an effort to teach poker to women. More than just encouraging women to play, the group focused on poker education and teach skills that can empower women at the tables and in life and business.
Happy #WomensHistoryMonth! Watch our feed for ways #poker can empower women to break down barriers. 💪 https://t.co/xa6dUFa1U2 pic.twitter.com/DAh3DJ0kHU

— Poker Power (@joinpokerpower) March 1, 2022
The Women's Poker Association is a nonprofit dedicated to advance women in poker by heightening their exposure and encouraging more women to play. With Lupe Soto and Tara Smith at the helm, they also work with poker rooms and management to encourage more inclusion for women and strong no-abuse policies.
@WPAGlobal created a new program and marketing campaign designed specifically for men that support women who play poker, introducing Purple Tie Guys! Meet of our Purple Tie Guy Ambassadors & WPA Supporter, Alex Outhred.

Read about Purple Tie Guys here: https://t.co/CVnAs0sRtp pic.twitter.com/RHxUyNzJV6

— Women's Poker Association (@WPAGlobal) November 15, 2021
The newest group, Hearts of Queens, is headed up by Natalie Bromley. Her group focuses on women in poker but aims to garner support from all people who want to help raise awareness, donations, and funds for women's charities. She does this by partnering with live women-only tournaments.
What did I do for #IWD2022 ? I launched a new charity initiative

Say hello to Hearts Of Queens ♥️, an organisation working within the poker industry in order to raise awareness of and funds for women's charitieshttps://t.co/ySBXuXZiMW#poker #women #charity pic.twitter.com/nnr9x4ypMg

— Natalie Bromley 👩🏼‍💻 (@Natalie_Bromley) March 7, 2022
Women Supporting Women
Poker is a competitive game. That naturally inspires a focused demeanor at the table. This is an integral part of the WSOP Ladies Championship, just like any other WSOP tournament. Some have even said that this particular event is tougher than most male-dominated tournaments.
Some also say that the Ladies Event provides the most fun environment, the most welcoming to women in poker.
Both can be true.
The overwhelming attitude of women on social media is a warm and welcoming one for women-only tournaments, especially during the week of the Ladies Event and other women-only tournaments around Las Vegas. At the actual tables, women often ask the names of their tablemates. Women who know each other through the aforementioned groups finally meet face to face.
While the women are focused and intense regarding their poker play, many of them are also friendly and open, often smiling and talkative. It is what many in poker strive to do but what women do more naturally.
Numbers and Results
Speaking of the $1K buy-in WSOP Ladies Championship, the tournament brought in 1,074 entries to create a prize pool of $955,860, from which there were 162 payouts. The final table results were:
1st place: Jessica Teusl (Austria) $166,975
2nd place: Julie Le (USA) $103,196
3rd place: Christina Gollins (USA) $73,604
4th place: Felisa Westermann (Germany) $53,213
5th place: Meikat Siu (USA) $39,004
6th place: Lynh Nguyen (USA) $28,989
7th place: Sandy Tran (USA) $21,852
8th place: Natalie Hof (Germany) $16,710
9th place: Cherish Andrews (USA) $12,965
PLON hosted its $360 buy-in Poker League of Nations Crystal Cup tournament for women only at Resorts World Las Vegas with a $35K guarantee. There were 187 entries to create a prize pool of $56,636. In the end, these were the final table results:
1st place: La Sengphet (USA) $13,775
2nd place: Nika Futterman Xentaras (USA) $10,000
3rd place: Ann Fandozzi (USA) $6,151
4th place: Ruth Graham (USA) $4,140
5th place: Courtney Barr (USA) $3,318
6th place: Amanda Marco Wheeler (USA) $2,723
7th place: Marnie Lynn (USA) $2,151
8th place: Caitlin Comeskey (USA) $1,590
9th place: Laura Poulter (USA) $1,363
The $350 buy-in LIPS Ladies Week Kickoff took place as a part of the MGM Grand Summer Series and attracted 122 entries. The event had a $30K guarantee but created an actual prize pool of $37,255. The final 16 players received payouts, with the final table results as follows:
1st place: Janet Wyvill (Australia) $10,800
2nd place: Tammy Ehrhart (USA) $6,605
3rd place: Dusti Smith (USA) $4,005
4th place: Souhila Yousfi (France) $2,515
5th place: Susan MacPherson (USA) $1,835
6th place: Maria Valadao (USA) $1,600
7th place: Shana Oyen (Belgium) $1,390
8th place: Andra Zachow (USA) $1,230
9th place: Daiva Byrne (Lithuania) $1,080
LIPS held its own tournament – the $450 buy-in LIPS National Championship – at South Point during Ladies Week, and it delivered with 218 entries. The actual prize pool of $87,200 was more than double the guarantee of $40K. It paid the top 31 players, with the final table playing out as:
1st place: Christine Read (USA) $18,107
2nd place: DJ Brooke (USA) $12,671
3rd place: Jennifer Oar (USA) $8,620
4th place: Sayed Souhila (France) $6,982
5th place: Nancy Patterson (USA) $5,215
6th place: Susan MacPherson (USA) $4,310
7th place: Bridgette Adkins (USA) $3,448
8th place: Lauren Bunch (USA) $2,715
9th place: Carey Buck (USA) $2,155
The Venetian hosted the $500 buy-in LIPS Ladies tournament as a part of its DeepStack Championship series. That tournament had a $40K guarantee, but the 161 entries pushed the pot up to $69,230. The final 18 players received payouts, and the final table produced these results:
1st place: Svetlana Gromenkova (USA) $19,127
2nd place: Ariela Masavsky (Israel) $12,461
3rd place: Ruth Hall (USA) $8,308
4th place: Kimberly McClymont (Canada) $5,885
5th place: Shana Oyen (Belgium) $4,154
6th place: Sarah Howell (USA) $2,907
7th place: Lisa Costello (USA) $2,285
8th place: Alison Barry (USA) $1,765
9th place: Gloria Jackson (USA) $1,523
The Grand Poker Series at the Golden Nugget featured a $200 buy-in Ladies Event with a $10K guarantee. There were 78 entries to create a prize pool of $11,700. The results were:
1st place: Jill Bowen (USA) $3,978
2nd place: Linda Dietz (USA) $2,282
3rd place: Gabrielle Tetreault (USA) $1,427
4th place: Laurel Davis (USA) $965
5th place: Rikka Beust (Germany) $731
6th place: Kara Fellows-Tripp (USA) $585
7th place: Dessiree Bennett (USA) $515
8th place: Theresa Stricklin (USA) $468
9th place: Nicole Lichlyter (USA) $398
As a part of the ARIA Poker Classic this summer, the $400 Ladies NLHE tournament had a $50K guarantee. However, the turnout of 346 entries more than doubled that for a $114,180 prize pool. The actual final table results are not yet posted.
The $550 buy-in Ladies Event that is a part of the Wynn Summer Classic series has a $50K guarantee and starts on July 5.
Massive Meet-Up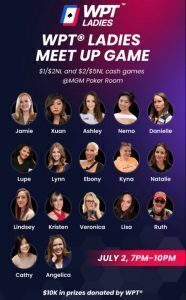 One of the biggest successes of "ladies' week" in Las Vegas was the meet-up game. There are numerous meet-up games around Las Vegas, wherein poker players of a particular status or popularity play cash games with anyone who wants to join in.
Then, the World Poker Tour helped a group of female players schedule a meet-up game – also known as a MUG – for women only. They set the action for Friday night, July 2, at MGM Grand's poker room. They originally set it up for $1/$2 and $2/$5 No Limit Hold'em cash games featuring Jamie Kerstetter, Xuan Liu, Lynn Gilmartin, Ebony Kenney, Kyna England, Kristen Foxen, Ruth Hall, Veronica Brill, and many more.
The WPT threw in $10K worth of prizes and tournament seats for splash pot action. Norman Chad attended as a guest to meet the women (insert joke here). And women lined up to get in.
And as a bonus, the MGM's poker room closed to all cash game action other than the women's meet-up game from 7pm to 10pm.
WOW!!! pic.twitter.com/nKnGQfjsMd

— Jamie Kerstetter (@JamieKerstetter) July 3, 2022
As the evening got underway, attendees filled the tables. By mid-evening, some men were asking to join, but there were 120 women on the list. Kerstetter asked that men wait until later into the night to join, so women could play but men could possibly keep the games running all night.
The action was so good and diverse that they started a Pot Limit Omaha table and enhanced it with bomb pots. There was a HORSE table, and a Double Board 5-Card No Limit Omaha table with a straddle.
The floor at @MGMGrandPoker is encouraging some action. Multi tabling is allowed pic.twitter.com/bCuVFKgbUY

— Veronica Brill 🦩 (@Angry_Polak) July 3, 2022
To top it all off, Hayley Hochstetler took more than 350 photos throughout the evening and posted them for free use.
HUGE props to @JamieKerstetter @MGMGrandPoker @WPT on a SMASHING success for the Ladies Cash Game Night! It was a blast seeing so many smiling faces and meeting new women in the game.

Here's a link to the gallery of photos, free to enjoy and download: https://t.co/ChICeqUn2Y pic.twitter.com/YulwRqbhvs

— Hayley Hochstetler (@hayleyocho) July 3, 2022