Vince Van Patten's "7 Days to Vegas" Portrays Hilarious Side of Gambling
The hilarious world of prop betting is the main highlight of Vince Van Patten's latest movie release "7 Days to Vegas" which was released on September 24. Van Patten is also known for being a poker commentator with the World Poker Tour (WPT). Gambling is traditionally portrayed in films…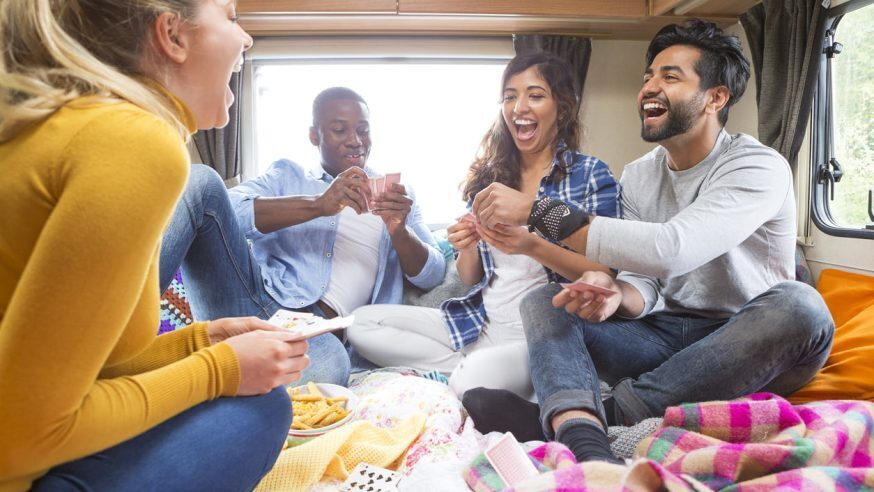 The hilarious world of prop betting is the main highlight of Vince Van Patten's latest movie release "7 Days to Vegas" which was released on September 24. Van Patten is also known for being a poker commentator with the World Poker Tour (WPT).
Gambling is traditionally portrayed in films as a dark subject, with stories typically revolving around a desperate gambler hitting rock bottom and striving to rebuild his or her fortune and get back on track. This storyline is evident in "The Hustler" starring Paul Newman, and "Rounders" starring Matt Damon. However, Van Patten and his co-writer Steve Alper wanted to come up with a fresh angle and that idea materialized through "7 Days to Vegas". The movie has so far received positive feedback from critics.
The new film's successful premier at Eclipse Theatre in downtown Las Vegas was attended by some of the most familiar faces in the game, including Van Patten's World Poker Tour comrades Tony Dunst, Mike Sexton, and WPT President Adam Pliska. Also in attendance were popular poker pros Phil Hellmuth and Mike Matusow, as well as poker tournament director Matt Savage and poker TV producer Mori Eskandani.
A Peek Into "7 Days to Vegas"
Van Patten is the lead star in the film which he also produced. He takes on the character of Duke Madson, an actor already past his prime who became a profitable poker player.
Duke found a tough poker rival in highly successful director Sebastian, with both engaging in a series of clashes ultimately ending in a challenge that calls for Duke to walk a distance of 280 miles from his home in Los Angeles to the Sin City, in seven days, wearing a suit, and with millions of dollars on the line. The bet was inspired by poker legend Doyle Brunson and American businessman Jack Binion.
Duke's journey showcases popular locations such as Santa Clarita and Palm Springs. His long walk serves as the climax of story, with plenty of hilarious bits and pieces along the way. Van Patten describes the film as a mix of The Sting and The Hangover, but with a slight touch of mind movies such as Matchstick Men and Focus.
The prop bet becomes the central theme in the film, giving the audience an insight into the art of the hustle. While Van Patten shared that around fifty percent of the film was inspired by real events, he did not disclose whether or not the big bet was also based on true story.
Positive Responses
WPT President Adam Pliska gave 7 Days to Vegas an excellent review, with Brunson saying the movie was a gambling cult classic, joining the ranks of Rounders.
Top film critic Richard Roeper of the Chicago Sun-Times, gave the film three out of four stars and said that the film is hilarious and fun to watch. Roeper said that the viewer does not need to be a poker expert to enjoy the movie.
7 Days to Vegas has a few minor flaws though, especially when it comes to the movie's treatment of women, with certain portrayals of characters also over the top at times. Scenes in the lead up to the climax are also somewhat predictable, though they were excellently executed.
Entertaining & Insightful
Overall, 7 Days to Vegas succeeds in its mission of bringing the fun and silly side of gambling, and will give viewers a few laughs. It's a job well done for everyone involved in the film.
Van Patten said the main focus of the film is not necessarily the game of poker, but the large-than-life characters who make the film interesting. The film runs for a total of 92 minutes, with no dull moments, thanks to the crazy characters and hilarious antics especially during Duke's prop challenge.
Hollywood notables such as Paul Walter Hauser, Ross McCall, Lucas Bryant, Willie Garson, Don Stark, Chad Lowe, and John O'Hurley are also part of the cast, alongside Van Patten's wife Eileen Davidson, and brother James Van Patten. The Van Pattens said they wanted to dedicate the movie to their father, legendary actor Dick Van Patten, who inspired them to play and enjoy the game of poker.
You may now rent or buy 7 Days to Vegas via iTunes, Vudu and Amazon. You can check out the movie's trailer here.