UltimateBet Name Involved in FTX Scandal
UltimateBet is the ex that just keeps dating your friends. UB disappears – good riddance! – and then it's back but with your new friend, cryptocurrency. And it's doing that one dirty, too. UB Refresher Those who've been around poker since Black Friday in 2011 know very well how UltimateBet…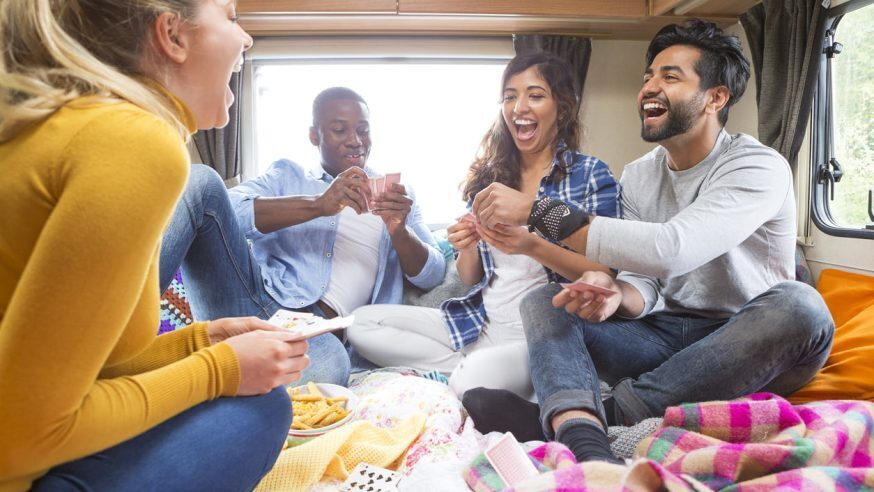 UltimateBet is the ex that just keeps dating your friends. UB disappears – good riddance! – and then it's back but with your new friend, cryptocurrency. And it's doing that one dirty, too.
UB Refresher
Those who've been around poker since Black Friday in 2011 know very well how UltimateBet exited the poker world.
It started in 2001 innocently enough, a bit ahead of the poker boom. It was an early partner with the World Poker Tour for the Aruba Poker Classic. Its sponsored players were some of the most well-known in poker – Annie Duke and Phil Hellmuth.
UltimateBet and its eventual sister company, Absolute Poker, held gaming licenses through the Kahnawake Gaming Commission. At that time, most countries in the world had no online poker legislation, and sites obtained licenses from various sources. There wasn't much talk of "offshore" versus "legal" poker then.
In 2007, poker players began taking to the Two Plus Two forum to report incidences of suspected cheating. Players compiled charts of win rates and deduced that some screen names played as if they could see the hole cards of other players at their tables. Too many hands played all too perfectly.
While Absolute Poker tried to excuse away the accusations by pointing to one consultant and a short period of time, most players knew better. Complaints about Absolute and UltimateBet, both run on the same software created by Excapsa, reached the Kahnawake Gaming Commission in Canada, which performed its own investigation.
Ultimately, nearly one year later, KGC determined that poker player (1994 WSOP Main Event champion) and UB consultant Russ Hamilton devises a system that allowed him to see hole cards as a "superuser." He had been cheating on the sites from mid-2004 through the initial accusations into 2008. The sites had to pay approximately $1.6M back to players identified as victims of the cheating accounts, and they paid a fine to the KGC.
Poker and silver don't have a good track record. In 1994, Russ Hamilton won the @WSOP for $1M + his weight in gold (took 43 bars valued at $25,000). Hamilton went on to be the man behind the UltimateBet Super User cheating scandal. pic.twitter.com/aVDGi6brty

— Chad Holloway (@ChadAHolloway) October 6, 2020
The hits kept coming. There were issues with the UB and Absolute merger, concerns about the connections between Kahnawake Chief Joseph Tokwiro Norton and his ownership of Absolute through his own Tokwiro Enterprises, culminating in the eventual disappearance of the company after Black Friday.
The United States Department of Justice seized UB and AP, along with PokerStars and Full Tilt, on April 15, 2011. UB and AP were then owned by Blanca Games and operated on the Cereus Poker Network. They ignored the US government's orders and continued operating, despite the seizure of player funds. Nearly one month later, the sites simply disappeared, and owners absconded with tens of millions of dollars. PokerStars eventually offered to pay UB and AP players per their claims, all as a part of PokerStars' attempt to make nice with the US Department of Justice. It worked.
DOJ Settles With FTP/PokerStars on Civil Case; AP/UB assets to be liquidated; Player funds to be refunded. My take at http://t.co/s0u2960c

— Russell Fox (@russcfox) July 31, 2012
The Friedberg Connection
As a result of the UB and AP cheating scandal, Russ Hamilton was not the only person implicated in the crimes. Greg Pierson was the CEO of Iovation, part of the larger company that created the software that powered Cereus sites. Daniel Friedberg was one of the attorneys representing UB at that time, having come from Excapsa.
Years later, in 2013, an audio tape surfaced. Released by Hamilton's assistant, it contained hours of conversations between Hamilton, Pierson, Friedberg, and fellow lawyer Sandy Millar. The tape revealed that they all knew about the cheating, tried to figure out how to cover their tracks, and wanted to refund as few players as possible.
Friedberg went about his life after Black Friday and ended up joining FTX as an attorney. He was then appointed Chief Regulatory Officer, despite his past and lack of experience in a regulatory role.
Anyone know if FTX Regulatory Officer is the same Dan Friedberg who was an attorney at Ultimate Bet during its cheating scandal? If so, surprising that tidbit was omitted from his biohttps://t.co/6PtzHIGSPn pic.twitter.com/T8a1aYKWp6

— Cliff Josephy (@JohnnyBaxPoker) May 27, 2022
Many in poker had already made the connection that the Friedberg working for FTX as it crashed and burned this month was the same person that worked for UltimateBet and Absolute Poker. This week, the mainstream media put the pieces together as well.
Thorn in Poker's Side
UB and AP are part of poker's past. They are part of a time before and during the worst thing to happen to poker in its modern form – Black Friday. Most people in poker would like to leave them in the past.
However, the New York Post reported on the Friedberg connection this weekend.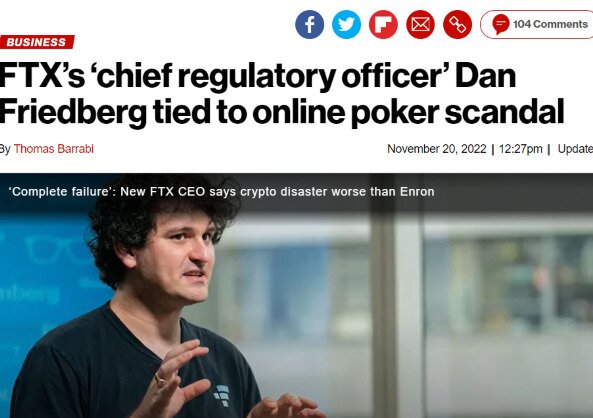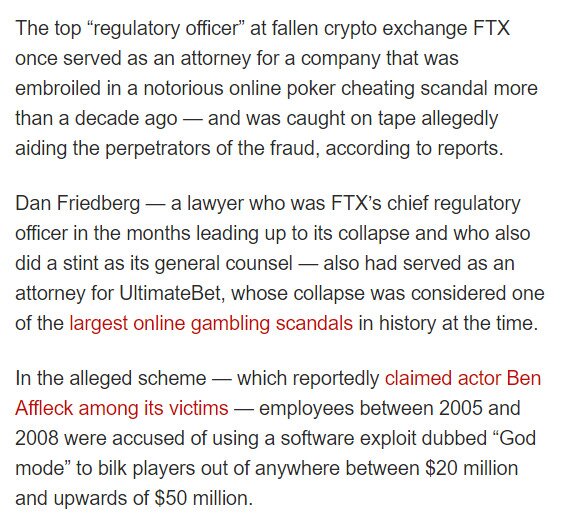 It wasn't lost on the NY Post or anyone else that Friedberg also removed his LinkedIn account, which never listed any online poker ties anyway.
Daniel Friedberg, Chief Regulatory Officer at FTX, was previously in-house counsel for a fraudulent online poker site.

He has taken down his LinkedIn profile. pic.twitter.com/EHYnqJGC5I

— Ana Mostarac (@anammostarac) November 15, 2022
According to the article, many people questioned Friedberg's position as Chief Regulatory Officer of FTX in the first place. They noted that FTX CEO Sam Bankman-Fried had to have known of Friedberg's past or simply didn't care.
No one knows the role that Friedberg played – if any – in the FTX crash. The online poker community, however, have their theories; that's for certain.
Daniel Friedberg, FTX's Chief Regulatory Officer was previously involved in one of the largest online Poker scandals of all time 🃏🟡 pic.twitter.com/jCV94P6aEY

— Around The Blockchain (@ATBdaily) November 21, 2022
NBC News also detailed the Friedberg connection in its most recent article about the FTX scandal. Noting details about the recorded phone conversation mentioned above, Friedberg said only that the audio was obtained illegally. Outreach to former UB pros Annie Duke and Phil Hellmuth went without comment on the FTX situation or anything pertaining to the past online poker scandal. Hamilton told NBC News only, "I kept quiet and I didn't say a word and I'm still not saying a word."
That article noted that Friedberg wasn't even in the Bahamas, the location of FTX headquarters, when the house of cards began to fall. But he had been in touch with Malta, having registered two online gaming-related companies there earlier this year. FTX Malta Holdings and FTX Malta Gaming Services are now a part of the bankruptcy.
Many still do not know the story of Daniel Friedberg. He is the man behind the FTX shell company architecture, "God-Mode", the internal fail safe to delete data, and more.

Get to know him because he plays a key role in the FTX fiasco.https://t.co/JDgWb6IrBb

— Ben Armstrong (@Bitboy_Crypto) November 22, 2022
FTX Story
Sam Bankman-Fried founded the company with Gary Wang in May 2019. FTX was a cryptocurrency exchange that became popular in a relatively short period of time. Shortly after, competitor Binance bought a 20% stake in FTX for $100M.
By July last year, FTX had raised $900M from several dozen investors and bought the Binance stake back for $2B. It also purchased other digital assets, such as Blockfolio and BlockFi.
In August of this year, the Federal Deposit Insurance Corporation (FDIC), which insures regulated banking institutions in America, warned FTX of connecting itself to FDIC. They noted that any such claim was a "false and misleading representation" of FTX insurance.
The cards began to look unsteady in September 2022. As FTX tried to buy Voyager Digital for $1.4B, the company's US President Brett Harrison stepped down. About a month later, Coindesk raised concerns about FTX's financial health, along with that of Bankman-Fried's original trading firm Alameda Research. They claimed that Alameda Research was built solely on the FTX cryptocurrency FTT.
Binance sold $530M of FTT. Almost immediately, many FTX investors tried to sell their money as well, costing FTX $5B on November 6 alone.
As part of Binance's exit from FTX equity last year, Binance received roughly $2.1 billion USD equivalent in cash (BUSD and FTT). Due to recent revelations that have came to light, we have decided to liquidate any remaining FTT on our books. 1/4

— CZ 🔶 Binance (@cz_binance) November 6, 2022
Bankman-Fried tweeted that all assets "are fine" but deleted that message when it was clear that nothing was fine and FTX could not process withdrawals. Binance then tried to acquire FTX, but the damage was already done, and Binance withdrew its offer the following day. All members of the FTX compliance team and all legal counsel resigned.
After unsuccessfully trying to find a buyer for FTX, Bankman-Fried resigned on November 11 and filed bankruptcy for FTX, Alameda, and approximately 130 connected companies. FTX Digital then filed for Chapter 15 in the United States.
JUST IN: FTX bankruptcy advisors say the collapse of FTX is worse than Enron.

This really might be the biggest fraud case of all time.

— The Kobeissi Letter (@KobeissiLetter) November 17, 2022
Suddenly, assets went missing in the realm of $500M. Liquidators began to go through the company and found records of improper deposit records and expense approvals, not to mention the extremely lenient use of corporate money to buy personal assets for FTX executives. And FTX owed $3B to creditors.
The cards continue to fall. Entities from the Bahama police to the US government are investigating FTX and Bankman-Fried. Words like Ponzi scheme by business reporters. And the cryptocurrency world is falling due to that instability and potential consequences.
"A substantial amount of assets" belonging to the collapsed cryptocurrency exchange company have "either been stolen or are missing," said FTX's lawyer at a bankruptcy hearing. The company's 30-year-old co-founder, Sam Bankman-Fried, resigned. https://t.co/cTEP9Hk2qB

— The Washington Post (@washingtonpost) November 23, 2022