Two Players Set Sights on WPT Player of the Year
People play poker for a wide range of reasons. Everyone has a unique motivation, their own personal story behind their poker journey. It is part of what makes poker such an interesting melting pot. The lead-up and coverage of the WPT World Championship has highlighted some of those stories. There…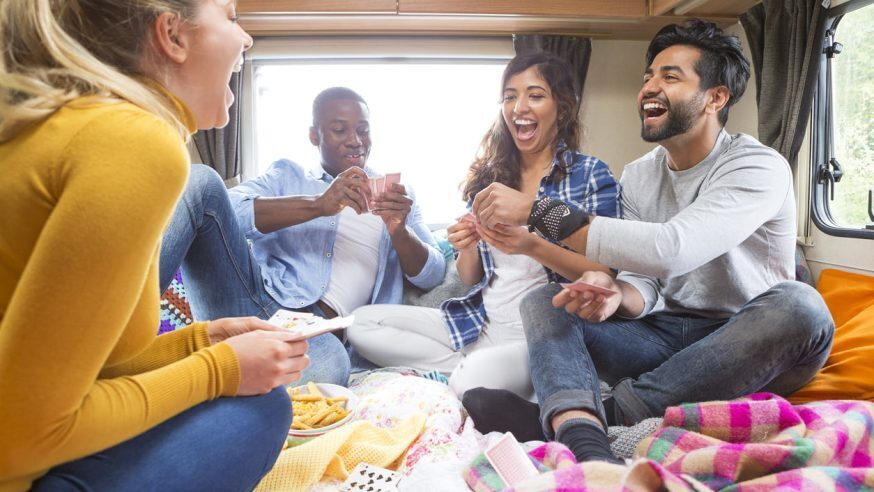 People play poker for a wide range of reasons. Everyone has a unique motivation, their own personal story behind their poker journey. It is part of what makes poker such an interesting melting pot.
The lead-up and coverage of the WPT World Championship has highlighted some of those stories. There are two players, in particular, who have motivations to play that include achieving a milestone. Both Chad Eveslage and Steve Buckner want to win the World Poker Tour Player of the Year title.
While they both want the same thing, their reasons are markedly different.
WPT POY Race
This year was a unique one for the World Poker Tour. With the start of a new calendar-year based season and the rebranding of WPTDeepStacks to WPT Prime, the WPT also decided to combine all player points for the main tour and Prime into one annual leaderboard.
Several months ago, it seemed as if Ray Qartomy was going to be the one to beat for the Player of the Year title. He finished third at the WPT Choctaw Main Event in May and second at WPT Legends of Poker in August to take the lead.
But Steve Buckner was on the rise, finishing one spot ahead of Qartomy at WPT Choctaw and then taking second place at the WPT Five Diamond World Poker Classic Main Event. Buckner was on his way to putting second places in the past and take first in the POY race.
Steve "Cuz" Buckner is the current @WPT POY. This guy is probably studying solvers morning, day, and night. pic.twitter.com/U5MfUmCEHn

— Brad Owen (@TheBradOwen) October 26, 2022
Enter Chad Eveslage. He came into contention for the POY title when he beat Buckner at the WPT Five Diamond World Poker Classic final table to win it. But he took over the top spot on the leaderboard when he finished third at the WPT Rock 'N' Roll Poker Open in November. Eveslage moved into the lead.
After 399 hands, @chadeveslage wins the #WPTFiveDiamondWorldPokerClassic for $1,042,600 and is now a two-time #WPTChampion!

Following the grueling heads-up battle, Steve Buckner is our runner-up earning $690,000, but will also be leading the 2022 Player of the Year Leaderboard! pic.twitter.com/KWnDddKNNF

— World Poker Tour (@WPT) October 24, 2022
Going into the WPT World Championship, the POY title is in reach for Buckner but belongs to Eveslage as it stands. The latter only leads by 175 points. So, their results in this season finale could change the standings as the year closes.
No pressure, though, guys.
Validation for Eveslage
The first question was simple: What does the WPT POY mean to you?
Eveslage's answer wasn't as simple but easy enough and relatable for many poker players.
"It is a nice credential for people outside of poker to see, to validate me in their eyes. It's something I can point to to say, 'See, I'm not just some gambling degenerate.'
While Eveslage said most of his family and close friends do understand the skill component to poker and support his current career path, not everyone in his life gets it. He said the term "professional poker player" is still stigmatized but for good reason.
"Everyone knows a story of how someone lost everything. Imagine on a first date explaining, 'Well, I play poker for a living. It's a swingy game, but if you get lucky, you can win a lot of money.' Haha."
With all of that said, Eveslage has still worked hard for the accolades that would come with a POY title. Prior to the pandemic, he had his best year to that point with $338,786 in live tournament earnings in 2019. There wasn't much poker to be played in live settings in 2020, but he roared back in 2021 with $2.28M in earnings, wildly surpassing his 2019 number.
This year, however, Eveslage took it up several notches. By the start of the WPT World Championship Main Event, he had earned $3,235,909 – another career best.
He explained that he played a lot more poker online during the pandemic, which improved his game. He also stopped taking an epilepsy medication that he had been on for about 10 years but that had a side effect of brain fog. Stopping that medication cleared his mind. And, he admitted, he has also had luck on his side this year.
No matter the outcome of the POY race, Eveslage plans to keep improving "in and outside of poker" into next year and beyond.
"If I could have half as good a year as 2022, I'll be thankful."
Emotion for Buckner
Anyone familiar with Buckner, nicknamed Cuz, knows that he doesn't mince words or tiptoe around a subject. When asked what the WPT Player of the Year title means to him, he gave it to me straight:
"Listen, I got two seconds in WPT tournaments; I got fucked both times, sucked out on both times. I'm supposed to have my name on that (Mike Sexton WPT Champions Cup). My name on that cup would've meant more to me… I was playing for my mom. I knew Mike Sexton. That would've been the world to me. Then, I'm Player of the Year for a month, and the kid who beats me goes on to take the lead. I need 200 points, and I'm gonna give it everything I've got. It means the world to me."
Buckner went on to explain that no one else has won Player of the Year at his age of 62, so he would be the first. And it's not as if he hasn't worked for it. He has accumulated $1,169,216 in live tournament earnings just this year, taken two seconds at WPT final tables, and won his first WSOP Circuit ring. His results speak for themselves.
But, does he have something to prove?
"No, no I don't. I got nothing to prove. I'm just a winner. And I just don't quit. I've been broke and homeless, and I've been a millionaire, so money means nothing to me. I've been on the road since my mom died. I want my name on that cup or to be Player of the Year."
He acknowledged that it might not happen this year.
"It is what it is. If that's how it is, I don't give up. It just means I'll work harder at being a champion."
For now, Buckner is focused on this WPT Main Event at Wynn. He busted just before the dinner break on Day 1B after losing two big hands to "players acting like they're playing a goddamn $1K tournament." His backer already told him he'll play again on Day 1C. So, he departed to enjoy a good cigar, get some rest, and prepare for another day of play.
The WPT POY is an emotional journey for him, one that is always traveled with the memory of his mother top of mind. For her, and for himself, he wants that Player of the Year title.