It's been simmering for a long time. Recently, it came to a boil and quickly spilled over and created a mess.
Twitch streams are wildly popular. The initial focus may have been gaming, but they Twitch appears to have also become popular for everything from dancing to singing, rapping to sitting in a bathing suit. Of course, there is also poker. People tune in by the tens of thousands to watch poker players stream their online poker sessions.
There are also people who stream – and others who tune in to watch them – play online slots. Many, many people do this.
The problem happens when people scam their audiences. This recently happened on a larger scale than normal recently, which brought everything to a breaking point for Twitch.
What Had Happened Was…
By many accounts, the catalyst for recent changes was Sliker on his Twitch channel, ItsSliker. The twenty-something man has 432K followers, most from his streaming of games like CS:GO. He also chats often with his audience.
As told by his victims – and backed up by audio evidence – Sliker began reaching out to members of his audience to borrow money. He often used the excuse that his bank account was locked, and he needed money to temporarily pay his bills. He vowed to pay them back, but the debts accumulated over time. After one community member spoke up, many added their voices and records to the mix. It added up to more than $200K that Sliker borrowed and did not repay.
Twitch streamer Sliker has been accused of messaging dozens possibly hundreds of viewers and streamers asking for money and failing to repay them. With some people giving him thousands and others even tens of thousands of dollars. pic.twitter.com/Gw1Esf98mi

— Jake Lucky (@JakeSucky) September 18, 2022
Finally, this week, all of the accounts came together. Sliker went live on his Twitch channel and admitted to scamming. He apologized for lying to his followers, borrowing from one to pay another, and the situation spiraled out of control. Sliker said he would go to rehab for a gambling addiction.
As that situation unfolded, some popular streamers made public pleas to Twitch to ban gambling like online slots because of its contribution to gambling addictions.
I'm working with @xQc to pay everyone back who got scammed by sliker

It's time @Twitch does something about gambling streams

— ludwig (@LudwigAhgren) September 18, 2022
Walking a Fine Line
As Matt Berkey discussed with his Only Friends podcast crew, a ban on gambling is a slippery slope.
The proliferation of online casino games has created a scenario in which gambling on negative-EV games like slots is made to look fun and appealing. It raises the question of how much gambling is too much, and what lines could or should be drawn to limit the public's consumption of it. And in lieu of a ban, could there be enough warnings around it or education of it to mitigate the addiction dangers?
Most importantly, for any of the possible solutions, there must be a delineation between poker and online casino games. And where do activities like sports betting fall into the mix?
Efforts to designate poker as a game of skill and separate it from "gambling" games have been happening since the poker boom. To legalize poker in more places, to convince lawmakers to legalize online poker, to create a multi-state poker ecosystem in the United States requires the skill designation.
In addition, poker streamers teach their audiences some legitimately good skills. To become a winning poker player, people must learn how to study, how to manage their money, and how to improve their mental game. These skills can all be applied to life outside of poker! https://t.co/in2pcwHhDS

— Courtney Gee (@courtiebee) September 19, 2022
Twitch Knows
The fear that Twitch would not make said designation for poker worried the poker community this week. Twitch is wildly popular with poker players and fans, and it has helped to grow the game in numerous ways. It also allows many poker players to make a living.
On September 20, Twitch did issue a statement. It is in the process of formulating a new policy related to gambling on slots, roulette, and dice games. And importantly, poker – along with sports betting and fantasy sports – will continue to be a staple of Twitch offerings.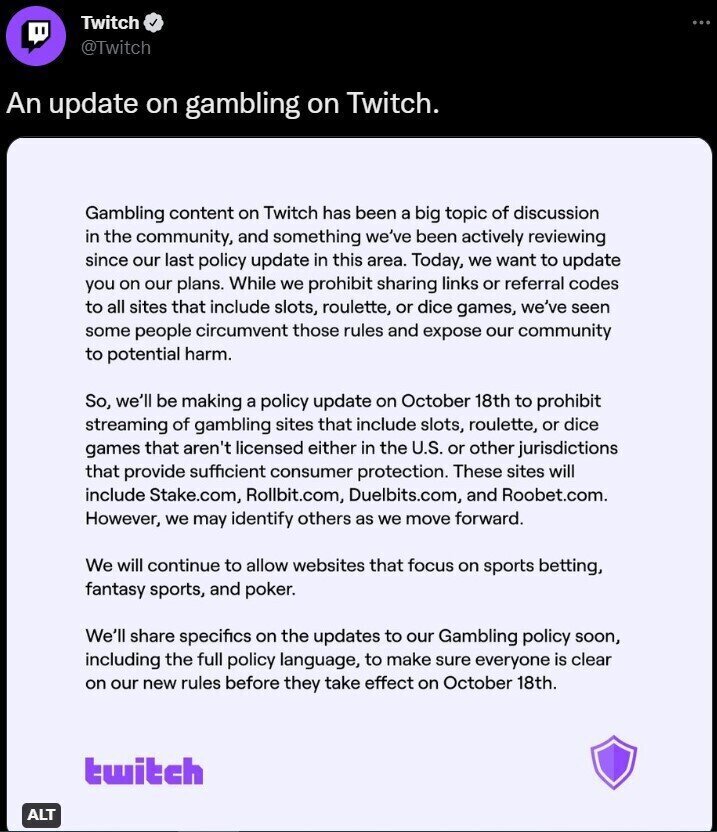 Twitch continues to formulate that new policy and plans to announce it in detail in mid-October.