PokerStars To Launch $9 Million NL Players Hold'em Championship In 2019
PokerStars, the world's biggest online poker room, has announced that it will soon launch the Players No Limit Hold'em Championship (PSPC), an annual live poker event with a massive $9 million being poured into this brand new tournament. The online poker room's aim is to make the PSPC, which will…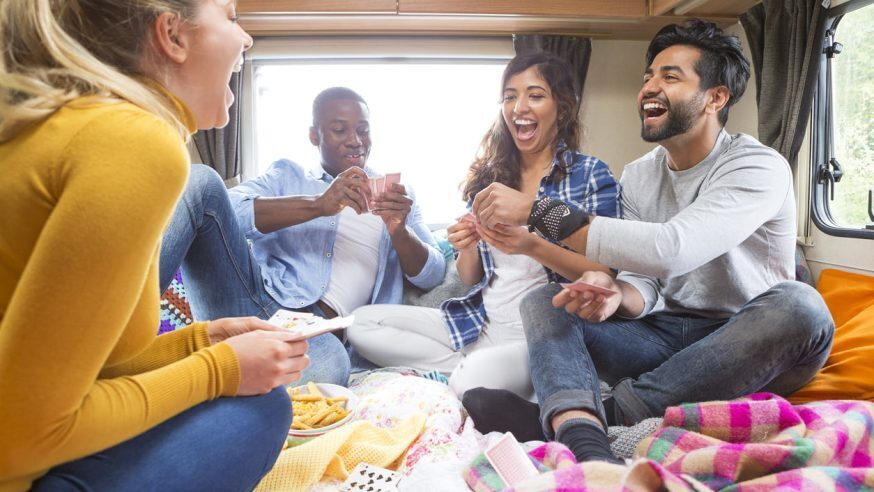 PokerStars, the world's biggest online poker room, has announced that it will soon launch the Players No Limit Hold'em Championship (PSPC), an annual live poker event with a massive $9 million being poured into this brand new tournament. The online poker room's aim is to make the PSPC, which will have a buy-in of $25,000, the most lucrative one in poker history.
First PSPC Tournament To Be Held In Jan 2019
The inaugural PSPC will be held a week before the PokerStars Caribbean Adventure (PCA), which is scheduled to be played in the Bahamas in 2019. The online poker room will award $8 million of the total PSPC prize pool as 300 Platinum Passes worth $30,000 each throughout the year. These Platinum Passes are actually PSPC prize packages that include accommodation and travel charges. In addition, the PSPC champion will be awarded a grand prize of $1 million.
Stars Group CEO Rafi Ashkenazi said that the PSPC is expected to be the new standard for live poker tournaments across the world. He further said that PokerStars wants to showcase its commitment to poker and to give back to poker players by increasing its investments in live poker tournaments. The intention is to bring together amateurs as well as professional poker players to create winning moments and unforgettable memories.
Professional poker players are also excited about the new event. Daniel Negreanu, a member of the Team PokerStars Pro, said that the new event will be a fantastic experience for participants as everybody, including high-stakes as well as low-stakes players, will be given equal opportunities to win Platinum Passes.
Platinum Package Inclusions
Each $30k Platinum Pass includes the PSPC buy-in of $25,000, a six-night stay at Atlantis Resort Nassau, travel expenses worth $2k, and surprises and rewards that PokerStars is yet to announce. To get a Platinum Pass, poker players have to win major online poker tournaments such as the Sunday Storm, the Sunday Million, a Turbo Championship of Online Poker (TCOOP) event, the MicroMillions, the World Championship of Online Poker (WCOOP) event, and other events specified by PokerStars.
PokerStars players can also win main events to get a Platinum Pass or they can get one through wild cards and last-longer contests. The first opportunity to win a Platinum Pass started with the PokerStars Championship which commenced on December 15 in Prague. The second opportunity will come with the Winter Series, which will be held online from December 25 to January 7. PokerStars will also give away Platinum Passes at the PSL Macau, the IPO Italy, the PokerStars Festival in London, and the PCA.
Putting it in brief, the PSPC is a high roller tournament with 300 qualifiers, including those for micro stakes and low stakes players, along with an added prize of $1 million for the winner. The PSPC has been designed to extra professional poker players, amateur and recreational players as well as high-rollers.
Poker players who want to grab opportunities to win Platinum Passes worth $30,000 each and take part in the $9 million PSPC have to take part in some of the major live poker tournaments organized by PokerStars or play in major online poker tournaments and promotions at PokerStars. The online poker giant has stated that it will release more information during the course of the year and confirm which online and live poker tournaments will offer players a crack at these special platinum passes.
PokerStars Continuing To Make Changes
PokerStars regularly makes changes to its policies and tournaments in an attempt to please its massive database of poker players from around the world. Not all of those changes have gone down well with the players but the new PSPC is expected to be a big success.
The management team at PokerStars also plans to re-introduce live poker tours such as the European Poker Tour (EPT), the Asia Pacific Poker Tour (APPT), and the Latin America Poker Tour (LAPT). To add to the excitement, PokerStars will be giving away Platinum Passes at each of these events. Meanwhile, PokerStars will continue to run its MegaStack events and festivals so that players can grab the opportunity to take part in deep-structured poker tournaments at affordable rates in various European and US cities.