PokerGO Sets Second StormX Invitational and Signs Ho
It all started in January 2022 when PokerGO and StormX teamed up. StormX became the exclusive cryptocurrency partner of PokerGO. With all of the poker players using crypto and people in the crypto world playing poker, the deal made sense. About a month later, the new partners announced the first-ever…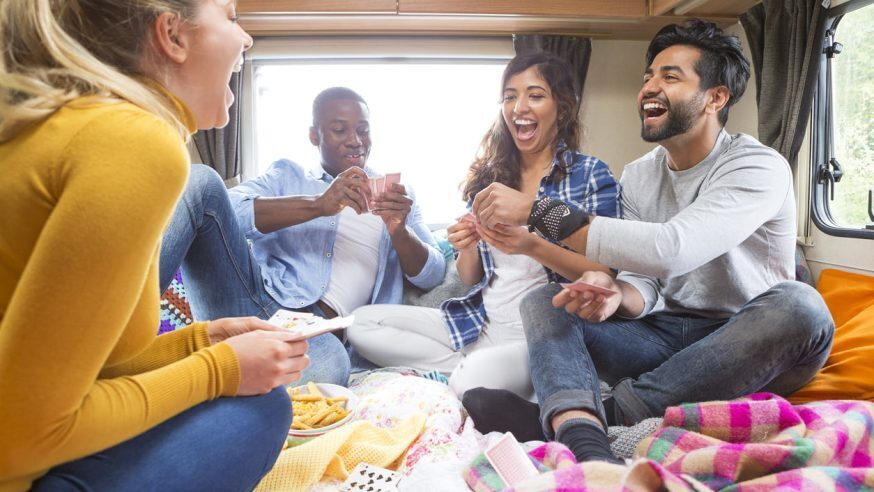 It all started in January 2022 when PokerGO and StormX teamed up. StormX became the exclusive cryptocurrency partner of PokerGO. With all of the poker players using crypto and people in the crypto world playing poker, the deal made sense.
About a month later, the new partners announced the first-ever StormX Invitational. They set the tournament for March 3. The player list included many crypto entrepreneurs, as well as poker pros like Tom Dwan, Maria Ho, and Phil Hellmuth. There were also some sports stars and other celebrities in the field.
The 81 players did some rebuying and showed 111 entries when registration closed. And from the final table, poker pros like Maria Ho finished ninth and David Williams sixth. Social media publisher Branden Hampton made it to heads-up play against Ascensive Assets Managing Partner Oliver Blakey. The latter had the chip lead going into the final duel and did pull off the win for $183,150.
That's it! Oliver Blakey wins the first-ever @stormxio Invitational for $183,150! pic.twitter.com/lODvpJXPPi

— PokerGO (@PokerGO) March 4, 2022
Do It Again
Not even six months after the first event, PokerGO and StormX announced the second StormX Invitational Poker Tournament set for October 27. It will happen at the PokerGO Studio on the Las Vegas Strip once again. And as with the first one, there will be 81 players from poker, cryptocurrency business, and the investment world.
Invited players can enter for $5K. The minimum prize pool will be $400K, but players will be able to rebuy, so the prize pool could soar as high as $810K.
PokerGO President Mori Eskandani called the tournament a unique and diverse blend of "enthusiastic communities of poker and crypto." And StormX CEO Simon Yu noted that the first event was such a hit that they had to do it again.
What to Expect
Poker fans with a PokerGO subscription will be able to watch the October 27 event live on the site, but there will also be a live YouTube stream at no cost.
Quite a few participants already confirmed their attendance for the second StormX Invitational. The poker pros are some of the same from the last event but also some new faces:
Maria Ho
Tom Dwan
Brent Hanks
David Williams
Andy Stacks
Sashimi
Xuan Liu
As for the other players in the tournament, a few fall into the category of celebrity, many are connected to crypto and some are entrepreneurs in the world of new technology. So far, those names are:
Bruce Buffer: UFC
Simon Yu: StormX
Charlie Lee: Litecoin
Brandon Gahagan: StormX
Randy Song: Abra
Lan Gu: Runner Runner Capital
Sebastian Park: Infinite Canvas & Bitkraft
Jake Abdalla: Lodge Card Club
Branden Hampton: GP Centurion Crypto Fund
Poseidon Ho: Outliers Fund
Xan Ditkoff: Stacks & Daemon Technologies
Stefan Chu: 3AC/TPS Capital
Richard Lee: GBIC
Daniel Kim: Investments
Jared Polites: Rarestone Capital
Tyler Adkison: Crypto Yacht Club
Randy Song: HNW & Institutional
Jean Ortega: Loud
And Oliver Blakely will return to defend his title.
We're super excited to announce our newest brand ambassador – @MariaHo!

Read more about it here: https://t.co/9vyZmIKrNe https://t.co/O7f2d1BqfN

— StormX (@stormxio) August 25, 2022
Ho as Pro and Ambassador
Amidst the news of the second tournament, it may have gotten lost that Maria Ho took on a new role with StormX. She became an ambassador for the brand.
This is particularly convenient for events like this as she is also an ambassador for PokerGO.
Ho will use her social media presence to cross-promote StormX with poker and represent the brand in live poker events. In addition, she is set to appear in multiple television commercials.
She called StormX a bridge between poker and players wanting to diversify their portfolios by getting into the crypto space.
We're super excited to announce our newest brand ambassador – @MariaHo!

Read more about it here: https://t.co/9vyZmIKrNe https://t.co/O7f2d1BqfN

— StormX (@stormxio) August 25, 2022