New Set Of PokerStars Ambassadors Giving Away More Platinum Passes
The inaugural PokerStars Players No-Limit Hold 'em Championship (PSPC) is getting closer and PokerStars continue to give out a more coveted Platinum Passes. These special passes are valued at $30,000 each and include the $25,000 entry fee into the much-anticipated event as well as accommodation and a bit of…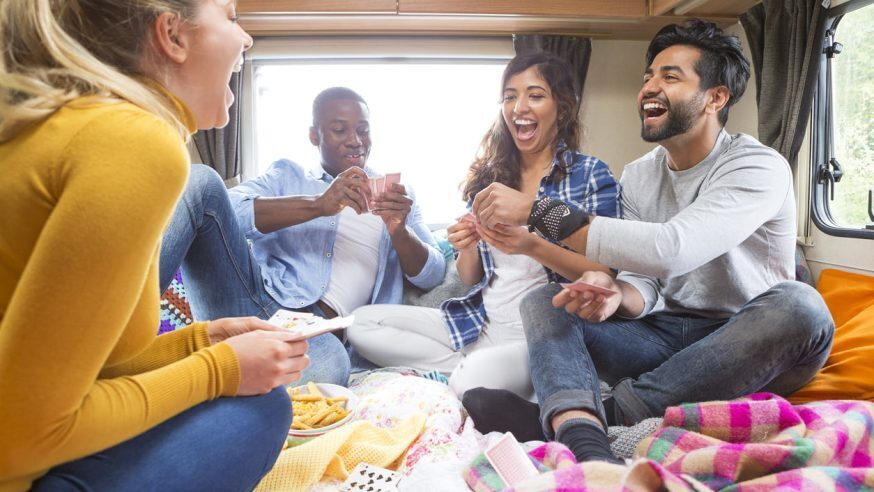 The inaugural PokerStars Players No-Limit Hold 'em Championship (PSPC) is getting closer and PokerStars continue to give out a more coveted Platinum Passes. These special passes are valued at $30,000 each and include the $25,000 entry fee into the much-anticipated event as well as accommodation and a bit of cash for expenses. The first ever PSPC is scheduled to take place in the Bahamas in January 2019.
Players have been winning their Platinum passes by winning tournaments but now they are allotting some to their ambassadors to hand out. Each ambassador is tasked with devising a creative way to award the passes. Five PokerStars ambassadors have presented unique challenges that have personal meaning to them.
Maria Konnikova
Maria Konnikova is a gifted storyteller who has produced best sellers including a recent effort about the world of poker. She is challenging those who want to get their hands on a Platinum Pass to do is to submit their stories. The story could be told in writing, video or musically. Stories that are written should be around 250 words and those who make videos or songs should limit them to roughly one minute.
Konnikova will be the first to judge them. She will select 5 finalists and the winner will be picked by a panel. She wants the contestants' stories to be interesting and "compellingly told".
Lex Veldhuis
Lex Veldhuis really enjoys showing off his poker prowess to the thousands of viewers that watch his play on Twitch. Like many others, Veldhuis first went to Twitch to check out the content but soon found that the site offered a sense of community and friendship. One of the things that Veldhuis enjoys most is seeing people a Twitch helping each other out.
This is why Veldhuis is challenging poker players to perform good deeds that help others. You can tell Lex what you have done to help make someone else's life better by using the hashtag #PSPCitFWD. Videos or blogs with pictures can be submitted and Lex will judge them on originality and who does the best good deed before leaving the final decision to his panel of judges.
Jen Shahade
Jen has amassed over $300,000 in tournament winnings and is a Team PokerStars member. Shahade first earned a reputation as a champion chess player and she sees similarities in the two games. She loves the culture of players trying to help each other improve their skills.
Her challenge combines her love for both poker and chess. She will give a Platinum Pass to the person who can create the most entertaining game that features elements of poker and chess. Those who are up to the task can send a video demonstration or descriptive blog to #mychesspokergame. Playability, presentation, and passion will all be considered.
Jeff Gross
Jeff Gross is another poker player who boosted his profile by broadcasting his poker exploits on Twitch. His challenge is directly tied to his own past. He asks that you also become a poker vlogger. He wants poker players to give poker vlogging a try and he feels that even if you don't win the Platinum Pass that you will at least enjoy the experience. Seeking commitment as well as content, Jeff is looking for you to vlog over a five-week period and cover different topics.
The submissions should be between five and ten minutes in duration and they will be judged by himself and Andrew Neeme who is a fellow vlogger. They are looking for creativity, storytelling, passion, and a bit of humor. Entries should have the hashtag #VloggerInParadise.
Daniel Negreanu
Daniel Negreanu has won millions of dollars during his poker career and he has been very generous with his money. He supports charities and he will award a Platinum Pass so one lucky person who does the same. He wants you to tell him in a video what your charity, foundation or cause you support is and why you support it. The video should be no longer than 2 minutes and 20 seconds and it can be submitted by using the hashtag #DonateWithDaniel.
His only condition is that if he gives you a Platinum Pass then you must donate half of any winnings to your chosen charity. Daniel will also award four runners-up with $1,000 to donate to their charity of choice.