Magnus Leads Inaugural Positive Poker Players Report
It's time for this, a regular edition of poker players doing great things. While there is a certain poker player that promotes #positivity as a part of his self-created image, what that player shows on many occasions is anything but positivity. This column will be a regular opportunity to highlight…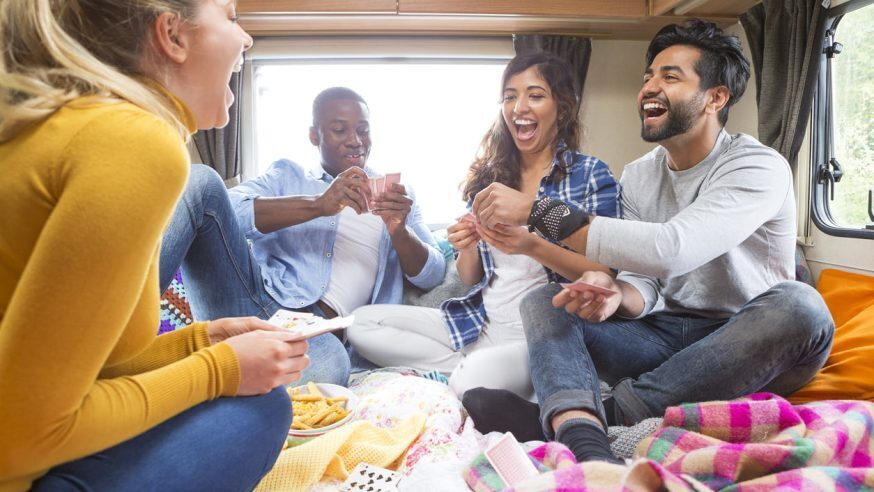 It's time for this, a regular edition of poker players doing great things. While there is a certain poker player that promotes #positivity as a part of his self-created image, what that player shows on many occasions is anything but positivity.
This column will be a regular opportunity to highlight poker players exhibiting some of the things for which the poker community is known: generosity, kindness, protectiveness, determination, and a genuine passion for the game.
Without further ado, let's see who made the first edition.
Nadya Magnus: Helping Women Play More Poker
You might recognize her name. She's one of the top women in the game right now. Nadya Magnus had the best year of her poker career in 2021, winning more than $426K and claiming the GPI Female Player of the Year trophy for the year.
She also started doing something inspiring last year. She was playing the Wynn Winter Classic in December. On the first starting day of the $5K buy-in event with a $2M guarantee, she decided to share the excitement of playing such a tournament. She made a Twitter offer to award one seat to a woman who could best explain why she wasn't playing enough poker.
The responses were abundant. She ended up choosing two women and awarding each of them a $5K seat. The Wynn Poker Room event stepped in to offer both of those women a complimentary room at the resort for each of them. By the time it was all over, Magnus gave away three seats, and the Wynn gave them all the VIP treatment.
As the 2022 International Women's Day approached this year, Magnus decided she wanted to award two seats to the Wynn Millions series. She opened a contest to women and awarded one a seat to the $10K buy-in Main Event and another a $3,500 seat into a $2M GTD event. Wynn again offered them each hotel rooms as well.
Magnus is at it again. This week, she tweeted that she wanted to award one seat to the $10K WSOP Main Event and three seats to the $2,200 Wynn Summer Classic Mystery Bounty event. Wynn, as is now per usual, is offering hotel rooms for the women who win those three seats to their series.
Bryn Kenney, recent controversy aside and a story for another day, offered to add another $10K WSOP Main Event seat to the giveaway. Despite some criticism on social media, Magnus accepted the gift:
(2/2) seat will make someone happy. Maybe even more good can come out of this. Maybe someone else will give away another seat (with or without me), who knows. I will never turn away a person who wants to help. "He that is without sin among you, let him first cast a stone at her."

— Nadya Magnus (@NadyaKGB) May 13, 2022
Later, an anonymous poker player upped the ante with a $100 gift card for each of the five winners to use on their dinner breaks.
She then posted two puzzles in the following days. Qualified women had to have less than $100K in live tournament earnings and to tell her what they would do with a $25K bounty. The first Wynn seat went to Naomi Pazol, and the second went to poker photographer Hayley Hochstetler. The rest of the seats will be awarded in the coming days.
Some Men Get It
A tweet from Daniel Negreanu earlier this month heated up the latest social media conversation about why more women don't play poker. I won't amplify his comment because it's irrelevant and sad. There were many great responses from women, which I will highlight in another article. Meanwhile, a lot of men felt the need to tell women how they're not being treated in poker. That's not news.
However, I wanted to highlight two responses that were particularly poignant. One was from Sean McCormack, Aria Director of Poker Operations.
Where's the edit button!!!
*respond

— Sean McCormack (@ThePokerBoss) May 9, 2022
Poker pro Chris "Fox" Wallace posted a lengthy but helpful thread about what he will do to be an ally to women in poker, especially this summer in Las Vegas.
Women in poker are sharing a lot of miserable experiences right now. Let's talk about what we can do. A thread.

— Chris Wallace (@foxpokerfox) May 9, 2022
Doubling It Up
Every year, Dan Smith's Double Up Drive raises millions of dollars for a group of charities chosen through an effective altruism lens. In 2021, the organization reached its $3M match goal, bringing the grand total donated since 2014 past $24.7M.
Jason Koon is a big supporter of Double Up Drive. With this year's World Series of Poker coming up, Koon tweeted that he was looking for a poker partner to play in the upcoming tag team tournament. He was willing to put up the entire $1K buy-in but said the team must donate all winnings to Double Up Drive.
James Brady was the chosen partner.
I am in shock! Are you serious? I can't ty enough. Now I have to get there lol.

— James Brady (@pokerman6620) May 3, 2022
The only problem was that Brady wasn't sure how he would get to Las Vegas for the tournament. Another player tweeted at him that he would pay $300 for Brady's flight, and yet another said he would cover the entire transportation and hotel cost. It is unclear if Koon's partner has arranged his travel yet.
Jason Strasser then offered to pay for a partner in that same tournament and cover that person's airfare and hotel costs. He said that any prize money will be split between Strasser's partner and Double Up Drive. He chose Cory Norstrand.
Ok let's do it– DM me. https://t.co/VJfa0Kk6rK

— Jason Strasser (strassa2.eth) (@strassa2) May 4, 2022
The generosity at the 2021 WSOP was on display on so many levels. It appears that 2022 may rival those efforts, as some players already have a head start.