Jordison and Burkhart: How to Win at Poker and Friendship
On the surface, Angela Jordison and Jacqueline Burkhart are quite different. They are ten years apart in age with almost as many years between the lengths of each of their poker journeys. One prefers cash games and the other tournaments. One prefers Pot Limit Omaha while the other sticks to…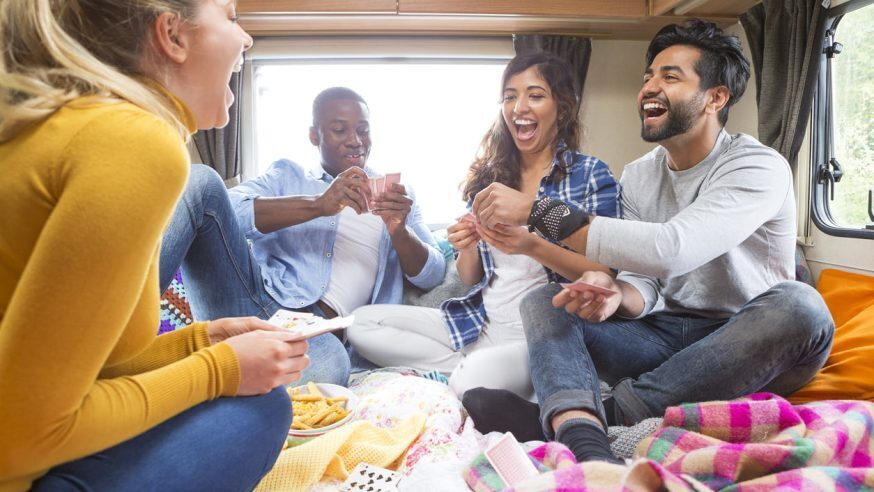 On the surface, Angela Jordison and Jacqueline Burkhart are quite different.
They are ten years apart in age with almost as many years between the lengths of each of their poker journeys. One prefers cash games and the other tournaments. One prefers Pot Limit Omaha while the other sticks to No Limit Hold'em. One is still raising a family and keeps a day job that she loves. The other has carved out a unique life in poker that often plays out in private games. One fell quite easily into the dedicated study of poker, but the other is the type who wants to get to the point and back to the tables.
And the two women became best friends through all of those differences because of a shared love for poker.
Friendship on Twitter Display
During the 2021 World Series of Poker, Jordison and Burkhart shared living space in Las Vegas to play the series. It was later in the year than usual – because pandemic – but it happened after an unprecedented year off from the live tables in 2020.
The two women had some cashes during the 2021 WSOP and in other tournaments around town. Jordison's biggest score was a Venetian DeepStack Championship NLHE Monster Stack victory in mid-October. Burkhart ran deep in the WSOP Monster Stack, but it was the achievement of bagging chips during one of the early days of the 2021 WSOP Main Event that put the duo's friendship on full display.
We get really pumped when we bag… pic.twitter.com/QQgA7mJrl1

— Angela Jordison (@Angelajordison) November 8, 2021
That short video caught the attention of many people in the poker community.
Poker can be a solitary game. There are certainly friendships in poker, even relationships and marriages, but poker friendships can be difficult. When one person runs deep in a tournament and the other busts early, conversations can be uncomfortable. When one is running hot and the other is not, tension may arise.
Burkhart and Jordison showed that a poker friendship can be fun and full of support for each other. They also obliterated the stereotype of women being too competitive to be friends, too "catty," as some people like to say.
The duo and their celebration of bagging the Main Event also showed the joy of poker, the simple joy of an accomplishment, no matter how big or small in the grand scheme. Poker boils down to win or lose, but there is so much in between those two end results that can make the journey more enjoyable.
From Poker Buddies to Besties
Nearly ten years ago, Jordison and Burkhart both attended a poker study group. A full-time player and the father of a friend ran the group in Oregon, near where both of them lived at the time. As the women began to talk, they realized that they both wanted to take their poker education in another direction.
Their motivations were different, of course.
Jordison felt that her game had grown a bit stale. As a cash game player, she got into a sort of rut. "I realized that just showing up wasn't enough," she said. Though studying wasn't her strong suit, she knew she had to try.
Burkhart, on the other hand, was a part-time player who liked tournament poker. She wanted to get better, and she excelled at studying. "I get really excited about nerdy stuff," she said. "I can just dive in and never want to leave."
The two of them studied together. Jordison said that it made it easier to study with Burkhart. "We worked well together. We spent hour and hours going over hands, concepts, and theories."
Several years after they first met, the two women showed up at the same WSOP Circuit stop in Las Vegas. Neither one knew the other was going to be there, but they ended up spending all of their time together. They talked poker – and non-poker life, for a change – over every meal and at every opportunity.
This is why late reg was invented #karaokehottubpartyhangover pic.twitter.com/54ucfTiE6P

— Liz Tedder (@pokerlizzard) September 22, 2017
No Limit Hold'em Bonding
Jordison and Burkhart played different games for different reasons. The former played cash games and preferred PLO, while the latter played mostly recreationally and stuck to No Limit Hold'em tournaments. As they studied together and their games progressed over time, they both branched out. Jordison began to play more tournaments – No Limit Hold'em ones. And she convinced Burkhart to try cash games.
Burkhart had come up in the game with players who were more old-fashioned in their thinking. They convinced her that it would be too difficult to switch one's mindset from cash games to tournaments, so it was better to stick with one. And she loved tournaments.
"That's my first love and the reason I even started playing poker. I want to crush people. I want to be the winner. I want to hold the trophy. I want to have my picture taken. I want all the glory. You don't' get any of that in cash games."
However, Jordison would notice on their poker trips that Burkhart would bust a tournament and then have nothing to do. And she knew that – for herself – cash games provided the consistency with results that balanced out the tournaments' highs and lows. Burkhart saw the light.
"Cash games work better in my life. I can work it around my parenting and job schedules. With Angela's coaching, I learned how to play cash. And now, I have a good consistent win rate that adds value to my life and my family. I can count on that money."
No Limit Hold'em was the mutual interest that provided so much fodder for discussion, so much opportunity for study and improvement.
The two started their journeys with different coaches. Ben Reason coached Jordison for a time, and Ryan Laplante coached Burkhart. They learned a great deal from their respective coaches, but neither of the women felt that the theory-heavy style was right for their $500 and $1K buy-in tournaments. And the variance with that style of play was heavy, too. "We were on the rail a lot," Burkhart said.
Jordison found that Faraz Jaka had more of the same style as them and came up in the game in a similar fashion, learning through actual play. Burkhart eventually joined her friend in Jaka's coaching program. Jordison said that he helped them with the "puntier" side of their game.
Angela is super active asking/answering Qs in class & discord.

She works outside of poker but manages to find the right balance & dedication to have a big edge.

She's incredibly charismatic & a positive force in our community. Ty for being u! This score is well deserved 👏 pic.twitter.com/jglmCEsSRw

— Faraz Jaka (@FarazJaka) June 11, 2022
Proof in the Results for Jordison
Of the two women, Jordison has played many more tournaments through the years. Her results have been piling up and showing a steady increase in earnings. The overview of her Hendon Mob statistics through the years paints a picture of a woman who continually grew and improved her game.
2019: $37,436
2020: $2,756 (pandemic!)
2021: $117,527
2022: $338,379 (four months remaining)
Poker media first took notice of her in early 2015. She had yet to win a tournament despite numerous final tables, and then she attended the annual Poker Round Up in Pendleton, Oregon. She nabbed her first win in a $100 NLHE event. The next day, she won the $200 NLHE tournament. And then, she won an unprecedented third tournament in a row by taking down the $200 NLHE Shootout one day later.
From 2019 to 2021, Jordison more than tripled her annual tournament earnings. Some of that was due to winning a Venetian DeepStack Championship NLHE Monster Stack event in Las Vegas in October 2021.
Here's me on my new money phone telling my mom I won the Venetian daily yesterday for $39,570 pic.twitter.com/yLkmdx3q6v

— Angela Jordison (@Angelajordison) October 17, 2021
She ended that year with a fifth-place finish at the Mid-States Poker Tour (MSPT) Main Event in Minnesota for nearly $50K.
This year, with four months left to go, Jordison has already nearly tripled her earnings from 2021. The WSOP this summer put her on that path when she finished third in the $1K NLHE Freezeout event for more than $151K. She made a run in the Main Event, which we'll get to in a moment, and proceeded to head to the mid-majors tours to make final tables at the MSPT Iowa and WSOP Circuit Cherokee.
Omg pic.twitter.com/cVnfFN4Xep

— Angela Jordison (@Angelajordison) June 11, 2022
Proof in the Results for Burkhart
Growth has been a bit more staggered for Burkhart, mostly due to not playing regularly and a unique opportunity in 2019. She works a day job that she loves and has familial obligations because she's not yet an empty-nester. Her live tournament results show as:
2018: $31,503
2019: $140,367
2020: $2,892 (pandemic!)
2021: $18,315
2022: $61,028 (four months remaining)
With time off to play the World Series of Poker, Burkhart excelled there. She made a deep run in the 2015 WSOP Monster Stack and then made the final table of the 2018 WSOP Ladies Championship, taking fifth place for more than $28K.
But it was in early 2019 that Burkhart took the spotlight on a bigger stage. She had won a contest online, hosted by Maria Konnikova, who was giving away a Platinum Pass to the first-ever PokerStars Poker Players Championship high-stakes poker tournament in the Bahamas in January 2019. Burkhart's essay was a tribute to her family, taking Gramma Nance's money, aging parents, and the importance of poker throughout her life. She won the Platinum Pass to play in the PSPC, a ticket worth $30K that included her $25K buy-in and travel to the Bahamas.
I have no words this is unreal! Truly so honored and excited. I had really tough competition and loved all the entries. I'd like to offer the other 5 finalists a 1% freeroll on my tourney results. @KristyArnett @LeftyWriting @gaucho2121 @aseefo @JustChristyB DM me for info https://t.co/0tQYjxe9cT

— Jacqueline Burkhart (@jackiburkhart81) October 21, 2018
She played well and made it to Day 4 of the PSPC, eventually busting in 38th place for $86,400.
This year at the WSOP, Burkhart cashed in the Main Event, a tough accomplishment, especially with her best friend also making a deep run.
All the Support
Support for each other's poker games is evident. The women grew together in poker and supported each other through cash game play and tournaments, sharing knowledge and strategy, all with a friendship that developed around it all.
They support each other in ways that most poker colleagues and casual friends cannot. Jordison explained that the Main Event this year started with Burkhart running her stack up right away.
"At the first break, she was really happy. At the next break, she had like half of her starting stack. I could just feel her negative, down energy. I gave her the whole 20-minute break and, at the end, I told her about that negative vibe. I told her to get it together because I could feel that negativity. I know her so well that I can keep her mental game in check. We hold each other accountable emotionally, and that's the hardest part of tournaments."
Burkhart added:
"That's the hardest part of making friends in poker. It's really easy to tell your friends how to play a hand right or how they got unlucky. It's more awkward and it takes a lot more trust in a relationship to be able to tell a person how they did something wrong or that their attitude or approach is wrong. We're not afraid to do that with each other because we've built that muscle."
And it worked. That moral support mixed with strategy talk took them deep into the Main Event. And one tweet exemplified that bond, as they both made the money and played through to Day 5.
High fives on the way to day 5@jackiburkhart81 pic.twitter.com/SDT6AaoKGy

— Angela Jordison (@Angelajordison) July 11, 2022
Of course, there is competition as well. Burkhart noted that it would be difficult to excel at tournaments if one didn't have that natural competitiveness.
So, do they compete with each other? "Uh, yeah!" Burkhart said.
They even custom-make a trophy each year for the group of players staying in their house. Jordison has won it for the past two years and does rub it in a little. "But I know if I razz her too much, she'll get angry enough to take that trophy and keep me from a three-peat," she admitted.
Theirs may be a unique relationship in poker. Burkhart and Jordison developed their friendship over years and over a mutual love of poker.
No one can predict what the rest of 2022 or the next year holds for these two forces in poker, but it is clear that they'll do it together, with moral support, strategy advice, humor, and a trophy all on the table. And with any luck, they will continue to document it on Twitter.
This is what happens when you bust all your tourneys and everything is Vegas is closed @WSOP pic.twitter.com/pqzHHFhuiO

— Jacqueline Burkhart (@jackiburkhart81) July 7, 2020