HCL Hand Goes Viral as Poker World Takes Sides
Mainstream coverage of poker would grow the game. There needs to be expansion outside of the poker community. But no one wanted it to happen this way, via a controversial poker hand that people unfamiliar with poker are wildly misconstruing. Yet and still, here we are. The hand between Robbi…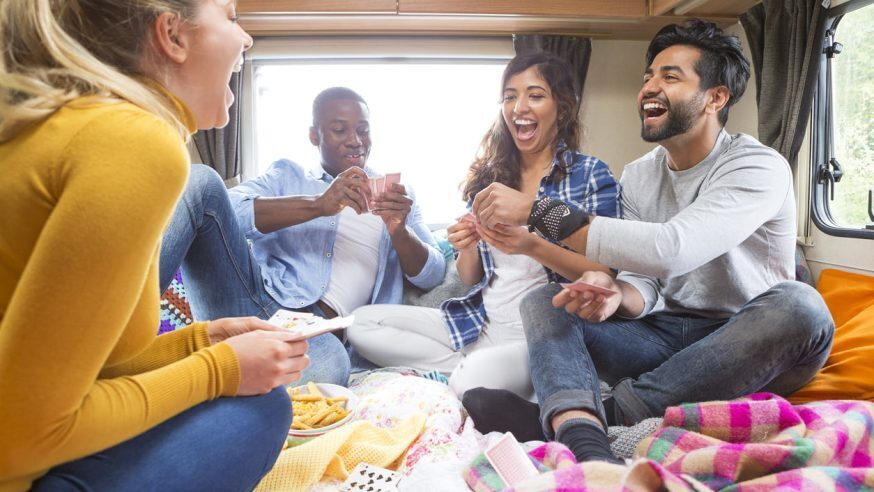 Mainstream coverage of poker would grow the game. There needs to be expansion outside of the poker community. But no one wanted it to happen this way, via a controversial poker hand that people unfamiliar with poker are wildly misconstruing.
Yet and still, here we are. The hand between Robbi Lew and Garrett Adelstein was controversial in and of itself, but now people outside of poker are debating it, too. Right in the middle, Hustler Casino Live is trying to conduct the fairest of investigations to set part of the record straight.
Some prominent poker voices are weighing the merits of both sides of the poker hand. Others have made their decisions and have no problem voicing them.
Team Garrett
Obviously, the leader of Team Garrett is Adelstein himself.
Best concise summary of events. Notes:
-She several times states she wasn't threatened (HCL & @Joeingram1 vids both), then tweets that she was anyway.
-Vibrating device in her pocket @berkey11 podcast
-Only right I accept her HU4ROLLZ while retweeting Doug. https://t.co/CooJ8UW3Is

— Garrett Adelstein (@GmanPoker) September 30, 2022
Doug Polk has done a couple of videos thus far about the situation, both times throwing his full support in Garrett's camp. Of course, Polk is a friend of Gman's and his vlog thrives on controversy.
The attack on @GmanPoker right now is out of control. He has one of the absolute best track records. He's always been kind, compassionate, and thoughtful. This was a horrible situation where he felt he was cheated. Absurd how quickly people can turn on one of poker's great heros.

— Doug Polk (@DougPolkVids) September 30, 2022
The argument for she thought she had a 3 –

Checks her cards facing a jam: she misread her cards

Says "no" when someone says your hand has a 3 in it: she misheard

Says I ran it twice because I had jack high: she was embarrassed

…..

How many excuses do we have to make?

— Doug Polk (@DougPolkVids) October 2, 2022
Brian Rast has said that there is no definitive proof of cheating, but he leans in that direction.
I do think her weird play and strange tanking in spots – as outlined in that Doug video – are possibly consistent with someone waiting for info & getting fed information that she has the winning hand. And her inexperience leads her to take bad lines in those spots to try to win.

— Brian Rast (@tsarrast) October 3, 2022
Some think that people are quick to denounce Adelstein's actions because of his popularity, and feel the public was ready to pounce on the first thing he did that was out of his good character.
I feel like everyone was just so low key jealous of perfect Gman that all they needed was 1 slip up from him and they go nuts and hate on him hard.

— Lex O Poker (@LexOpoker1) October 4, 2022
Ryan Depaulo took a break from an almost nonstop stream of slot machine play to weigh in.
Leave Garrett alone though he's not a crybaby. Regardless of if she did or didn't cheat he did not behave wrong at any point and his explanation of everything after 10000% makes sense. I don't Dick ride him at all I don't care about him I only Dick ride content creators

— Ryan Depaulo: Degenerate Gambler (@depaulo_ryan) September 30, 2022
Fedor Holz quickly came out on the side of Robbi cheating.
My read: she had some information about his hand. She raised turn thinking that's a good way to win the hand and then couldn't fold after his unexpected shove knowing that she'd win.

— Fedor Holz 🐧 (@CrownUpGuy) September 30, 2022
Shaun Deeb even gave a percentage of 85% on the cheating side.
Interested to see peoples breakdown of % of cheat and not cheat not cheat is 0% cheat is 100% myself currently is at 85%

— shaun deeb (@shaundeeb) October 1, 2022
One of the harshest critics of Lew thus far was Marle Spragg, who called in to Joey Ingram's second stream about the topic. She noted time after time that she wasn't being sexist, all the while saying that Lew could never, ever win at poker. Spragg also said that Lew seemed unintelligent and probably not at the top of her field in business, either.
Team Robbi
Lew has defended her play all along, while admitting that she is not a pro player and often makes unconventional plays.
Nailed it. https://t.co/aCUAB8DPAL

— Robbi Jade Lew (@RobbiJadeLew) October 2, 2022
Her husband not only stepped into the poker space to defend her but threatened legal action as well.
@GmanPoker got called because @RobbiJadeLew read him like a book. She's done it to me plenty of times at home. Oh, and as far as the legal consequences…all I can say to that is buckle up. #robbijadelew #wifey #intuition #herocall pic.twitter.com/kEHfYcvve3

— Charleslew.eth (@Charles_Lew) September 30, 2022
Lew's poker coach, Faraz Jaka, had to make a statement and did so in a tweet thread. His connection to Lew was undeniable in that she had a cup bearing his coaching business' name on the table during the HCL stream.
Here're my thoughts regarding the @RobbiJadeLew vs @GmanPoker J4o hand.

Having worked w/ her over the last year, cheating would be very out of character from my interactions with Robbie

I am seeing some very passionate arguments getting attn that I'd like to address👇

— Faraz Jaka (@FarazJaka) October 1, 2022
Justin Bonomo didn't hesitate to call out some of the bad takes on potential cheating.
Sure, non-poker twitter is getting a lot wrong about the J4 hand, but I still think the dumbest stuff I've heard on it is from actual poker-twitter

Like Doug saying the shaking chair means she was being signaled via belt? Hard to top that level of stupidity

— Bonologic (@JustinBonomo) October 3, 2022
Vanessa Kade has also come out in support of Lew, not to shut down any discussion of the hand but to defend against people who don't know Lew but decided to malign and insult her anyway.
I am aware Doug is a dick in general to almost everyone, but can't recall him leading such a skewed, willfully ignorant witch hunt against a *recreational* player with no real evidence and conveniently leaving out a lot pointing to innocence.

While calling her "so so so dumb".

— Vanessa Kade (@VanessaKade) October 3, 2022
Sam Grafton seemed to understand her play from past experience.
At the 2021 WSOP I played with Robbie in the 1500 Shootout. We played a long heads up until 10pm. She did insanely unconventional things, obviously it's not proof, but this footage where she's flustered and can't explain her thinking chimes with my experience.

— Sam Grafton (@SquidPoker) September 30, 2022
Daniel Negreanu and Todd Witteles are also in the camp that there are many reasons Lew could have played the way she did, but cheating was not a part of it.
I have come to the conclusion that it's unlikely @RobbiJadeLew cheated, and that her giving the money back to Garrett was out of fear of being excluded from the @HCLPokerShow, which she felt was both a big moneymaking opportunity for her, and a chance at poker fame. (1/x)

— Todd Witteles (@ToddWitteles) October 3, 2022
Team Investigate
The vast majority of people in the poker community fall somewhere in the middle of the debate. They want a thorough investigation from Hustler Casino Live and its organizers, Nick Vertucci and Ryan Feldman.
The team is hiring independent experts to conduct the investigation into their security system and to review all records, interview players, and possibly even use a polygraph to test those involved. While HCL's attorneys will oversee everything, third-party experts will draw their independent conclusions.
An update pic.twitter.com/uxLb6pbi7D

— Hustler Casino Live (@HCLPokerShow) October 2, 2022
Some people have approached the issue with an open mind and tried to cover all sides of the story, examining all theories and tossing out ones that are not probable or realistic. Matt Berkey and his Only Friends podcast team have done this consistently, even breaking down past hands that Robbi played in various games.
36 hours later and I'm just as unsure as ever as to what we just saw. Regardless, this is an opportunity to find ways to handle these situations better. https://t.co/CLZlU7wR9G

— Matt Berkey (@berkey11) October 1, 2022
Well-respected minds in poker like Phil Galfond posted information, with his thread examining theories from both sides.
Okay, fine! I'll weigh in. 🙈

First, disclaimers:

– To form a strong opinion, I'd want to see all of the hands played by Robbi.
– My info as of now is just 1hr on twitter, 30 min of a @Joeingram1 stream. Most recent @DougPolkVids vid.
– Bc of that, I'm keeping a very open mind

— Phil Galfond (@PhilGalfond) October 2, 2022
Team Mainstream Media
Let's be clear. No one in poker is on this team.
The scandal went mainstream, and the comments show how little people outside of poker can understand a poker hand. Granted, the poker hand is somewhat complicated – at least more complicated than mainstream is portraying – but the mainstream narrative about the hand has…well…gotten out of hand.
Twitter has been afire with a particular angle, that Lew made a brilliant play in a poker game and Adelstein simply couldn't handle being called down by a woman. While most people in poker agree that is not the case, the mainstream Twitter audience has glommed on to that one and won't let go.
do I know anything about poker? absolutely not. but once I won 50 bucks off a bunch of band nerds and this story involves misogyny and thus I feel I am qualified to comment

— Katie Martin (@katiedimartin) October 2, 2022
Notice that the woman's original tweet has 258,000 likes at the time of this writing.
And when Jen Shahade tried to push back on that narrative, Martin reported that she received violent comments and threats and blamed Shahade for it. Shahade deleted her comment but not before Katie Martin berated her.
And if it wasn't enough that mainstream Twitter has taken the hand and done cartwheels with it, gossip television took it in as well. Inside Edition did a piece on it.
The @RobbiJadeLew hand on @InsideEdition, looks like poker has jumped the shark again! 😳 https://t.co/fSPYDWevjw

— Matt Savage (@SavagePoker) October 4, 2022
To be continued…