Hustler Casino Live Scandal Becomes More Complicated
Robbi Lew, a relatively new person on the high-stakes cash game scene won a huge hand through seasoned pro Garrett Adelstein. It happened on an evening livestream at Hustler Casino in Los Angeles, captured by the producers of the Hustler Casino Live evening broadcast. Of course, it was far from…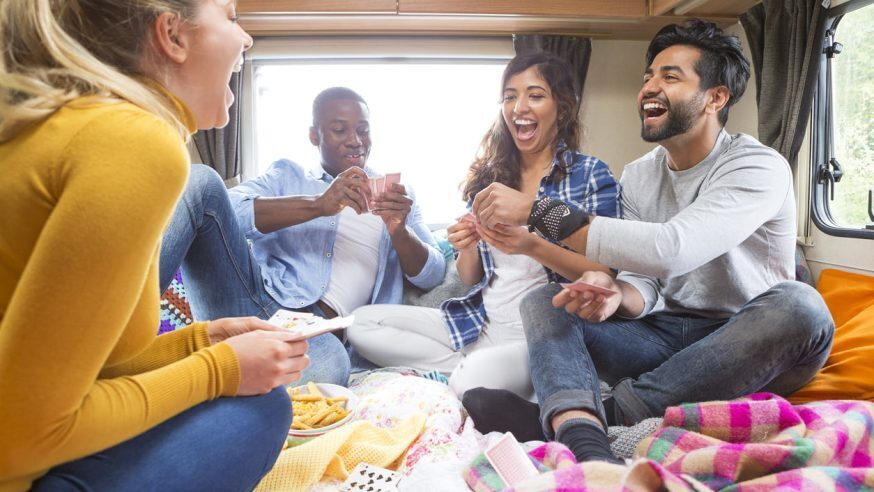 Robbi Lew, a relatively new person on the high-stakes cash game scene won a huge hand through seasoned pro Garrett Adelstein. It happened on an evening livestream at Hustler Casino in Los Angeles, captured by the producers of the Hustler Casino Live evening broadcast.
Of course, it was far from a simple oddly-played hand.
What happened afterward took an interesting and possibly suspicious play into a full-blown poker scandal.
The Cliffs Notes from the beginning are as follows:
After looking disturbed about the hand for more than a few minutes, Adelstein walked out of the room.
Lew left to talk to him. Soon after, she dipped back into the room to retrieve a rack of chips and take them to Adelstein. She reimbursed him for the $135K hand that she won.
Fellow player Jacob "Rip" Chavez left the room to express his discontent at Lew paying Adelstein. He yelled and cursed at Adelstein before returning to the game.
Adelstein returned to gather his chips and backpack, and he left altogether.
Adelstein later tweeted a six-page explanation of his contention that Lew did cheat.
My thoughts on the hand in question from today's livestream, screenshots 1-4 (of 6) pic.twitter.com/gWQOI6sg4o

— Garrett Adelstein (@GmanPoker) September 30, 2022
My thoughts on the hand in question from today's livestream, screenshots 5-6 pic.twitter.com/Hb1Kh6xuFd

— Garrett Adelstein (@GmanPoker) September 30, 2022
Lew tweeted that she was pulled from the game and "forced to speak to him in a dark hallway," noting that he also blocked her on Twitter.
Lew's husband, Charles, spoke on Joey Ingram's podcast and issued a warning that legal action may be in progress, something to which he also alluded on Twitter. "As far as the legal consequences…all I can say to that is buckle up."
Poker coach Faraz Jaka weighed in to say that Lew had only been playing for about a year and often mixes up terminology when recalling hand histories and is still learning about blockers.
Hustler Casino Live planned a thorough investigation of the hand by a third party and hiring attorneys who will oversee the process.
An update pic.twitter.com/uxLb6pbi7D

— Hustler Casino Live (@HCLPokerShow) October 2, 2022
As all of this was happening, the mainstream media got wind of the hand and the implied scandal surrounding it. But before it made many reputable news sites, celebrity gossip television show Inside Edition ran with the story.
The @RobbiJadeLew hand on @InsideEdition, looks like poker has jumped the shark again! 😳 https://t.co/fSPYDWevjw

— Matt Savage (@SavagePoker) October 4, 2022
HCL Digs and Finds Dirt
As Hustler Casino Live, which is, importantly, a separate entity from Hustler Casino, began putting the investigation into motion, they kept in touch with the poker community. On October 6, HCL's High Stakes Poker Productions put together a team of experts to begin auditing the technology and security used by the show. Specifically, they hired Bulletproof Gaming Laboratories International for the technology end of the investigation. The goal was twofold:
Find any evidence of players using compromising technology in streamed games.
Determine the level of security and protocols, recommending improvements if necessary.
The well-known Los Angeles law firm of Sheppard Mullin was also on the case, retained to provide legal and investigative guidance.
That was all well and good until the last paragraph.
"During a review of video of the Sept. 29 hand between Robbi and Garrett, our investigators observed an employee of High Stakes Poker Productions removing chips from Robbi's stack after the broadcast had concluded and while Robbi was away from the table. Today, during our investigation, the employee, Bryan Sagbigsal, admitted taking $15,000 in chips from Robbi's stack. We immediately terminated Mr. Sagbigsal's employment and contacted Robbi and the Gardena Police Department to file a criminal report. Robbi told High Stakes Poker Productions and the Gardena Police that she does not wish to pursue criminal charges against the employee. Without a victim, Gardena police told us they do not intent to pursue a criminal prosecution at this time."
High Stakes Poker Productions offered to reimburse Lew for the stolen funds, as it was their employee who stole from her. It appears she will take them up on that offer, but it will be handled by a third party, such as an attorney.
If that wasn't all enough drama, things took some very odd turns.
Twitter sleuths discovered that Sagbigsal did, in fact, have a criminal record, contrary to what the Gardena Police Department told Lew.
Someone found a tweet thread from the day after the controversial hand, penned by Sagbigsal. He claimed to be the longest-tenured employee at HCL. It included statements like, "Our game integrity is the MOST SECURE IN THE INDUSTRY."
Here's Bryan's entire thread in case it gets deleted. pic.twitter.com/Hqb9arXL3l

— Melissa Burr (@burrrrrberry) October 7, 2022
Sagbigsal then sent a private message to Lew to thank her for not pressing charges, for being so kind. The long message was over-the-top complimentary of Lew and an odd message in general.
So I got a message … @Joeingram1 pic.twitter.com/4S2zvR5BmQ

— Robbi Jade Lew (@RobbiJadeLew) October 7, 2022
Lew changed her mind about pressing charges.
The writer of a Los Angeles Times article about Lew found Sagbigsal at his girlfriend's parents' house in Long Beach. When Andrea Chang tried to approach him, Sagbigsal took photos of Chang and her car, threatening to follow her if she didn't leave immediately.
Sagbigsal then signed up for a Two Plus Two account so as to tell the story from his perspective, since he had closed his Twitter account.
The alleged thief took issue with statements from Adelstein about cheating theories. He wrote that he had the "utmost respect for the integrity of the game." He added, "I wouldn't wanna cheat you, nor anyone ever."
Sagbigsal went on to say that "I have never stiffed a single person." He then said that if he was going to be a part of a cheating ring, he "wouldn't have chose Robbi to be my horse," as he said she wouldn't be sophisticated enough to hack a livestream.
Adelstein Speaks and Accuses
Meanwhile, Adelstein had posted a very long, link-filled forum post on Two Plus Two with evidence of cheating. He tried to prove that Lew or Chavez (or both) coordinated with Sagbigsal during three HCL sessions, and that Lew coordinated with Chavez on both of the streams on which they both played. He asserted that they used verbal and nonverbal communication to do this.
In addition, Adelstein implicated others in suspicious activities.
Lew and Chavez (Rip) likely have a more complicated relationship than simply poker friends or Chavez backing Lew in a cash game.
Someone told Adelstein that Chavez has a history as a con-man.
Nik Airball (real name unknown) participated in a long dinner the night before the HCL hand and loaned Chavez the money to play, with which Chavez backed Lew.
Some clarifications regarding last week's @HCLPokerShow events. pic.twitter.com/db91bf6XBz

— Nik Airball (@nikairball) October 7, 2022
Darren "Beanz" Attebery may have a more complicated relationship with Lew based on recent statements and history as a "known scammer" with a criminal record. There is, in fact, a pending case filed by the United States alleging fraud using a PPP loan during the pandemic, a scam led by Attebery that will come to a compulsion with sentencing later this month.
Garrett Adelstein Report on Likely Cheating on Hustler Casino Live: https://t.co/nGPgDuSqdx

As an aside, @DGAFPokerPlayer has been a friend for over a decade and I have never questioned his integrity. From the evidence I have seen, the accusations against him are baseless.

— Garrett Adelstein (@GmanPoker) October 8, 2022
Importantly, in Adelstein's tweet (and another one), he stood up for Billy (a player typically known only as DGAF). Allen Kessler had been posting tweets examining DGAF's poker history on livestreams, his movements and body language. This had riled up some of the public, putting a previously-unwarranted microscope on this player. Adelstein defended DGAF and noted on Twitter, "I'm as heartbroken and jaded as anyone, but that doesn't make it ok to destroy people's reputations without clear evidence. … Let's be better."
Follow if You Can
The scandal started with the analysis of one hand and two players, and it naturally evolved into a deeper examination of those two players, their history, and other players at the table.
However, in the days since then, the scandal has blown up. Not only is the mainstream media taking the situation to the non-poker public with slants that only muddy the situation, the poker community itself has gone a little wild. People at every level of poker have analyzed hands, body language and movements, tweets, social media follows, finances, and relationships.
Those who want to keep up must read through hundreds of pages of Two Plus Two forum posts and listen to more podcasts and videos than would be humanly possible. Joey Ingram has posted several marathon podcasts, which contain very important interviews from people involved at all levels of the scandal. Daily podcasts like Only Friends examine hands, talk to security experts, and try to bring the public up to speed on the latest developments. There are other articles, like the LA Times piece on Lew, and other podcasts, like PokerNews' interview with Lew, and even hours of HCL co-owner Nick Vertucci talking about the situation and promising to say more at a later date.
For anyone with a full-time job, it is too much.
To date, there has been no concrete proof of any wrongdoing except Sagbigsal stealing chips from Lew on the set of HCL. Everything else is subjective and circumstantial…and everyone has an opinion.
The truth will surface eventually.
In the meantime, poker vlogger Caitlin Comeskey came up with the best summary thus far.