Hustler Casino Finds a Little Help from Its Friends
It happens here and there. A card room, casino, and/or poker entity offers a tournament with a guarantee, as has become the norm. As the tournament approaches or begins its initial flights, the management quickly realizes that they will fall short of the guarantee. The original goal of a guaranteed…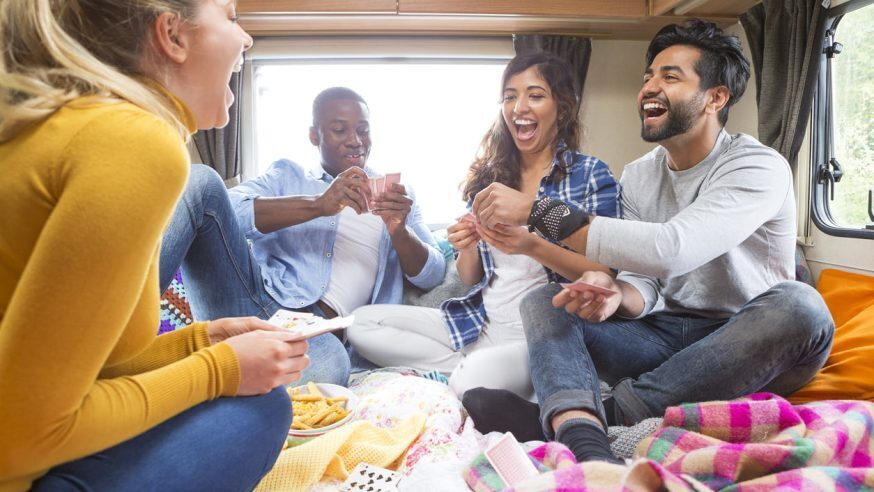 It happens here and there. A card room, casino, and/or poker entity offers a tournament with a guarantee, as has become the norm. As the tournament approaches or begins its initial flights, the management quickly realizes that they will fall short of the guarantee.
The original goal of a guaranteed tournament was to entice players with the possibility of an overlay. If the tournament doesn't garner enough entries to meet the guarantee, the card room, casino, and/or poker entity must make up the difference. That becomes a bonus for the players in the form of an overlay. It's free money in the prize pool.
Online poker sites do it often and have been doing it for years – nearly two decades in the case of PokerStars and its Sunday Million. There have been overlays. The operators sucked up the difference, and it benefitted the players. It also showed that the operators are true to their word.
When live tournament operators began offering guarantees, the same rules applied…except for the small print and caveats and legal footnotes that allow they to cancel the guarantee in some circumstances.
This week, Hustler Casino took that fine print to a new level.
A Controversial Decision
The Southern California card room hosted its 2022 Larry Flynt's Grand Slam of Poker Memorial series from mid-July through the first week of August. It got underway just as the 2022 World Series of Poker ended in Las Vegas. The idea was to entice players who hadn't made it to Vegas or who were back in Southern California after the WSOP and wanted more poker action.
We're counting down the days until Larry Flynt's GRAND SLAM OF POKER Memorial Tournament! Over $400,000 in Guarantees from July 17th until August 7th! View the full tournament schedule at https://t.co/m1MkGVqULT #HUSTLERCasino #PokerTournament #Poker #Tournaments #LarryFlynt pic.twitter.com/3UTMW9fzm0

— HUSTLER Casino (@HUSTLERCASINOLA) July 15, 2022
The first event in the series was a $250 buy-in No Limit Hold'em Deepstack tournament. It had no guarantee on the prize pool. Hustler did not, however, report the numbers or results on its social media pages or to the Hendon Mob Database.
The second event was a $225 buy-in NLHE tournament with nine starting flights and a $100K guarantee, with $20K of that reserved for the winner. Hustler didn't report those numbers, either.
Event 3 was a $275 buy-in NLHE Bounty event with a $15K guarantee. That event did well with 126 entries and a $28,350 prize pool. It is the only one of the series reported to the Hendon Mob.
Hustler did not post results for its $1,100 buy-in Mystery Bounty that was Event 4, nor for the $350 buy-in NLHE with a $50K guarantee that served as Event 5. Events 6 and 7 were mysteries as well, though neither of those had guarantees.
Then came time for the finale. Event 8 was a 12-flight NLHE event with a $350 buy-in and $250K guarantee, with $50K of that guaranteed for the winner. These flights began on July 31 with the promise that the top 12% would make the money and advance to Day 2, which was set for August 7.
The casino hosted the first four flights over the first two days of the event…and somewhere between the fifth and sixth flights on August 2, they cancelled the tournament. Hustler announced that the players who survived the first flights could play Day 2 but only for the money they contributed to the prize pool. They nullified the guarantee and cancelled all other flights.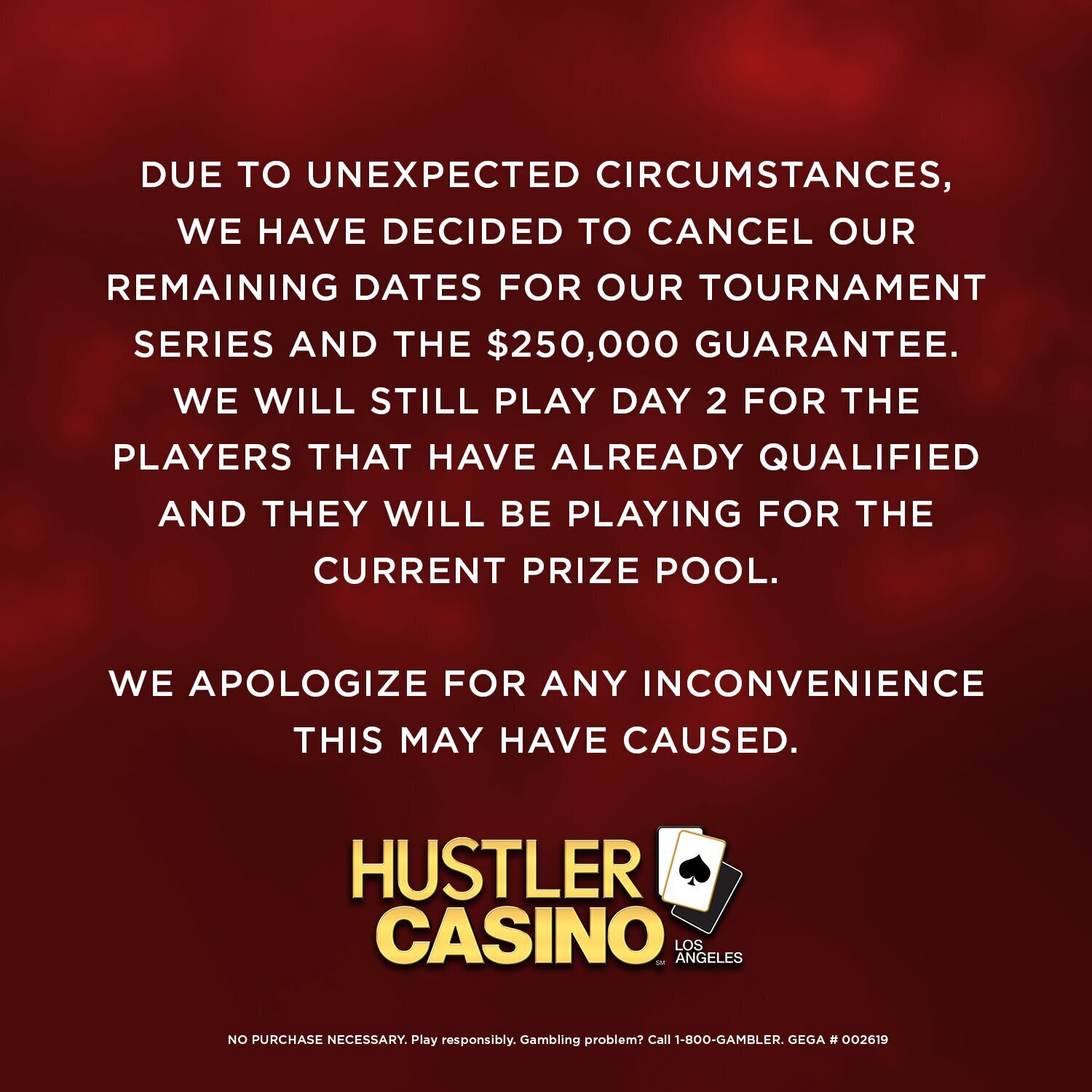 Hustler provided a statement to PokerNews that they knew the decision would be "heavily scrutinized." But after the casino management, ownership, and tournament director discussed "alternate plans," they decided the best choice would be to cancel it. They asserted that the next best option for them would have been to advertise the overlay and/or add extra flights, but the casino wouldn't be able to accommodate a large influx of players if that was the result.
Oh.
Controversy and Anger Ensued
It was mostly anger that ensued. It came from a wide array of players, most of whom did not play the event. However, the broad sentiment came from the precedent the cancellation set. If any casino, poker room, or poker entity can simply cancel a guaranteed tournament – or just the guarantee – if they believe they won't hit it, there will be no purpose to a guarantee.
And no player will ever be able to trust a guarantee.
Scum. Full stop.

Everyone be warned. If we tolerate shady business practices they will only multiply. https://t.co/cxjSt2CxlG

— Jacqueline Burkhart (@jackiburkhart81) August 3, 2022
We were ambitious with our guarantees at @LodgePokerClub in our championship series this year and the result was we lost 625k in guarantees in May. But we honored our guarantees and sucked it up.

Hanging poker players out to dry like this is unacceptable. https://t.co/KfxOh68cGf

— Doug Polk (@DougPolkVids) August 3, 2022
Need a little better explanation than "unexpected circumstances" when you slash a guarantee of a tournament that has people that already bagged. Not a good look for a casino that hosts one of the biggest streamed games constantly. https://t.co/ZwbcobWuRT

— Adam Hendrix (@AdamHendrix10) August 3, 2022
It is very important for the poker community to punish this type of behavior by operators (cancelling a guaranteed tournament because they weren't going to meet their guarantee). If their word is not good when it comes to this, its not good on anything. https://t.co/EibI6C7Nl1

— Paul Smith (@pauls551) August 3, 2022
And that is just a small sampling of the vitriol.
Hustler Casino Live to the Rescue
The poker tournaments at Hustler Casino are a separate entity from Hustler Casino Live, the wildly popular high-stakes cash game livestream that has captured the attention of poker players around the world. But both are affiliated with the Hustler Casino.
Hustler Live creators/hosts/dudes Ryan Feldman and Nick Vertucci had to step in.
Luckily, they know something about poker. They saw the problem, understood the ire, and got together with General Manager Shaun Yaple to do something about it. They decided that an apology had to come first. Yaple took responsibility for the decision and stated that it was wrong. He apologized and noted that he wanted to make it right. He vowed to:
Refund every player in the tournament with their full buy-ins.
All players who made Day 2 would receive those buy-ins back but still play for the amount in the prize pool (approximately $27K). It would be, essentially, a freeroll.
Organize a new tournament, perhaps in September, with Hustler adding $50K to the prize pool.
Statement from @The_Three_Bs, the GM of @HUSTLERCASINOLA, along with @NickVertucciNV & @TheRyanFeldman, regarding the recent $250K GTD tournament pic.twitter.com/G7Nr7BoQVp

— Hustler Casino Live (@HCLPokerShow) August 4, 2022
The backlash from the original decision forced Hustler Casino management to step up and acknowledge the error in judgment.
Slippery Slope Ends Here
There were a few missteps over the summer. It was almost inevitable when so many casinos offered tournament series alongside the World Series of Poker in Las Vegas, all with guarantees on their prize pools.
The first slide down the slope happened with the Orleans' summer series. The off-Strip casino had a difficult time keeping up with its competition. Only a couple of weeks into the Summer Open, the Orleans announced that it cancelled some big events that had been on the schedule, including the NLHE Championship with its $250K guarantee. The casino vowed to replace those multi-day tournaments with "some of the best one-day events available anywhere in Vegas."
We know this decision will be disappointing to many, but business demands change, and we must adjust accordingly.

We truly apologize for any inconvenience caused by these changes, and hope to see you all here at The Orleans throughout the rest of the summer. Thank you all!

— OrleansPokerRoom (@OrleansPokerRo1) June 14, 2022
The Orleans' cancellations included everything from a much-anticipated Mystery Bounty tournament to the Finale event, each of which had been guaranteeing $300K. That didn't sit well with many players…but the Orleans' management team decided it would be cheaper and more palatable than losing money via overlays.
MGM Grand struggled with its guarantees as well. It was the poker room's initial foray into the summer series space with an ambitious schedule and guarantees across the board. For most of the series, they sucked it up.
The first controversy garnered attention when Todd Witteles discovered that a $3K GTD nightly tournament reduced its promise to $1,500. Tournament Advisor Justin Hammer explained that there had been a rule in place that each event had to garner at least 10 players for the guarantee to stay. The tournament in question had only eight players. The MGM stood by its decision.
Before starting every player was notified that the guarantee WAS canceled and if they wished to play anyway we would still give them a guarantee but for less than was originally posted or they can get a full refund. They all agreed to the terms. Any subsequent entry also agreed.

— MGM Grand Poker Room (@MGMGrandPoker) July 24, 2022
The second situation pertained to the series-ending Tournament of Champions. It had been set up to welcome back the winner of each of its 172-ish tournaments over the summer with a $173K freeroll. Apparently, players reported that MGM took $60K from that freeroll's prize pool to apply to the series' leaderboard challenge. And that happened after the tournament began. Hammer's Twitter explanation didn't do much to assuage players.
I really am sorry that people felt slowrollled, and even admit it could have been worded better. The idea that we changed it last minute or intentionally mislead is just absurd though.

— Justin Hammer (@TheJustinHammer) July 25, 2022
Even with those actions creating uneasiness around guarantees, most players felt that Hustler's mid-tournament change was more egregious than any other previous incident at another card room.
Build a Reputation
Hustler decided it wanted to run a tournament with a guarantee. It wouldn't be its first tournament series ever, but it would aim higher than it had in the past with its prize pool promises.
So, it jumped head-first into a space that had been long occupied by Commerce Casino and the Bicycle Casino in the Los Angeles area. With the continually growing popularity associated with Hustler Casino Live – HCL – it is natural to want to piggyback off that to grow other parts of the business.
People who've been in the poker industry long enough, however, know that it takes time to build relationships with players. The poker room needs to treat them well on a regular basis, talk to them about what they want, find out what competitors are doing wrong and capitalize on that.
Yaple did the right thing in the end with his apology video, flanked by Feldman and Vertucci and their support for him. The mistake, however, is costing him and the casino more than any overlay, both financially and reputationally. Whether he can repair that fracture remains to be seen.