Hellmuth Defeats Seiver in High Stakes Duel for $800K
PokerGO launched a series called High Stakes Duel back in 2020. It pitted two high-stakes poker players against one another in a heads-up poker format. It plays out with these rules: Two players each put up $50K to play Round 1 of HSD. The losing player may play the next…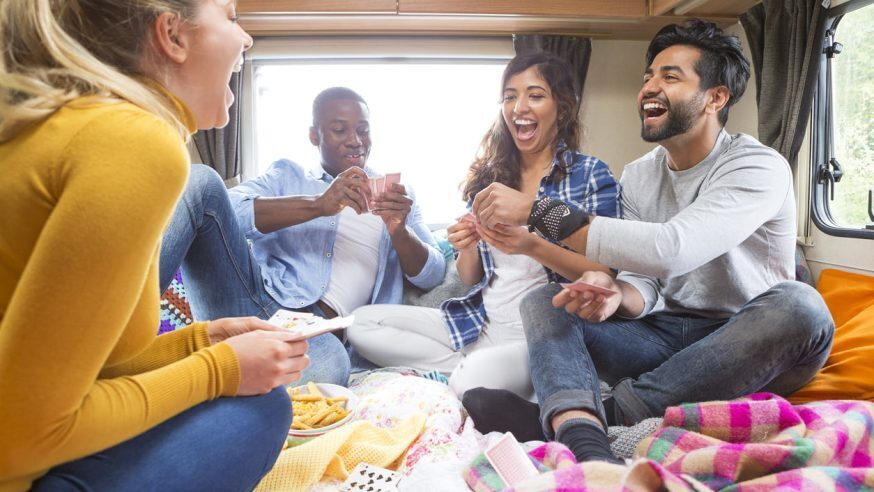 PokerGO launched a series called High Stakes Duel back in 2020. It pitted two high-stakes poker players against one another in a heads-up poker format. It plays out with these rules:
Two players each put up $50K to play Round 1 of HSD.
The losing player may play the next round – decision required within three days – by matching the amount of money in the prize pool.
The losing player may decline to play, at which point a new challenger may step in at the current buy-in.
If there is no challenger, the winner of the previous round takes the cash in the prize pool.
Any player can cash out after winning Rounds 1-3.
Any player can cash out after winning two consecutive rounds at the Round 4 level or higher.
HSD History
High Stakes Duel I started in 2020. Phil Hellmuth was the initial player, and Antonio Esfandiari was the challenger. Their years-long war of words about poker prowess went to the felt…and Hellmuth won three rounds.
High Stakes Duel II started in 2021 with Daniel Negreanu as the new challenger. Two of the biggest names in poker battled it out, and Hellmuth won all three rounds…again.
In mid-2021, High Stakes Duel III started a bit differently. The challenger was Fox Sports broadcaster and recreational poker player Nick Wright. He put up the $50K to play Round 1. Though he put up a good fight, he lost to Hellmuth. And the rematch was too rich for his taste, so he bowed out. That left it open for another challenger.
After rumors that Tom Dwan would play Hellmuth, it came to be. Dwan put up the $100K to play in Round 2 and beat Hellmuth.
Obviously, Hellmuth didn't want to let that stand, so he put up $200K to challenge Dwan. That match took place in January 2022, and Hellmuth won to reclaim his title. Dwan was going to challenge yet again. He committed the $400K to play on May 12. However, as the date approached, Dwan had a scheduling conflict and had to withdraw. That meant anyone could challenge Hellmuth for the low, low price of $400K. That person was Scott Seiver.
"This program has been a must-watch event each episode so far," Seiver said, "and I wanted an opportunity to be a part of the action and hopefully add my own mark on it." He then added something for the fans: "There will be trash talk before and during 100%."
HSD III, Round IV
PokerGO showed the match on its subscription site with commentary by Nick Schulman and Brent Hanks.
The match started with Hellmuth telling Seiver how much he likes and respects him. Hellmuth then promoted his energy drink brand and action began.
Seiver started with strong talk, but Hellmuth took the first pot. Seiver quickly took control with by trying to get into Hellmuth's head, but the two went back and forth with the chip lead, ending the first hour almost even again.
But Seiver started the third hour with a lead and increased it with a sizeable pot. It resulted in Hellmuth showing signs of tilt. Hellmuth did regain the lead, though. The two evened the stacks going into the fourth hour, but Hellmuth took a bit pot a bit later. That hand started with 9-5 for Hellmuth and A-5 suited for Seiver on the button. Preflop betting put the pot at 74K. The K-7-7 flop brought no bets, but the 8 on the river prompted Hellmuth to bet and Seiver to call. The 3 on the river delivered no flush but nothing for either player. Seiver had the ace-high, but Hellmuth bluffed with nothing. Seiver thought for a while but folded the best hand. Hellmuth collected the 290K pot.
Hellmuth took another big one to climb to 578K. He then took another pot to soar to 616K.
Seiver, however, was far from done. On the button, Seiver had queens, and Hellmuth raised with jacks. Seiver three-bet, prompting a quick all-in from Hellmuth and call from Seiver. The board changed nothing, and Seiver collected 476K.
What a match it's already been!@scott_seiver and @phil_hellmuth are BATTLING!

Still live right now on PokerGO. pic.twitter.com/sR3sgiCMqj

— PokerGO (@PokerGO) May 18, 2022
"So fuckin' unlucky," said Hellmuth, as he got up from the table and talked to himself.
Seiver kept control for the next half-hour and built a nice stack. But Hellmuth began to mount his comeback. He nearly evened the stacks, and the two stayed relatively near starting stacks at the five-hour mark. Hellmuth crept up past 500K and then onward to 600K.
With fewer than 15 big blinds, Seiver started pushing. With A-9 of clubs, he was all-in against the K-3 of Hellmuth. The board of Q-8-7-8-2 changed nothing, and Seiver obtained a crucial double-up. Seiver then climbed back up to a stack of more than 300K.
Escalating blinds, however, prompted more action. Hellmuth got aggressive and chipped away at Seiver. More than 5.5 hours into the match and blinds at 8K/16K, Seiver risked his stack holding T-6 on a 2-T-3 flop. Little did he know that Hellmuth had 3-2. The turn of Q and river of 5 ended the match.
"I've had more fun playing with you than anybody else," Hellmuth told Seiver. "You handle yourself so well." They shared an awkward hug, and Hellmuth improved his record to nine wins and one loss.
This also became the longest heads-up match in HSD so far.
Good article, and, yay! #POSITIVITY https://t.co/sdsHMNs0F2

— phil_hellmuth (@phil_hellmuth) May 18, 2022