Hellmuth Dethroned by Koon on High Stakes Duel After Massive Misplay
There was a lot on the line. Few were up for the challenge of trying to beat Phil Hellmuth in this format, and fewer were ready or capable of putting up $800K to do it. As a quick reminder of the history of High Stakes Duel on PokerGO: High Stakes…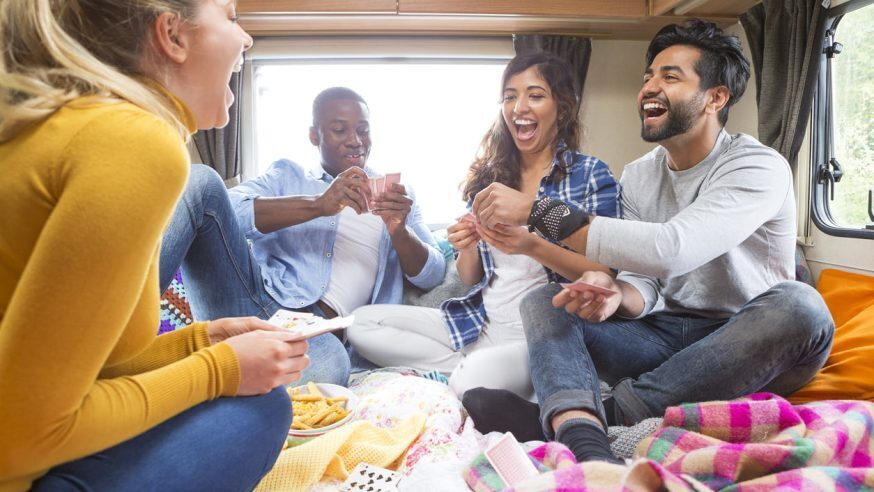 There was a lot on the line. Few were up for the challenge of trying to beat Phil Hellmuth in this format, and fewer were ready or capable of putting up $800K to do it.
As a quick reminder of the history of High Stakes Duel on PokerGO:
High Stakes Duel 1: Hellmuth defeated Antonio Esfandiari in three games.
High Stakes Duel 2: Hellmuth defeated Daniel Negreanu in three games.
High Stakes Duel 3: Hellmuth beat Fox Sports broadcaster and recreational poker player Nick Wright for $100K. Tom Dwan challenged and beat Phil Hellmuth for $200K. When Dwan was unable to arrange another match, Scott Seiver took over. Hellmuth beat Seiver this June for $800K.
The next step was a big one. Anyone could challenge Hellmuth but had to pay $800K for the opportunity. Finally, Jason Koon stepped up with the money, and he played Hellmuth on December 7 for $1.6M.
Round 5 Weigh-In
On December 7 at the PokerGO Studio in Las Vegas, Hellmuth and Koon sat across the heads-up poker table from one another for the "Weigh-In." It was a chance for Ali Nejad to question the two about the match, for the audience to get a feel for the mindset of each player before the high-stakes game began.
Koon started by giving proper credit to Hellmuth for his decades in the game, specifically his dominance in this heads-up format. Hellmuth also gave kudos to Koon for his top-level play in tournaments and cash games…before he talked about himself and how the poker world doesn't give him proper credit for his own accomplishments.
Hellmuth blamed his temper and ego issues, his loss of emotional control at the table, on haters. He said that "being as decorated as I am" is difficult when people try to dismiss it or not give him the accolades he believes he deserves.
Round 5 Action
The heads-up poker action started with Hellmuth taking the first two hands, but Koon took a few to even it out. Hellmuth took a 20K-chip lead about 30 minutes into the match with a straight over two pair.
Not long after, the two got involved in a big hand.
Hellmuth called 1,500 with Q-6.
Koon raised to 10,500 with pocket aces.
Hellmuth 3-bet to 32K.
Koon 4-bet to 120K.
Hellmuth 5-bet to 260K.
Koon moved all-in.
Hellmuth folded.
With Hellmuth down to 567K and Koon at the million mark, Hellmuth started to curse at himself. As Hellmuth guessed that Koon had aces, Koon threw him off by saying he had the five of diamonds in his hand. That drew some "oohs" and "ahhs" from commentators Ali Nejad and Nick Schulman.
Koon took some more from Hellmuth as the latter tilted. Koon did lose a 270K pot to Hellmuth. At the first-hour break, Hellmuth had climbed back to nearly 700K, and his opponent had slightly more than 900K.
Upon their return, Hellmuth appeared to have regained his composure and nearly evened the stacks…until Koon changed the course. Hellmuth fell to 665K and lost more in this hand.
Koon raised to 10K with A-Q of diamonds.
Hellmuth 3-bet to 26K with Q-J offsuit.
Koon called.
Dealer presented 2-9-9 rainbow.
Hellmuth bet 32K.
Koon called.
Dealer gave a 3 turn card.
Both players checked.
Dealer showed 10 on the river.
Hellmuth bet 52K.
Koon snap-called.
Hellmuth fell to 550K with that hand, and Koon kept pressing to push Hellmuth down below 250K. The fall continued with hands like this:
Koon raised to 12K with pocket deuces.
Hellmuth 3-bet to 35K with A-7.
Koon called.
Dealer gave them Q-T-9.
Hellmuth bet 15K.
Koon called.
Dealer shows 6 on the turn.
Both checked.
Dealer gives a 7 river.
Hellmuth checked.
Koon bet 60K.
Hellmuth talked himself into a fold.
Another big hand for Koon put Hellmuth in dangerous territory.
Koon raised to 12K with A-5.
Hellmuth called with 9-8.
Dealer provides Q-5-5.
Koon bet 6K.
Hellmuth called.
Dealer gave a 6 turn card.
Koon bet 25K.
Hellmuth check-raised to 60K.
Koon called.
Dealer gives 3 on the river.
Koon bet 40K.
Hellmuth folded.
Down to 137K, Hellmuth stayed in that range before dipping below 100K. Then, it was time to move.
Koon raised to 12K with Q-8.
Hellmuth 3-bet to 35K with A-K.
Koon 4-bet to 103K.
Hellmuth called all-in.
Dealer put out Q-T-4-T-3.
Koon won, and Hellmuth congratulated him on a "great match."
🥊 AND DOWN GOES HELLMUTH! 🥊@JasonKoon puts on an expert performance and finishes off @phil_hellmuth!

Koon will now sweat the next 30 days waiting on a challenger, and if nobody steps forward, he'll collect the $1.6M payout.

▶️ – Event Replay: https://t.co/wmAvL8wXt3 pic.twitter.com/x0cHYaOX4i

— PokerGO (@PokerGO) December 8, 2022
Seeking Challengers
Per the rules of High Stakes Duel, Koon must accept a challenge in order to cash out. Both players must put in $1.6M to play heads-up to move forward. If more than one player wants to challenge, PokerGO will select the player.
The deadline for a challenge is January 6. That is 30 days from Koon's win.
We're seeking our next challenger for High Stakes Duel 3 Round 6!

The rules are simple:

▫️ Must post $1.6M within 30 days to challenge @JasonKoon.
▫️ Must win back-to-back matches in order to cash out.

The clock to find a new challenger is ticking.

Who will step forward? pic.twitter.com/vCWicdqcJh

— PokerGO (@PokerGO) December 8, 2022