Hustler Casino Live Finds No Cheating in J-4 Livestream
It all started at the end of September. It was a normal high-stakes cash game on a livestream, broadcast live from Hustler Casino in Southern California. The show, called Hustler Casino Live (HCL), featured relative newcomer Robbi Jade Lew and popular, well-liked player Garrett Adelstein. Lew played J-4 in an…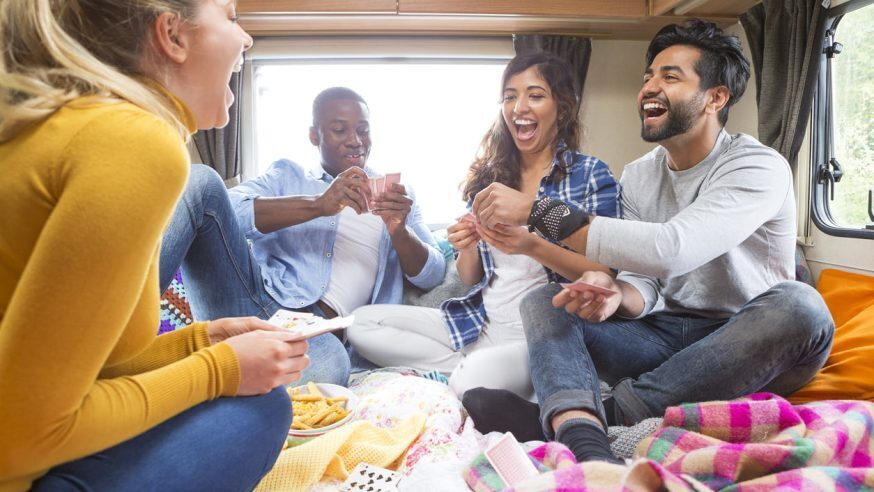 It all started at the end of September. It was a normal high-stakes cash game on a livestream, broadcast live from Hustler Casino in Southern California. The show, called Hustler Casino Live (HCL), featured relative newcomer Robbi Jade Lew and popular, well-liked player Garrett Adelstein.
Lew played J-4 in an unconventional way, and Adelstein believed it looked suspicious.
Adelstein stared into space for some time after the hand, thinking and trying to decide if that hand was genuine and honest. He eventually left the table, Lew went to chat with him, fellow player Jacob "Rip" Chavez left to defend friend Lew, and tempers rose. Adelstein left the stream and the casino and later tweeted a long explanation of his assumption that Lew cheated.
My thoughts on the hand in question from today's livestream, screenshots 5-6 pic.twitter.com/Hb1Kh6xuFd

— Garrett Adelstein (@GmanPoker) September 30, 2022
Controversy AND Personal Attacks
The incident turned into a scandal, with Lew facing accusations of using everything from hand signals to body-hiding technology to cheat. The original onus was on Lew to prove that she didn't cheat, as Adelstein was so trusted and well-respected in the poker community.
As time went on, people began to run out of "evidence" of cheating, as nothing panned out. Some like Charlie Carrel and Doug Polk continued to insist that Lew cheated in some complicated way, but their claims began to fall on deafer ears.
At the same time, Adelstein remained removed from the community of his own accord, while Lew began to play more often and befriend more people in the poker world.
And for much of that time, after its October 1 statement, HCL remained silent on the investigation.
An update pic.twitter.com/uxLb6pbi7D

— Hustler Casino Live (@HCLPokerShow) October 2, 2022
Meanwhile, Lew faded questions about her marriage, finances, friendships, and poker abilities. Her personal life became fodder for discussion on podcasts and on social media.
Conclusion: No One Cheated
On December 14, High Stakes Productions released the results of the investigation by cybersecurity company Bulletproof. The Solution Group served as a legal and private investigations firm for the investigation, and Sheppard, Mullin, Richter & Hampton provided legal oversight.
"The investigation found no conclusive evidence of wrongdoing in the J4 hand, or any other hand played that night."
The primary conclusions of the report were:
The Deckmate shuffling machine is secure and could not have been compromised.
The use of a card-reading device in a water bottle or similar object was "extremely unlikely."
RFID technology is safe and was not compromised.
There were no problems with or flaws pertaining to radio communication with camera operators.
The PokerGFX system had no malware or foreign programs that could have been used to cheat.
Further, the report refuted Adelstein's allegations on Two Plus Two alleging a complicated cheating ring. And while the investigation did find that there was a financial relationship between Lew and Chavez, it played no part in the outcome of the hand.
The full report is available online and contains details of the investigation and its findings.
We have completed a detailed investigation into the Sept. 29 hand involving Robbi Lew and Garrett Adelstein.

Read a summary of our findings here: https://t.co/sjyoysWzJQ

The full report can be viewed here: https://t.co/l0Rdg22atS

— Hustler Casino Live (@HCLPokerShow) December 14, 2022
Future Security
While the report found High Stakes Poker Productions and its technology and methods to be uncompromised, the operator of Hustler Casino Live decided to take the suggestions of investigators and information contained in the report to upgrade its systems.
Left out of the press release was the chart that Bulletproof created to show the vulnerabilities they found when initially examining the system. The estimated complexity column shows the ease with which a cheater could compromise the system as it was prior to changes made in the last several months. And the priority column identified the urgency with which those changes needed to be made.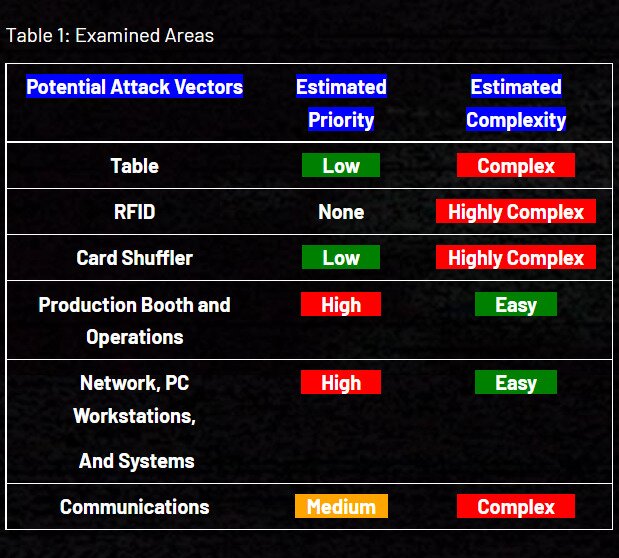 High Stakes Poker Productions co-owner Nick Vertucci admitted that improvements could and will happen to ensure the safety of poker players. "We are confident with the measures now in place that our stream is among the most secure in the industry. Players and fans of Hustler Casino Live should be extremely confident that our games are safe and secure."
Some of the improvements Vertucci approved were:
Reconstruction of the poker room so only one monitor displays hole cards, viewed only by a single director.
Wall and door added to production room to keep monitor displays locked during stream with only High Stakes Poker Productions holding the key.
Production employees must leave mobile devices in signal-blocking Faraday bags outside of the production room.
Remote camera operator can only communicate with the director via a specific button.
All employees in the production room are recorded by video cameras from multiple angles but without capturing images of hole cards on security cameras.
All future employees will undergo pre-employment background checks.
Players must sign agreements stating that they have no financial investment in other players in the same game.
All players must submit to a metal-detecting wand before entering or reentering the stage area for the cash game.
Sagbigsal Theft
The Solution Group is a private investigations firm, one that High Stakes Poker Productions hired to conduct player and employee interviews pertaining to the overall investigation into the Lew-Adelstein hand. While they found no evidence of cheating on the part of any players, they did find another crime that had taken place.
The scouring of video evidence found that an employee of HCL, Bryan Sagbigsal, had stolen chips from Lew on the night of the hand in question. When Lew had stepped away from the table and away from the livestreaming area to speak with Adelstein, Chavez, and others, Sagbigsal had stolen $15K in chips from her stack that was left on the table.
When High Stakes Poker Productions discovered this theft in its initial investigation, the company immediately fired him. Sagbigsal ultimately admitted to stealing to chips, and Lew decided not to press charges based on the initial assumption that Sagbigsal had no criminal record. Upon discovering that information was false, she did work with the Gardena Police Department to press charges.
So I got a message … @Joeingram1 pic.twitter.com/4S2zvR5BmQ

— Robbi Jade Lew (@RobbiJadeLew) October 7, 2022
However, when the police department finally obtained an arrest warrant, Sagbigsal had fled the area. Authorities have since been unable to find him.
Sagbigsal does face two counts of felony grand theft.
Since he was an employee of High Stakes Poker Productions when the theft occurred, the company is going to reimburse her for the $15K. That is expected to happen in the coming weeks, before the end of 2022.
Moving On
Lew has stated for some time that she wants to move on from this. She wants to be a part of the poker community and play a game she has fallen in love with.
Her bankroll, however, is approximately $135K short. That is the amount she returned to Adelstein on the night of the controversial hand. The conversations after the hand and Adelstein's accusations prompted her to feel guilt for the way she played, and she wanted to calm the situation. She took chips off the table and gave that money to him.
Instead of holding it pending the results of the investigation, putting it in the hands of a neutral third party, or simply returning it to Lew, Adelstein had donated $135K to Big Brothers Big Sisters of Los Angeles.
I'd like to have this spotlight that's been thrust upon me applied to something better. Please join me in donating to Big Brother, Big Sister of Los Angeles by going to: https://t.co/jjKtdplxk4 pic.twitter.com/8FITIjHvkN

— Garrett Adelstein (@GmanPoker) October 5, 2022
That money, however, belongs to Lew. But even in the wake of the final report and the overwhelming conclusion that Lew did not cheat, Adelstein has not changed his tune. Not only has he not offered to return the money to Lew, he hasn't even acknowledged that he believes the results of the investigation.
1/2: I was heartened reading the details regarding several security measures HCL has implemented. Security vulnerabilities are THE existential threat facing the poker livestreams we all love, and thus these updates are a win for everyone in our industry. https://t.co/BSLw4MST3i

— Garrett Adelstein (@GmanPoker) December 14, 2022