Hustler Casino Live Investigation Ongoing as Chip Thief Disappears
It all started on September 29 on the Hustler Casino Live cash game stream with a single poker hand worth hundreds of thousands of dollars. While the ensuing allegations of cheating and fallout from the handling of the situation continued for weeks and consumed much of the poker community, the…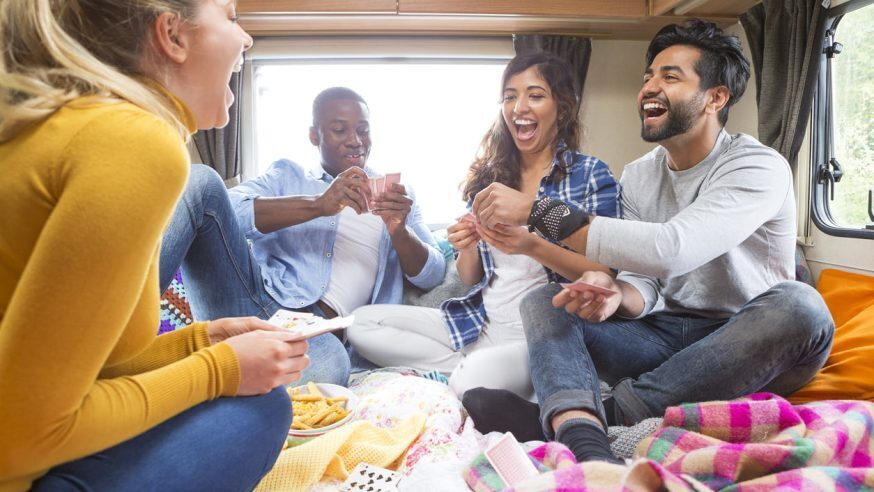 It all started on September 29 on the Hustler Casino Live cash game stream with a single poker hand worth hundreds of thousands of dollars. While the ensuing allegations of cheating and fallout from the handling of the situation continued for weeks and consumed much of the poker community, the buzz has since quieted.
Our last update on the situation introduced the Los Angeles Times into the mix, as one of its reporters, Andrea Chang, conducted interviews with both poker players at the center of the scandal – Garrett Adelstein and Robbi Jade Lew. The latter also decided to press charges against a Hustler Casino Live employee who stole chips from her stack during the same production.
Since that update, there has been little in the way of further clarity on any part of the scandal or investigations. The primary exception is that the police have not been able to find the alleged thieving employee, as Bryan Sagbigsal appears to be on the run.
LA Times on the Case
Wealth reporter Andrea Chang has been following the scandal for the Los Angeles Times. Not only did the scandalous hand involve hundreds of thousands of dollars, it involved accusations of possible financial crimes.
One of the alleged crimes pertained to an incident at Hustler Casino Live on September 29…but not involving the Lew-Adelstein hand. Instead, when High Stakes Poker Productions began its investigation into said hand and started examining the tapes from that night's cash game stream, they discovered that employee Bryan Sagbigsal appeared to have stolen $15K worth of poker chips from Lew's stack when she was away from the table.
While Lew initially declined to press charges because the Gardena Police Department told her Sagbigsal had no criminal record, she eventually discovered that was not the case. After some conversations with High Stakes Poker Productions and new information, Lew decided to press charges for the theft.
In fact, she did that.
UPDATE: pic.twitter.com/FeW70h0g34

— Robbi Jade Lew (@RobbiJadeLew) October 8, 2022
For some reason, however, the police department took several weeks to pursue the arrest. Lew claims to have filed the complaint on October 10.
According to Chang, the Gardena Police Department went to arrest Sagbigsal on suspicion of grand theft on Wednesday, October 26. But by that time, Sagbigsal had disappeared from his girlfriend's father's home in Long Beach, where he had been living. The resident there said he kicked Sagbigsal out two weeks prior and had not heard from him since.
What Phone Records?
At the time that Chang interviewed both Lew and Adelstein about the scandal in October, Lew had offered to share her phone records with Chang. Her goal was to prove that she had no connection to Sagbigsal with relation to allegations against Lew. She wanted to clear her name and prove that she didn't work with anyone at the casino or any other players to orchestrate any type of cheating.
Lew claimed that she turned her phone records over to the LA Times, but Chang said that was not true, despite "repeated follow-up requests" over the course of two weeks.
Adelstein jumped on that to show that Lew had not been truthful.
"<Robbi> said on Twitter and on a podcast that she had turned over her phone records to the newspaper; The Times has yet to receive any, despite repeated follow-up requests."

— Garrett Adelstein (@GmanPoker) October 27, 2022
However, Lew did provide her information to the LA Times after it published that story.
So far, nothing has implicated Lew in any activities with Sagbigsal.
HCL Investigation Status
Within days of Adelstein accusing Lew of cheating in the now-famous hand, High Stakes Productions opened an investigation into the matter and the security of its entire livestreaming system.
An update pic.twitter.com/uxLb6pbi7D

— Hustler Casino Live (@HCLPokerShow) October 2, 2022
Company owners Nick Vertucci and Ryan Feldman have not issued any further statements regarding the investigation in the past few weeks.
At the beginning of November, Chang interviewed Vertucci about the status of the investigation. He noted that the investigative team "combed" through the show's video footage of September 29, including everything from chip stacks and hand signals to any potential movements by players to indicate collusion. The team even dismantled and inspected the entire table setup and audited the control room setup.
Vertucci told Chang that he promised to "overhaul the show's protocols and security measures at both the employee and player levels" going forward.
One change in progress is to appoint Feldman as the only person allowed to see hole card information during broadcasts. Another is that players will eventually place their personal belongings into secured duffel bags to prevent them from being used to cheat. Players and employees will undergo physical security checks prior to livestreams. And Vertucci plans to hire a security team for the HCL shows and train them himself.
However, there has been no public statement from their company as to how and when those changes will happen.
"I could never come out with, '100% nothing occurred,'" said @NickVertucciNV, co-owner of High Stakes Poker Productions. "I could say, '100% we did not find anything and it was absolutely inconclusive.'"

— Andrea Chang (@byandreachang) November 3, 2022
Personal Attacks Continue
As Chang follows the case and High Stakes Poker Productions proceeds with its investigation, Twitter remains a space for personal attacks. And those following the scandal closely have become bored with the lack of constant updates and new information.
Some, like Charlie Carrel, continue to focus on finding support for the idea that Lew cheated.
If it turned out that Robbi faked her lie detector test, would that change your mind on whether she is guilty? (In the direction of being guilty of course)

— Charlie Carrel (@Charlie_Carrel) October 30, 2022
Vertucci has been trying to stay out of the fray and seems to have found a way to stop responding to every person on Twitter who is critical of him or his company or show.
Jesse Lonis was watching a football game on television when he spotted Lew with poker backer Jacob "Rip" Chavez in the crowd. Many on Twitter made quite a lot of the two of them together, insinuating that the two were having an affair, a rumor that Doug Polk had previously brought into the public sphere.
I can't even get away from this shit during nfl sundays! 😂😂😂 pic.twitter.com/xMliS89BBf

— Jesse Lonis (@JesseLonis) October 23, 2022
Savannah Hale, wife of Chavez, chimed in to say that she knows her husband is friends with Lew. But she asked people like Adelstein and Polk to stop messaging her to ask her to incriminate them. Of course, both of the men tried to defend themselves and claim not to have harassed Hale. In the end, two people at a football game does not constitute an affair. Lew and Hale made it clear that the dive into their personal lives was not fair game.
To drag family members into a situation that should involve only those who sat AT the table during the night in question is beyond me.

❤️ Bless you @savnhale for putting up with the toxic pettiness and feigned concern of drama-driven trolls 🎭 🧌 https://t.co/tt1yEaogSY

— Robbi Jade Lew (@RobbiJadeLew) November 1, 2022