GGPoker Brings in Kyna England and Ushers Out Sasha Liu
First, it's important to relay the good news. ClubGG Signs Kyna England Kyna England is a relatively new poker pro, though her passion for the game dates back much further. And now, after only a few years playing her best game, she became the first and only ClubGG Ambassador. Most…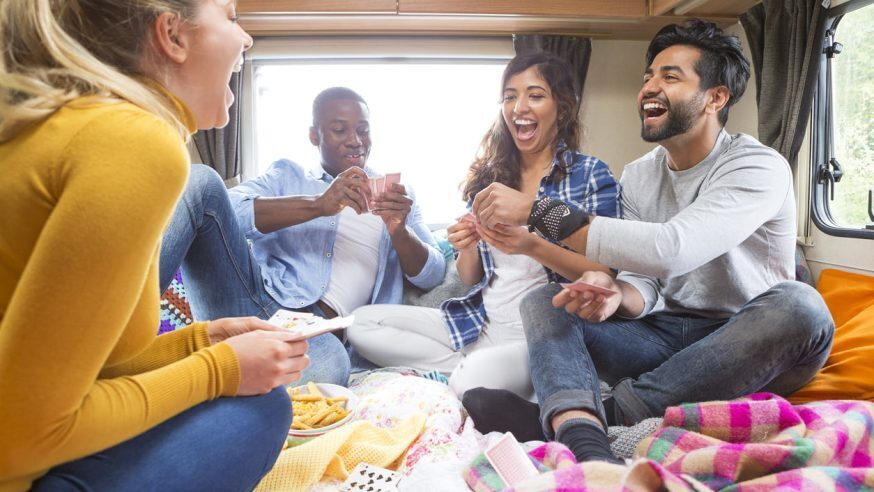 First, it's important to relay the good news.
ClubGG Signs Kyna England
Kyna England is a relatively new poker pro, though her passion for the game dates back much further. And now, after only a few years playing her best game, she became the first and only ClubGG Ambassador.
Most people got to know England through her role as a Poker Power instructor. She worked from home on a part-time basis, teaching the basics of poker to new players. From Midwest America, she played occasional live tournaments when convenient but ventured to Las Vegas during events like the World Series of Poker.
In early 2020, England won her first WSOP Circuit ring. As she played more mid-majors, her results showed her progress.
She finished third at the Mid-States Poker Tour Riverside stop in Iowa in May 2021. Two months later, she played the WPT Venetian DeepStack Championship and finished third for $448,755. England wasn't done with 2021, however. She hit up the MSPT Minnesota Winter Poker Classic in December, where she won the Main Event. She finished the year with $749,434 in live tournament earnings and the title of MSPT Player of the Year.
Now living in Las Vegas, England has been grinding in 2022. She wins and final tables dailies at places like the South Point and the Orleans, while also playing events in series like the Venetian DeepStacks and Wynn Millions, not to mention the WSOP Circuit and the actual World Series of Poker.
Though she is unable to play on GGPoker's global poker site because of her location in the United States, she is able to play on ClubGG, which is GG's subscription online poker site.
She is now ClubGG's first ambassador, and she seems pretty excited about it.
Thanks everyone for the nice messages! I'm super excited to be part of the @ClubGG_Poker team! 😊😊😊 https://t.co/S6W4Keq0Lj

— Kyna England (@Kyna_CooL) September 26, 2022
To be honest, many of us in poker are excited for her and the opportunity, too.
GGPoker Cuts Sasha Liu
Most people in the poker community found out that Sasha Liu was no longer a GGPoker team member by her own tweets. She had been a member of the Omaha Squad since early 2021.
According to her words, GGPoker cut her from the Omaha Squad because she was of little value as a married woman with twin babies. She wished GG the best of luck but implied that the company didn't believe in her, but she believes in herself.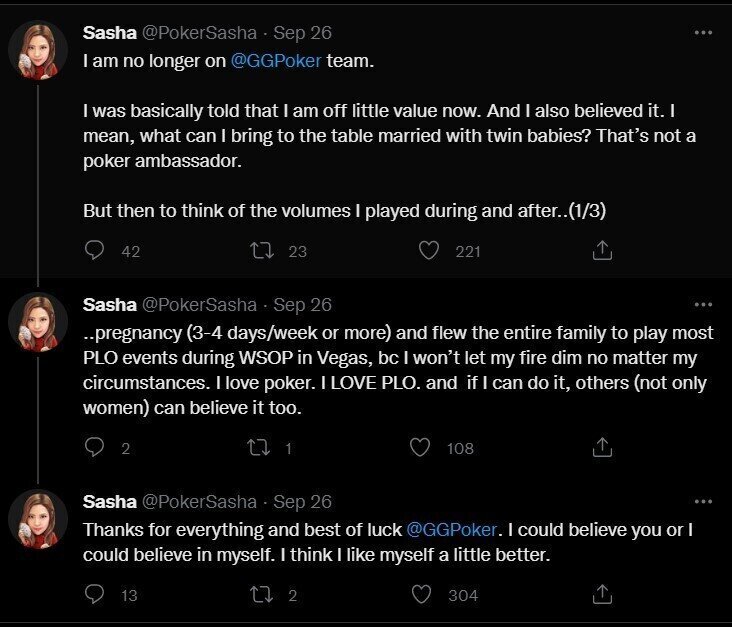 Liu told me she had nothing further to say on the record about the situation.
I reached out to GGPoker to ask questions about Liu's dismissal and her tweets. These were the responses:
In reference to how Liu and GGPoker parted ways:
"GGPoker regularly reviews the operation of its GGTeam from a strategic and commercial viewpoint. We cannot comment on the terms for privacy reasons. We have the greatest respect for Ms. Liu and truly appreciate all she did while part of the GGTeam and wish her the very best of luck in the future."
When asked if GGPoker had a problem with her motherhood or if it conflicted with her ambassadorship:
"No. Ms. Liu's role as a mother had zero impact on the decision taken, and person's personal circumstances are never a consideration when making such decisions. Many of us at GGPoker are mothers or fathers, and the organization strives to make sure we're valued and supported in this most important of roles."
Unless Liu or GGPoker says anything different going forward, there are two different sides to this story.