First Ever Run It Up Poker Festival To Be Held At Stones Gambling Hall In CA
Jason Somerville is for the first time taking the Run It Up (RIU) festival out of Reno, Nevada. The latest edition of RIU will bring in Somerville's Twitch followers from all over the world and will take place in the Stones Gambling Hall in California from Dec 5 to…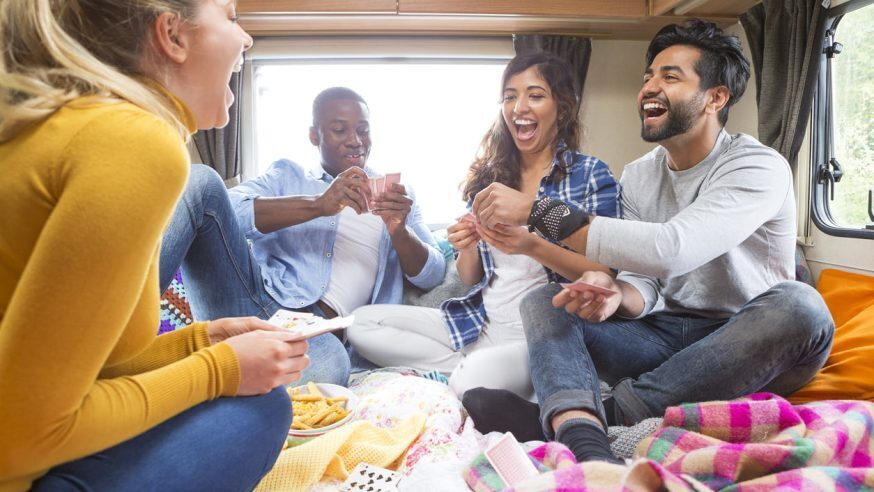 Jason Somerville is for the first time taking the Run It Up (RIU) festival out of Reno, Nevada. The latest edition of RIU will bring in Somerville's Twitch followers from all over the world and will take place in the Stones Gambling Hall in California from Dec 5 to 9.
The RIU festival features low to mid-stakes events, catering not only to serious players but also the recreational players who love to play the game for the fun of it. RIU and Stones is a perfect match, given Stones' own emphasis on serving people who take pleasure in playing poker.
Building Partnerships
Stones and Somerville first crossed their paths when the poker pro helped fine-tune the StonesLive stream set-up. Since then, they have worked together in a number of events, which include the Stones biannual Classic series and the PokerStars Moneymaker PSPC Tour.
Stones Tournament Director and Social Media Manager Justin Kuraitis said it has always been their goal to attract some of the big names to the venue, and achieving that goal took a lot of time, effort and investment.
Kuraitis said their partnership with Somerville has opened up a lot of opportunities for growth. He opened up on how the Stones room transformed from an office divider to a modern commentary booth and how Somerville helped the Stones production team with becoming adept at streaming optimization and other operating procedures.
After the PokerStars Moneymaker PSPC Tour in August, Stones stayed in touch with Somerville and opened the prospect of holding an RIU event outside of Reno. The RIU Stones idea received a positive response from Somerville who finally agreed that after three years, it was time to take RIU outside Reno. The idea also got the nod of the Stones management. With all parties on board, the plan finally came to fruition.
Stones Charity and Quantum Event to Sandwich RIU
Kuraitis, Somerville, and the rest of the team decided to formulate a more compact schedule for RIU's new stop. Just before the festival, Stones will hold its annual Chip in for Charity event which takes place on Dec 4-5. Somerville pledged his support for the charity event which will raise funds for local kids in the foster system.
Chip in for Charity is now in its fourth year and has raised between $5000 and $6000 annually. This year, with Somerville's involvement, Kuraitis is confident they would be able to go close to the $10,000 mark.
In addition to the six scheduled events throughout the tour, Stones will also hold its $100,000 guaranteed Quantum tournament which begins on Dec 10, after the RIU festival. Poker players in Northern California are in for some exciting poker events in the first two weeks of December.
RIU Schedule and Details
A Welcome Party which will be hosted by Somerville and Team RIU member Andrew Neeme will mark the start of the RIU Festival on Dec 5. The final event of the Chip in for Charity will take place in the evening with a $75 buy-in. To donate, participants can purchase bonus chips – $5 for every 1000 chips, with up to 5000 bonus chips available.
On Dec 6, the RIU events officially begin, with the first event being the $1,080 buy-in Thursday Thrilla, offering $50,000 in guarantees and $500 bounties. A total of $100,000 in guaranteed prize pool is up for grabs at the $600 RIU Main Event with the first flight kicking off on Dec 7, and the second flight taking place on Dec 9.
Players can also take part in a number of smaller events which include a $330 Win the Button Knockout on Dec 8 with $20,000 in guarantees, a $230 Last Chance Turbo NLHE scheduled on Dec 9 with $10,000 in guaranteed prize pool, a $230 PLO/NLH Mix taking place on Dec 7 offering $10,000 in guarantees, and a $550 6-max PLO Hi Championship on Dec 9 with $10,000 also up for grabs.
Runitup.tv will stream the event, including cash games scheduled on the evenings of Dec 7 and 8.
Meanwhile, the Quantum Tournament, which takes place after the RIU festival, will feature nine starting flights. Buy-ins for this tournament range from $120 to $900, with guarantees of $10,000, $20,000 and $100,000.