Ebony Kenney and Her Impactful Triton Poker Scores
Another Triton Super High Roller Series was set for September on the island of Cyprus. Triton has several events each year, and high-stakes poker players travel the world to play in those events. They're the same ones who play in the Super High Roller Bowl and many of the events…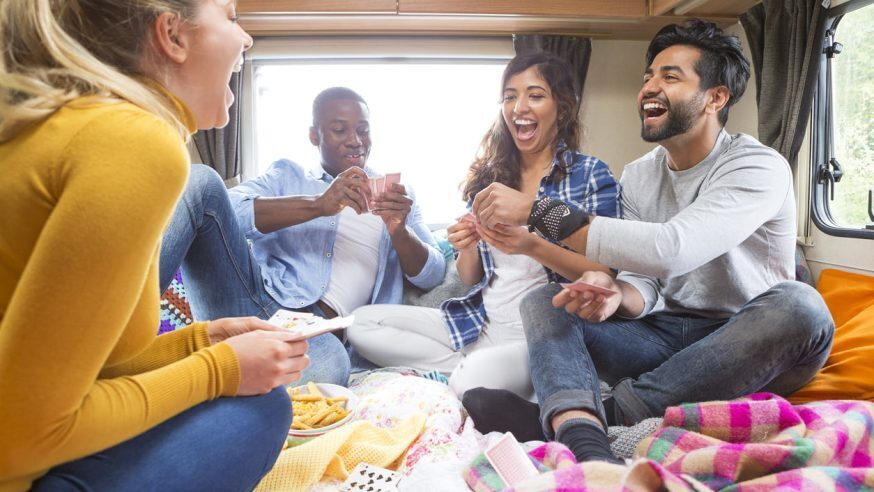 Another Triton Super High Roller Series was set for September on the island of Cyprus. Triton has several events each year, and high-stakes poker players travel the world to play in those events. They're the same ones who play in the Super High Roller Bowl and many of the events on the PokerGO Tour, the high rollers and super high rollers at WPT and EPT stops, the biggest buy-ins at the WSOP.
One of the unique things about Triton is that they livestream their action for free. It gives poker fans the opportunity to tune in for high-level commentary and poker action.
As a poker writer who doesn't write strategy (be glad) or detailed tournament reports, I rarely watch livestreams of high-stakes tournaments. Perhaps during the World Series of Poker, if I know someone at a final table or might be interested in interviewing one of the players, I will tune in. Most often, though, I can check the results when it's over and get the information I need or want.
This time, though, I spent two full days watching a Triton stream. There was one reason: Ebony Kenney.
A Fresh Face
For the vast majority of poker players, high rollers are for the "others." They are for the poker elite, the mostly-male group of poker pros and business people who can afford to travel to these types of events and pay buy-ins that are unfathomable to most. It may be entertaining to watch, but most players don't see themselves at those tables or personally identify with those high rollers.
Kenney was different. Not only was she representing the average grinder, she was a black woman wading into uncharted waters. And for a variety of reasons, I wanted to see her to shine.
High roller poker tournaments happen all over the world. Most of the players in the high-stakes tournaments are no surprise, though random businesspeople or otherwise new faces sometimes show up in the events.
This Triton Super High Roller Series Cyprus had the potential to be different, to tell a fresh story and bring in a new audience.
Do you think any of the other @tritonpoker players are going to include dancing in their prep?

Asking for a friend. 😝 https://t.co/jtOysqtPQS

— Ebony Kenney | Poker & Purposeful Pleasure (@Ebony_Kenney) August 31, 2022
Kenney was an exceptional new face from within our very own poker community. She was a solid player, but she had never played at these stakes. Therefore, she wasn't familiar with the playing style of many of the high rollers.
She played the Luxon Pay Mediterranean Poker Party Main Event – a $5K buy-in – first. Then, she jumped right in to Event 1 of the Triton series, a $25K buy-in eight-handed No Limit Hold'em tournament. There were 97 players, and combined with 34 reentries, it totaled 131 entries. That created a prize pool of $3,275,000. She navigated the field, made the money with 16 other players, and sailed right on through to the final table. She ended up finishing fifth for $240,500.
Not a bad way to make her high-stakes poker debut.
Ummm, fair to say I crushed my biggest previous score. 😅🚀🔥@ACR_POKER @WPAGlobal @ChipLDR @jasonbsu https://t.co/YatofNaTZU

— Ebony Kenney | Poker & Purposeful Pleasure (@Ebony_Kenney) September 6, 2022
A Unique Event
There was one unique tournament in the Triton schedule that brought a wide array of players and businesspeople into the mix. It was the Coin Rivet Invitational, a part of the Triton series in Cyprus.
Triton tried it once before. At the 2019 Triton Poker Super High Roller Series in London, they hosted a Triton Million for Charity event. It required a £1M buy-in and an invitation to play. Businessmen and poker pros paired up for said invitations. An extra £50K added to each buy-in delivered £2.7M to specified charities with the 54 tournament entries.
With some changes, Triton wanted to do another tournament to mix poker pros and wealthy people from the world of business. That prompted the extra tournament in the Cyprus series. Coin Rivet is a cryptocurrency brokerage company founded by Rob Yong, a high-stakes regular, and the company sponsored the event. They added a few more sponsors, removed the charity component, and reduced the buy-in from 2019.
That produced a $200K buy-in Coin Rivet Invitational set for September 10-12, 2022.
Paul Phua started things off in early August as a businessman who invited Phil Ivey to play.
Hello, #poker fans! Announcing the first pairing for the Coin Rivet Invitational at the upcoming Triton SHRS Cyprus, which sees entrepreneur @paulphuapoker inviting the legendary @philivey! More confirmations to come, stay tuned poker fam.

🗓️ Sep. 10-12, 2022#TritonPoker pic.twitter.com/G8eS1OZpOb

— Triton Poker (@tritonpoker) August 4, 2022
Action picked up from there. Invitations issued and accepted led to a field of 90 players. Combine that with 25 reentries from players who busted early, and that put the total field at 115 entries. It created a prize pool of $23M, from which 17 players would be paid at least $380K and the winner would receive $5.5M.
Familiar faces and random businesspeople dominated the field. Day 1 of the action showed…well…the usual crowd with some businesspeople thrown in. The field for this type of event often brings in a select few people of color, with Phil Ivey being the most notable exception. And rarely do women play at all.
And then there was Winning Poker Network CEO Phil Nagy, playing as a businessman, along with his invited partner, poker pro and Americas Cardroom Ambassador Ebony Kenney.
A Journey of a Lifetime
The 90 original players competed in two different fields at the beginning of the tournament. Those who played as businesspeople were at one set of tables, and poker pros were at another. Those who survived the day mixed to start Day 2.
Kenney was among the 50 surviving players.
WE MADE DAY 2!!!!!!!!!!

Holy shit, y'all. That's all I got for you. HOLY. SHIT.@tritonpoker @ACR_POKER @ChipLDR @WPAGlobal pic.twitter.com/mAfjFsueMC

— Ebony Kenney | Poker & Purposeful Pleasure (@Ebony_Kenney) September 10, 2022
The original goal of Day 2 was to play to the final table, but it quickly became apparent that play was too slow for that. Play slowed tremendously as the money bubble approached, with only 17 players set to receive any of the massive prize pool.
More than 11 hours into Day 2, Kenney was a bit short-stacked and shoved with K-2 suited against the A-6 of an opponent. She found a deuce on the river to double up with 19 players left. Kenny then doubled through Chris Brewer in a big hand with pocket kings holding up to A-J. Brewer remained in action with about one big blind. While he doubled a few times, he did end up finished on the bubble in 18th place.
WHAT. IS. LIFE?!

In an unlikely turn of events, we went from 2.5bbs 2 away from the money, to making the money, & then putting chips in the bag for day 3 of a MF $200k!!!@tritonpoker @ACR_POKER @ChipLDR @ChancesCards @jasonbsu @WPAGlobal pic.twitter.com/QFz8gUueqz

— Ebony Kenney | Poker & Purposeful Pleasure (@Ebony_Kenney) September 12, 2022
Kenney was one of the shorter stacks going into Day 3, though she quickly climbed to the middle of the leaderboard. And on the final table bubble, when Tony G shoved with 10-2 suited, Kenney called with A-Q from the blinds. She busted him in tenth place to take to the final table fourth in chips.
As the final table played forward, Kenney lost some ground but doubled through Fedor Holz with seven remaining. She made it to five-handed play and lost chips again.
Ultimately, she took her shot with pocket jacks from the small blind after an initial cutoff raise from Karl Chappe-Gatien. He called with pocket nines. The flop of A-8-Q was innocent enough, but a nine came on the turn and a blank on the river busted Kenney in fifth place.
That was worth $1.7M.
Huge congratulations to @Ebony_Kenney on her performance in the $200k @CoinRivet Invitational!

It was a tough way to go, but Ebony will take home a staggering $1.7M for her 5th place finish. Incredible debut in her first ever Triton Super High Roller Series. pic.twitter.com/Mx58EtxkFg

— Triton Poker (@tritonpoker) September 12, 2022
A Place in History
Two weeks ago, Kenney's all-time live tournament winnings showed $417,196 on the Hendon Mob database. Add in more than $50K in online tournament earnings, and it was an impressive number closing in on $500K.
Now, her lifetime earnings stand at $2,357,696. She now stands at 16th on the all-time women's tournament earnings list.
Setting aside the personal history for Kenney herself, achieving the two biggest scores of her poker career thus far, she took a new place in poker history as well.
Her $1.7M win surpassed the $1,698,300 awarded to Liv Boeree for winning the 2010 EPT San Remo, moving Kenney into fifth place in all-time individual scores by women in poker.
1st: Annette Obrestad $2,013,733 for winning the WSOP Europe Main Event in 2007
2nd: Annie Duke $2,000,000 for winning the WSOP Tournament of Champions in 2004
3rd: Vanessa Selbst $1,823,430 for winning the Partouche Cannes Main Event in 2010
4th: Kathy Lehne $1,785,000 for third place in the partypoker Millions SHRB in 2019
Kenney now takes fifth place on that list. However, if we remove Duke because it was not an open buy-in event but a freeroll, Kenney takes fourth place on the all-time list.
And not for nothing, Kenney has been the top trending poker player in the world on the Hendon Mob database by quite a large margin.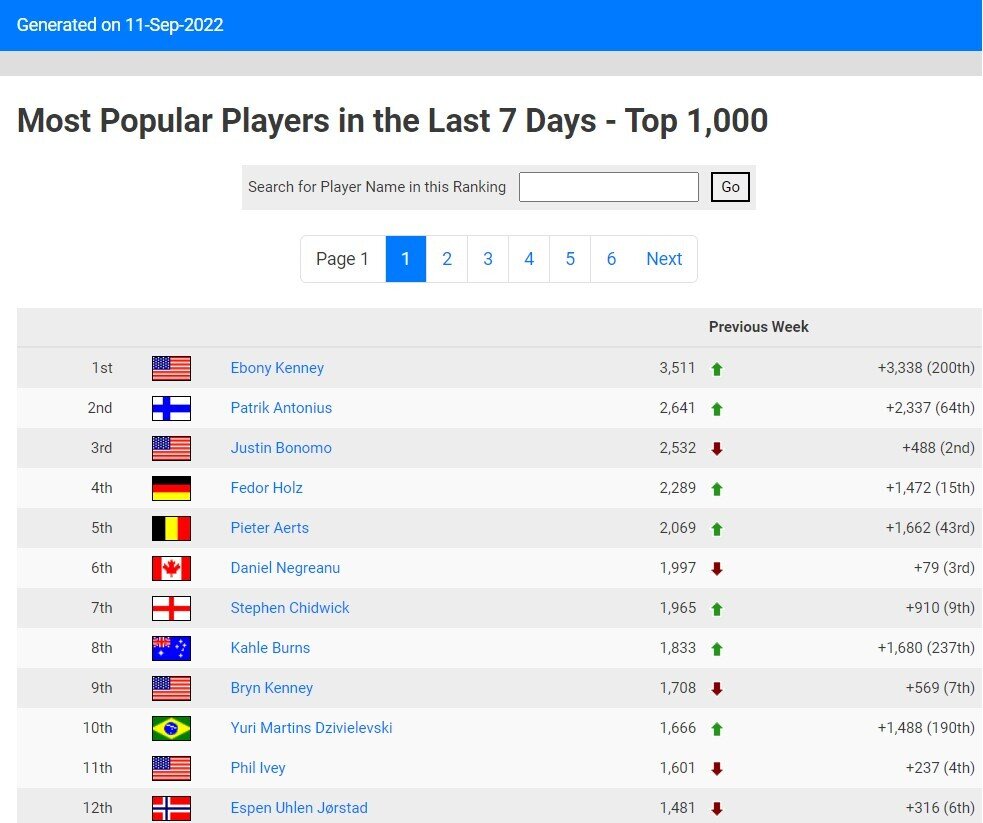 Representation Matters
During the 2022 WSOP Main Event, I wrote about the importance of women running deep in the tournament. Relative newcomer Shelby Wells made it to Day 6 and made an incredible run. Efthymia Litsou remained in the action and made Day 7 in the upper half of the 35 remaining chip stacks. Recreational player Litsou ended up finishing in 18th place for a massive $323,100 payout.
Representation matters in every tournament. Every type of poker player wants to see someone like them doing well, making money, holding trophies. Women and people of color are two of the least represented at poker final tables and in winners' circles.
Seeing Kenney in the Triton fields, no matter her finishes, was important. I can't speak for people of color, but as a woman, I know that it was impactful to see her competing with the high rollers.
Compound that with her playing so well and making two final tables out of the first six events of that series, one of which was the biggest buy-in of them all, and I watched with the utmost pride as she held her own and impressed her competitors and the commentators with her play.
In truth, I was happy to see her in the fields at all. When she made the money of the Coin Rivet Invitational, I was glued to the coverage. How far would she go? And how much money would she make that could change her life?
In the end, this tweet about her overwhelming happiness was everything.
Thank you. Thank you. Thank you.

Once this settles in, I'll have more brain power to gather my thoughts & thank everyone properly.

Holy shit. I'm so fucking happy.@ACR_POKER @tritonpoker @ChipLDR @ChancesCards @jasonbsu @WPAGlobal @WPN_CEO pic.twitter.com/tnpIpkLxDW

— Ebony Kenney | Poker & Purposeful Pleasure (@Ebony_Kenney) September 13, 2022
Kenney's impact on poker won't be known for a long time. Her career is young, and there is no way to know how far she'll go. And no one can directly say how many women might start playing poker or play more poker because of Kenney. Time will tell that part of her story.
For now, I can only say that her participation in the Triton Super High Roller Series – her courage and confidence, her class and ambition – certainly delivered so much joy and hope to me. And I doubt that I'm the only one.