A Diverse WSOP Field, Norwegian Champ, and Stolen Thunder
This year, the Las Vegas edition of the World Series of Poker set its full 2022 live schedule at Paris Las Vegas and Bally's, the latter which is in the process of transforming into the Horseshoe Las Vegas. Gone were the 17 years of the Rio Convention Center, with its…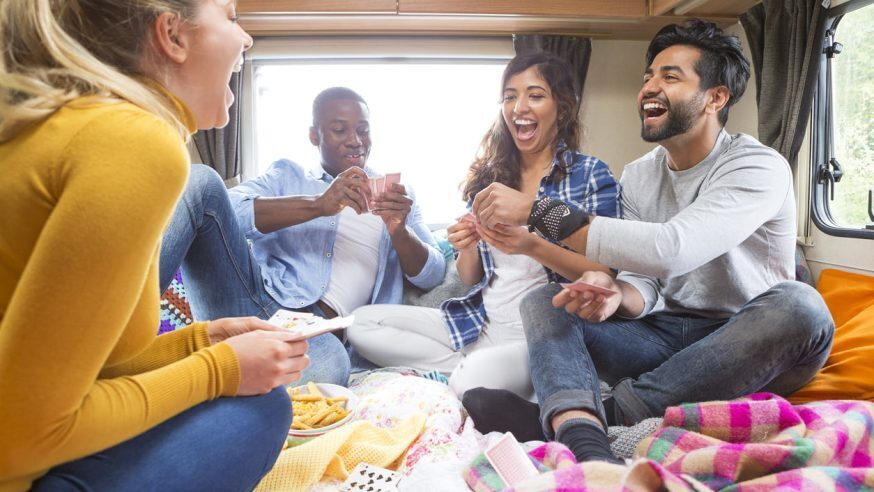 This year, the Las Vegas edition of the World Series of Poker set its full 2022 live schedule at Paris Las Vegas and Bally's, the latter which is in the process of transforming into the Horseshoe Las Vegas. Gone were the 17 years of the Rio Convention Center, with its Amazon Ballroom and dim lighting, cold temperatures, and tired carpet. Free parking also disappeared with the move to the Strip, as did the Hash House, All-American Bar and Grill, and the hooker bar.
Players and staff alike had high expectations for the entirety of the 2022 WSOP.
The new venue, combined with the lack of any pandemic-related protocols, had the potential to bring crowds to the WSOP that hadn't been seen in years. Everything was new and exciting, even to the most hardened and negative players.
Early turnout was positive. The Casino Employees event delivered 832 entries, nearly double that of the 2021 WSOP and 147 more than in 2019, the last truly comparable year. The next few events didn't show that type of increase, but the Housewarming event seemed to kick things into high gear.
$500 Housewarming (Event 5) = 20,080 entries (as compared to 12,973 for 2021 Reunion)
$1500 Omaha-8 (Event 7) = 1087 entries (853 in 2019, 1036 record in 2014)
$1500 7-Card Stud (Event 9) = 329 entries (285 in 2019)
$1500 NLHE 6-Handed (Event 14) = 2392 entries (1832 in 2019)
$10K Omaha-8 Championship (Event 15) = 196 entries (183 in 2019)
$3K NLHE (Event 16) = 1240 entries (671 in 2019)
$1500 Monster Stack (Event 21) = 6501 entries (6035 in 2019)
The Seniors Championship increased its number of entries from 5916 in 2019 to 7188 this year, the Colossus jumped from 13,109 in 2019 to 13,565 this year, and the Salute to Warriors Charity tournament brought in 3209 entries, nearly twice that of the 1723 in 2019. The $50K Poker Players Championship increased participation from 74 in 2019 to 112 this year. The Ladies Championship boosted its numbers from 968 in 2019 to 1074 in 2022. And the Mini Main Event increased from 5521 in 2019 to 5833 this year.
In essence, there was every reason to believe that the 2022 WSOP Main Event could be the largest one to date.
Second-Largest in History
The final player tally was 8,663 this year. It was certainly close to the record of 8,773 set in 2006, but it fell short of setting a new record.
We took a deeper dive into the history of the Main Event totals when registration closed.
Main Event participation followed the trend of the entirety of the series: not every event saw an increase in players and entries, but many of them did. The Main Event wasn't one of them. However, considering the WSOP turned out to be a Covid-19 super spreader-type situation and the overall economy is tough, bringing in enough players to create the second-largest Main Event in WSOP history was no small feat.
Diversity in Play
The World Series of Poker has yet to release the overall numbers for the 2022 series. Often, those numbers include gender and nationality breakdowns.
On the surface, though, it seemed that many international poker players made the trek to Las Vegas. Final tables often showed that diversity, and quite a few non-American players won bracelets.
We can look at the Main Event final tables from the previous five years (excluding 2020 because it was mostly online) to see how this year's diversity matched up.
2022: Norway, Australia, UK (2), Croatia, Canada, USA (3)
2021: Austria/Germany, UK (2), Argentina, Turkey, USA (4)
2019: Germany, Italy, Canada, UK, Serbia, USA (4)
2018: Australia, Ukraine, France, USA (6)
2017: France (2), UK (2), Argentina, USA (4)
2016: Czech Republic, Spain, Belgium, Canada, USA (5)
The 2022 Main Event final table had fewer Americans in action than in many past years, making this one of the most diverse.
Poker is 🔥🔥🔥🔥 More countries—7 of them—were in contention for @WSOP Main Event first prize of $10M: Hello Norway! Hello Australia! Hello Argentina! Hello UK! Hello Croatia! Hello Canada! Hello USA! No matter who wins, poker wins! Poker is truly global, and HOT🔥🔥 #POSITIVITY pic.twitter.com/R0pzlc6Fgt

— phil_hellmuth (@phil_hellmuth) July 17, 2022
Big Stories
As with every WSOP Main Event, player stories tend to emerge quickly. Sometimes, they are stories of players who finally checked the event off their bucket list or played in spite of particular adversities. There are heartwarming stories, funny ones, often a player dressed in a costume for some reason. But when the Main plays down to the money and onward, some competitors begin to stand out from the crowd.
Among the many stories in 2022, two themes dominated them.
One story to watch was that of 2021 Main Event champion Koray Aldemir and 2020 champion Damian Salas. Both made deep runs, with Aldemir finishing in 75th place and Salas in 27th.
The other was the women who defied the odds to make Day 5 and then Day 6. Only two women – Shelby Wells and Efthymia Litsou – made it to Day 6. Wells made it into the top 100 and busted in 97th place for $73,100. The fact that she freerolled in via Nadya Magnus and a Twitter giveaway made that run even sweeter. Litsou made it through that day with a sizeable stack in the top half of the leaderboard. But she lost ground on Day 7. And late into the night, the recreational poker player and businesswoman exited in 18th place for $323,100.
By the start of Day 8, only ten players remained. All were young men, though each of them had stories to tell. There wasn't much storytelling, though, as all of the players were focused on their play and using their previous poker experience to show what good poker is all about.
Jorstad's Journey to the Main Event
One of those players in the top ten was Espen Jorstad. Before we explore his final table run, let's take it back to his Main Event entry.
The Norwegian poker pro had been in Las Vegas since the beginning of the 2022 WSOP. He played the $500 buy-in Housewarming tournament (Event 5), and min-cashed in 2100th place for $876. He went over to the Venetian DeepStack Championship and played the Mid-States Poker Tour $1,600 Main Event, where he finished in 64th place for $5,622.
He played a bit online, as the WSOP Circuit Super Circuit series was taking place on WSOP.com.  He took second place in the $320 NLHE Double Stack event online for $20,638, and he finished 35th in the $525 Monster Stack for $1,344.
When partypoker Ambassador Patrick Leonard wanted a partner for the WSOP $1K Tag Team event, he chose Jorstad. They won the tournament for a combined prize of $74,042 and the first gold bracelet for each of them.
Jorstad also played the $1K Million Dollar Bounty tournament. He finished Day 1A of that event on July 2 with a sizeable chip stack, but Day 2 of that event wasn't scheduled until July 4. So, on July 3, he entered the $10K WSOP World Championship Main Event on Day 1A of that tournament as a GGPoker qualifier. He finished that day with a below-average (and below-starting) chip stack.
On July 4, while the Main Event played its second flight, he returned to the Million Dollar Bounty event and played into the money, cashing for $5,260 in 220th place.
Navigating to the Final Table
After a couple days off, Jorstad returned to the Strip to play Day 2 of the Main Event. He had work to do with his short stack, and he was among a field of 2,610 players who wanted to make it through the day. Reporters didn't follow his action throughout the day, but he was suddenly reported to have 365K chips in the late evening.
Ending stack: 463,500 (40th of 1,262 remaining players)
Day 3 brought a total of 2,993 players, including survivors from Day 2D. Jorstad was doing well but hadn't been involved in any major hands that caught the attention of live reporters. He did lose a hand later into the evening to Oliver Weis, but he still held 720K afterward. He then made it through the money bubble easily.
Ending stack: 802,000 (39th of 1,299 remaining players)
Jorstad had an up-and-down start to Day 4 but chipped up steadily later. He told the PokerNews reporters, "My day wasn't super eventful… I think the biggest pot I played was worth around 20 big blinds."
Ending stack: 1,335,000 (156th of 380 remaining players)
Chipping up a bit at the start of Day 5, Jorstad got involved in a hand with Braxton Dunaway, resulting in Jorstad climbing to 2.2M chips. In just a few levels, he surpassed the 3M mark but lost some of it when Tyler Hirschfeld doubled through him with aces over queens. Somehow, though, Jorstad catapulted up the leaderboard and reported more than 5M chips later in the evening. Matthew Levine doubled through him to send Jorstad back to 4.2M.
Ending stack: 4,665,000 (44th of 123 remaining players)
Day 6 started a bit rocky, with Jordyn Miller taking a pot from Jorstad, and he lost ground from there. But a double-up for Jorstad through Frank Funaro got him back to 4.72M. He shoved again soon after, but Pierre De Almeida decided not to play along. After the dinner break, he sat climbed to 5.8M and then 6.45M before doubling through Robert Minor with kings over queens.
Michael Lavenburg doubled through Jorstad, but the latter steadily climbed to 16M. He took pots from Funaro and Andres Jeckeln, and one from Alejandro Lococo sent him to 28.5M. He didn't lose every battle, but he did end the night in the top ten.
Ending stack: 31,175,000 (5th of 35 remaining players)
Day 7 was the one that would determine the final table players. Jorstad started in an advantageous position, but everyone in poker knows that anything can happen.
Jorstad stayed out of the spotlight for the first few rounds but stepped into it to eliminate Jonathan Rosa in 34th place and climb to 39.1M. He didn't appear in the live updates again until the redraw of the three final tables, at which point he was fourth in chips with 36.05M chips.
As Damian Salas exited in 27th place, Jorstad was chipping up to 42M. Efthymia Litsou took some chips from Jorstad, pushing him down by about 10M. A bit later, David Diaz took another large amount from Jorstad. The latter bided his time, took some chips from Robert Welch, but by the third break of the night, he was back down below the 27M mark.
Aaron Mermelstein hit the payout cage in 20th place, followed by Tzur Levy in 19th. The players redrew for the final two tables, and Jorstad started chipping up again. He took chips from Michael Duek, and he climbed to 51M by eliminating Litsou in 18th place. John Eames took a significant pot from Jorstad to send the latter back down to 43M. Welch doubled through Jorstad a short time later. He took some back from Eames but doubled through Tom Kunze to soar to 89.4M.
Jorstad started applying pressure with his new lead. He lost some of it, sliding back down to 77.4M but then he took a pot from Attenborough. He pushed Kunze out in 14th place to jump back to 97M, and he then climbed over 100M. Attenborough took some, as did Duek, Eames doubled through him to send him back down to 62M.
Mounting a comeback, Jorstad took chips from Duek and then busted Robert Welch in tenth place. By that point, they had played over the course of 17 hours, and the staff called it a day after the sun had risen. For the first time, they set the final table with ten players, Jorstad being one of the top stacks.
Ending stack: 83,200,000 (2nd of 10 remaining players)
Final Table for a Champion
While Jorstad entered the final table with a sizeable chip stack, his work was not over.
Action started with Jorstad winning the first pot of the day against Duek. He lost some to Jeffrey Farnes two hands later but took chips back from Duek after Asher Conniff departed in tenth place. Matija Dobric took some from Jorstad, but the latter had 84.6M, good for second of the final nine, at the first break.
Jorstad worked pocket aces for a big pot from Philippe Souki and then took some from Dobric. Jorstad was back to 98.7M at the second break. Attenborough then doubled through Jorstad to stay alive, and the latter fell to third place.
As Matthew Su departed in ninth place, Dobric and Aaron Duczak followed. Eames busted in sixth place, after which Jorstad took chips from Attenborough and eventually busted Dobric in fifth place. He climbed over 200M chips. He then busted Eames in fourth place to end the day with the lead.
Ending stack: 298,000,000 (1st of 3 remaining players)
John Eames is the last elimination of the first day of final table play in the 2022 @WSOP Main Event.

Eames moved in with ace-jack over a raise from Espen Jorstad, but Jorstad was holding pocket kings and called.

▶️ – Catch all the action from today: https://t.co/MQF1dPGw1w pic.twitter.com/PKmrMIyIqo

— PokerGO (@PokerGO) July 16, 2022
The final day began on Saturday, July 16. Duek started the day with only 24 big blinds and clearly wanted to move. He did so with K-8 on Q-T-5-K-3 board, but Attenborough had A-J. That sent Duek out in third and gave Attenborough 235.8M chips to battle the 284.5M of Jorstad.
The first hand of heads-up play saw Jorstad holding K-Q of clubs and Attenboroughwith J-4 of diamonds. The board of Ks-Th-8h-4s-8c prompted Jorstad to move all-in. Attenborough check-tanked, and he considered the hand for approximately 20 minutes before folding. Jorstad climbed to 387.5M chips.
The tank heard around the world.

Espen Jorstad strikes first in heads-up play after moving all in on the river and putting Adrian Attenborough in the cage with his bluff catcher.

▶️ – Stream is live. Watch here: https://t.co/niEDphYWiO pic.twitter.com/Ano6cgCaYX

— PokerGO (@PokerGO) July 16, 2022
Attenborough got aggressive, and that led to a double-up just a few hands later with K-3 on a king-high board against Jorstad's shove with J-7 on 9-6-4-K-3. That gave Attenborough the chip lead, which he extended in the next few hands. But Jorstad began his comeback.
It didn't take too many hands for the two to get involved again. They both limped into a 4-2-2 flop with two hearts. A bit of betting took them to the 8 of spades on the turn. Jorstad bet big, and Attenborough called. The Q of clubs on the river brought the all-in move from Jorstad. Attenborough tanked for nearly ten minutes before calling with J-4 and his flopped two pair. Jorstad showed Q-2 for the full house and the win.
Quiet Celebration Becomes Muted
Jorstad called Attenborough a very tough opponent. He noted that he meditated during the 20-minute tank, a common practice for him and one that helped maintain focus.
His celebration with friends on the rail was a calmer celebration than ones seen by many Main Event champions in the past. Jorstad then paused that celebration to call his mother. He noted that she was emotional because she was his biggest fan.
In response to the question of what he would do with $10M, he calmly noted that he would play some bigger buy-in tournaments and "make some very sensible investments." It was a very grounded and practical answer.
All of this happened at approximately 7pm local time.
ICYMI – Espen Jorstad (@UhlenPoker) is the 2022 @WSOP Main Event Champion!

He spoke with @RemkoRinkema immediately following his victory and explained that becoming the champ hasn't quite sunk in yet. pic.twitter.com/pOQJBDdMWj

— PokerGO (@PokerGO) July 17, 2022
Today was a very good day! 🥳

Tyvm for all the support and lovely messages. Truly appreciate it a lot! ❤️ pic.twitter.com/IaHS174Tt5

— Espen Uhlen Jørstad (@UhlenPoker) July 17, 2022
Just a few hours later, word spread like wildfire around Las Vegas casinos on the Strip that there was an active shooter. This happens in places around America on a regular basis. And in 2017, one of the worst mass shootings in the United States happened in Las Vegas when a man shot multiple assault weapons from his Mandalay Bay hotel room into a music festival below, killing 60 people and injuring hundreds. These factors combined led to stampedes in numerous casinos to find safety.
At this point it doesn't even matter if it's a real shooter or not. The risk is too real and high we have to run for it and scatter thereby assuming other risks and losses. Ancillary damage of gun culture run amok. #Freedumb

— Jacqueline Burkhart (@jackiburkhart81) July 17, 2022
As it turned out, there was no shooter. Someone threw something at a glass wall at MGM Grand, making a loud noise that was misinterpreted.
However, when people heard the rumor – and some heard noises that (at the time) confirmed the rumor – panic ensued.
#WSOP stampede at $1500 event in Paris after a security official tried to clear the room for a suspected active shooter pic.twitter.com/jUZpfZreyO

— Chad Weinman (@cweinman) July 17, 2022
Word eventually spread that there had been no active shooter on the Strip. Many people tended to injuries incurred during the stampedes. Others merely tried to calm down, find friends and family members, and reclaim any belongings they left behind in the panic. Entities like the WSOP tried to calm crowds, as they reassembled tables and tried to properly allocate poker chips.
Rumors of shots fired at Bally's/Paris/WSOP are false.
We implore players using social media to be responsible and not spread rumors creating panic.

— WSOP – World Series of Poker (@WSOP) July 17, 2022
Eventually, the situation resolved itself.
But the active shooter scare will forever be a part of the 2022 World Series of Poker. And whatever celebration for Espen Jorstad was taking place will always be connected to a uniquely American experience of fear and, perhaps, loathing.