Dan Cates Makes Mainstream Media Rounds
Dan Cates has been playing poker professionally for well over a decade. He actually took an interest in the game in high school and started playing online during his late teens. Poker became his full-time job during his college years, and he moved up in stakes to become one of…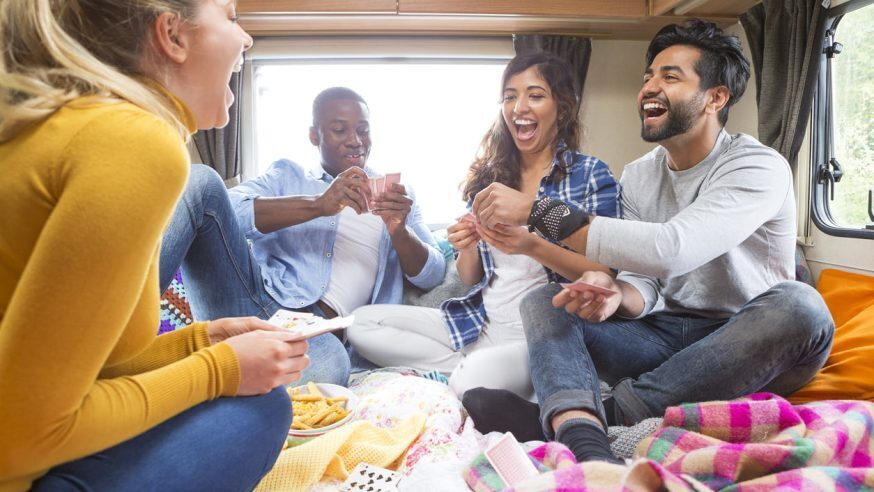 Dan Cates has been playing poker professionally for well over a decade. He actually took an interest in the game in high school and started playing online during his late teens. Poker became his full-time job during his college years, and he moved up in stakes to become one of the best-known high-stakes poker players on sites like Full Tilt Poker.
Open about winning and losing millions of dollars in cash games, Cates has tournament wins to show some of his poker accomplishments in the past dozen years. In live tournaments alone, he has won nearly $12M.
Most of his tournament titles came in high rollers, such as at the Triton Poker Super High Roller Series and the WSOP Poker Players Championship.
Busy Year Before WSOP
Cates is normally a quiet person. He often keeps his private life off of social media and away from the poker scene. In exchange, he garners attention from poker media and fans of the game by dressing in unusual costumes at high-profile poker tournaments.
His name also pops up in unexpected places.
Early in 2022, Cates traveled to Kenya as a part of his work with Tembo Education, climbed almost to the top of Mount Kilimanjaro, did some skydiving over Dubai, partied in India, spent some time in Turkey.
He launched a new podcast called "Winning the Game of Life" in March.  He has interviewed many big names in poker thus far, starting with Phil Hellmuth and moving on to everyone from Fedor Holz to Phil Galfond, Eugene Katchalov to Doug Polk, and Maria Ho to Liv Boeree and Jennifer Harman.
https://www.youtube.com/watch?v=bny0Ug9d-28
In May 2022, when former poker pro Justin Smith announced that he was adapting and producing the upcoming biopic about the life of Doyle Brunson, Cates popped up as the executive producer of the project. Radar Pictures secured the rights to Brunson's life story for The Godfather of Poker.
In addition, he traveled to Barcelona and played in the 888poker LIVE Super High Roller. He won it. He then played in the Triton Poker Series Madrid and final tabled one of the events there.
Back-to-Back Wins
Cates made it to Las Vegas for the 2022 World Series of Poker. He appeared in numerous tournaments wearing a variety of costumes. He chose the Macho Man gear for the Poker Players Championship, the $50K buy-in WSOP tournament that he won in the 2021 series.
And then hmaine won it again this year, capturing back-to-back PPC titles and claiming nearly $1.5M for the second one.
After the WSOP ended, Cates went to Los Angeles for a CBS LA interview about his WSOP wins and his costumes.
CNBC Coverage
Normally, business news channel CNBC doesn't cover a lot of poker tournament action. Last week, however, they published two articles about Cates.
The articles were a part of a larger series called "Top of the Game," one that looks at the habits and mental preparedness of "top athletes" who have achieved "peak performance and success."
In his own words, Cates talked about topics like his growth mindset, which helped him watch other people and learn about new ways to do things, and staying mentally tough even when losing. He wrote that the biggest skill needed in poker and in life is the ability to read people. "It's the ability to find the truth, to recognize what is truth and what is falsehood," he wrote. "You need that in combination with something else: the ability to take action on it."
32-year-old millionaire poker champ on reading people and becoming mentally tough: This is 'how you lose a lot of money' https://t.co/P7BtWmGzLa

— CNBC Make It (@CNBCMakeIt) August 28, 2022
He also made it to an offshoot article on the CNBC website about risk. He talked about how successful poker players push themselves to take risks but know how to pull back when necessary. Per the article:
"Poker champion Dan Cates has a simple tip for finding that balance: Take risks that push you a little outside your comfort zone, but avoid ones that make you extra uncomfortable. 'You want to push yourself a little but not too far,' Cates tells CNBC Make It. 'This is always true in everything.'"
This top poker champion has a simple trick to figure out what risks to take—and avoid (via @CNBCMakeIt) https://t.co/DYKbUIVmeI

— CNBC (@CNBC) August 30, 2022
Everywhere Doing Everything
Cates has long wanted to expand his career beyond the poker tables. It is unclear if there is a particular rhyme or reason to his non-poker choices and experiences, but they have been…let's say…unique.
In 2019, just before the WSOP, Cates released a soft porn music video.
I wasn't sure it was possible to have more questions about a photo/video than yesterday but somehow I do. @junglemandan w/ the greatest game selection in the history of poker, a softcore sex scene, jungle slowrolls w/ AA & then gets a naked dance….. WTF!!! pic.twitter.com/9t6JrDo8R8

— LEGION | Joey Ingram 🐉 (@Joeingram1) May 6, 2019
Several weeks ago, Cates posted a video on Instagram with actor Vincent Rodriguez III at a gym in Idaho.
Within the past week, he posted a photo with entrepreneur Jaime Julio of the Ehico Group based in Mozambique. The two posed for a picture at Julio's birthday party.
Two days later, Cates was back in Las Vegas – at least according to this Instagram timeline – to do a charity walk for Duchenne Muscular Dystrophy research.
Just last week, he was also the focus of a Muscle & Fitness article about his workout routine. He talks about a current bet with fellow poker pro Bertrand "ElkY" Grospellier to reduce his body fat down to 12% in six months.
POKER STAR DAN CATES GIVES A PEEK INSIDE HIS TOTALLY 'MACHO' GYM BAG
The Poker Players Championship winner recently placed his biggest bet—on his fitness
By Chris Cason. Read article https://t.co/G8hpsZUYwu pic.twitter.com/95yX9lkmd6

— muscle_fitness (@muscle_fitness) August 30, 2022
And rounding out the category of random things, IMDB shows Cates listed as the executive producer of a short film called Suppression. The film stars Gary Beadle and tells the story of a psychologist who must face his own demons when he allows a detained killer to get to him. It is scheduled for a UK release this year.
Watch SUPPRESSION Trailer https://t.co/EO9ZocQOIl A short film directed by Julia Varvara. Starring: Gary Beadle, Adam Morse, Rayna Campbell, Gary Maver #indieactivity #supportindefilm #indiefilm #indie #womeninfilm #womeninmedia #filmfestival #filmmaker #filmmaking

— Dapo (@oladapobamidele) August 16, 2022