Dan Bilzerian Rants about GGPoker and May Leave Poker
I should be above saying, "I told you so." I am not. I told you, GGPoker! We told you! So many people told you why signing Dan Bilzerian as a GGPoker Ambassador was a mistake, but all you saw was dollar signs. I wonder if those dollars are enough to…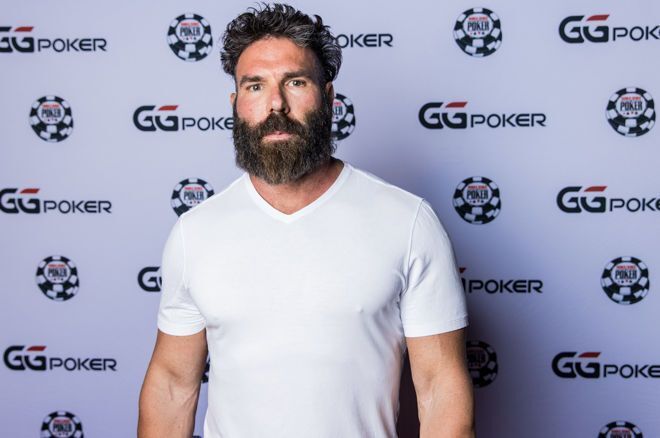 I should be above saying, "I told you so." I am not. I told you, GGPoker! We told you! So many people told you why signing Dan Bilzerian as a GGPoker Ambassador was a mistake, but all you saw was dollar signs.
I wonder if those dollars are enough to pay for the attorney fees to battle Bilzerian over his contract.
Quick Catch-Up
For those unfamiliar with Dan Bilzerian, he's a social media "influencer." He appears to be famous for being rich (though much of that wealth is disputed), insulting and degrading women, showing his violent tendencies, playing with guns, and loving himself more than anyone else ever could.
When GGPoker signed Bilzerian as a poker site ambassador, I had a few thoughts on the matter. Many people had thoughts on the matter. Vanessa Kade was one of them. Not only did Bilzerian publicly choose her to insult (with a misspelled word) on social media, GGPoker put a cap on it by ending its affiliate relationship with Kade from years past.
Vanessa Kade, who earlier this month had her affiliation with GGPoker canceled for calling out their sponsorship of Dan Bilzerian, just won the Sunday Million 15th Anniversary.

She outlasted a field of 69,876 to win more than $1.5 million. pic.twitter.com/ENx9pa7i93

— David Salituro (@DavidSalituro) March 23, 2021
Meanwhile, GGPoker had hosted an inaugural freeroll tournament to "celebrate" Bilzerian's birthday in December 2020. The winner would play Bilzerian heads-up and then that person would win an all-expenses paid trip to Las Vegas to party with Bilzerian.
(Eww.)
As it turned out, a woman – Alex O'Brien – won the freeroll, and Bilzerian weaseled out of playing her heads-up. Americas Cardroom ended up hosting a tournament for O'Brien to play Kade heads-up for charity, which they did.
Bilzerian never really promoted GGPoker, especially after a woman won his tournament.
On International Women's Day 2022 in March, Bilzerian's name and likeness disappeared from the GGPoker website. All promotions involving him were renamed or erased.
Weeks later, GGPoker posted on Twitter that Bilzerian was still a partner. And they turned off comments for that tweet.
GGPoker would like to confirm that Dan Bilzerian remains a partner.

We will continue to work closely with Dan to engage with new player communities and grow our favorite game.

Expect to hear about some new and exciting partnership activities in the coming months.

— GGPoker (@GGPoker) March 23, 2022
There hasn't been a single mention of Bilzerian on GGPoker since then. Clues might lead one to believe that Bilzerian's lawyers contacted GGPoker and threatened legal action. Perhaps the contract didn't end properly? No one is talking, so we don't know.
Some Guy Interviews Bilzerian
A person named Adam interviewed Bilzerian this week for his "No Jumper" YouTube channel.
It went the way one might assume. They talked about money and women. Here's a quote from the segment titled "explains the perfect number of girls to bring on vacation":
"I met this girl, I think, in December. We hooked up, and then I went to Thailand, and I took a few girls. She was one of the girls. Initially, you know, I was fucking each girl every day, so it was like I had to have sex like three times and I was freediving and I wanted to work out, I wanted to do Muay Thai and all this shit, and it was just like a lot, you know. I just didn't like want to have the obligation that if I didn't fuck one of them, then she was upset. It was this whole fucking weird dynamic where I think I brought like the wrong number of girls. Like, two sucks because anytime you're fucking one, the other one's sitting on her ass, like, jealous…"
It continued. It is also unclear if Bilzerian is referring to girls or adult women. He doesn't appear to know the difference when making word choices.
Bilzerian started talking about his poker "strategy" at the one-hour mark of the video. He then goes into why Daniel Negreanu didn't win his poker matches against Doug Polk. Listen to that if you have time to waste.
Say What about GGPoker?
At about the 1:12:00 mark, the host asked Bilzerian why there are no more Bilzerian avatars on GGPoker.
"I just…man…I don't know…I just couldn't fuckin' post."
(Huh?)
"I couldn't promote it. It just seemed cheesy."
The host pushed back (only a little) to say that people said Bilzerian didn't really promote GG but signed a contract to do so.
"Dude, I'm so bad about it. Man, I get offered so much money to do fuckin' promos, and I just can't…I just don't have the heart to do it. … I just won't sell out."
(Oooooookay.)
He goes on to somewhat incoherently explain that he was supposed to be able to play in high-stakes cash games on GG. That was where his "content" would come from. The company was also supposed to give him a "bunch of money" to play online. He then mentioned that GGPoker didn't want to do "the TV show" – huh? – and he didn't want to have to produce fake content.
(Bwahahahahaha.)
Bilzerian went on to claim that he had to take his private jet down to Turks and Caicos Islands to play a freeroll, but GGPoker didn't do it the way he wanted. They made people deposit money to the site to win a seat into the freeroll, but Bilzerian – always a giver – wanted to have it open to all players. He complained that he spent about $170K in jet fuel and villa rental fees to go to the island, but GGPoker didn't understand the costs involved in the way Dan Bilzerian travels.
He went on to claim that he brought about 100,000 people to GGPoker, for which he was supposed to earn affiliate fees. But GGPoker had promised him millions of dollars per month but didn't pay him the promised affiliate revenue.
"We just agreed to kinda like end it, ya know?"
Haters Gonna Hate, Huh-Huh
The host mentioned that some in the poker community "had a little fit" about Bilzerian signing with GGPoker.
Bilzerian responded that most poker players are nerds and doesn't want to associate with most of them. He said he's friends with the "real" poker guys like Antonio, Jungleman, Roble, and Ivey, but "doesn't really give a fuck" about the regular online grinders.
He then said that GGPoker stood by him when he told "that chick" – winning poker pro Vanessa Kade – to "fuck off or whatever." When the host pointed out that Kade went on to win $1.5M (in the PokerStars Sunday Million) a few weeks later, Bilzerian said it was "so painful to watch this fuckin' idiot." He went on to say that her comments about him were so typical of the feminist movement.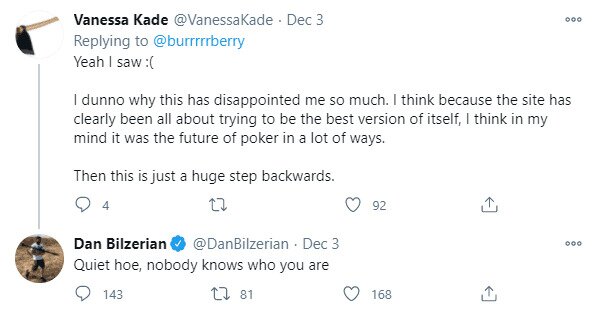 (Yes, please tell us more of your thoughts on feminism.)
Finally, Bilzerian said he's mostly moved on from poker.
I assume I speak for many people when I say, "Don't let the door hit the back of your mullet on your way out!"
Please, please, please let this be the last time that Dan Bilzerian crosses poker's path.