Women Must Control Conversations about Women in Poker
It was supposed to be a joke, he said. Frank Stepuchin is a poker player and real estate developer. He is often a jokester at the tables, enjoying various food and beverages, creating as much of a party atmosphere as possible. He often says, "Carpe diem." Sieze the day. Everyone…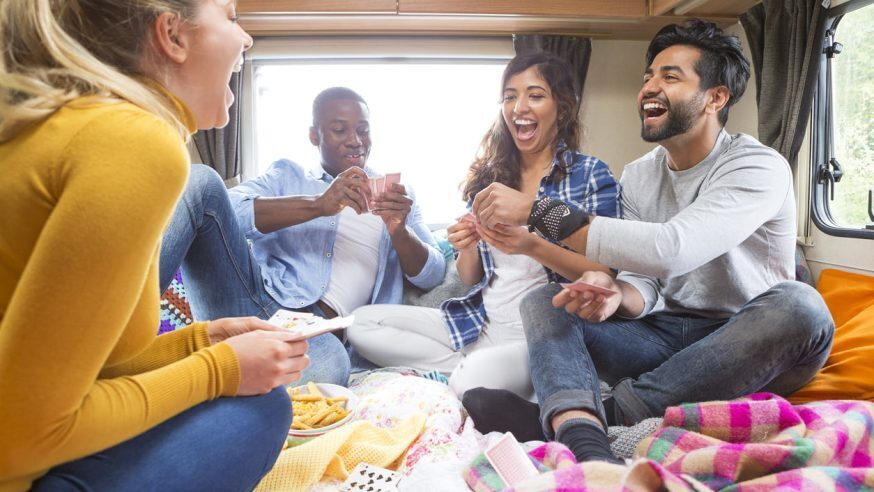 It was supposed to be a joke, he said.
Frank Stepuchin is a poker player and real estate developer. He is often a jokester at the tables, enjoying various food and beverages, creating as much of a party atmosphere as possible. He often says, "Carpe diem." Sieze the day.
Everyone doesn't appreciate a jovial atmosphere at the tables, especially when it becomes distracting, as poker is a serious career for many players. That, however, is for the players to work out amongst themselves. There are tournament rules and general rules of common courtesy. Everyone finds their own way.
On the evening of June 5, Stepuchin entered a tournament and proceeded to request a massage from one of the women who work for Professional Massage, Inc. The team employs hundreds of massage therapists that have been catering to the World Series of Poker players since 2006. On this day, Cintia Amstalden was the massage therapist.
Stepuchin didn't just ask for a massage, however. He opened his shirt to expose his entire chest to the table and asked the therapist for a nipple massage. He asked another person at the table to record the massage, wherein he held a beer in each hand, closed his eyes, and moaned. Amstalden performed the nipple massage and appeared to be enjoying herself as well, per the video, which has since been deleted from all social media.
The picture that remains tells its own story.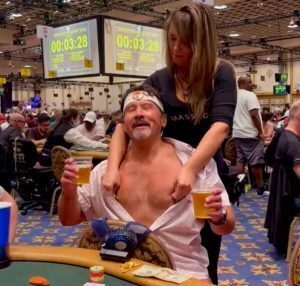 Amstalden's bosses at Professional Massage saw the Frank's original video and fired her.
When a Joke is Not a Joke
Many people on Twitter immediately expressed their disgust at the video. Many of those responses are no longer available because Stepuchin removed the initial post. Some posted their own messages about it, however, and one received more attention than others.
Farah Galfond, actress and poker player, was one who tweeted her feelings about Frank's nipple massage video. She wrote that it was an "utterly disgusting display." She continued, "The masseuse should be fired and he should be banned. What's next? Hand jobs at the table? I can't imagine how uncomfortable the other players were. I would have screamed." And she tagged the WSOP and VP Jack Effel.
Her tweet was not far from what many other women wrote at the time.
What. The. Fuck. @WSOP? There are hotel rooms for this. A lot of them. https://t.co/qelxM3zi8j

— Jennifer Newell (@WriterJen) June 6, 2022
To be clear, there was nothing in Frank's original tweet that indicated the video was a joke. Most people do not know Stepuchin or what he thinks is funny. What the vast majority of people – both in the room and on social media – saw was an inappropriate and overtly sexual moment at the World Series of Poker.
Actions and Consequences
Stepuchin took to his Twitter account to delete the video and post an apology to Amstalden and anyone else he offended. In full, he wrote:
"I would like to apologize first to Cintia for asking you to massage my nipples as a complete joke. That does nothing to me and was not intended to be anything sexual. I'm always horsing around and having a good time with all my table mates. I realize sometimes I go to (sic) far and don't think that I may be offending others. My sincere apology to anyone that was offended by my antics. Secondly I want to apologize to Professional Massage Inc. if I caused them any harm in regards to their reputation of being a first class respected company. Thirdly I would like to apologize to the WSOP if I caused them any harm or brought bad light onto their organization. I will do my best to not get carried away having fun while not thinking of others around me. I never intended or want to make any players around me uncomfortable. Lastly please please do not fire Cintia for this incident I accept all the blame and if any action needs to be taken please place it on me. Sincerely Frank."
That would've been a reasonable apology if he left it there.
Enter the gross misogyny. In response to Farah Galfond's tweet, on which he focused rather than any other tweet, Stepuchin addressed Farah's husband, Phil Galfond:
Good evening Phil. Hope you are having a relaxing evening at home with your "Boss". Apparently she's got evil in her to wanna fk Cintia's life up. A single Mim of two. How was "The Boss" affected by any of this? She was not present. Good luck keeping her happy. @PhilGalfond

— FrankTheTank (@FrankTh55209538) June 7, 2022
If possible can you get Farah to make another call and take back improper stuff she made up about Cintia so she could get her job back. Why did Farah take her post down. She was probably getting ripped by people. @PhilGalfond

— FrankTheTank (@FrankTh55209538) June 7, 2022
Instead of addressing Farah, Stepuchin addressed her husband and asked him to handle his wife – the "boss" – who has evil in her and screwed up the masseuse's life.
This deserves another moment.
Think about this. Stepuchin created the scene and captured it on video and posted it publicly. The masseuse that he employed for the "joke" was fired immediately. However, his first instinct was to blame the woman with the most followers on Twitter who tweeted her disgust. AND he complained about this to her husband.
Blaming Everyone Else
As it turned out, Farah Galfond was enough of a stand-up person to go beyond what was necessary. She did contact Professional Massage Inc. to discuss the issue and request that they reconsider their firing of Amstalden. The company's management told her, however, that they fired her as soon as they saw the video – before and irrespective of Galfond's tweet – and had never seen anything like it before. They would not consider rehiring Amstalden.
They said "mistakes have consequences and we hold our company to a very high standard" and that they would not consider it.

They said that the decision was made as soon as they saw the video, and that my tweet had nothing to do with their decision.

— Farah Galfond (@Farah_Galfond) June 7, 2022
Galfond did note that some of the masseuses in the company took offense at Galfond's mention of hand jobs in her original tweet, and she apologized for that publicly.
Amstalden continued to tweet at the Galfonds, insisting that Farah Galfond was responsible for her firing (untrue) and was trying to disparage Stepuchin. Meanwhile, Amstalden called Stepuchin a "man of integrity," one show "shows integrity, respect, kindness and honesty."
At the same time, Stepuchin became the savior of the moment. He noted that he gave Amstalden "a substantial amount of cash" and started a GoFundMe for her. He pleaded for funds – setting a goal of $20K – to address the "unexpected financial hardship" that will hurt the "divorced single mother of 2 children." He asked that people "help her out in her time of need."
While the two people at the center of the "joke" tried to put all of the blame for the consequences on Galfond, there was a fair amount of criticism aimed at the massage company and the general public for not getting the joke, for overreacting to the joke. All the while, this diverted the attention from the person who set it all up in the first place.
Get to the Point
What does this all have to do with women in poker?
Women have asked and asked – and asked – to be treated with respect in poker, at and around the tables, in conversations about poker, in the community as a whole.
Many men respond by saying they have never seen any disrespect. They want more women in poker. They have no idea why more women don't play.
So, when a man in poker pays a masseuse to massage his nipples and participate in an overtly sexual display at a poker table in a poker tournament – during the first week of the World Series of Poker – women objected. Women specifically called this out as objectionable, as offensive and problematic. We pointed to this exact moment and said, "This! This is what we're talking about!"
What happened? The man who created the offensive moment did everything to excuse it, and many men stood up for him. "It was a joke! Why can't women take a joke?!" And in the end, a woman lost her job, and the man who started it all came to her rescue with money and a donation drive. One woman with a platform to speak out was vilified for doing so and was blamed for the other woman's loss of employment.
What's the Answer?
Stepuchin made his own situation and must live with it. Professional Massage Inc. will likely not rehire Amstalden, who must find employment elsewhere. Some suggest she should contact a labor attorney, which is something entirely in her hands.
There is no one answer that will make everything better.
The lesson, however, is to listen to women. When men ask what offends women in poker, don't argue with them when they tell you. Don't dismiss their concerns. Don't try to be a hero when you make a mistake.
If the conversation is about women in poker and the loudest voice in the room is one belonging to a man, stop. Just stop.