EPT Barcelona Sets Records and Wraps in Grand Italian Fashion
Two and a half years ago, Europe was already suffering under the weight of what was to become a pandemic. The first half of 2020 saw nearly everything close down, from restaurants and bars to stores and airlines to casinos. Live poker was one of many casualties of the worldwide…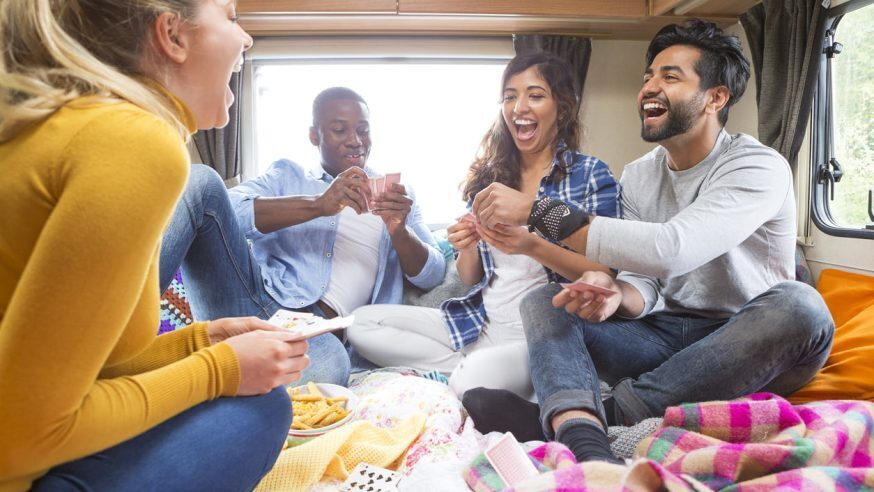 Two and a half years ago, Europe was already suffering under the weight of what was to become a pandemic. The first half of 2020 saw nearly everything close down, from restaurants and bars to stores and airlines to casinos. Live poker was one of many casualties of the worldwide health emergency.
PokerStars was cautious about bringing back its live poker tours, waiting to host the European Poker Tour's return until December 2021. A virus resurgence then prompted PokerStars to delay that restart again until March 2022.
That EPT Prague at King's Casino consisted of nearly 40 official trophy-awarding tournaments. The EPT National event brought in 3,155 entries and awarded more than €3M in prize money. The EPT Main Event accumulated 1,190 entries for a €5,771,500 prize pool. That paid the top 175 finishers, with the lion's share of €692,252 going to online qualifier Grzegorz Glowny of Poland.
PokerStars then took its action to Monaco for a long-awaited return of the EPT Monte Carlo series. That one delivered 33 tournaments with a total of 8,476 entries and awarded more than €29M. Its France Poker Series (FPS) Main Event set a new record with 1,918 entries and a prize pool of more than €1.8M. The EPT Main Event had 1,073 entries and a prize pool that exceeded €5.2M.
🔉 Sound on

Thanks for the memories #EPTMonteCarlo

Featuring @neymarjr @aakkari @Mr__Boxes @spraggy @VictoriaCoren + more. pic.twitter.com/LfDZBeKp8f

— PokerStars LIVE (@PokerStarsLIVE) May 9, 2022
Players were returning in significant numbers. Pandemic fears began to subside, and players craved live poker more than they had in years past.
Bigger and Better in Barcelona
The next stop for the European Poker Tour was Barcelona.
Originally, this EPT Barcelona was supposed to be the location of the second-ever PokerStars Players No Limit Hold'em Championship…in 2020. It was going to be the follow-up to the massively popular inaugural PSPC held in the Bahamas in early 2019.
Obviously, that didn't happen. But when EPT Barcelona did return this month, it was filled with tournaments set to take place at Casino Barcelona. There were more than 60 events on the schedule, some for the Estrellas Poker Tour (ESPT) and others for the European Poker Tour (EPT).
Action got underway on August 8.
Records from the Start
Only a few days into the series, Francisco Benitez became a two-time 2022 EPT Barcelona winner. He won the €10K Mystery Bounty tournament for €229,080 and then, two days later, he won the €25K High Roller for €341,565.
Then came the Estrellas Main Event with its €1,100 buy-in and six starting flights. When registration finally closed and organizers tallied the entries, the numbers were impressive:
Total ESPT Main Event entries: 6,313
Total prize pool: €6,060,480
Total paid players: 938
Winner: Rick van Bruggen (Netherlands) €600,000
Th number of entries broke the record for the biggest PokerStars Live event. The previous record was 5,045 entries in the 2017 Sunday Million Live at King's Casino in Rozvadov, Czech Republic.
Day 2 of that event whittled the field down to 96 players, and Day 3 set the final table of nine with Jack Sinclair of the UK in the lead. Sinclair did eventually make it to heads-up play, but Rick van Bruggen of the Netherlands defeated him heads-up.
As the #EPTBarcelona Main Event field inches closer to a record total, a look back at the Estrellas Main Event.

With 6,313 entries, it set a record as the biggest PokerStars live event in history. pic.twitter.com/wpjdBU8o6m

— PokerStars LIVE (@PokerStarsLIVE) August 16, 2022
It was also notable that Bjorn Bruns of Germany took sixth place for €121,970 after qualifying online for just €109.
Historic Main Event
The EPT Barcelona Main Event was the one to watch. It cost €5,300 to enter – with the exception of those who qualified online or in a live satellite – and it offered two starting flights and late registration open until the start of Day 2.
Those two flights generated a field of 2,234 entries. Day 2 started with more entries and the 720 survivors of the initial flights. Late registration brought in dozens more entries, in fact, and it produced these final numbers:
Total EPT Main Event entries: 2,294
Total prize pool: €11,125,900
Number of participating countries: 78
Total paid players: 328
That set a new record. The previous one was also an EPT Barcelona, and the 2019 Main Event had 1,988 entries. This year's event far surpassed that tournament and set a new record.
Day 3 brought 210 players back into play, and Day 4 started with just 64 of them and thinned that number down to 16.
Day 5 started with Michael Pinto in the lead, Kayhan Mokri and Patrik Jaros close behind, and Giuliano Bendinelli in fifth place on the leaderboard. By the time they reduced the field to just one table, Jaros was the chipleader, Scott Margereson was in second, and Pinto had fallen to third. It all changed over the course of the next few levels, as Kayhan Mokri took the lead and ended up busting Margereson in eighth place. And with the seventh-place elimination of Pinto, the final table was ready to go.
If what we've witnessed so far in the #EPTBarcelona Main Event is anything to go by, then today's final table is sure to be one of the most entertaining in recent memory.

Learn a bit more about the final table players right here.https://t.co/wN2JLqaIuN

— PokerStars Blog (@PokerStarsBlog) August 21, 2022
An Exciting Final Table
The final table began with six players, Patrik Jaros in the lead with nearly 15M chips, Mokri in second with about 14.5M, and Fabiano Kovalski in third with nearly 13M. Bendinelli had 10.7M, Neville Costa was nearby with 10.5M, and Jimmy Guerrero held on with 5.1M.
Costa climbed to second place by the first break, and Jaros then proceeded to climb over 21M.
A big hand then developed. Guerrero jumped in for more than 9.3M chips with A-K against the A-Q of Bendinelli. A king on the flop was enough to double Guerrero and leave Bendinelli with 475K, which just covered the 400K big blind.
Bendinelli subsequently tripled through Jaros and Guerrero to 1.83M. He then chopped a pot with Kovalski and doubled through Mokri.
Costa busted Mokri, and Guerrero took out Jaros, catapulting Guerrero into a massive lead holding 33M chips.
Bendinelli chipped up and then doubled through Costa to 15.3M…and then the power went out. When the lights came back on, Costa tripled up through Bendinelli and Kovalski, but Bendinelli continued grinding his stack up. Costa doubled through Guerrero. And Bendinelli then busted Kovalski in fourth place to climb into the lead with nearly 30M chips.
After two failed deal discussions, Costa moved all-in with pocket nines, but Bendinelli called with Q-J and found a queen on the turn. Costa exited in third place.
It's heads-up for the #EPTBarcelona Main Event title and the two remaining players have struck a deal. 🤝

Giuliano Bendinelli – €1,422,480
Jimmy Guerrero – €1,250,337
➕ €68,653 to the winner

Let play commence 👉 https://t.co/ZarB0RN21O#EPTBarcelona pic.twitter.com/Fnf0xXjmIZ

— PokerStars LIVE (@PokerStarsLIVE) August 21, 2022
Bendinelli took 44M chips into heads-up play against the 24.82M of Guerrero. Those two players then made a deal for Bendinelli to take €1,422,480 and Guerrero to take €1,250,337. That left €68,653 and the trophy – and EPT title, of course – for the winner.
Guerrero did take the lead after a short time, and he grew that lead. But Bendinelli then doubled to nearly even the stacks pocket nines against Q-T on a T-8-6 board. A 2-7 completed the board and gave Bendinelli the straight and the double.
Play continued until Bendinelli took over a slight lead with a full house.
Bendinelli then raised with pocket eights, and Guerrero called with J-7 of spades. The flop came J-9-8 with only one spade. Bendinelli bet, and Guerrero check-called. A jack on the turn brought the same action. The eight on the river prompted Guerrero to bet. Bendinelli moved all-in, and Guerrero called.
From a chip and a chair to a champion.

Congratulations to Giuliano Bendinelli, the Italian took down the biggest EPT Main Event in history, winning €1,491,133.

This was a fitting end to a final table for the ages. 👇 #EPTBarcelona pic.twitter.com/mTa91ubmnT

— PokerStars LIVE (@PokerStarsLIVE) August 22, 2022
Bendinelli leapt up to celebrate his quads with friends and his mother. "It's the best day of my life," Bendinelli said.
1st place: Giuliano Bendinelli (Italy) €1,491,133
2nd place: Jimmy Guerrero (France) €1,250,337
3rd place: Neville Costa (Brazil) €734,470
4th place: Fabiano Kovalski (Brazil) €565,280
5th place: Patrik Jaros (Czech Republic) €434,850
6th place: Kayhan Mokri (Norway) €334,480
7th place: Michael Pinto (Netherlands) €257,330
8th place: Scott Margereson (UK) €198,000
Women and a Platinum Pass
One of the notable events that took place in Barcelona was the women's SNG for a Platinum Pass.
It started in 2020. When PokerStars was planning for its PSPC in Barcelona, it planned a way to honor some women in poker and give them a chance to play for a Platinum Pass. On March 6, 2020, in celebration of International Women's Day, PokerStars announced a nominating contest. Anyone could nominate women who have made an impact on the game or serve as an inspiration. PokerStars would then fly the six finalists to a live tournament (all expenses paid) to play in an SNG to compete for a Platinum Pass worth $30K.
Soon after, PokerStars announced the finalists…but pandemic. Everything was on hold…until this year. PokerStars arranged to fly eight of the nine (Jan Fisher could not make the trip) women to EPT Barcelona in August 2022. The eight women were Daiva Byrne, Christina Read, Katie Stone, Giada Fang, Meichelle Culhane, Terry Hatcher, Lexi Sterner, and Aurelie Reard.
PokerStars will be streaming the event across our channels on August 15 with commentary from @MariaHo and @JenShahade.

The winner takes all, with the champion receiving a Platinum Pass to the PSPC 2023 worth $30K.

Now let's meet the finalists.

— PokerStars Blog (@PokerStarsBlog) August 8, 2022
The livestreamed SNG took place at the start of EPT Barcelona, with Maria Ho and Jen Shahade calling the action. When all was said and done, Giada Fang of Italy won the SNG and the Platinum Pass to go to the PSPC in the Bahamas in January 2023 and play the $25K buy-in tournament.
That #PlatinumPass winning moment. 👇

Congrats to @CatSniper84 on taking down the PSPC Women's Platinum Pass Tournament. See you in the Bahamas, Giada. 👏 pic.twitter.com/HvchVmpY74

— PokerStars LIVE (@PokerStarsLIVE) August 15, 2022