How to Play Poker with Crypto | Step By Step Guide
How to Play Poker with Crypto
Playing poker or other online gambling using crypto assets such as Bitcoin, Litecoin, Ethereum, or Bitcoin Cash is becoming increasingly popular. This is not only because of frequent bonuses for using crypto to fund your poker account, but also due to the increased anonymity that comes with funding your account with crypto rather than fiat. If you're interested in learning how to play poker with crypto, look no further, as we've created a step by step guide to show you how to do just that. In addition, we'll recommend some exchanges, wallets, and general tips to help you have the smoothest experience possible. Let's jump in.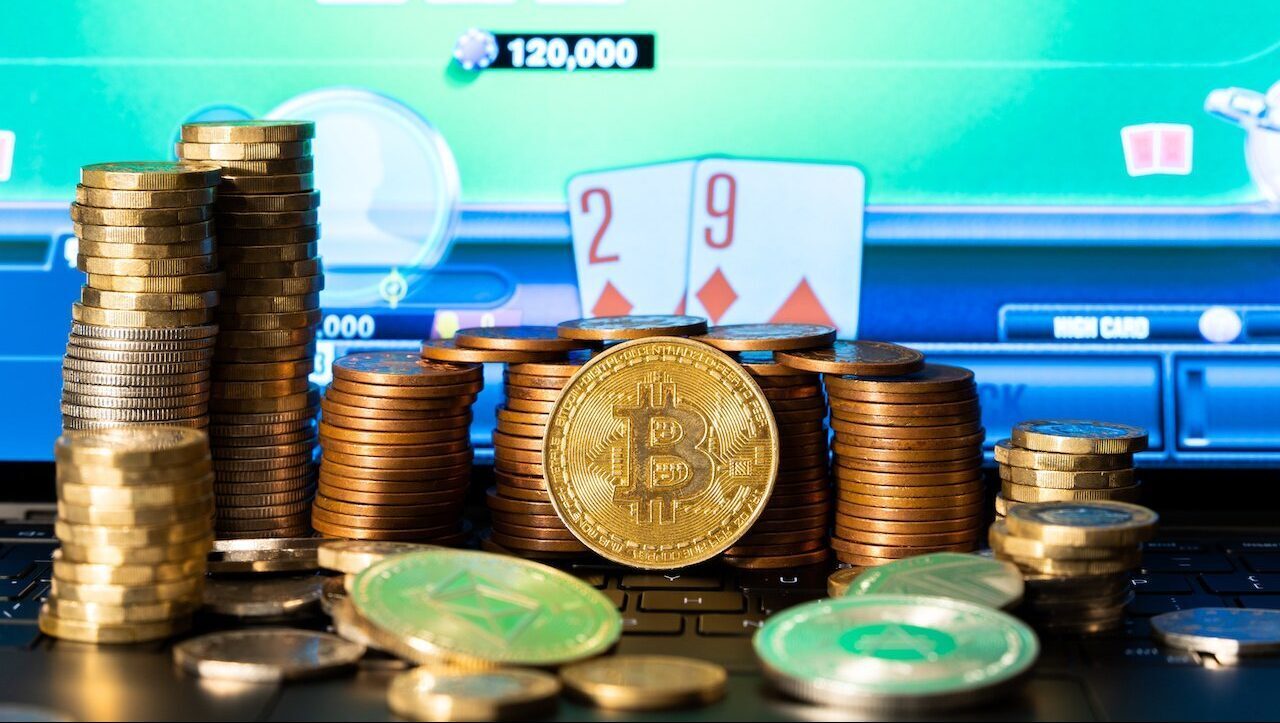 Step by Step Guide for Playing Poker with Bitcoin
Below you will find a step by step guide for playing poker with Bitcoin or other digital assets. This includes registering for an exchange, funding your account, buying crypto, getting a cryptocurrency wallet, sending crypto from your exchange to your wallet, signing up for a poker site, and funding your poker account. Some of these steps may not be necessary for your specific situation, so feel free to skip steps you've already done previously.
Step 1: Register for a Crypto Exchange
The first step in playing poker with Bitcoin or another crypto asset, is registering for a cryptocurrency exchange. If you're already registered for one, you can skip to Step 2 or 3. The main things to keep in mind when choosing an exchange are whether it's accessible from your location and how you can fund the account. If the exchange isn't accessible from your country, you can't use it. For example, Binance cannot be used by US residents, they need to use Binance.US or another platform that is accessible to US citizens such as Coinbase or FTX.US. Ideally you want the exchange to support a free fiat deposit method such as ACH or Interac e-Transfer, but the main thing is to be sure they support fiat deposits in the currency you wish to use in order to save on conversion fees or time.
In order to register for an exchange you'll need to verify your identity. This generally includes providing ID documents such as a driver's license or passport, a utility bill with an address that matches your ID, and taking a selfie. Having all these things ready before sign up will speed up the process, but it should take no more than 10-15 minutes to sign up for an exchange that has a built-in onboarding process such as Coinbase.
Step 2: Fund Your Exchange Account
After you've signed up for an exchange, you'll have to fund your account. For the purposes of this guide, we'll be showing examples using Binance. With most exchanges, including Binance, you can fund your account with either cryptocurrency from an external wallet, or fiat, then swap for your desired cryptocurrency. If you already have one of the crypto assets accepted by the poker site in your external wallet, then you can skip to step 6 or 7. If your crypto isn't one of the ones accepted by the poker site then you'll need to deposit it onto an exchange and swap it for one that is. Depending on your external wallet you may be able to swap within the wallet, then skip to step 6 or 7.
When looking to deposit cryptocurrency on Binance, head to your Binance wallet. Then find the cryptocurrency you wish to deposit and click "Deposit". Follow the prompted instructions then proceed to step 3 once your crypto deposit is confirmed.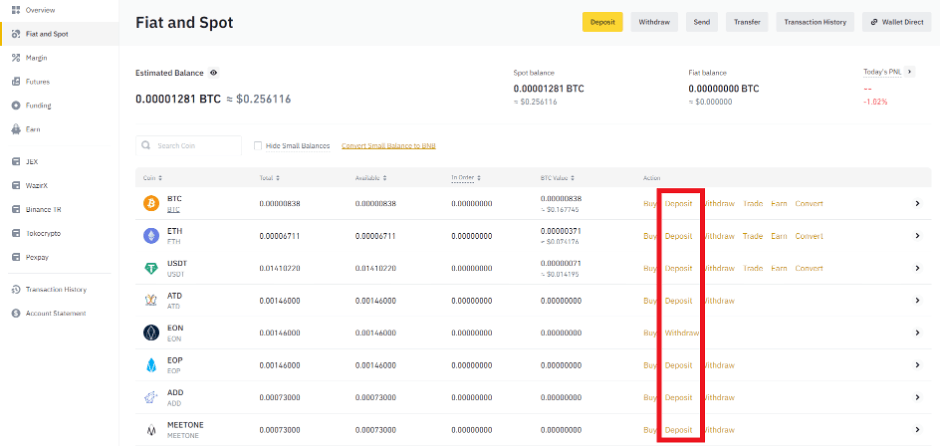 When looking to fund your Binance account with fiat currency, again go to the wallets page. There are two options: type in the fiat you wish to deposit to filter the results on the main wallets page, or click the "Deposit" button at the top, and select fiat. Either way, follow the prompted instructions for depositing fiat. Binance has bank transfer and credit card options, and other exchanges may have other options. Once your fiat deposit is confirmed, proceed to step 3.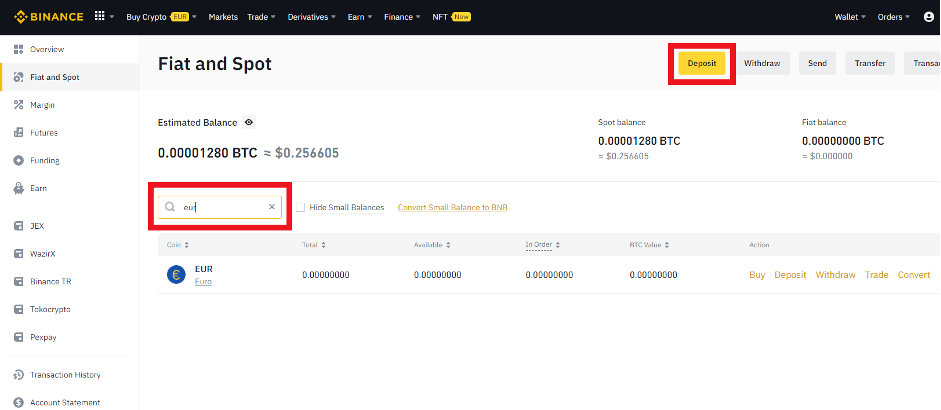 Step 3: Buy Bitcoin or Another Accepted Crypto
Once you've funded your Binance or other exchange account, you can buy Bitcoin or any of the other crypto assets accepted by the poker site. While Bitcoin is popular, if the site accepts something like Litecoin, Bitcoin SV, or Bitcoin Cash, they may be a better option for you than Bitcoin. This is because they have lower transaction fees and faster transaction times, meaning you save both time and money if you use a Bitcoin alternative.
To buy Bitcoin or alternative, find the Binance header that says "Markets". Click that header and proceed to the next page. Type BTC, LTC, BSV, BCH, or whichever asset you are looking into the search bar and all of the available markets for it on Binance will be displayed.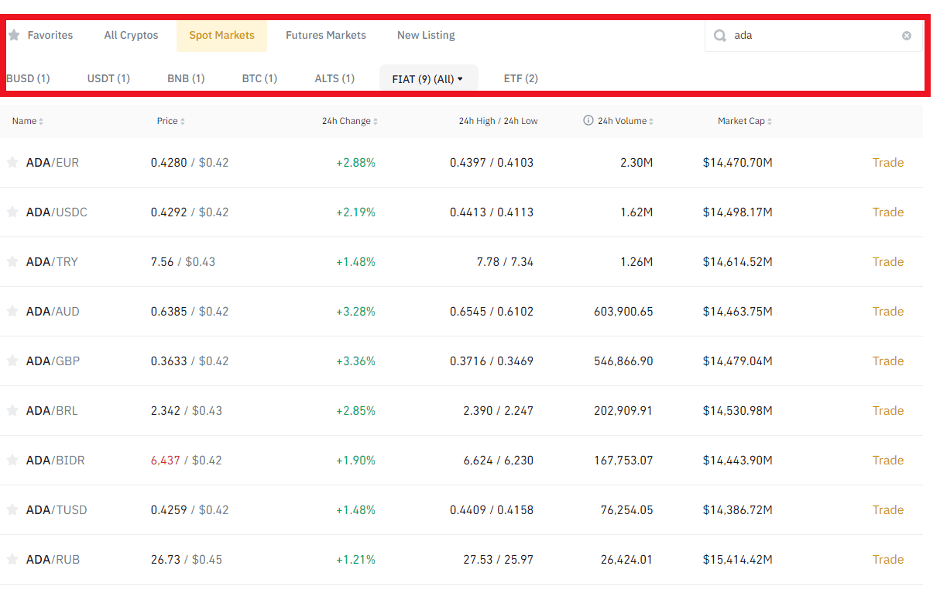 If you aren't swapping one of the fiat or cryptocurrencies that has a direct pair with your desired asset, then you'll first need to trade for one that does. For example, if you deposited Shiba Inu (SHIB), you'll need to swap the SHIB for ETH, USDT, BUSD, or any one of the supported pairs before swapping for your asset.
If you deposit USD, CAD, AUD, EUR, or any of the other fiat currencies that have a direct pair with the digital asset you want, you can simply swap directly. Click "Trade" next to the pair you want and follow the process for making the swap and the asset will then be in your Binance wallet.
Step 4: Get a Personal Crypto Wallet
Now that you have your desired crypto asset in your Binance or other exchange wallet, you'll need to transfer it to an external cryptocurrency wallet that you hold the private keys to. While technically you can send the funds directly from the exchange wallet to the poker site, this is not recommended, as it often goes against an exchange's terms of service and can easily result in your funds being frozen. This is partially why we recommend trying to use an asset other than Bitcoin to fund your poker account, as you're going to need to send the Bitcoin to your own wallet, then to the poker site, resulting in two transaction fees. Two fees using Litecoin is exponentially less than two using Bitcoin or Ethereum.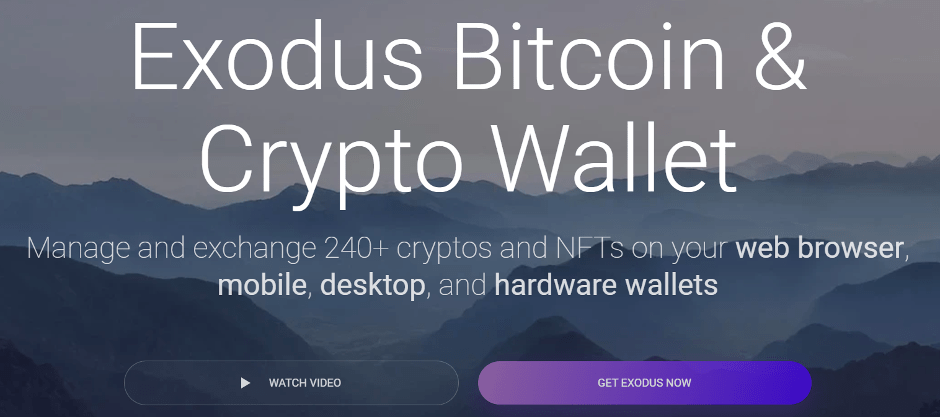 There are many cryptocurrency wallets to choose from, but we recommend choosing one with multi-asset support such as Exodus, Atomic, Coinbase Wallet, or MetaMask. Most of these have mobile, desktop, and browser extension options. Once you've decided which to use, simply download it, then follow the instructions to create a new wallet. This includes writing down and storing a recovery phrase of 12 or 24 words to recover your wallet in the event that your device is lost or stolen.
Step 5: Send Crypto from Exchange to your New Wallet
Now that you've set up your wallet, the next step is to send your crypto from the exchange to it. In order to do this, first open up your wallet and copy the receiving address for the asset you wish to receive. Next, go to your exchange account wallet page, find the asset you wish to withdraw, then click "Withdraw". You'll then see the below image if on Binance. Paste the receiving address into the field, enter the amount you wish to withdraw, then follow the prompts after clicking "Withdraw".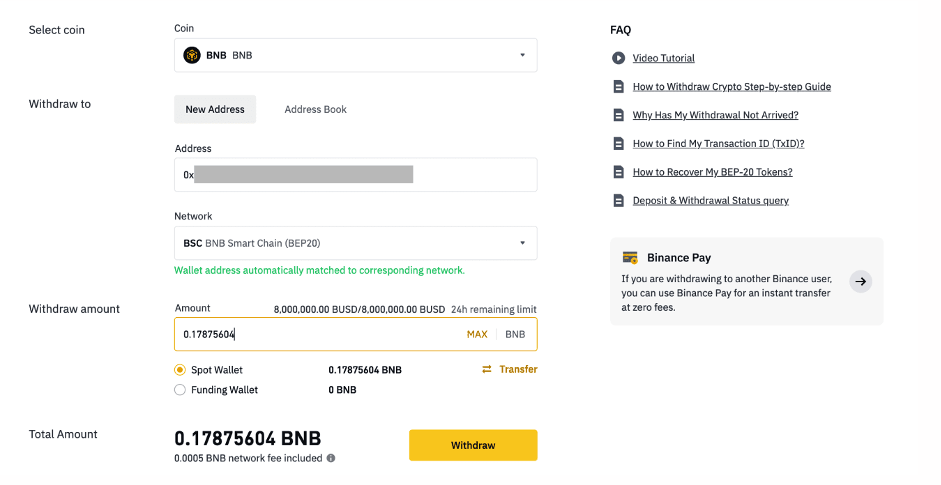 If this is your first withdrawal to that address, you will likely have to wait 24-hours before being able to make a transfer. This is in order to help prevent someone from stealing your funds easily should they gain access to your account. When making your withdrawal you can choose the withdrawal network and see the fees associated with your transaction.
Step 6: Sign Up for Poker Site
Now that you've got your crypto in your own personal crypto wallet, you can sign up for a poker site. If you're already signed up for one, skip to step 7. If not, signing up is an easy process that generally just involves providing your email, name, date of birth, phone number, and creating a password. You can check out our list of the best poker sites that accept Bitcoin here. Make sure to pick a site that is legal to use in your location and try to find the best bonuses for your specific deposit. Before depositing real funds you are likely to be able to play some games with synthetic funds to see if you like the platform before actually gambling. Once you're signed up and happy with the platform, you can proceed to Step 7.
Step 7: Send Crypto from Wallet to Poker Site
The next step is to send your cryptocurrency from your wallet to the poker site. This process is similar to the process of depositing it onto an exchange. First, locate the deposit or cashier tab of the platform. Then, select Bitcoin or another crypto asset as your method for deposit. The site will then give you a QR code and a copyable address, either of which can be used. The QR code is likely only usable if you're using a crypto wallet on your mobile device and can scan the QR code. If using a desktop wallet or browser extension you'll need to just copy the address. Either way, the address is where you are going to send your crypto to.
Open your wallet, find the asset you wish to send, click "Send", then paste in the address provided by the poker platform. Double check that the address matches the one shown on the poker site, and for extra security you can send a small test amount (another good reason to use an asset other than Bitcoin if possible) to be sure the address is right before sending a large amount. It should take no more than 10-15 minutes for the deposit to be confirmed by the poker site, regardless of which asset you used.