The Top 5 Best Crypto Exchanges of 2023
Crypto Exchanges
If you're looking to buy and sell cryptocurrency, the best place to do it is in a crypto exchange. They're often the fastest and most convenient ways to trade fiat for crypto or even one cryptocurrency for another.
However, the market is jam-packed with different cryptocurrency exchanges, all vying for your business, each with different fees, verification requirements, and user interfaces, so how do you know which is best? That's why we're here to give you a guide to the best cryptocurrency exchanges out there right now.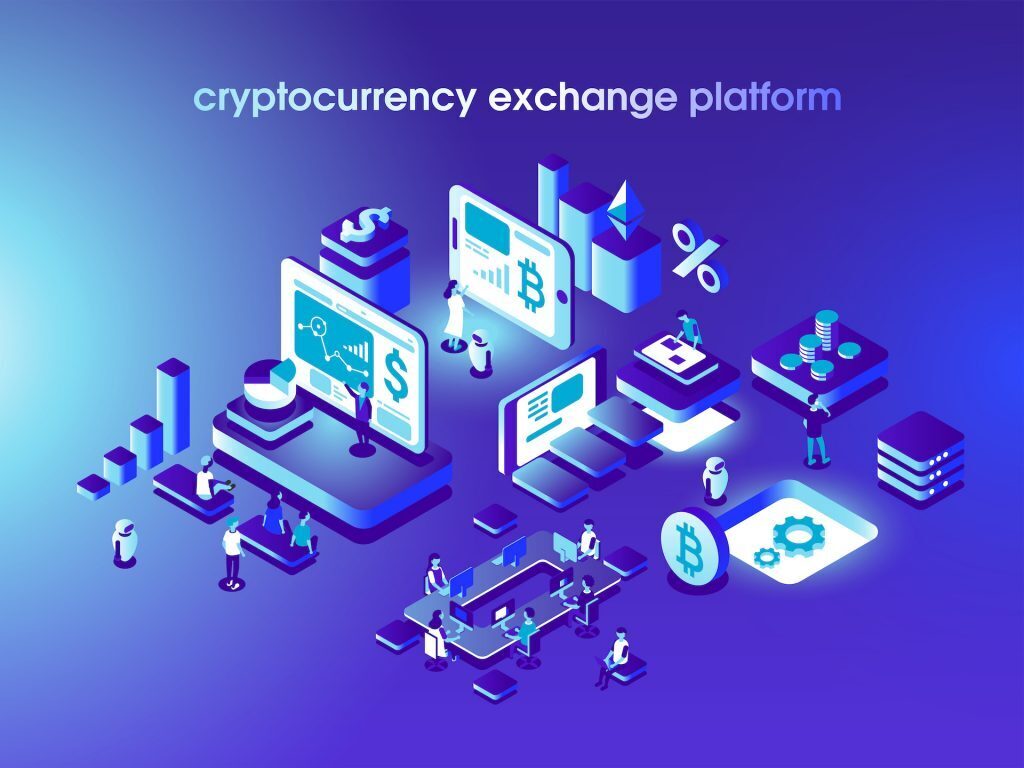 What Is a Cryptocurrency Exchange?
If you're new to the crypto world, a cryptocurrency exchange is similar to a fiat exchange. It is a place where you can trade one currency for another, but instead of trading dollars for euros, you're trading dollars for Bitcoin or Ethereum. This is how most people buy their first cryptocurrencies, as they make it easy for you to deposit fiat currency to trade for crypto.
Once you've received your cryptocurrency, you have the ability to trade it for other currencies. There are thousands of different trading pairs available. However, the majority of them are crypto to crypto – you can only buy the biggest cryptocurrencies, such as Bitcoin, Ethereum, Litecoin, Polkadot, etc., with fiat currencies.
If you decide that you want to sell your cryptocurrency, that can also be done through a crypto exchange. Once you've sold all the crypto you'd like to and received your fiat currency; you can withdraw it directly to your bank account.
However, there are often fees for withdrawing from or depositing to an exchange and fees for trading one currency for another. These fees vary from site to site, so it's always worth checking before you sign up.
Why You Need Cryptocurrency Exchanges
While there are lots of options for buying cryptocurrency, such as Bitcoin ATMs and peer-to-peer trading, exchanges are often the quickest and most convenient way to convert your fiat currency into cryptocurrency. Once your account is verified, there are very large deposit and withdrawal limits, making it easy to make significant transactions with just a few clicks.
The fees for depositing, withdrawing, and converting your currency are also much cheaper than other methods. Bitcoin ATMs traditionally have steep fees for using them, and peer-to-peer transactions are very rarely done at market value.
Exchanges also have the largest number of cryptocurrencies available to buy, with many "alt-coins" or ERC-20 tokens available to buy, which aren't available with peer-to-peer transactions or Bitcoin ATMs.
What Banking Methods Do Exchanges Accept?
If you're looking to convert some of your fiat money to cryptocurrency, it's important to know your options for getting your money on and off your chosen exchange. The exact banking methods available to you will vary depending on the exchange you use and the country you live in, as some governments have much tighter restrictions for allowing banks to facilitate transactions to crypto exchanges.
The most popular way to deposit money to a crypto exchange is with a credit/debit card. This payment method is extremely convenient, as it's just like online shopping; simply put in your card details and the amount you'd like to deposit, and away you go. The downside to using credit/debit cards is that the transaction limits are usually lower than other methods and the fees are relatively high in comparison – but you're paying for the convenience.
Some exchanges do allow direct bank transfers as a deposit method. Once your account has been verified, this method will have limits in the hundreds of thousands of dollars, so you'll have no problem getting all the money you want to convert onto the site. However, some banks are cracking down on crypto transactions and will flag your deposit as a fraudulent transaction at best and flat out block the transaction at worst.
E-wallets are another option for depositing money to exchanges, though the exact providers available to you will vary from site to site. It's important to note that not all crypto exchanges will allow you to deposit fiat currency to trade; some of them only allow crypto deposits and only support crypto trading pairs.
Top 5 Crypto Exchanges
Now that we know what exchanges are, why they're important, and how you can get your money onto them, let's take a look at the best ones on the market.
Binance
One of the most prominent exchanges in the crypto space is Binance. They're one of the largest exchanges in the world in terms of trading volume and support over 150 cryptocurrencies. Not only is their site great to look at, they have one of the best fee structures across any exchange, meaning that more of your money goes into investing. They even offer discounts on their already low fees if you use their proprietary coin (BNB) to pay for trading fees.
Highlight: Low trading fees with discounts available.
Lowlight: It could be too complicated for beginners to buy and sell crypto.
Coinbase
Coinbase is often the first exchange that many people use due to its popularity and ease of use. When you sign up to Coinbase for the first time, the account creation and onboarding process is really simple to follow, meaning that even if you're a complete novice, you'll have no trouble using the app. The fact that it's available on mobile makes it even easier to use, as all it takes is a few taps/clicks, and you've deposited your fiat and traded it for crypto.
Coinbase is perfect for beginners, as not only do they have one of the easiest-to-use platforms on the market, but they also have a variety of learning tools that teach you how to trade and stake certain cryptocurrencies. You're also rewarded with a small amount of cryptocurrency for completing the lesson, allowing you to earn while you learn.
Highlight: Easy to use interface and fast purchase process.
Lowlight: High fees compared to other exchanges.
Kraken
One of the oldest exchanges we have on our list, Kraken is one of the first crypto exchanges to exist, having launched in 2011. In the crypto world, where fads come and go within a couple of days, they must be doing something right to have lasted this long. While it doesn't have a gimmick that makes it stand out from the crowd, it does a lot of things very well, making it a solid choice in such a crowded market.
It is ranked second in the CERtification Platform's top 100 exchanges by cybersecurity rating; it has low fees (lower than Coinbase), margin trading, staking, and a range of analytical tools to assist with trading. If you're looking for a reliable cryptocurrency exchange, Kraken is an excellent choice.
Highlight: Excellent security and all-around solid exchange.
Lowlight: Limited range of fiat and cryptocurrencies available to trade.
e-Toro
While e-Toro may be best known for stocks and shares trading, they also have a fully integrated cryptocurrency exchange. There are over 60 coins to trade, and there is a lot of educational content on the platform, making it easy to learn how to buy, sell, and trade crypto. You also have access to the e-Toro network, which allows you to follow and communicate with top traders to help you get better and make smarter decisions.
Highlight: Ability to follow and copy other traders' portfolios.
Lowlight: The site was hacked in 2020 and has lower security scores than other sites.
Crypto.com
If you're looking for an exchange with a lot of security, Crypto.com is one of the best options available. In fact, it's ranked number one in the CERtifciation Platform's top 100 exchanges! It has multiple layers of protection against cyberattacks and crypto fraud, making it one of the safest places to trade your crypto.
While security is its main feature, there are plenty of other great benefits to using this site. There are over 250 cryptocurrencies available to trade, as well as margin trading, NFT support, and crypto loans. It's even easy to get your money on the site, as they accept both Visa and bank transfers as payment options.
Highlight: Exceptional cybersecurity ratings.
Lowlight: Relatively low trading volume.
Honorable Mentions
While the top five are our most recommended, that doesn't mean they're the only good crypto exchanges on the market. There are plenty of great exchanges that you should check out, like the ones below.
Changelly
KuCoin
VirgoCX
Coinmama
Shakepay
CoinSmart
IO
Huobi
Bitpanda
Pros and Cons
People always say to never leave your coins on a crypto exchange. The reason is that if you're not in control of your private keys, and if they're not your keys, they're not your coins. However, millions of people leave ignore this advice every day, so why do they do it? While it's not advisable, there are some pros as well as cons to keeping your coins on an exchange.
The security risks outweigh the benefits of staking and easy access, so it's best to only leave a small amount of your portfolio on exchanges if you plan to stake or trade with your crypto.
Pros
Easy Access
Access to Staking
Spending Less on Fees
Cons
Your Crypto Isn't Yours
Vulnerable to Attackers
Withdrawing Your Crypto
Once you've bought your cryptocurrency, what should you do with it? It all depends on what your plan is, whether you're looking to trade and stake or if you're looking to hold it as a long-term investment.
If you're looking to be an active crypto user, your best option is to keep a small amount on the exchange you bought it from and keep the rest in a software wallet that you can easily access. This allows you to trade and stake your cryptocurrency, leaving your exposure relatively low. Using a software wallet gives you easy access to your crypto whenever you want to top up your trading account or withdraw your profits – and the best part is you're fully in control of it.
If you're looking to hold your cryptocurrency as a long-term investment, your best option is to buy a hardware wallet and put your crypto into cold storage. This means your crypto will be kept offline, massively reducing the risk of your crypto being hacked. Check out our articles on the best crypto wallets for advice on what to look for from a hardware wallet.
Summary
Crypto exchanges are a great way to trade fiat currency for cryptocurrency, whether you're looking to make your first purchase or if you're already a veteran in the crypto space. Their ease of use and low fees compared to other purchasing methods make them a clear choice for all your crypto needs. If you're looking for the best place to buy and sell crypto, check out some of our recommended crypto exchanges.